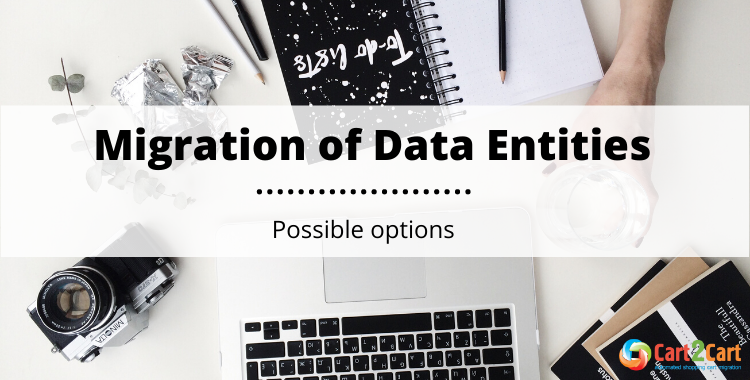 Every online business owner understands that store migration is a very responsible task that requires deep coding skills and knowledge. Cart2Cart is an automated migration service that was specifically designed to meet the demands of both non-tech users and IT gurus. It combines functionality, speed of performance, and ease of use. Thus, making the store transition less effort-demanding and hassle-free.
Which Data Entities Can be Migrated by Cart2Cart?
Needless to say that once you've decided to switch shopping carts, you'd like to get maximum out of this replatforming and transfer as many different types of data as possible. Currently, Cart2Cart provides its users with the ability to migrate the following data entities:
Products
Product Images
Product Attributes
Product Variants
Related Products
Categories
Category Images
Customers
Orders
Order Statuses
Manufacturers
Taxes
Coupons
Reviews
Blogs/ Blog Posts
Multistore
Multiple Languages
CMS Pages
The set of supported entities may vary according to the type of source and target shopping carts. The full list of items for possible migration can be found at the corresponding page of each supported shopping cart.
Data Not Available for Migration
Unfortunately, due to some technical reasons, Cart2Cart service can not migrate all the types of data entities. Therefore, you will have to do it yourself after the completion of migration.
SEO Data
Cart2Cart doesn't migrate SEO data of your store (i.e., product URLs, categories URLs, etc.). But it is possible to choose an additional option "Migrate categories and products SEO URLs" that will help you save the SEO ranking of your store. Keep in mind that this option is available only for a limited number of platforms:
to/from Magento
to/from OpenCart
to/from PrestaShop
to/from Woocommerce
to/from Shopify
to/from BigCommerce, etc.
The full list of supported platforms can be found here.
In case you'll be managing SEO data by yourself, here are several tips for doing it properly:
First of all, ensure SEO data safety in the process of website migration. Thus, it will protect your ranking in search engines and preserve website positions.
Secondly, implement 301 redirect for your current store's URLs. This is the best way to direct your customers and search engines to the newly established store. Choose the URLs on your current website and the new pages where the URL will be redirected to. To implement 301 redirects for sites on Apache servers, you have to access to server's .htaccess file. If the site is hosted by some other software, check the details with your web hosting service.
And lastly, add custom 404 page. This also involves dealing with .htaccess file on Apache server. Other web servers may handle the creation of a 404 error page differently, so you should check it with your hosting provider. The 404 pages should include:
A link to the main page on the new site
The link to your sitemap which lists all the pages on your website
Navigational aids may be useful (search engine box, drop down navigation menu, etc.)
Customer Passwords
Cart2Cart service provides its users with the ability to transfer customers' passwords to the target store. You have to choose the "Migrate customers' passwords" option from the Migration Wizard before migration. This function will deprive your clients of the hassle of creating new or recovering the old credentials. Please note that this option is available only for a limited number of carts. The full list of migration pairs can be found here. Also, some of the platforms require the installment of an additional plugin (this data is also available within the abovementioned table).
Non-standard entities
Some of the following entities are considered to be non-standard (as they vary greatly within different types of platforms and stores) and, therefore, Cart2Cart doesn't perform their migration:
customer testimonials
news
other store's content
We hope that managing the migration of the abovementioned content on your newly established store will not cause considerable difficulties. We continue working on service development to improve its functionality, so you are sure to get even more migration opportunities in the nearest future. If you have any suggestions or ideas for service development please feel free to contact us. We appreciate your advice as we work to facilitate your store management.
Haven't tried our service yet? Don't wait any longer! You can do it absolutely for FREE! Just register an account and start a free Demo Migration right now!