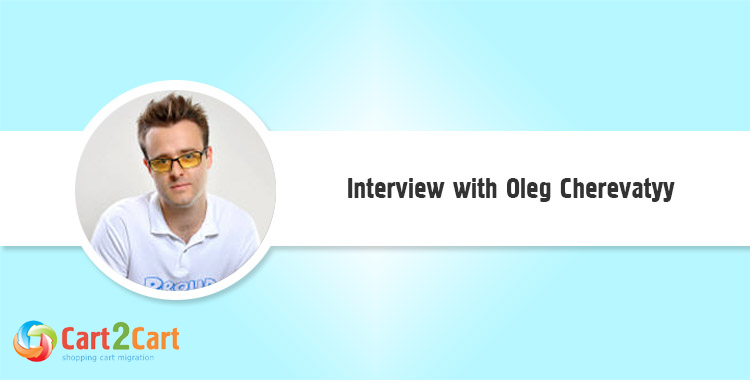 Since we've recently reached our 4th anniversary, it's high time to discuss what has happened and how we've grown over this time, how the market has changed, what we should expect in the nearest future. We are talking to Oleg Cherevatyy, Executive Director at MagneticOne, a person that was at the origin of Cart2Cart and actually saw its birth and growth.
Oleg, you've been with Cart2Cart from the very beginning. Obviously, the first question will be: how did the idea of Cart2Cart appear, how it all started and what was your way in the project?
First MagneticOne took to online store building and had been doing that quite long. However, from time to time we needed to move data from the current platform to a new one. This is when we thought: "Hey, if we so often need a tool to transfer data between shopping platforms, then maybe somebody else also needs it". This is how the idea of the first web service appeared.
First we supported only 10 platforms, moved a very limited number of entities. Gradually the Team expanded, the service grew up, became more elaborate and flexible. Now we can transfer almost all types of entities among 46 largest eCommerce platforms.
What do you consider the utmost achievement of Cart2Cart within this period?
Support of over 40 shopping carts is an achievement, not beaten by any company yet. The exact number now is 46, more are yet to come.
What goals are yet to achieve and what peaks are yet to conquer?
Of course, we will develop support of migration between more and more shopping carts. Also, now Cart2Cart migrates only default data. The grand plan is to develop flexible support of customized data.
What's the most memorable recollection from these years of work with Cart2Cart?
This is definitely our biggest migration yet. We were moving 3 million products to Magento. Migration of data lasted for several days and ended successfully to immense happiness of the whole team. I think, that time we demonstrated even to ourselves how much we were apt to do.
Being on the lead of shopping cart migrations, can you share with us, what are the most popular migration destinations? To what and from what carts do people switch these days?
The most frequent migrations are to the most trendy shopping carts: Magento, PrestaShop, and also such SaaS solutions as Shopify, 3DCart, BigCommerce. From what carts? Usually from those that used to be popular some time ago and are not that much in use now. Especially those solutions that for some reasons stopped providing support and developing updates. In this fast-changing world it's a suicide to remain with the cart that doesn't move with the times.
How do you see eCommerce in several years? Will shopping cart migrations still be going on? To what platforms will store owners be moving?
Store owners will migrate to those platforms that will support integration with multiple sales channels: huge online marketplaces, shopping comparison engines, etc. I am also sure that big opportunities await mobile commerce. If those shopping carts that are leaders now develop with the same pace and introduce the right features, they have many chances to stay the leaders of eCommerce in the future.
Here's what Oleg told us about his vision of the past, present and future of Cart2Cart and eCommerce in general. We are grateful to him for his time and insights. Have questions? You are welcome to submit them in the commentaries below and we'll be happy to answer them.