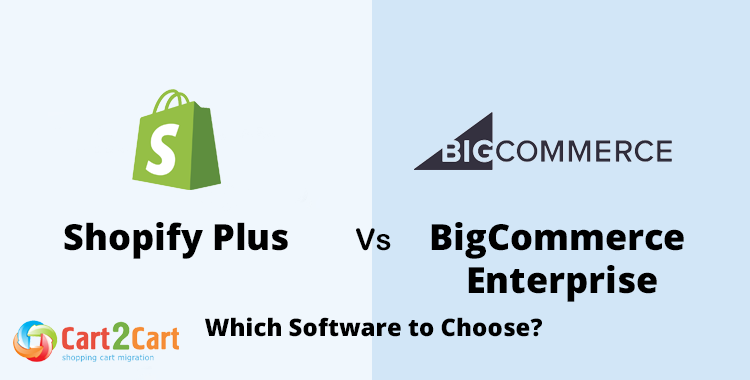 BigCommerce and Shopify are two of the most trusted e-commerce platforms currently in use. Shopify is by far the more popular platform, with 1.75 million merchants having their stores on it. BigCommerce supports more than 30,000 BigCommerce sites.
Both Shopify and BigCommerce have specific solutions to handle high-volume sales: Shopify Plus and BigCommerce Enterprise.
Both these platforms are worth exploring for businesses that are experiencing increasingly high sales volumes.
Shopify Plus vs. BigCommerce enterprise. Side-by-side comparison
Both platforms are hosted solutions that run in a web browser. That means that store owners don't need to download any software to use these platforms. They also don't need to pay any hosting fees, as the monthly subscription fee covers those.
This brings us to the next point. Shopify Plus and BigCommerce Enterprise are software-as-a-service (SaaS) solutions. That means users don't buy a platform; they pay for access to use the software.
Shopify Plus vs. BigCommerce Enterprise: Pricing Compared
For both platforms, there is no information online about the exact fees that are charged for these enterprise-level e-commerce platforms. If you are interested in either of them, you need to contact Shopify and BigCommerce directly.
Shopify Plus Pricing
The starting rate is $2000 per month, and that can go up to $40,000 per month. Once you earn more than $800k per month, the pricing model becomes revenue based.
The Shopify Plus credit card processing fee is 2.15% plus $0.30 on domestic transactions on Visa and MasterCard. The fees differ from country to country and for other credit cards. There is a 0.15% if you don't use Shopify Payments. So, if you use gateways like PayPal, you have to pay extra.
Shopify's pre-made themes cost around $180, but you will probably need to customize your theme, and that will involve development costs.
BigCommerce Enterprise Pricing
The platform fee starts at $1,000 per month and can go as high as $15,000 per month, but store owners must contact BigCommerce for the exact amount.
Credit card processing fee starts at around 2.9% plus $0.30 per transaction if you use the standard payment option. Premade themes will cost between $145 and $235. Customizing your theme will involve development fees.
Shopify Plus vs. BigCommerce Enterprise Support
A large e-commerce store often runs into technical and other issues that require the support of platform specialists.
Shopify Plus Support
Merchants on a Shopify Plus plan have access to a dedicated Merchant Success Manager who is available 24/7 via email, telephone, and live chat. The Merchant Success Manager can also assist with business issues like brand strategy, conversion, and business management.
BigCommerce Enterprise: Support
BigCommerce Enterprise offers 24/7 technical support. Large enterprises receive priority support from a Senior Technical Support agent within 30 seconds of the request for help.
Merchants receive help with Account Management, Solution Architecting, Technical Account Management, Implementation Project Management, and in-house Catalog Transfer Services.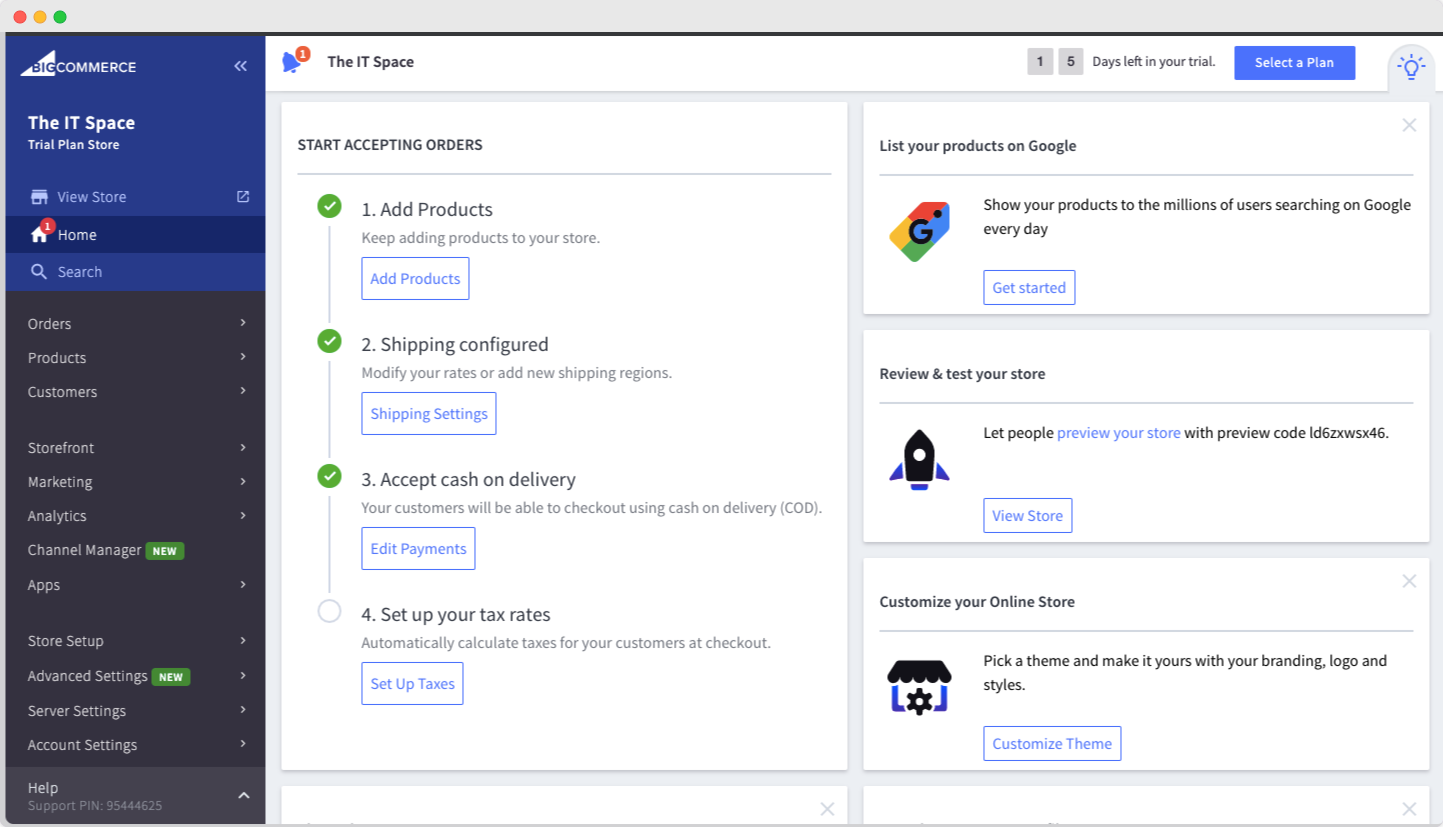 BigCommerce Enterprise users have access to a Premium Account Services team that also provides business-related recommendations.
Shopify Plus vs. BigCommerce Enterprise: Multistore Management
Multi-store management is a natural evolution for large online companies. Serving customers in different countries requires a new range of business skills and technical sophistication.
To sell internationally, you need to
Localize your online store so that it appeals to customers in each region you're selling in
Incorporate different languages, products, and payment options for each region
Shopify Plus Multi-store Management
Shopify Plus allows multi-store operations. Users can create up to nine different regional stores in one storefront.
The expansion stores come with everything you need to run stores for shoppers from different regions, including local shipping options, a currency converter, and a localized content experience.
BigCommerce Enterprise Multi-store Management
BigCommerce Enterprise does not allow multiple stores, but that doesn't mean store owners can't sell to international customers.
BigCommerce offers many features and integrations that let merchants sell anywhere, including international payment gateways and native language support.
BigCommerce Enterprise users can launch multiple websites and integrate them with a PIM solution to keep track of product and marketing data across stores.
Shopify Plus vs. BigCommerce Enterprise: Automation
With both BigCommerce Enterprise and Shopify Plus, merchants can make use of applications and integrations to automate many business processes.
Shopify Automation
The Shopify Plus automation solution is Shopify Flow which uses integrations to connect e-commerce systems and tools to enable workflows to automate a variety of operations.
Shopify Flow is the first e-commerce automation technology of its kind. Flow replaces disconnected applications, third-party software, and manual workarounds.
For example, Shopify Flow automatically takes care of the following:
Tagging and segmenting customers based on their buying behavior
Low-stock management
Rewarding customers based on their spending
Canceling high-risk orders
Custom workflows
Notifications
Order management
BigCommerce Enterprise Automation
BigCommerce Enterprises uses a different approach to automation. The platform uses integration with email marketing and automation applications like HubSpot, Avalara, and ShipStation to automate certain processes.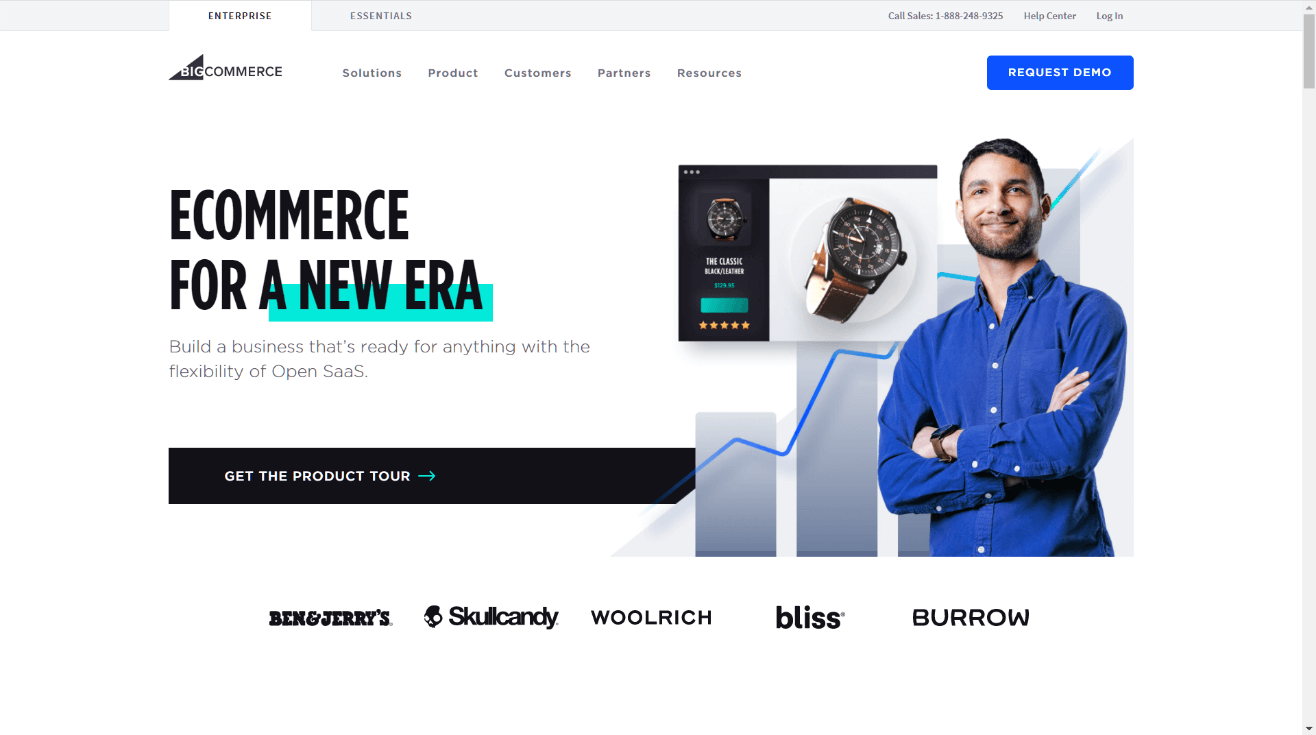 BigCommerce uses integration with third-party applications as a means of automation, while Shopify Plus has its own automation solution integrated into the platform.
Shopify Plus vs. BigCommerce Enterprise: Sales Features
Shopify Sales Features
Shopify Plus is recognized as one of the top e-commerce platforms for sales, with a vast range of sales features. Shopify Plus offers a wide range of third-party apps on the Shopify Plus app store that store owners can use to connect with customers and sell to different groups.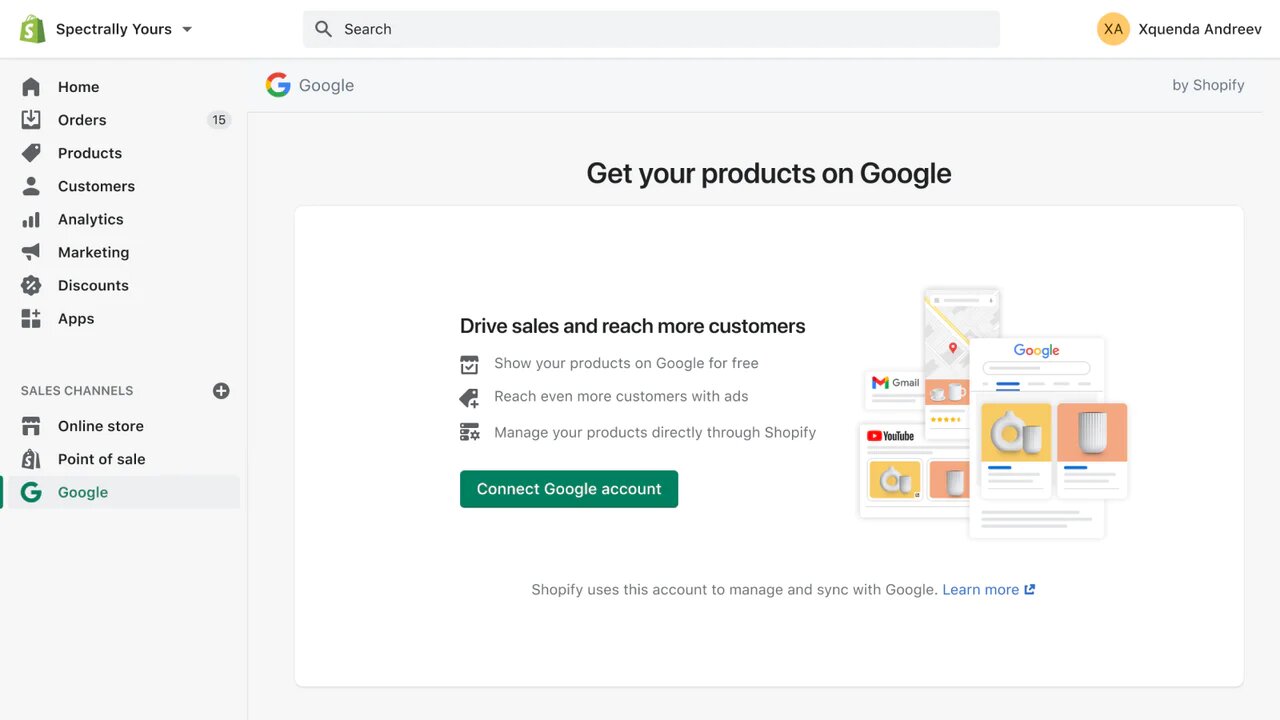 Shopify Plus is built to enable massive sales. Merchants can use augmented reality to enable customers to experiment with products before they decide to buy. Merchants can also entice customers with 3D product videos. These cutting-edge technologies put Shopify at the leading edge of e-commerce.
In addition, Shopify Plus users can leverage Shop Pay to ensure a streamlined checkout experience for customers. Merchants can customize their checkout experience with custom discounts, product recommendations, and various shipping rate management options.
BigCommerce Enterprise Sales Features
On the other hand, BigCommerce gives merchants a host of excellent functionality out of the box. The platform comes with built-in features for credit card payment management, marketing, and much more.
Any sales functionality a merchant may need comes with BigCommerce Enterprise, while Shopify Plus users need to use add-ons and integrations to have access to various e-commerce functions.
For instance, BigCommerce users can have customer reviews and testimonials on their sites without the need for separate apps. This function is only possible through add-ons and integrations for Shopify Plus users.
Shopify Plus vs. BigCommerce Enterprise: SEO
Both platforms have excellent SEO features, but BigCommerce Enterprise is more flexible.
Shopify Plus SEO
Shopify Plus SEO has a range of search engine optimization adjustments to support Shopify Plus sites. Shopify Plus SEO options include removing duplicate product page links, reducing JavaScript-dependent content, faceted navigation adjustments, internal site search, superior site speed, and more.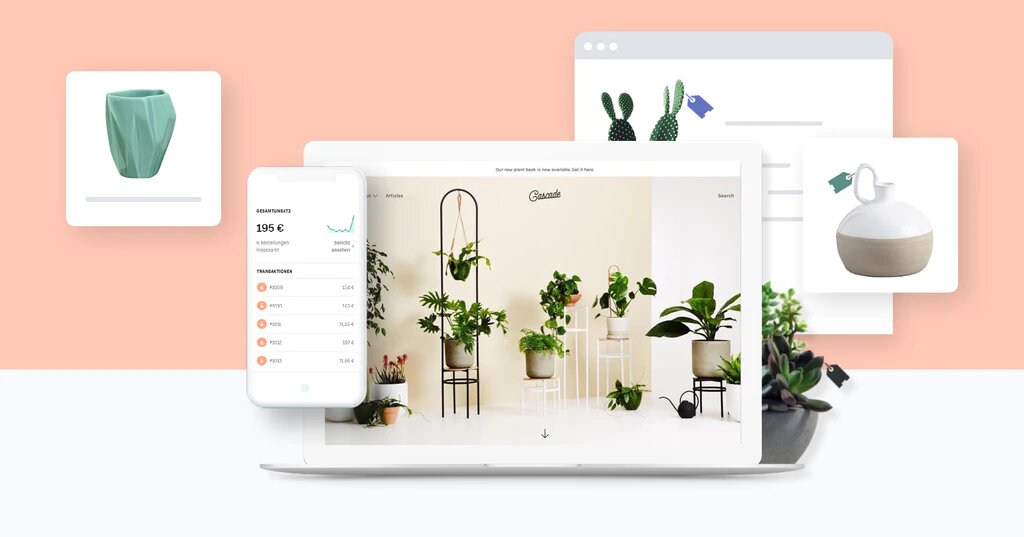 Changing the URL of a page is not a problem, as the site automatically creates redirects. However, some technical SEO initiatives, like changing URL configurations, hierarchy and caching headers and are not straightforward. In addition, users can't build a Shopify Plus store on a sub-directory.
BigCommerce Enterprise SEO
On the other hand, the SEO functionality of BigCommerce Enterprise is more flexible. This platform organizes products into categories and subcategories, which helps search engines understand the structure and hierarchy of your website, boosting a site's ranking.
BigCommerce Enterprise also enables users to customize URLs, which helps to create a fully user-friendly structure.
The platform also allows merchants to edit their robot.txt files. This feature lets store owners decide which pages search engines are allowed to crawl.
Shopify Plus vs. BigCommerce enterprise. Which is right for your e-business?
Shopify Plus and BigCommerce Enterprise are both powerful e-commerce platforms. Both are enterprise-level solutions with a range of advanced features to help online businesses to grow and sell vast stock volumes.
But how to choose between the two?
Shopify's declared mission is to help people achieve independence by making it easier to start, run, and grow a business. So, if you want to work with a simple and efficient interface and have access to a vast range of extensions and third-party apps to give you control over your business, you could consider going with Shopify Plus.
On the other hand, if you want access to all the features you need out of the box, and are concerned about SEO, BigCommerce Enterprise might be a better option for you, especially if you run a very large and complicated business.
Conclusion
Choosing between Shopify Plus and BigCommerce Enterprises is complicated because both are excellent and powerful platforms. We touched on a few factors that might influence your decision, but there are many more.
While Shopify is the market leader among SaaS-based e-commerce platforms, BigCommerce is a well-established platform that is successfully supporting many large online enterprises. In the end, the success of your undertaking will depend as much on your business skills and your access to top-level developers as on the platform you end up choosing.
If you are planning on migrating to BigCommerce Enterprise or to Shopify Plus or any other platform, you can depend on Cart2Cart to handle the migration for you professionally. Cart2Cart is an excellent migration tool that will save you time, energy, and money while transferring your store in securely.