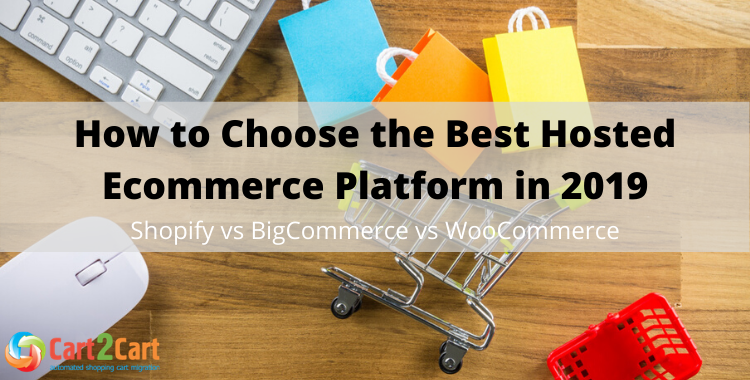 So you have finally decided to start up your eCommerce store. Anyway, thousands of questions arise in your mind, and the biggest one is - where to start?
First of all, you have to choose a shopping cart platform that will work with your business properly. If you're standing on the verge of your new eCommerce venture, the website builder of your choice should be user-friendly. Even the most robust feature set would be pointless without your understanding of how to get it up and running. Apart from essential features, the shopping cart needs to be straightforward and intuitive. We have reviewed and compared 5 leading eCommerce platforms for beginners and defined a perfect match for technical noobs.
Shopify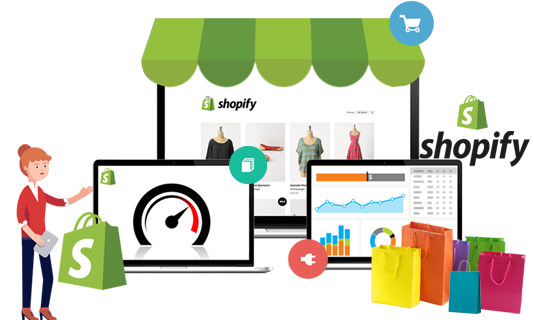 Originally launched in 2006, Shopify is a fully-packed blend of an exceptionally user-friendly interface and the most comprehensive range of customizable templates. Over the last few years, it has grown faster than any other eCommerce solution. Today the platform hosts more than 800,000 stores with over 1,000,000 active users onboard and generates around $100bn in sales.
Shopify is a hosted SaaS tool, which means you don't have to worry about functionality updates and fixing performance bugs. It sounds weird, but Shopify had been initially built as a platform for selling snowboards, that ironically have started the eCommerce revolution. Convinced that any existing platform can't create the estore you've envisioned in your dreams? Shopify has gone beyond the wildest imagination. It has its own official theme store, and all themes come with the full list of customizations and modifications, so no coding is required to make any changes.
Benefits of using Shopify
The top-notch feature is a gorgeous design. Dozens of premium-looking, stylish themes will show you how an elegant brand store should look and be done. No programming experience needed - just use your mouse to let the magic begin.
A one-stop eCommerce platform. Being a fully hosted, template-based solution, Shopify takes over from a store owner and covers security, ongoing updates, and performance bugs detecting & reporting.
An easy-to-use, clean and modern interface. Being a straightforward, user-friendly shopping cart, it's the most preferred option for thousands of newbies or users with little technical expertise.
SEO compliance. With Shopify, it's quite easy to win the best ranks and become an SEO expert.
Full-Stack customer support, built with experienced and responsive Shopify experts. They're available 24/7 by email, live chat, or phone. And meanwhile, Shopify Help Centre is replete with extensive documentation and FAQs to fix common issues users usually face.
Integrations with multiple social channels, such as Instagram, Facebook, Amazon, and eBay. Going with the cheapest pricing plan - Shopify Lite - you get access to social selling for only $9 per month.
Drawbacks of using Shopify
Additional fees. Due to your turnover, pricing plan, location, and store's profitability, Shopify charges a transaction fee on top of the payment processor fee (e.g., Stripe or PayPal).
Multi-language store. There are a few templates for creating bilingual online shops, although, they're either expensive or pretty limited in their functionality.
Shopify jargon. Once you migrate your existing store from any other platform to Shopify, you'll need some time to get used to the specific categorization, like using "collections" over "categories" etc.
How much does it cost to sell on Shopify?
$9: Shopify Lite
$29: Basic Shopify Plan>
$79: Shopify Plan (the most popular one)
$299: Advanced Shopify Plan
Starting from $2000: Shopify Plus (Enterprise) Plan
BigCommerce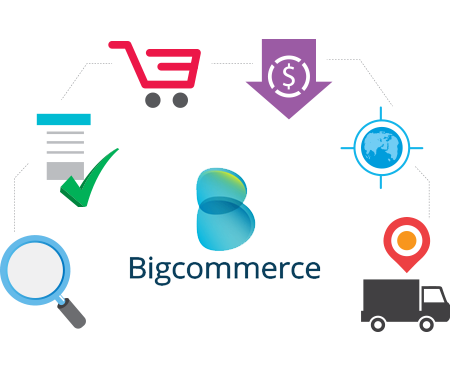 What comes to your mind if I told you "the biggest Shopify's competitor"? In the hosted eCommerce market BigCommerce stands next to Shopify as its first alternative and the most similar solution. BigCommerce works as a SaaS platform as well as a shopping cart for other types of websites. Everything here was made to be modern and trendy. Its high-flying features are twofold: award-winning store management capabilities and flexible shipping options that allow live quotes and rate calculation. Moreover, BigCommerce easily integrates with popular social networks like Amazon, eBay, and others, so if you're planning to build up a multi-channel store - prefer this website builder over anything else.
Benefits of using BigCommerce
BigCommerce offers integrations with over 60 payment gateways, such as PayPal, ApplePay, Stripe, AmazonPay, etc. It provides users with one of the best-abandoned cart savers around, which allows you to create a series of automated emails to site visitors who go part of the way through the sales process and leave your store without making a purchase. This feature has the potential to dramatically increase your sales.
Power-packed support service. Customers get technical assistance through phone, live chat, forums, and FAQs. By the way, you can get a consultation via Facebook and Twitter official pages.
Unrivaled set of marketing tools. With BigCommerce, you can set up a large number of loyalty programs, promotions, unlimited product variants, options to handle returns, coupons, and discounts.
Drawbacks of using BigCommerce
The built-in blog doesn't facilitate RSS feeds.
Limitation of annual online sales. If your income per year exceeds the fixed limits, you will be forced to upgrade to a more expensive plan Hidden payments. Your monthly price, platform transaction fees, credit card fees and add-on fees, so here's how BigCommerce stacks up with pricing vs all-inclusive solutions.
How much does BigCommerce cost?
$29.95: Standard
$79.95: BigCommerce Plus
$249.95: Pro
Customizable: Enterprise
WIX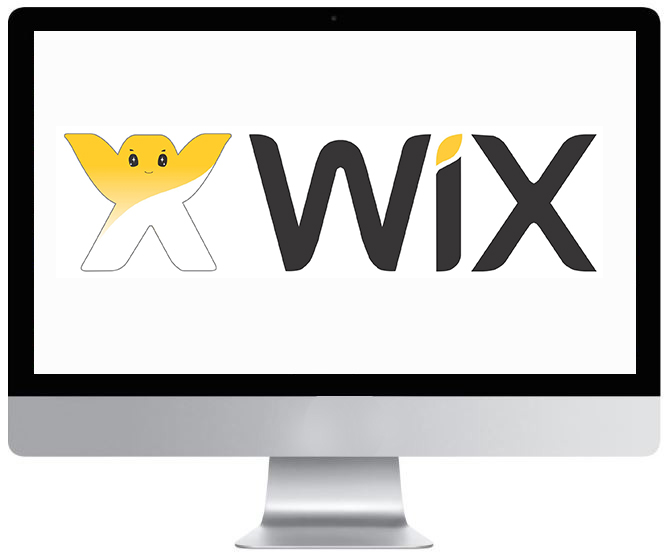 In terms of user-friendliness, any other platform will be blown-away when compared to WIX. It's a drag-and-drop website builder that could be used without knowing a line of code. During the last yeas, when Shopify and Woocommerce were enjoying its hype, WIX has become a competitive alternative with a supportive community and unrivaled set of functionality everyone understands.
Wix has onboard over 100 million people across 190 different countries. With its 500+ beautiful, professional-looking templates, everyone can build up an online store. Just drag content anywhere on your site with the user-friendly editor and voila, your online shop is ready to attract and convert visitors into admirers. Unlike Shopify, WIX allows users to stay on the free plan as long as they want. There are also 4 pricing plans available (really, like really affordable), and the cost ranges between $13 and $39.
Benefits of using WIX
Sophisticated design. With tons of customizable, elegant, and minimalistic templates, WIX enables you to create your own outstanding design in pretty limited time spans.
Intuitive drag&drop interface. The drag and drop interface is extremely beginner-friendly. A quick question. Is it possible to launch an online store overnight? Noway. If you're not going with WIX. Just pick what you need (image, slideshow, text) and place it wherever you want, without restrictions.
Free plan. First of all, it creates a risk-free opportunity to try out the platform upside down, so before upgrading to the premium plan, you know exactly what to expect. Packages give you access to more powerful, dynamic tools, but it's not a must-have.
Drawbacks of using WIX
Not a pure eCommerce platform. If you're solely interested in originally created shopping carts, WIX is definitely not for you. It is first and foremost a website builder that is also capable of selling things. Therefore, eCommerce capabilities can be a bit basic.
WIX advertisements are clearly visible on a free plan towards the top right corner. To remove WIX's watermarks users have to upgrade to one of the premium packages.

How much does it cost to run a WIX store?

$0: Free Package
$13: Combo Package
$17: Unlimited Package
$25: Pro Package
$39: VIP Package

WooCommerce

Undoubtedly, WooCommerce takes a greater market share than any other eCommerce platform. First of all, it's an all-inclusive solution for those who run a website on WordPress but want to expand into eCommerce. It's commonly known that WooCommerce has a long way to go to catch both Magento and Shopify in terms of the amount of revenue that it generates for store owners, however, it definitely has its admirers.

There are dozens of WordPress themes available, and there are more customization options available here than with most other platforms. That being said, it's also a little more complicated to set up, and true configuration will require turning to a site designer and front-end developer.

Benefits of using WooCommerce

Huge and experienced open source community of Squarespace experts who are willing to help.
A great number of helpful resources and documentation available.
Integrates seamlessly with WordPress, which empowers 50% of all existing sites using a CMS.
There are plenty of free and paid themes to choose from, as well as thousands of plugins and extensions that allow site owners to extend the functionality of their eCommerce stores.
The plugin itself is completely free to download, install and use.

Drawbacks of using WooCommerce

Doesn't involve some advanced features out-of-the-box that come alongside with more robust eCommerce platforms.
Installing and configuring WooCommerce sometimes may be a tricky thing, especially for non-techies
Your existing site must be based on WordPress in order to integrate it with WooCommerce.
Buying additional plugins and extensions may be a little pricey, particularly if you're planning to run an enterprise-level business.

How much does WooCommerce cost?

Free plugin: $0 per month
Hosting: $25 a month but varies a lot
Themes: usually less than $100

Squarespace

Similar to Wix, Squarespace is another no-coding-needed website builder that has grown into big eCommerce players in a very short time. Like many others on this list, it has got elegant templates available to get you started. Not everyone finds coding exciting, so if you don't have a clue how to write a line of code and no interest to learn - Squarespace is at your service. Squarespace focuses on aesthetics with beautiful shop fronts and has marketed itself towards creative industries such as fashion, music, and art.

Benefits of using Squarespace

Built-in plugins and the platform itself are extremely stable
Easy to use and learn. No programming skills or coding experience required to build up your store from scratch or relaunch it after migration.
High-quality themes and templates that rely on photography and don't need extra setup and customizations. All the updates are performed automatically to the latest web standards.
Award-winning tech support available via numerous channels like email, live chat, online forums, and training videos, so you won't be bogged down with tech errors.

Drawbacks of using Squarespace

Limited tools for SEO optimization
When compared to Shopify, Squarespace has no phone support, so you'll barely get immediate support if there's an issue you need to troubleshoot.
There is an overall lack of advanced marketing tools and innovative customer loyalty programs.

How much does Squarespace cost?

$12: Personal Squarespace
$18: Business Squarespace
$26: Basic Commerce Squarespace
$50: Advanced Commerce Squarespace

How to Choose the Best Hosted Ecommerce Platform in 2019

If you're starting an online store from scratch with little to no coding experience, give your favor to one of those five the most preferred "easy" platforms. As standalone solutions, they offer all the necessary features and services, so you may focus on something you're really good at - selling products online. By knowing beforehand all your needs and requirements (e.g issuing an RFP), you can find a good perspective for your business needs. Taking into account our first-hand experience, we've highlighted these top 5 website builders to create a functional online store.

If you're still not sure what is your perfect fit, try out Cart2Cart's Migration Preview Service. This feature was designed with customers' voice in mind, so they could test the desired shopping cart for 3 days after Free Demo. Being satisfied with the results, you'd be able to reconfigure your Target Cart details and proceed with the Full Migration to a live store.