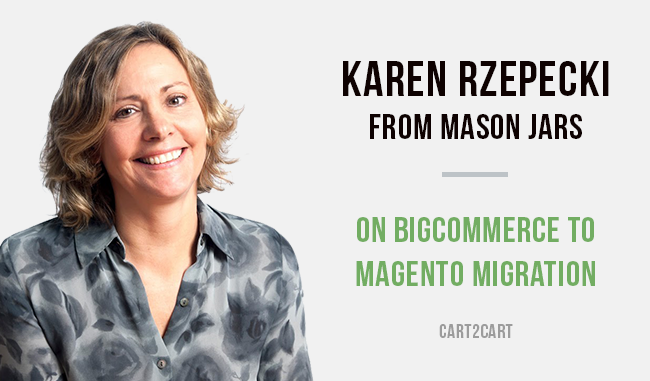 Karen Rzepecki has built her business by selling something you often don't even notice in your everyday life - Mason jars! Such a basic and necessary product has allowed her to build a branded Mason Jars store selling all kinds of jars as well as various mason jar caps and lids. With great pleasure, we offer you to enjoy our little interview with Karen, who has kindly agreed to share her experience of Bigcommerce to Magento migration using Cart2Cart.
Q: So, you're running a store selling jars. All kinds of jars. That's fun! How did you come up with such an extraordinary business idea?
I love making homemade salad dressing in Mason jars. But it was messy with the ring & lid and I couldn't find a cap that would let me shake, pour and store. So I decided to create one!
Q: I guess we're all in need of a couple of shiny jars 🙂 But at whom do you target your marketing efforts in the first place?
Mason jar users
Q: We love the way how you're telling the story on your website! All those fun historical facts, inspirational ideas, and product recipes are absolutely charming. How it works in practice though? Does your focus on content marketing pay off?
Not yet.

Mason Jars store before the migration

Mason Jar Makers store after the migration (please note that the store is still under construction and won't be finished until April 2016)
Q: You have recently decided to migrate from Bigcommerce to Magento. Well, that's a serious step! What are the flaws of your old solution that induced you to replatform?
Shipping functionality and selling wholesale with retail.
Q: Why did you choose Cart2Cart to undergo a migration? And how was the process of data transfer itself? Have you encountered any difficulties?
Our developer has used Cart2Cart before. The data transfer was very easy. We had difficulty with the products coming over properly and all needed reconfigured.
Q: Now, when you've moved to Magento -- and still keeping your Bigcommerce store live -- what are your plans and expectations? What are the benefits of using an open-source Magento solution?
We hope to go live in April and can't wait to use the new system!