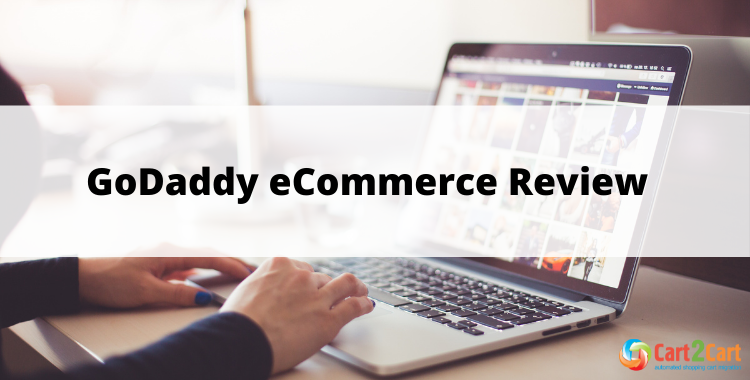 Billion-dollar GoDaddy Inc. is known for being one of the largest platforms for online retailers. Starting a business with GoDaddy eCommerce is incredibly easy. As a result, the popularity of this solution is growing incredibly fast. Let's take a closer look at its features to understand the answer to the question - is GoDaddy good for eCommerce?
In-Depth GoDaddy eCommerce Review
GoDaddy is a fully hosted shopping cart that is easy to get started with. This user-friendly solution offers basic eCommerce features. It is suitable for eCommerce beginners who want to get online quickly and worry-free. However, it lacks some tools and applications provided by the other top eCommerce platforms.
GoDaddy eCommerce: Ease of Use
As mentioned earlier, the GoDaddy store is effortless to set up. It doesn't require any special knowledge and you will be able to get a handle on it in no time. All users are offered to sign up for a 1-month free trial. This is two times more than other hosted shopping carts offer. You don't have to provide any credit card information to start the trial, just basic details: name and email (or sign in with your Facebook or Google account).
GoDaddy for eCommerce has a very intuitive user interface. Its drag-and-drop tools, e.g. inserting images, slideshows, contact forms, etc., make your job a lot easier. This platform is WYSIWYG, which means "What You See Is What You Get", whatever you type into your website editor will look the same when published.
GoDaddy Integrations and Features

GoDaddy ecommerce plan offers the the following features:
SSL certificate,
Website hosting,
Responsive design,
24/7 support,
Access to GoDaddy store guidance and analytics,
Search Engine Optimization tools,
Email Marketing with 25,000 letters per month,
Unlimited Social Media Integration,
Online Appointments,
Globally-Optimized Speed,
Built-in eCommerce features, etc.
In addition, if you want to check your visitor statistics, you can add Google Analytics.
Also, with the GoDaddy's dedicated Marketplaces feature you can sell products on Amazon, Etsy, eBay, Walmart, etc.
But, there are some common features that you don't notice until you find out that you can't have them. For those searching is GoDaddy is good for eCommerce, it is worth to mention that this platform doesn't have blogging functionality, which seems to be an essential part of e-businesses these days.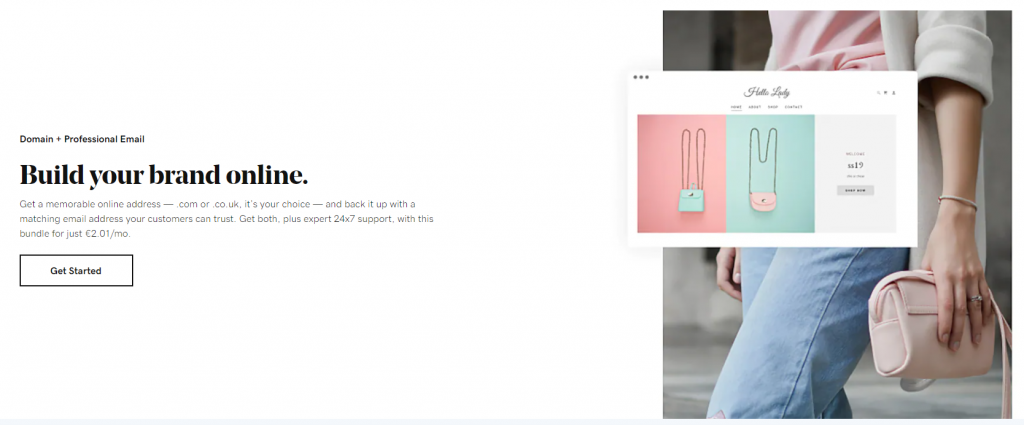 It's a pity that there is no GoDaddy app store and no open API. So it's pretty limited in terms of integrations. But we will highlight the ones that are still offered by GoDaddy eCommerce, they are:
Google Analytics (website traffic and reports),
Spree Commerce (email marketing),
SurveyMokey (newsletter surveys),
Salesforce (sync eCommerce newsletters with robust CRM platform),
Etsy (link Etsy listings in newsletters),
Facebook (Site Builder automatically creates a Facebook page with a prominent "Shop Now" button; ability to sign up for the newsletter on your Facebook page),
Ebay (listing items on Ebay).
GoDaddy Online Store SEO Features
GoDaddy eCommerce offers basic SEO features. You can only edit SEO relevant areas: page title or meta description. Unfortunately, you can't change URL names or add Alt tags to images. GoDaddy doesn't give you the option to install SEO apps to improve your Google optimization like Shopify or other eCommerce platforms do.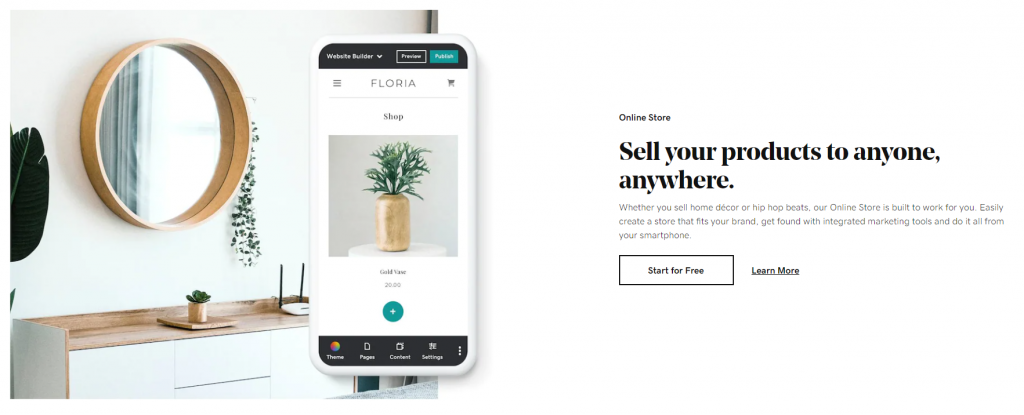 This limited SEO optimization can affect the way your website appears in search engines and its visibility in Google search. We can recommend you rather go with an eCommerce-focused platform to run an e-business. The most popular target shopping cart that users are usually switching to and that offers a more comprehensive set of eCommerce tools for a fair price is Shopify.
Go for a Try Shopify for free for 14 days or migrate from GoDaddy to Shopify in just a few clicks
GoDaddy for eCommerce: Main Tools
GoDaddy provides basic, but all the needed eCommerce tools you need to run your store. It gives you the ability to sell unlimited products (including different product variants), track inventory and orders instantly, and manage stock. You can also create coupon deals for customers with your own coupon codes. Another useful eCommerce feature offered by GoDaddy is abandoned cart recovery. After implementing an abandoned cart campaign, you can gain a lot of practical insights and qualitative information. It will help you improve your sales in the checkout process. This feature allows you to create a better customer experience while recovering the loss of sales and revenue in the abandoned cart.
GoDaddy eCommerce Pricing and Payment Gateways
GoDaddy offers 4 pricing plans. These include Basic, Standard, Premium, and GoDaddy eCommerce plan. In our GoDaddy eCommerce review, we will only talk about the last option as it is the only pricing plan for online store owners. GoDaddy eCommerce plan monthly fee is $24.99. Free hosting and unlimited bandwidth are offered. Regardless of the fact that GoDaddy is the largest American domain registrar, the domain name is not included in any plan. You can buy a new one or redirect an existing one.

The GoDaddy online shop has no transaction fees. It allows you to accept payments through PayPal, Square or Stripe. The latter supports transactions via Apple Pay. PayPal Express is available out-of-the-box. To set up credit card payments, you need to turn on Stripe in Payment Settings. These payment gateways have fees of about 2.2% + $0.30 per transaction. That seems pretty high considering most platforms don't charge a transaction fee. Shopify has an analogous transaction fee. It can vary depending on the plan you choose. However, the native Shopify gateway doesn't include any.
You can add Custom payment methods that allow customers to pay offline: in person or by cash, check, or bank. All you need to do is provide the payment instructions on your website.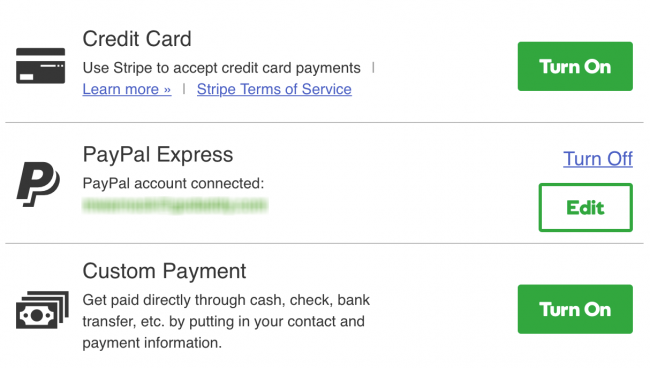 GoDaddy eCommerce website Customer Service and Support

The nice thing worth mentioning in our GoDaddy online store review is the 24/7 support offered by this platform. Responsive and friendly customer support is included in every GoDaddy plan. It is available through various channels. They are offered through:
24/7 phone support
Live Chat
Knowledge Base
Community Forum
System Status Report
In short, this platform is mainly for people with little technical knowledge. For more experienced e-merchants, it seems too limiting. GoDaddy online store is not as comprehensive as many popular eCommerce solutions, yet it offers many features to create a pleasant shopping experience for customers. However, there are only two payment gateways and poor SEO options.
Is GoDaddy Good for eCommerce?
If you're aiming to grow your business and show up in Google searches, you're better off leaving GoDaddy in favor of more advanced eCommerce solutions. GoDaddy has proven to be a good solution for small business merchants who want to create a simple online store without advanced eCommerce features.
Shopify, Volusion, BigCommerce, 3dcart have similar pricing plans. But they offer more features, in terms of eCommerce and SEO tools along with design customization.
If you are looking for a platform to create a web store, take advantage of free trials. These are offered by many hosted eCommerce solutions. If you are interested, pay attention to some comparison articles to find out the specifics of popular hosted shopping carts:
Feel inspired to move from GoDaddy to Shopify?
Start a free Demo with Cart2Cart and take the migartion headaches off your back!
Start free Demo now
Shopify vs GoDaddy: Which Store Builder to Consider?
Both platforms are practical solutions but attract businesses of different sizes. GoDaddy suits the small businesses. Shopify satisfies the needs of all organizations. Here are two different players in terms of different reasons:
GoDaddy eCommerce vs Shopify: Ease of Use
RIn terms of user interface, GoDaddy and Shopify are considered simple solutions. The key difference is when it comes to a more comprehensive and sophisticated dashboard of sales, orders, and traffic. This is where Shopify keeps the upper hand. It helps you make the right business decisions./p>
GoDaddy vs Shopify: Themes
In the world of online business, the look of your website can have a significant impact on how the business is perceived. That's why GoDaddy for eCommerce offers the compelling themes managed by WordPress Themes Gallery. You get pre-built customizable pages, easy drag-and-drop page creation, and easy access to a wide range of WordPress plugins. Basically, there are no limits to what you can create. You can get automatic setup, backups and software updates.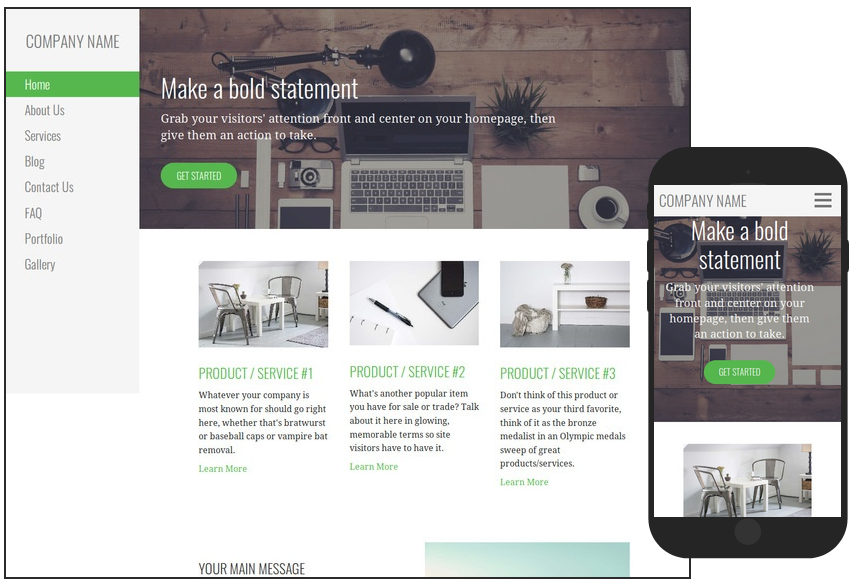 If we talk about Shopify designs, the platform includes an extensive collection of free and paid themes that can help you find a suitable e-store look. Since the solution is one of the most popular online stores in the eCommerce market, all you need is inspiration and discover styles to start building your brand. Since the solution is mobile responsive, your customers can browse the e-store on any device and on the go.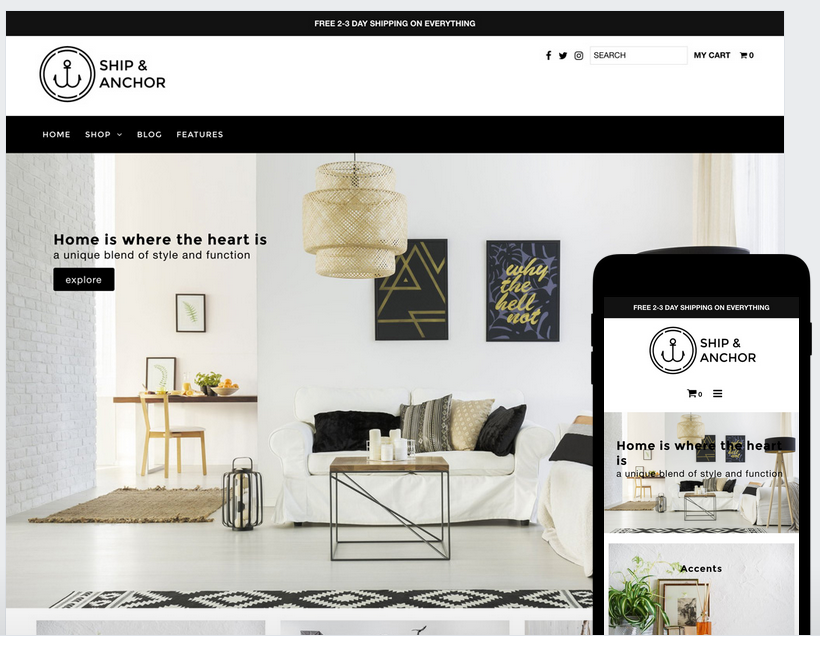 GoDaddy store vs Shopify: SEO
The ultimate success of your online store depends on various factors, so the process of how you get indexed in the various search engines is no exception. Like most online shopping carts, GoDaddy eCommerce gets the built-in SEO tools. Shopify gives you the option to:
support SEO best practices: customizable H1, title, and meta tags;
include social media integration: Pinterest, Instagram, Facebook, Twitter, Tumblr, etc.;
buy a gift card from your store, or you can use gift cards as store credit;
launch the promotions by offering the coupon codes that help your clients save money and get more interest in your product or service.
generate sitemap.xml automatically with your products, web pages, and blog posts;
notify the clients of the upcoming sales and new products with help of the email marketing automation tool like MailChimp.
Blogging capabilities in Shopify vs GoDaddy
What generates traffic to your website and improves SEO? Blogging is one of the inevitable parts of your marketing strategy, and this is where GoDaddy eCommerce falls short. Shopify excels in powerful, comprehensive, and easy-to-use blogging features. The platform offers custom dashboards, the ability to write articles, embed videos, encourage open discussions among your visitors, and moderate comments quickly and efficiently.
GoDaddy online store pricing vs Shopify
As mentioned earlier, GoDaddy ecommerce pricing includes 4 paid plans and offers a free trial for one month.
Shopify pricing, on the other hand, includes the 14-day free trial and 3 paid plans:

Shopify vs GoDaddy: Payment Gateways
When you're selling online, it's important that every transaction is secure and meets the customer's needs. Also, without the right payment gateway, a number of issues can arise. So when you look at the comparison between GoDaddy and Shopify, GoDaddy doesn't integrate with as many of them. Shopify connects over 100+ gateway options which are divided into 3 sections: major, international, and additional payment gateways by country. The most popular are PayPal, Stripe, 2Checkout, First Data, Affirm, Amazon Payments. Another aspect to consider: Shopify charges you up to 2% for transactions through external payment gateways. This is one of the main disadvantages of using this eCommerce solution.
GoDaddy vs Shopify: the best eCommerce website builder
In short, if you are a newbie and looking for cheap hosting, fast domain name registration, unlimited domains and emails, then GoDaddy is the right choice for you. In case you want to build an online store with a set of robust features to sell more efficiently, Shopify is your way out.
The solution includes all the features your e-store needs:

Also, if you look at the statistics of Shopify, the numbers can open your eyes about the popularity and efficiency of the platform:

Moreover, Shopify is a great choice for businesses that are constantly evolving as the platform is optimized for business growth. With the help of Shopify app store, you get the opportunity to expand your business, improve business processes, and sell more.
Check out our infographic to get a better understanding of the migration process via Cart2Cart: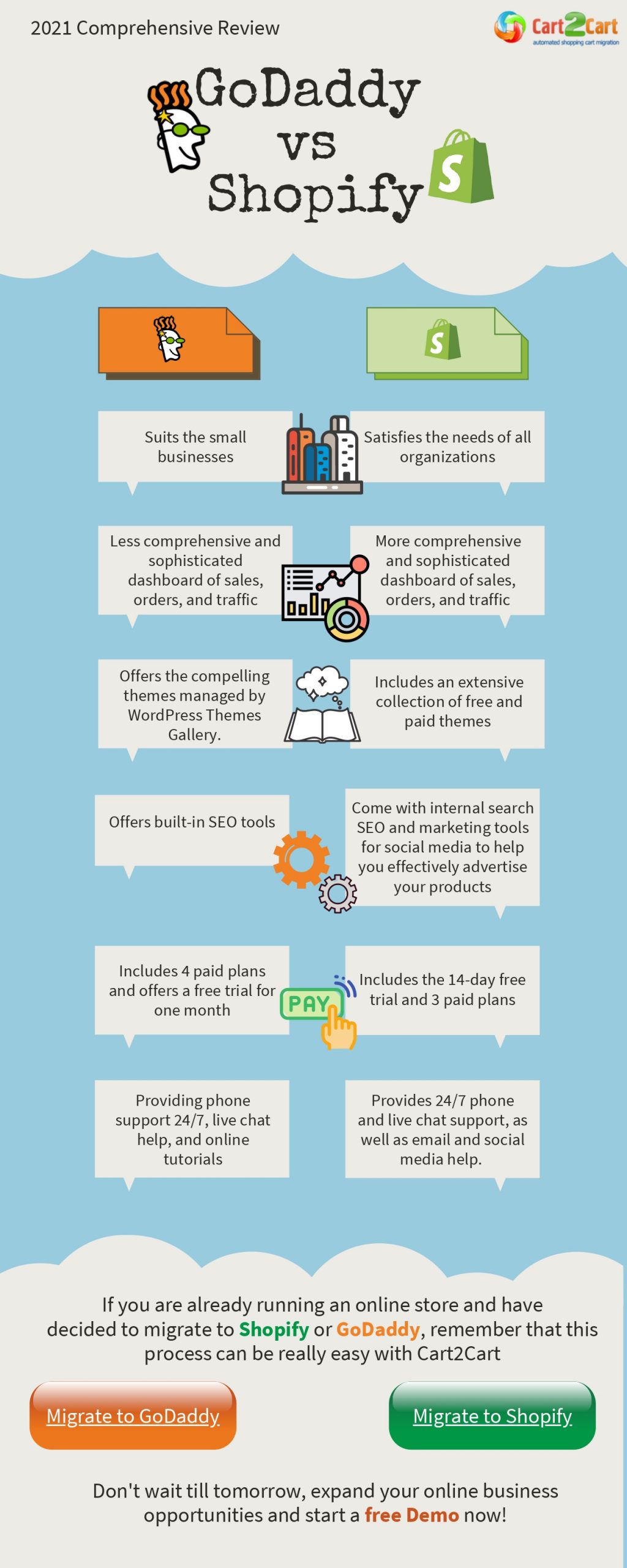 Check out what makes Shopify the best eCommerce platform to migrate to.
Who Wins the GoDaddy vs Shopify Online Store Rivalry?
As you can see, Shopify beats GoDaddy shop in almost all positions. Your task is to choose the solution that fits your company's needs and budget. So, if you decide to migrate GoDaddy to Shopify, you can use Cart2Cart automated migration service. The SaaS allows you to get a number of valuable features like total uptime of the current online store, guaranteed security, 24/7 support, a variety of imported entities, etc. Moreover, you can check the service in action and examine the functionality of your future online shopping cart with the help of a free Demo Migration. Don't waste time, try the test shopping cart transfer right now!
If you are already running your store on GoDaddy for eCommerce and it doesn't meet your requirements, you can transfer your database to 85+ eCommerce solutions (including those mentioned in our GoDaddy online store review) via Cart2Cart automated migration service.
Empower your business and export GoDaddy to a more advanced and comprehensive eCommerce solution right now.