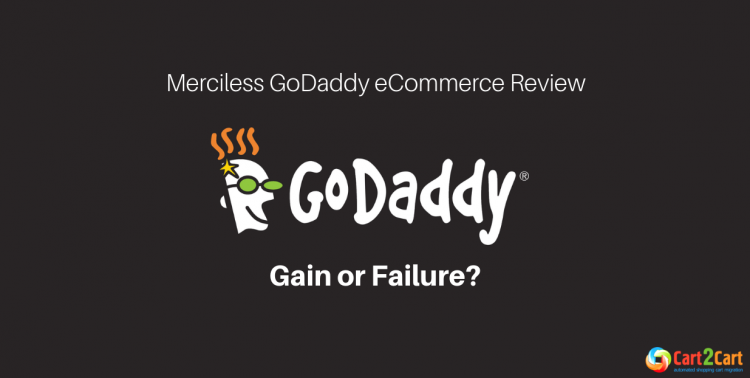 The multibillion GoDaddy Inc. is famous not only for its sexist advertising in 2010s, but also for being the America's biggest domain registrar and web hosting provider. In 2014 GoDaddy released the GoCentral eCommerce solution, it is a combination of website builder and online shopping cart host. And now we've prepared a GoDaddy eCommerce review to understand what it has us to offer.
Why?
Contrary to expectations, GoDaddy's GoCentral store is a basic platform for beginners who start online businesses. It is evolving quite slow. Today many people choose GoCentral without previous research, trusting in power of such a giant company as GoDaddy. We all remember the two world influencers, that designed quite failing eCommerce solutions for small businesses, meaning Yahoo Store and Amazon Webstore.
But let's not rush with the conclusions.
Detailed GoDaddy eCommerce review
GoCentral is fully hosted shopping cart, easy to start with. It is a user friendly solution, which offers basic eCommerce features and integration with eBay. However, there is a lack of some tools and application, which are provided by other top eCommerce platforms.
Ease of Use
As mentioned above, GoDaddy store is effortless to set up. To try out GoCentral by GoDaddy you are offered to sign up for 30-day trial, two times more than other hosted shopping carts provide. You don't need to give any credit card information to start the trial, only basic details: name and email.
GoCentral has very intuitive interface and their drag-and-drop tools e.g. inserting images, slideshows, contact forms, etc. will facilitate your user experience a lot. This platform is WYSIWYG, that means "What You See Is What You Get", whatever you put into your website editor, will look the same when published.
Feature Set and Integrations
GoCentral's Online Store plan offers the listed set of features:
Responsive mobile design
Website hosting
24/7 support
PayPal integration
Security (SSL)
Search Engine Optimization (SEO)
Email Marketing
Social Media Integration
Globally-Optimized Speed
Built-in shopping cart with fast checkout
Accept credit cards, PayPal, Apple Pay and more
Configure shipping and tax rates
Abandoned cart recovery
In addition, if you want to check your visitor statistics, you can add Google Analytics.
But, there are some common features, that you don't notice until you find out that you can't have them. In our GoDaddy online store review it is worth to mention, that this platform doesn't have blogging functionality, that seems to be essential part of e-businesses today.
It's a pity that there is no GoCentral app store and no open API, this makes it limited regarding integrations. But we will highlight the ones, still offered by GoCentral, they are:
Google Analytics (site traffic and reports)
Spree Commerce (email marketing)
SurveyMokey (surveys in newsletters)
Salesforce (sync eCommerce newsletters with robust CRM platform)
Etsy (link Etsy listings in newsletters)
Facebook (site builder automatically creates a Facebook page with a prominent "Shop Now" button; possibility sign up for newsletter on your Facebook page)
Ebay (listing items on Ebay)
SEO Features
GoCentral SEO features are quite basic. You are able to edit only SEO relevant areas: page title or meta description. Unfortunately, you can't change URL names or add Alt tags to images. GoDaddy doesn't give you the ability to install SEO apps to enhance your Google optimization, e.g. Shopify does.
This limited SEO optimization can affect the way your site appears to search engines and it's visibility in Google search. We can suggest you rather go with eCommerce-oriented platform to run e-business. The most popular target shopping cart, users are usually switching to, that offers more comprehensive set of eCommerce tools for the fair price, is Shopify.
Go for a Shopify 14-day free trial to check it up or migrate from GoDaddy to Shopify in few clicks
Ecommerce tools
GoDaddy offers basic, but all the needed eCommerce tools to maintain your webstore. It gives you a possibility to track inventory and orders immediately, you can create coupon deals for customers with your own coupon codes. Another useful eCommerce feature offered by GoDaddy is abandoned cart recovery. After implementing abandoned cart campaign, you can gain lots of handy insights and qualitative information. It will help you to improve your sales in check out process. This feature allows you to create better customer experience along with recouping sales and revenue lost in the abandoned shopping cart.
GoDaddy Online store plan enables you to list 1,500 products with up to 10 images per product. Many other platforms offer the unlimited number of products that you can add to your store. Taking into account this information, we can make a conclusion that GoCentral is mostly suited to the small or medium-sized businesses.
GoDaddy Store Prices and Payment Gateways
GoDaddy offers 4 plans. There are Personal, Business, Business Plus and Online Store plan. In our GoDaddy eCommerce review, we will talk only about the last one, because it is the only pricing option for GoCentral by GoDaddy. Online Store plan monthly fee is $29,99. The free hosting and unlimited bandwidth are offered. Regardless the fact that GoDaddy is the biggest American domain registrar, the domain name is not included in any plan. You can buy new one or redirect already existing one.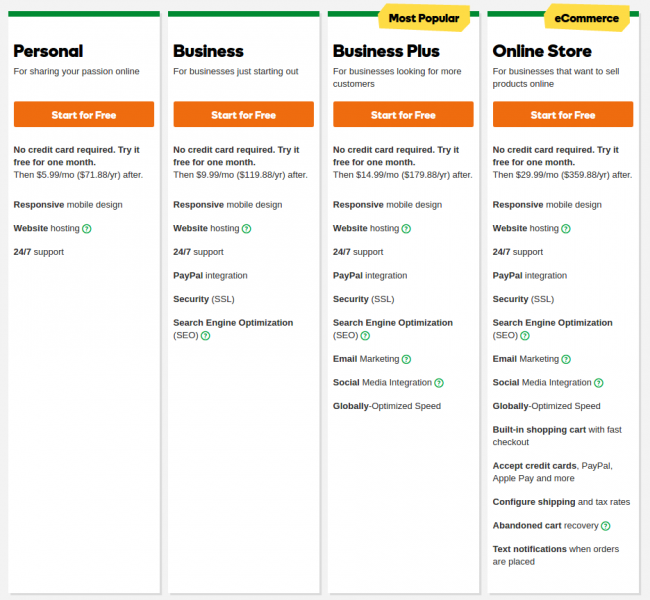 GoDaddy online store allows to accept payments in two ways: via PayPal and via Stripe. The latter enables transactions via Apple Pay. PayPal express is available out-of-the-box. To set up credit cards payments, you have to turn on Stripe in Payment Settings, both payment gateways have fee around 2,9% + 30 cents per transaction. That seems to be rather high, considering the fact that most platforms don't charge any transaction fee. Shopify has the analogical transaction fee. It can vary depending on the chosen plan, though it is absent if you are using native Shopify gateway, not a third-party.
You are allowed to add Custom payment methods, what enables customers can pay offline: in person or by cash, check, or bank. You only need give payment instructions on your site.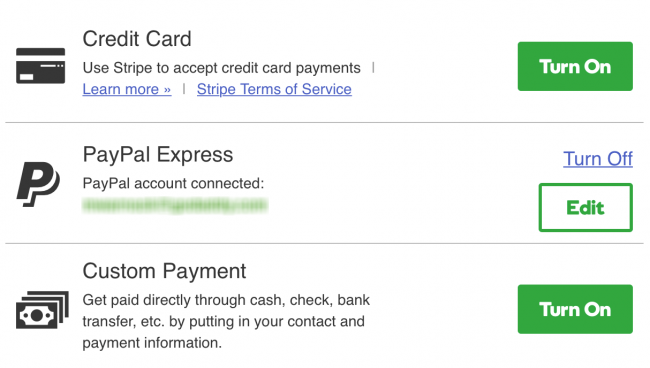 Customer Service and Support
The nice thing worthy to mention in our GoDaddy online store review is 24/7 support offered by this platform. Responsive and friendly customer assistance comes with every GoDaddy plan. It is available through different channels. You are offered:
24/7 phone support
Live Chat
Summary
In conclusion of our GoDaddy eCommerce review, we'd like to admit that GoDaddy online store is the best option to merchants with small businesses. For those, who aim to create a basic online store with great website service, but without advanced eCommerce functionality. This platform is mostly designed for those with little technical knowledge. To more experienced e-merchants it looks too limiting. GoDaddy online store is not so comprehensive as many popular eCommerce solutions, still it offers many features to create a pleasant customer shopping experience. However, there are only two payment gateways and poor SEO options.
Looks that GoDaddy made the same mistake that Yahoo and Amazon at one time. They created limited and quite basic shopping carts, counting to succeed thanks to the brand name. Though, considering current popularity of GoCentral, that appears to be not impressive, they failed.
The verdict is: if you aim to grow your business and show off in Google search you should better run your store with more scalable and robust hosted eCommerce solutions. Shopify, Volusion, BigCommerce, 3DCart have comparably similar pricing plans. But they offer much more features, regarding eCommerce and SEO tools along with design customization.
If you are in search platform to create a web store, use the possibility to go with free trials. They are offered by many hosted eCommerce solutions. If interested, pay attention to some comparison articles to find out the peculiarities of popular hosted shopping carts:
Volusion vs Shopify vs Bigcommerce - The Best Hosted Shopping Carts Compared
Shopify vs Volusion - An Honest Review
Bigcommerce vs Shopify: Make a Difficult Decision Simple
If you already run your business on GoCentral and it doesn't meet your requirements, you can move your database to 75+ eCommerce solutions (including those mentioned in our GoDaddy online store review) via Cart2Cart automated migration service.
Why Perform GoDaddy Migration with Cart2Cart?
Cart2Cart is the leader on the market with more than 30 000 successful switches on its count. The service offers the widest list of transferable entities and recently launched automatic GoDaddy online store export. All your eCommerce data can be securely moved to a desirable store within few hours without technical skills required. 24/7 support is at your disposal if you have migration-related questions.
Strengthen your business now and export GoDaddy to more advanced and comprehensive eCommerce solution. Free Demo available!