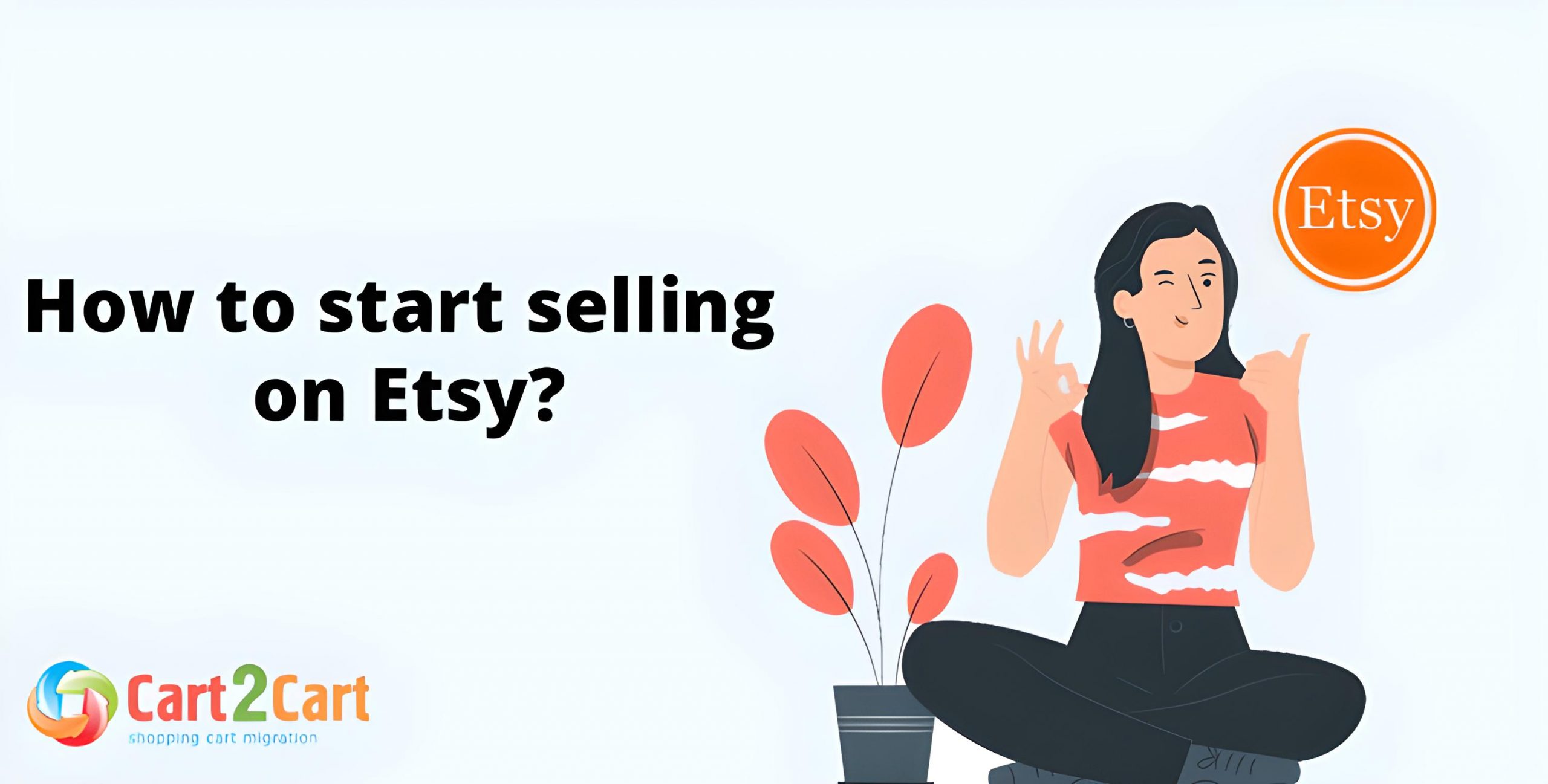 Etsy is one of the biggest online marketplaces for handmade products, vintage goods, and craft supplies. According to Statista, there were roughly 7.5 million sellers on the Etsy platform in 2021, and their stores were visited by 96 million buyers worldwide.
With the competition of such magnitude, one can't help wondering if it's worth having an Etsy store. How do you start selling on Etsy and how long does it take to start selling on Etsy? Let's look.
Is selling on Etsy worth it?
Selling on Etsy is a quick and easy way to get your products in front of millions of potential buyers. If you are selling high-quality products that are popular on Etsy, you have a good chance to have a successful store. For your information, items in the home and living, art, and jewelry categories are the most popular with Etsy buyers, so try to benefit from this trend. For instance, don't start a shop selling shoes or electronics —they don't sell on Etsy.
It is free to create an Etsy account, and it takes just minutes. You can list a few products in your store and see how it goes. You are not at risk to lose thousands of dollars.
And you can market your new store to friends and family (and through them, their friends and family) by sharing a link to your store with stunning photographs on your social media accounts. If you understand SEO and apply it to your Etsy store descriptions, your listings will be in the top search results of Google, and then you'll be well on your way.
So, yes, it's worth selling on Etsy; you just need the right products, stunning photographs, and SEO savvy.
How much does it cost to sell on Etsy?
Etsy fees for shop owners can add up. Shop owners are charged a listing fee of $0.20 for each item that they list for sale on their Etsy store. A listing is valid for four months or until the item is sold. Once an item sells, there is a 6.5% transaction fee on the sale price, including the shipping fee.
When the four months have expired, Etsy will automatically renew your listings in which case you'll be charged $0.20 for each listing. Shop owners can cancel automatic renewals and save some money.
For multi-quantity listings, you will be charged 20 cents per unit. So, if a customer buys three items in different colors, you'll be charged 20 cents for each item. If you sell the three as one unit, you'll only pay 20 cents for all three.
The payment processing fee for credit card payments is 3% + $0.25 per transaction.
Earnings through Offsite Ads are charged at 12% of the total sales price whenever someone buys a product due to an Offsite Ad. Etsy promises that this advertising fee will never be more than $100. Offsite ads are ads that Etsy places on social media and other platforms on behalf of Etsy merchants.
A note of caution to Etsy sellers: if a customer clicks on an Offsite Ad that features one of your listings, and then buys anything from your shop within 30 days, the sale will be regarded as an offsite sale and you'll be charged accordingly.
If you sell to customers in other countries, you will be charged a currency conversion fee of 2.5% on your total sales price.
And that's not all. Sellers on Etsy who are not from the U.S. are also charged a regulatory operating fee which varies from 0.25% to 1.1%.
So, if you plan to make a profit on Etsy, you'll have to be very careful with your pricing to make sure that all these fees and charges don't make your efforts obsolete.
How to start selling on Etsy? A quick-start guide
How can I start selling on Etsy, you may wonder. Don't stress, it's simple and quick and we have set out the steps for you here.
Create your free account. Go to the Etsy website and click "Get started". Enter your name, and email address, and choose a username. Upload a professionally taken profile photo, write a bio and complete all the required fields.
Next, open your storefront. To do this, look to the right of the search bar and locate "Sell on Etsy". Enter your shop preferences like the language you'll use to describe your products, the country you're selling from, and the currency you'll charge customers in. Then enter your shop name.
Don't forget about SEO. Buyers look for products on Google, so if you want them to find your store and products, you must use SEO best practices for your bio, store description, listing titles, tags, and product descriptions. Be sure to research what keywords people are using to find similar products to the ones you are planning to sell, and target those keywords.
Now you're ready to start uploading products. Upload high-quality photos and SEO-optimised listings and descriptions. Your images are of the utmost importance. Remember, people buy online with their eyes. Take special care with pricing, so you cover all your expenses and still make a profit. Navigate to the Inventory and Pricing section to enter your prices and other related information like sizes and colors.
Next, you need to specify your shipping information for customers, including where you're shipping from, and the average processing time once an order is confirmed.
Once you have completed all the information, done your listings, and uploaded your images, don't neglect to preview your listings before publishing. The preview will show you what your customers will see – you want to make sure that your store makes a good impression.
Next, choose how you want to get paid. You need to indicate whether you're an individual seller or an incorporated business first, then you can proceed to provide your personal and banking information.
Set up billing. Etsy charges you to sell on the marketplace, so you need to set up billing for how you will be charged to run a store on Etsy.
Lastly, customize your Etsy storefront so your customers can identify and find your store on the massive Etsy marketplace. Choose the colors, fonts, and photo styles with the aim to tell a cohesive story. Use your banner, specially designed shop icon, and product photography to create your unique brand.
Note: look through the Cart2Cart Blog for useful tips & tricks on how to migrate data across various shopping cart solutions.
Conclusion
If you want to start selling on Etsy, plan your store carefully so it stands out among the millions of other stores. Use your shop banner and specially designed shop icon to represent your store across the marketplace.
Use your customized Etsy store with full e-commerce capabilities to reach consumers the world over. If you find the right products to sell, follow SEO practices and create an outstanding storefront, you'll find that it's worth it to sell on Etsy.
If you are a successful Etsy store owner, you may want to transfer to a full-featured e-Commerce platform in order to grow your business further and make direct contact with your customers. Cart2Cart can help you accomplish this goal. Cart2Cart provides automated migrations from Etsy to 80 supported platforms.