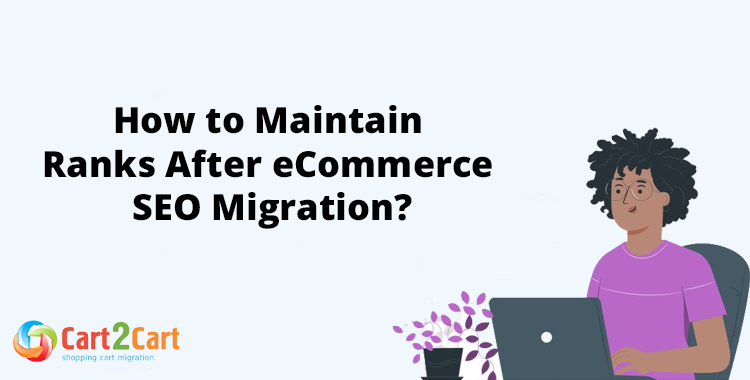 What is SEO migration?
SEO migration happens when an e-commerce site is migrated from one platform to another. A site migration involves the transferring of search engine ranking, authority, and indexing signals, which indicates to search engines that the store has changed or the website URLs have changed.
SEO must be considered and included with any site migration otherwise, you may lose your search engine standing (rankings and traffic).
The thing is, any site migration runs the risk of jeopardizing traffic volume, at least temporarily, since Google won't register immediately that a change has taken place and that it must adjust its index accordingly.
A professional site migration will protect traffic flow, and eventually, Google will recognize your new site and give it the same ranking as the original site.
However, that is the best you can hope for. In reality, site migrations damage SEO standing. Because ranking on Google is so important and can be jeopardized by migration, online merchants must not undertake site migration lightly. A carefully considered e-commerce migration strategy must be undertaken.
Does migrating a website affect SEO?
Migrating your website entails many decisions, like choosing a new design and new domain, but it also affects your site URLs which will be changing and therefore affect your website's SEO ranking.
Your site has earned its SEO ranking over time, with certain keywords and search terms working for your customers, visitors and prospects when they for your website online. With a store migration, your website URLs change along with other changes. This is information that search engines use to rank your website. This is why URL redirection is so important during store migration. If it's not done with care, your links won't work on your new site, which will affect user experience and conversion rates.
How can I migrate my website without losing SEO?
The first thing to realize is that e-commerce migration needs to be planned carefully. You need to be clear on why you are migrating and put steps in place to minimize traffic loss and a dip in ranking. If your site has any issues, fix them before the migration.
The extent of the impact on SEO will depend on the type of migration, which may be a change in site design, changing from a hosted to a self-hosted platform or vice versa, or migration due to a domain change. For instance, if you change your store design, SEO won't be affected because the URLs won't change.
What's needed is an optimized SEO migration strategy that features a store migration SEO checklist. Make use of an e-commerce migration agency to help you come up with an e-commerce migration strategy.
Store migration SEO checklist
Do an audit on your existing store
You need to know exactly how your current store is functioning, especially if it has any current issues that need attention. For instance, you should have a record of every URL on your existing site as well as a list of all broken links and all redirects already on the site.
At this stage, go through the following steps:
Use an SEO spider tool like Screaming Frog, SEMrush, Moz Pro, Ahrefs, or DeepCrawl to crawl your site to locate all site links, broken links, and redirects.
Run a Google Search Console Analysis to access the data that Google has collected on your website. You can export this information in a .csv file.
Compare the two data sets and keep the results for future use. What you should check: Meta robots "no follow" tags in the source code, Pages with a "no index" tags, All live URLs and All tags.
Update your list of keywords and run a competitor keyword analysis to find possible gaps in your keyword strategy
Work out a 301 redirect strategy. A 301 redirect strategy will ensure that all your high-ranking pages will be properly redirected after the migration. This is very important if your URL structure changes due to the move. If the URL of a page changes, it will affect ranking; if the URL doesn't change, the page ranking won't be affected.
Understanding URL redirection
Proper URL redirection during website migration ensures that all the links work on the new store. This is very important so visitors can keep finding your store online. And it's particularly important for pages on your website with inbound links that bring traffic from another website.
If you are not going to change anything on these important pages, you need a permanent URL redirect. You can do this with a 301 redirect. A 301 redirect tells search engines that the page has moved permanently. This instruction will ensure that the page keeps its link equity (SEO status).
If you have many pages with link equity, you want to pass as much of that as possible to your new website, so it can start enjoying the same authority as your old site and maintain its SEO ranking.
Prepare your new store and migrate data to it
Set up your new store. If you're going for a hosted option, simply register an account with your new host, and a store will be created for you. If you are going for a self-hosted option, you will have to do the whole process yourself. In this case, you will also have to take steps to prevent search engine crawlers from accessing your new website while you are in the migration process.
Before you start the full migration process, it's imperative to set up a sandbox and test your database on the new platform. Many cart e-commerce migration services work like a sandbox environment where you can test the effect of the migration on the new platform without it affecting the working of your existing store.
This is an important step that shouldn't be skipped.
Test your new store
As soon as the store migration is completed, conduct a post-migration check-up to make sure your new website works as you envisaged.
Crawl your new website for possible errors that might have occurred.
Check the implementation of 301 redirects.
Consult Google Search Console to see if there are any technical issues or indexing problems.
Check your "no follow" and "index, follow" tags are set correctly.
Verify the status of the internal links and ensure there are no broken ones.
Use software like SEMRush or Ahrefs to check for duplicate content.
Run a couple of speed tests on various pages.
After migration, it's common to encounter the 404 – page not found. One option is to create a custom 404 page for the pages you no longer need.
Resubmit your XML sitemap to Google Search Console so Google can index your new site. Make sure the no-index tag isn't being used.
Note: Google will not immediately index everything correctly. For instance, you may find that initially, large volumes of your traffic will be shown as "direct", not "organic". This may happen if your new site has many redirects. Google Analytics won't see the redirected traffic as organic. This will change once the Google index is updated.
If you are planning to migrate your store to another platform, you can make use of the e-commerce migration services of Cart2Cart. Cart2Cart is an automated shopping cart migration service that follows a sound e-commerce migration strategy to ensure safe and secure data migration for online store owners.