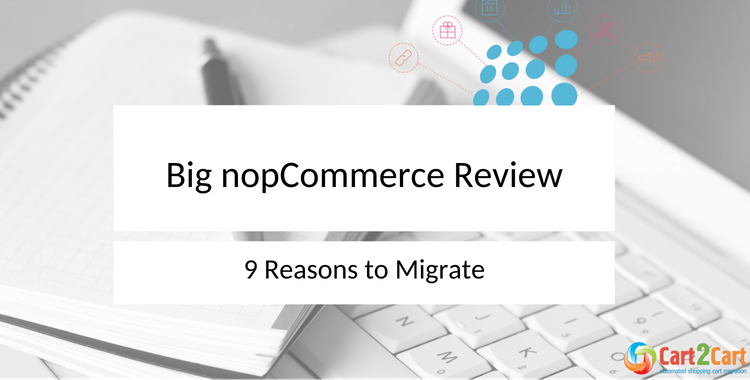 First and the main challenge for e-traders —  to choose the right store platform. Experienced seller or novice, you have to pay attention to plenty of aspects. Prices, payment methods, customization, shop support, mobile friendliness and so on. It takes a lot of time and efforts to google, scroll and switch from site to site discovering every detail by yourself.
This article will give you a close look at one of the popular e-commerce solutions currently available. You'll learn all about the key nopCommerce features. And by the end of the post you will get a clear understanding that nopCommerce is the right e-commerce solution for your business.
Insightful nopCommerce Review
nopCommerce is the leading ASP.NET based open-source eCommerce platform. This esolution includes a complete list of comprehensive features. The platform is applicable for all types of users from new online traders, who are going to boost their ebusiness and grow fast, to the demanding eCommerce experts. Shopping basket, an index based front-end where you can list your items, flexible organization device for simple website administration, etc. — all work perfectly to boost ebusiness. nopCommerce goes with a vast number of modules and topics to make the site exciting and attention-grabbing.
It's one of the most secure, stable and extendable eCommerce platforms. The esolution has been downloaded more than 1.8 million times, and maintain more than 35,000 live shops built on it.
It's free, without any traps like hidden fees or something similar. nopCommerce is the rich platform with lots of out of the box features included. Also, you're welcome to try nopCommerce marketplace in case there's a need of additional functionality. Community forums make essential users support, so lonely ramblers it`s not about nopCommerce clients. Interested? Let's dive into more details concerning nopCommerce.
#Effective SEO
SEO friendliness is one of the main components to make the site successful, and nopCommerce demonstrates excellent result. With full user access to keyword tags, customized URLs management sections and out of the box support of pages with SEO-friendly names it's easy to increase site position in search results. Two most popular sitemaps -  XML and HTML are supported. Included microdata provides search engine spiders with more context for the type of information on the website and "rich snippets" display more details on search result pages. There's the URLs localization option to increase the possibility of matching search results in other languages. Breadcrumbs support makes it easy for customers to identify the location on a big website.
#Moderate expenses
One of the main advantages of open source software is the cost. It's freely available and can be modified to meet individual needs, such as non-standard functionality or specific integrations. It requires no licensing fees, and that's a decisive advantage when looking at the total cost of deploying a solution.
#Responsive themes
Quality, original design, and smooth implementation - it`s about nopCommerce themes. The collection includes 29 premium nopCommerce themes with a multiple domains license. Each item comes with a set of at least 10 plugins which are styled especially for it.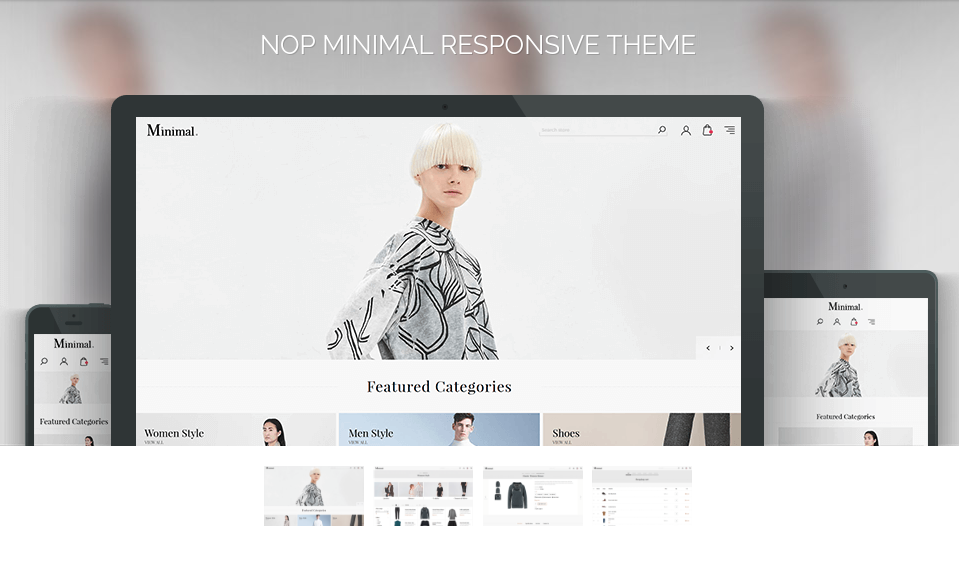 #Easy Tax Features
Flexible tax calculations definitely will satisfy store owner demands and customer expectations. You can easily manage all details from the administration panel. The function includes taxes configuration by country, state, zip, individual products marking (taxable or tax-exempt), tax classes for different products, "tax based on"  specification (billing/shipping/default/shipping origin address setting), prices displaying, tax automation services integration.
#Numerous Payment Methods
nopCommerce integrates with more than 50 payment methods and gateways and allows you to accept all major credit and debit cards. Or limit payment methods per country to make the whole process simpler.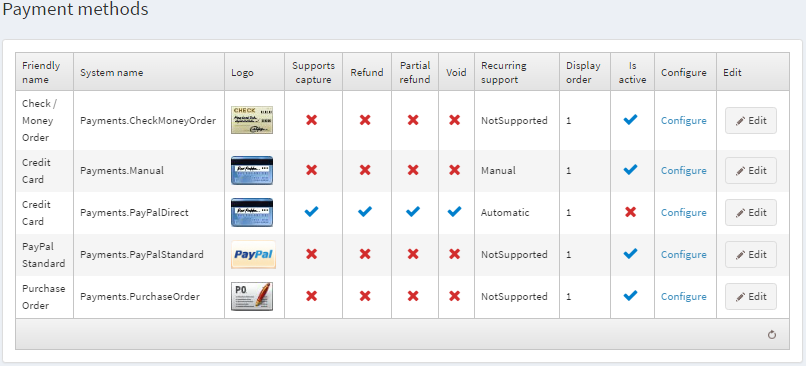 #Excellent Customer Service
Apply many useful nopCommerce tools to provide high-class customer service in your estore. These are:
External authentication( to register and login with OpenID, Facebook, Twitter, etc.)

Wishlist (to enable customers to store products for purchasing at a later time)

RTL support (Right-To-Left function for users who use a different alphabet)

EU cookie law (requires websites to gain permission from users before planting cookies)

Customer attributes

Security and permissions (to configure specific rules and permissions for different categories of users)
#Various Product Characteristics
A lot of products attributes are available. Create as many features as you need, choose size or color — all with its own SKU, price, weight, image and stock level. Price tools go beyond simple price tag creation. You can set different prices for different customer groups, hide prices for extra-valuable items and make customers contact a sales team by enabling "call for price." Use "enter your price" functionality and make donations, if you wish. nopCommerce offers license and user agreement attachments for downloadable products. You may select a download activation type like "When order payment status is Paid" and many other functions to make your estore successful and easy to use.
#Multi-store
Run more than one store from a single nopCommerce installation and manage all processes from the single administration panel. Share catalog data between stores, and your customers will be able to log-in to all of your stores using the same credentials.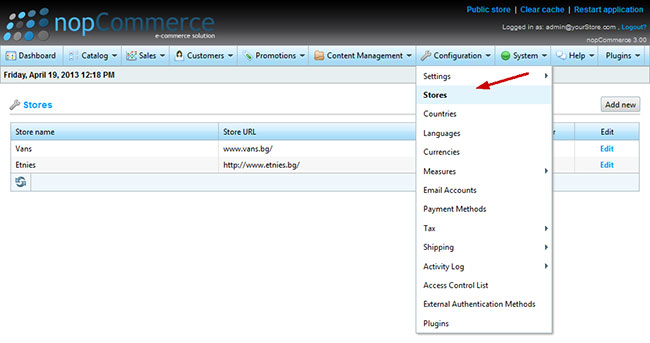 # Global marketing
Use the great variety of nopCommerce features to make your estore marketing more effective. Reward Points System, Related products, Discount and Coupons, Newsletter subscriptions, Gift Cards, Product Reviews and Ratings, Product Comparison Sites, Affiliate program and additional extensions. If you feel that the content on your site needs updating, there is a strong possibility to expand it with supported news, blog, forums, polls, and custom pages.
Final Slice
With all being said in the nopCommerce review, the platform contains all the main features and tools to run a successful online store. Cart2Cart have considered all clients requests, and now you're welcome to try our new feature - nopCommerce import! You're lucky if you already use nopCommerce. In case you`re not, but feel the lack of some crucial capabilities of your current platform, or you're not satisfied with the price, nopCommerce Migration has all the reasonable grounds to be performed. Let Cart2Cart migrate the entities automatically instead of doing it manually, enjoy the speed and evaluate the quality of the service. The switch from 80+ carts to nopCommerce is supported. 3-step data migration is the simple process you can perform by yourself, no technical skills are required. Just register Cart2Cart account, provide your shopping carts details, choose the data you want to transfer and perform Free Demo Migration. It's an exclusive chance to test the service and watch results in advance. Demo Migration is free. After moving a limited number of entities, you`ll be able to do Full Migration and transfer all your data to the new estore.
Cart2Cart guarantees:
security to treat your data privately;

no downtime of the existing e-store (keep selling and run the business while data transferring);

an impressive variety of transferred entities;

Migration Insurance to launch the transfer over in case something needs to be modified;

24/7 Support and Assistance.
Ready to make your dreams true? Don't wait up! nopCommerce is the solution. Try Free Demo and sow the seeds for success!