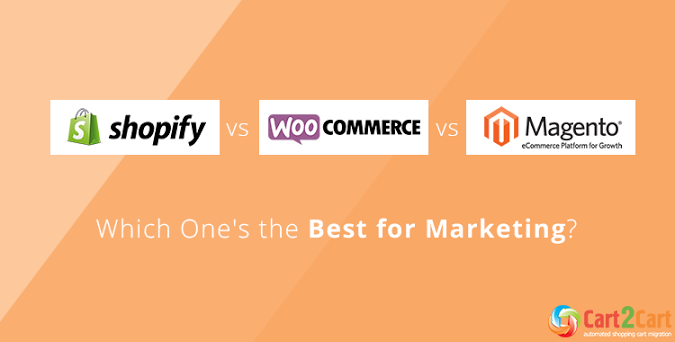 There are several decisions you need to make when developing an online store. First of all, you need the perfect design, so you hire designers to translate your idea into a practical design. When you need awesome product descriptions, website content and promotional articles, you hire professional writers for help. If you need assistance with the marketing, you hire social media experts and marketers to give your business a boost.
Among all those decisions you make, there is one specific issue that gives you headaches: which online store platform should you opt for? Which one has the greatest marketing functionality? All of them have different features, but which one can bring you closer to the audience? What if you make the wrong choice? If you work with a website developer, you probably got a recommendation. But, as you keep exploring the options you have, you realize the decision is not that easy to make.
The Biggest Contenders: Shopify, WooCommerce and Magento
These three platforms are often mentioned as the best e-Commerce platforms you can choose from. Still, there are important differences among them, so you have to be very careful when evaluating their features. That's the only way to understand what platform would work for the marketing needs of your business.
Maybe you'll be impressed by certain features that only one of these platforms offers. Still, maybe they will be useless for your business. That's why you have to make an evaluation of the funtctionality you need from a platform, and then you can choose the one that meets your needs.
This comparison between the three most popular platforms will help you make the final decision.
Shopify – Solid Marketing Potential and a Good Choice for Beginners
Shopify comes with a huge advantage for people who are starting their first e-Commerce store. A merchant can launch a site in an hour without bothering with parameters, domain names, hosting providers, and server settings. The platform offers over 100 store templates, so you can easily achieve a distinguished design that people don't see all over the web. Thant's an important advantage in terms of marketing functionality. If you're picky enough with the template, you can offer something people don't see every day. The initial impression the users get when visiting the website – that's what sells your products.
Advantages:
You can build mobile-friendly stores with Shopify. According to the survey results published by Nielsen, 37% of the respondents started their activities with mobile shopping almost half of the time they bought something online. A marketer knows how important it is to meet the needs of mobile shoppers, and Shopify allows you to do that without much effort.
The tool offers a full blogging platform. That's an awesome opportunity to attract more website visits and conversions. When you have a blog as an essential part of your website, you can easily implement a SEO campaign that will get your online store featured among the top results in Google search.
Shopify is a search engine optimized platform. It enables email marketing, product reviews, and high level of social media integration.
Shopify has an awesome App Store that can boost the potential of your marketing campaign. You can get great extensions, such as:

Rewards and Referrals
Thank-you Email
Loyalty Reward Points
SEO Image Optimizer
Pop-Up Window
Daily Deal Product Discounts
Free Shipping Bar, and much more.
Disadvantages:
There are not many product attributes you can add with Shopify. The platform enables you to provide information about the material, color, and size of the product. Although you can add plenty of options for these three parameters, you can't create others. How is this a problem in terms of marketing functionality? Well, a marketer knows that the customers expect to get tons of information about the products they want to purchase. The product description has tons of marketing potential, since you can use it to show why that item is worthy of an investment.
It's not the best solution for e-Commerce specialists with advanced technical skills. They won't reach their full potential with Shopify. If you intend to build an impressive online store and invest a huge budget in marketing, maybe you'll want to pass on the simplest solution.
WooCommerce – Balance between Functionality and Advanced Features
Shopify is simple and easy to use, while Magento is an advanced solution. WooCommerce seems to be bringing the best of both worlds. The numbers show that over 1,070,000 live websites are currently using WooCommerce.
Advantages:
Unlimited number of categories and products. If your online store stocks different types of products, you absolutely need this feature, so you can organize it to perfection and you'll make the shopping experience as convenient as possible.
Hundreds of design themes provided by third parties. You can easily stand out from the competition without learning advanced design skills.
It offers nice reports for the sales, organized by category, product, date, etc. When you review these reports, you'll realize how effective your marketing efforts have been. Then, you'll think of the right improvements to make.
WooCommerce has email marketing features, which can be a great addition to your campaigns.
There are awesome extensions that will make your marketing campaign effective:

Recommendations
Newsletter Subscriptions
One Page Checkout
Product Reviews Pro (in addition to product reviews, it also allows you to accept photos and videos by the users, so they can showcase the quality of the products)
Wishlist, and many more
Disadvantages:
Lack of high-end features, which are necessary for large online stores.
Magento – The First Choice of e-Commerce Professionals with Heavy Marketing Budget
If you explore Magento's popularity through Google Trends, you'll notice that the interest in this platform reached its peak during 2013, and it slowly started declining after 2015. It's the first choice of huge online stores not only because its cool features, but for its marketing potential as well.
Advantages:
It provides a huge number of templates for a customizable design. Shopify and WooCommerce are relatively good in this aspect, but Magento's templates are much more professional looking.
You can integrate Magento with WordPress – that gives your marketing campaign tons of potential for SEO. All you need to do is hire a writer and start publishing SEO-friendly posts.
It enables merchants to offer a private sales feature. This is an important feature in terms of marketing functionality, since enables you to restrict special offers to specific customers and make them feel special for being loyal users of your site.
With Magento, you can process targeted promotions in accordance with the customer segmentation policies of your site. In other words, you can offer the right product to the right customer, at the right time.
Disadvantages:
Oh, the advanced plans may look like an insanely expensive investment when you're just starting an online business.
The platform is definitely not for beginners. Although it's highly-customizable, it takes multiple steps to achieve the settings you need.
In conclusion, maybe Magento has the greatest potential for building a masterful e-Commerce site with a successful marketing campaign. Still, it's very expensive so you need to consider different options before making the final decision. Hopefully, the comparisons above will help you make the right choice.