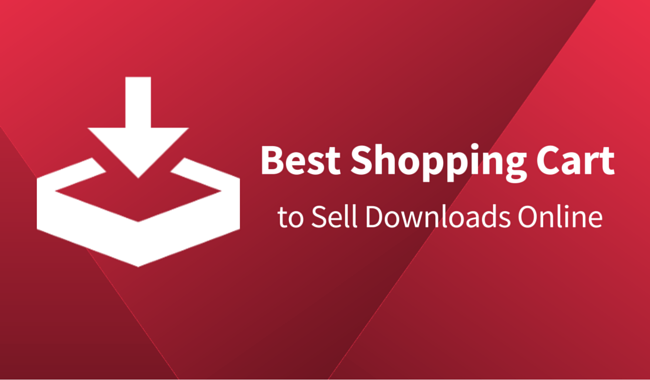 What can be more lucrative than selling digital products? They are cheap to produce, not committed to a physical stock and can be sold over and over again. They also don't need to be physically shipped, and thereby can't be lost by an inattentive maleman. A mere paradise, isnt' it?
But whether you're selling e-books, software, video, music, or photography, you still need to find a reliable and effective piece of e-Commerce software to deliver it to customers. However, not every shopping cart is convenient enough for distributing digital products specifically. Thus, after a detailed analysis the market, we've come with the conclusion that the following four are possibly the best shopping carts for selling downloads:
Shopify
WooCommerce
3dcart
Easy Digital Downloads
Shopify

Shopify is often characterized as one of the most versatile, user-friendly and feature-packed e-Commerce platforms out there for selling physical goods. But it performs equally great when it comes to digital products as well.
Quite typically for Shopify, it doesn't have the functionality of selling digital downloads out of the box. But it's only to install a free Digital Download app or a freemium FetchApp, and your store is ready to begin selling digital products through the same interface it sells physical ones.
Here, we'd like to put emphasize on FetchApp specifically. One of the benefits of this application, is that it easily integrates with Shopify system and offers a great, user-friendly toolset to start selling digitals for free or quite humble monthly fee. It is excellent for those looking to create a large and varied portfolio of digital stock.

Also, Shopify possesses the ability to forward product update to people who have previously purchased -- quite unique and essential feature for extending the customer lifecycle.
If choosing Digital Download app, only standard Shopify and transaction fees are required. FetchApp may add up to the costs however, with a maximum monthly fee of $500 for 150 GB of storage. Nonetheless, you could start with a free plan with 5 MB of storage to test it out too.
WooCommerce

There's nothing WooCommerce is not capable of, huh? Selling digitals products with Woo is as simple as selling physical ones, or even simpler, telling the truth. The only difference is that you need to select either 'virtual' or 'downloadable' (or both) in the product data metabox, which promptly removes shipping. In our case, we're to choose "downloadable" product type and then select one of Download types: Standard Product, Application/Software or Music. Then, you upload a file or paste a link to the product, go through a few basic steps of configuration and that's it -- your digital product is there and ready to be purchased.

One of the main benefits of using WooCommerce over other solutions in this list, is the fact it is open source, thereby highly and deeply customizable. It also possesses wonderful reporting capabilities and a countless number of extensions to customize and functionally enrich your store at most. There's also a lot of extension for managing and selling downloadable product specifically.
Logically, WooCommerce is better suited for stores selling big quantities of products. You also should better have basic programming skills, as an open source nature of WooCommerce will require a bit of coding at some point.
3dcart

Another worthy solution for creating a killer online retailer for your downloads is 3dcart. Being somewhat similar to Shopify (both hosted), 3dcart, on the other hand, possesses the needed functionality out of the box and allows to kick off selling downloads right away. Among all the useful features it offers, you may find automatic email download link delivery, download link encryption, serial number and key generation, download expiration date timer, etc.

3dcart doesn't have any exceptional features that would make it a must solution for selling downloads, but it's a well balanced and a robust shopping cart on the whole. As for advantages over its closest alternative i.e. Shopify, 3dcart is relatively more cost-effective.
Easy Digital Downloads

Just like WooCommerce, Easy Digital Downloads is a WordPress e-Commerce workframe that can be simply added on top of your already existing WP website and good to go as soon as you press "Install". The main difference lays in the fact that EDD is a shopping cart designed for selling digital products specifically and exclusively. As the result, you get a user-friendly shopping cart with a smooth interface centered on making distribution of digital goods simple and effective.
Being initially free, you'll still have to pay for payment gateway add-ons and a number of other essential extensions.
How About Marketplaces?
You, however, are not restricted in your choice. As an alternative to shopping cart, you can opt for an online marketplace. Amazon, eBay and Etsy are super easy to get an instant exposure on the web and bring a few sales nearly immediately. On the other hand, marketplaces always take a significant cut of your sales, limit you in branding and make it hard to stand out.
The best decision would be to use shopping cart and marketplaces simultaneously to establish an effective omnichannel retailing and thereby increase your sales.
If you're interested in one of these solution, but already using another one, you're lucky to be here! Cart2Cart allows to migrate your store accurately to any of more than 65 supported shopping carts automatically in terms of several hours only. Start with a free Demo now and see automated migration in action -- no programming skills required!