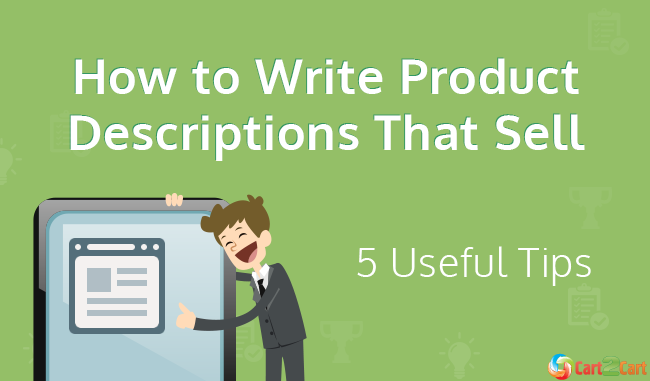 What do you do when trying to impress someone you like? Yeah, we all have our own tricks, but generally - you grab attention, speak clearly and confidently, conveying in your stories how many great traits you possess. The traits you know they're looking for.
Well, the same exact principles are applicable for product descriptions.
A description text should attract attention from the first seconds, highlight product's strong sides and the advantages shoppers will get by purchasing it. It should be convincing, engaging, promotional and yet unobtrusive. Today, we'll give 5 tips for creating such text.
So, just for you - 5 tips to write product descriptions that sell. Enjoy.
Speak a familiar language
Don't make texts too complicated, unless you're selling to seasoned technicians, academics or, you know, someone else annoying. The rest of the world hates complexity and adores when something initially tough is explained in simple terms. So make that your objective - make up a fun heading and talk in product descriptions the way you'd talk to your closest friends.
Online store, ModCloth absolutely nailed it: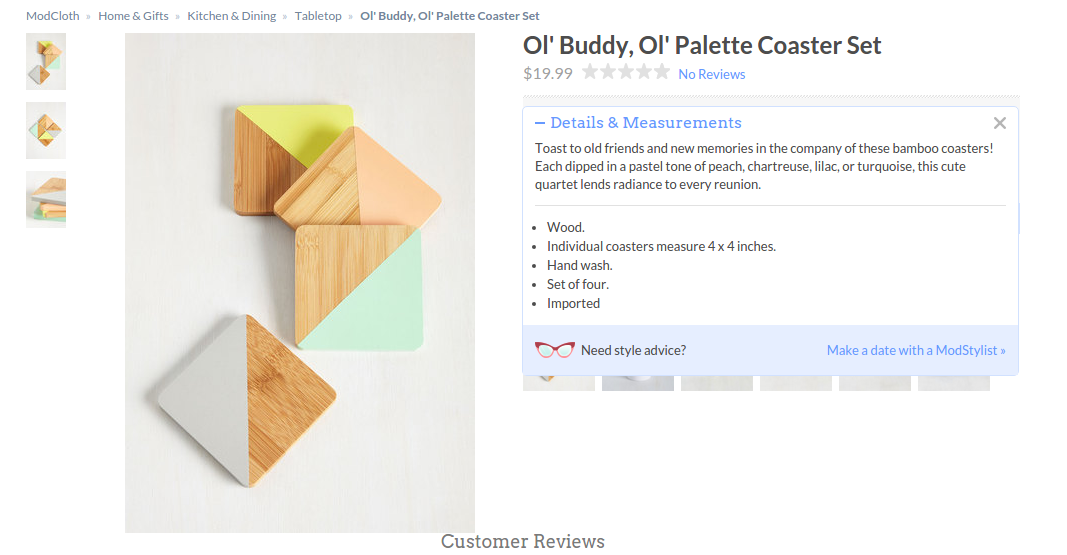 According to the recent research, people react better to words that invoke emotions, than to dry technical language.
So, if you sell energy drinks, for example, don't just say they're filled with taurine and blahblahblah - say they're refreshing, inspiring, energizing, empowering. That they'll boost customers' mood, cure the boredom, etc.
Remember when you wanted to be a poet in high-school? And don't even pretend you didn't. Well, now it's your time to shine.
Include a little humor
When teaching how to present, university professors always instruct you to include a couple of jokes into speeches. Naturally - academic presentations are boring to death otherwise. Follow that advice too when describing your products - be a bit silly. Even hack humor will do - no one expects you to be Richard Pryor.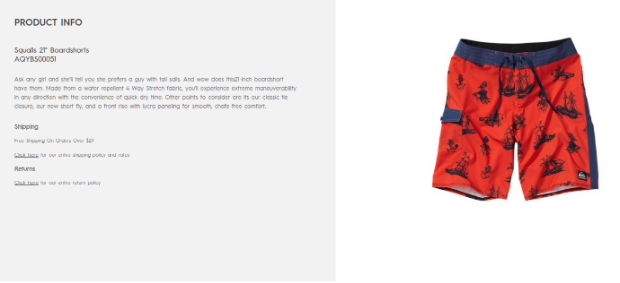 This great product description is from Quicksilver
Take care of SEO
We've established the entertaining element of your descriptions, now let's talk about technicalities - search engine optimization. To make Google notice you and bring plenty of visitors, we recommend such measures:
Avoid little-known slang
Put keywords in product titles and descriptions
Include keywords to images' alts and descriptions as well
These steps are easy, but what's hard is to keep the texts readable after they're completed. So, ensure your product descriptions are optimized, but, then, take a hard look at them and maybe ask your friends' - are the texts overloaded with keywords? If so, make edits - you're attracting people, not cyborgs.
Don't make customers squint!
If descriptions are hard to read - no one's going to. So, make sure the text is distinct, written in clear font, with all the key points in bold type. Make sure:
Your title is eye-catching
You use large fonts and lots of white space
You include clearly visible bullet points
Look at how this principles are applied for selling the dish washing liquid.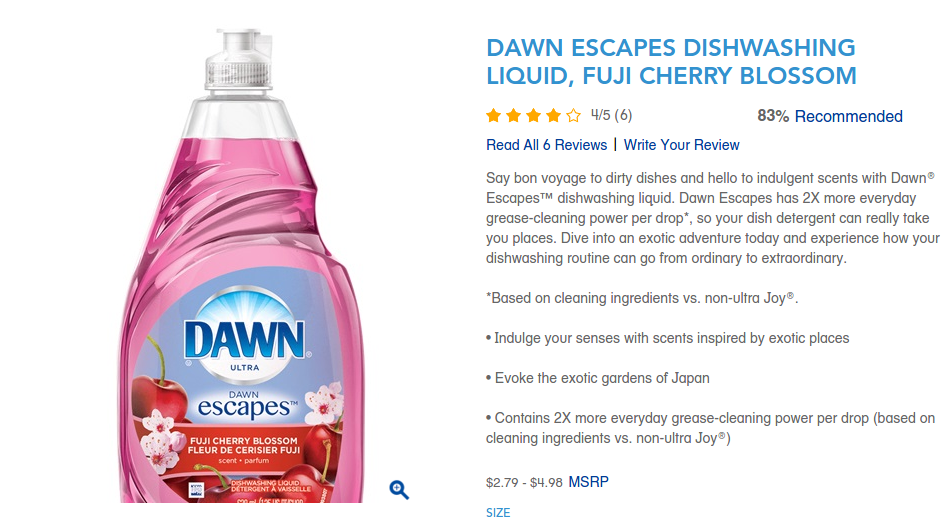 Finally, explain the usefulness
Use minimum bragging, to which people are allergic, and, instead, describe how your products will be useful for a shopper. Will it simplify their lives, save time or bring financial benefits in the long-run? Make all the benefits clear.
Here you go - these 5 tricks will help you make product description more seductive to both online shoppers and search engines. Cart2Cart team wishes you lots of clients!