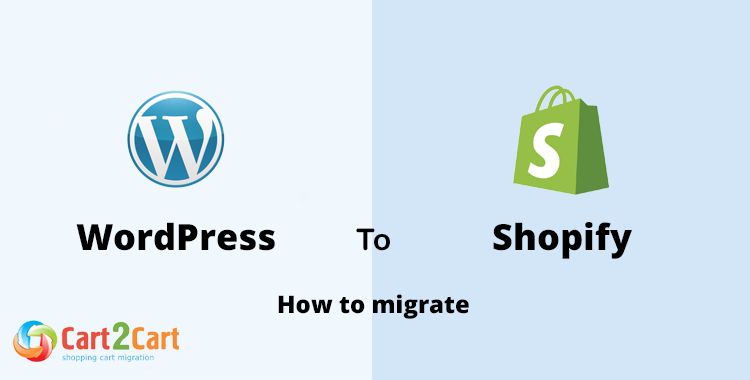 WooCommerce is a WordPress plugin that allows users to conduct sales from their WordPress website. Shopify, on the other hand, is not a plugin; it's an eCommerce platform with all the features necessary to run a full-on online store.
If you have decided to move your store from WordPress to Shopify, this guide will help you through the process.
Should I move from WordPress to Shopify?
The key difference between WordPress and Shopify is their use. WordPress is a content management system ideal for bloggers and freelancers. Shopify is an eCommerce website builder, ideal for people who want to run an online store. Shopify has all the necessary eCommerce features built in. If you have a WordPress website, you need a plug-in if you want to do any sales.
You should migrate from WordPress to Shopify if you want to focus on running an online store rather than creating content in the form of blogs.
How do I migrate the whole WordPress website to Shopify?
You can import all your customer and product data manually, or you can use Shopify's import tool, which automates the entire process. Or you can opt to get the help of experts like Cart2Cart to take care of the migration for you automatically and professionally.
To do the process manually, first export products, customers, and orders from WooCommerce and then import them to Shopify.
Before you start exporting and importing products, back up your WooCommerce store in case something goes wrong during the migration process.
Next, sign into Shopify and create your new store. Follow the steps provided by Shopify to do this. Completing the initial setup will ensure that your store address, email address, and other store settings are up to date.
Exporting products from WooCommerce
Go to your WordPress admin panel and navigate to the Products section.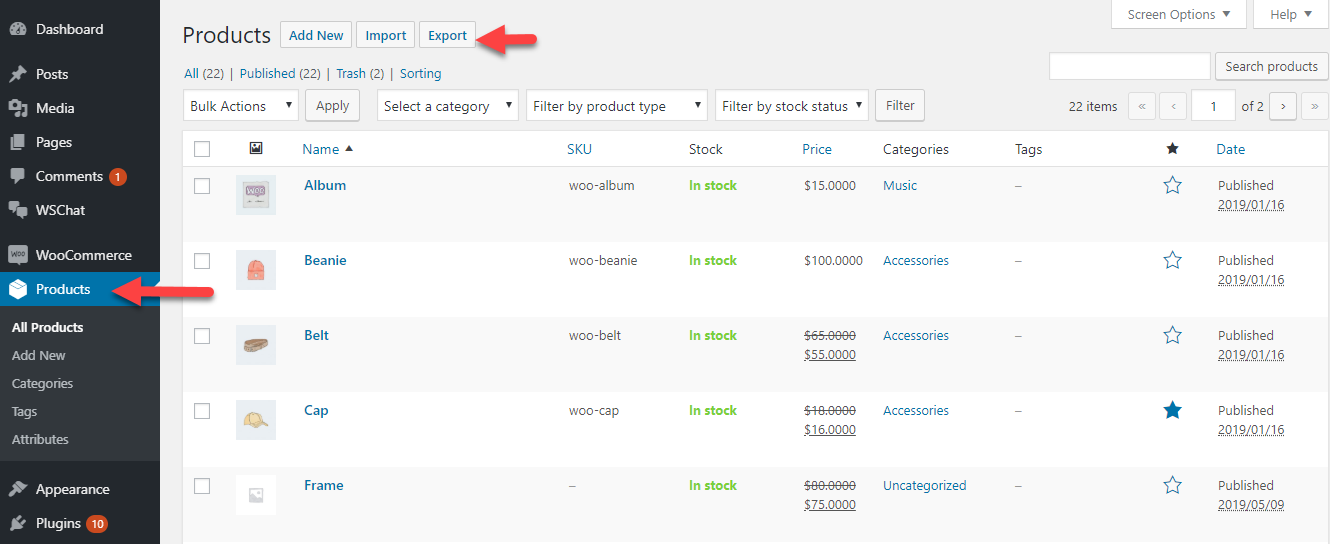 On the next window, choose the columns, type of products, or specific categories you want to export. If you want to export all, leave the fields blank.
Import your store's data manually using CSV files
Click the Generate CSV button to have the CSV file downloaded to your computer.
Next, go to your Shopify admin and go to All Products. Click the Import button.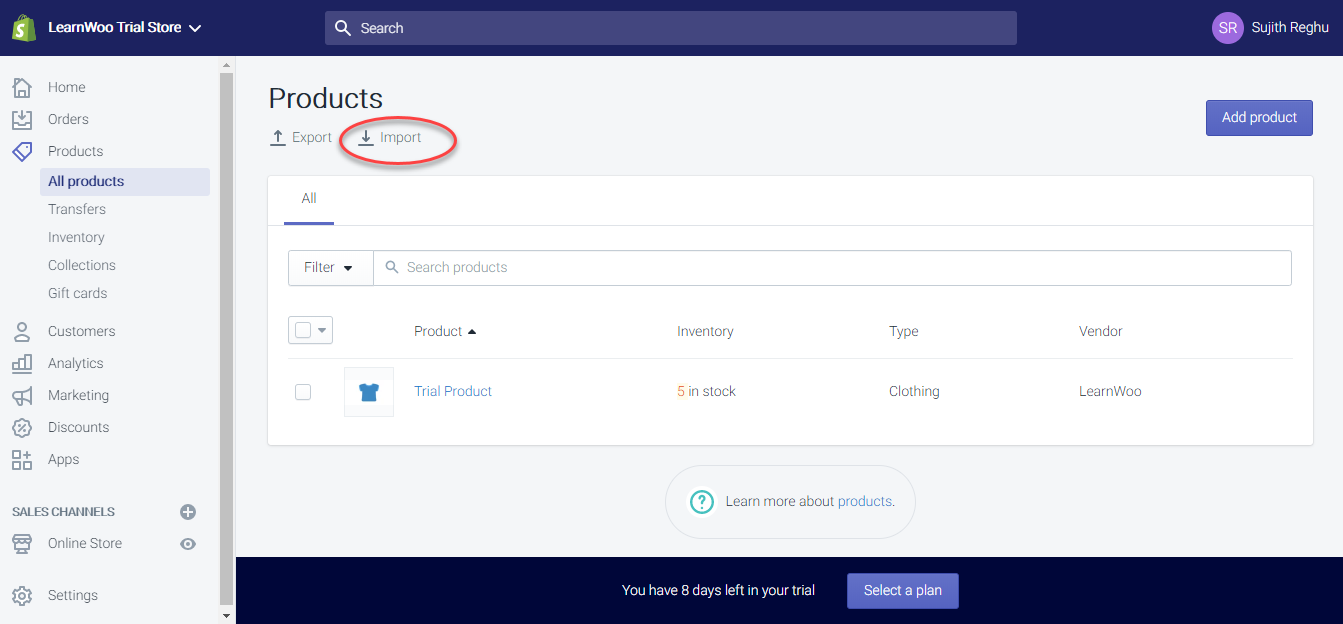 On the next window, specify the file path by clicking the Choose file button.
Choose the CSV file you downloaded from WordPress and click the Start Import button. The Shopify Importer will start adding products from the CSV file to your online store. This will take some time.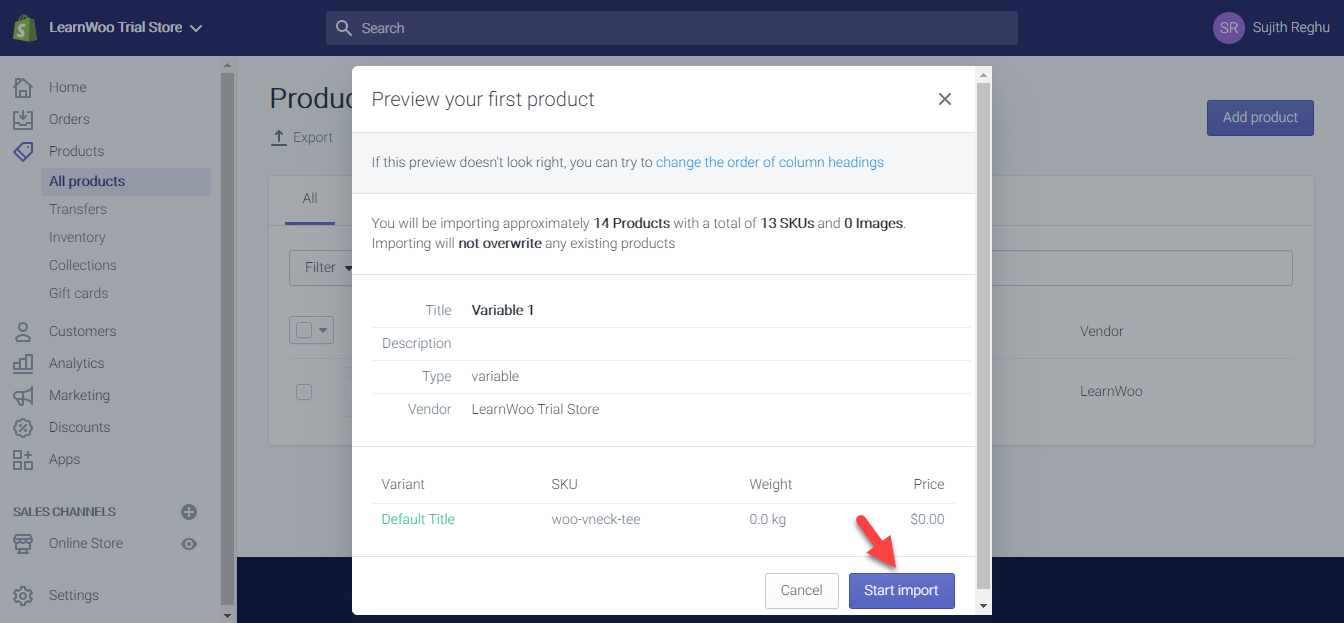 Once the import is complete, all your products will be listed on your Shopify store, but your product images won't be there.
You will have to upload them to Shopify's file page. This step will generate an URL for each image, which you can add to the CSV file, so you can upload your images to Shopify.
After migration, verify that all your product details are correct, including product descriptions, images, variants, and meta descriptions.
Note: look through the Cart2Cart Blog for useful tips & tricks on how to migrate data across various shopping cart solutions.
Using an app to migrate from WordPress to Shopify
Manually importing WordPress products to Shopify has several disadvantages. For instance, product images will not be imported, forcing you to manually add them later. In addition, you may also have to add dimensions separately afterward, and some customers or products may even be missing altogether or repeated.
For these and other reasons, many website owners opt to use solutions that automate the process.
Cart2Cart is one such option. With Cart2Cart, you can effortlessly migrate your store and products from WordPress to Shopify. The solution allows you to migrate products, images, categories, reviews, customers, orders, coupons, blog posts, and more.
FAQs:
Is WordPress to Shopify migration available via the Cart2Cart?
Yes, you can import all your WordPress content and data to Shopify. You can do it manually using CSF files, or you can choose to have it done automatically using a migration platform.
How to migrate WordPress to Shopify?
A simple way to migrate your product and customer data from WordPress to Shopify is to use the Shopify Store Importer app. WordPress website owners use the WooCommerce plugin for commerce purposes.
First, export your data from WooCommerce, then import it to Shopify.
To export your data from your WooCommerce, go to WooCommerce admin, and click Tools. Then click Export. Select All content. Click Download Export File.
Import your store data to Shopify.
Go to Shopify admin, click Apps, and select Store Importer.
Go the Import your data to the Shopify page, and select WooCommerce from the drop-down menu.
From Upload files, click Add file and select your exported files.
Select the WooCommerce XML file that you downloaded.
Click Continue import. Select Import.
Alternatively, you can migrate your WooCommerce store manually or you can use an app to handle the process automatically.
How do I export my WordPress site to Shopify?
There are several options open to you. You can:
Copy and paste content from your old site
Use migration apps
Use the Shopify Store Importer app
Transfer data manually using CSV files
If you are looking to make a seamless move from WordPress to Shopify, consider using Cart2Cart. Cart2Cart is an eCommerce migration tool that ensures a smooth and accurate transition of stores and their data. With Cart2Cart, migrating from WordPress to Shopify will be completed automatically, securely, and accurately.