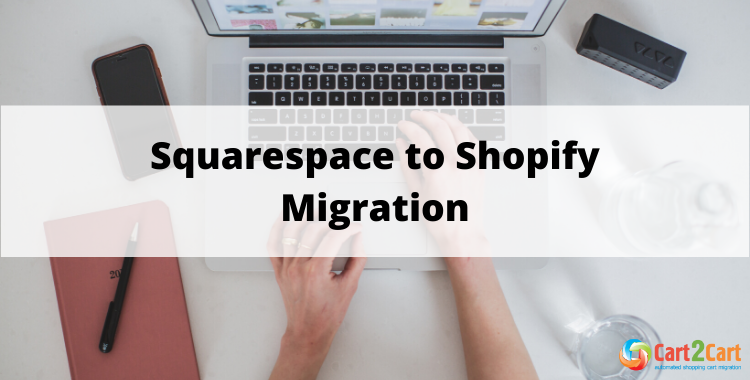 Deciding on the right tool for your business is incredibly hard, especially taking into consideration the huge variety of existing eCommerce platforms. Lots of business owners find themselves at the crossroads between this or that shopping cart and are frequently mistaken. Therefore, if you have your online business settled on Squarespace, but wish to replatform to Shopify - keep reading to find out how to perform Squarespace to Shopify migration in a totally automated way.
Should I change from Squarespace to Shopify?
Squarespace is a design-oriented platform and a perfect solution for those planning on starting an online business and selling a small number of items. It offers novice users a set of useful eCommerce features:
It helps to create beautifully-looking web-stores without the knowledge of HTML or CSS,
A free domain name, WHOIS privacy and SSL certificate are included in the annual pricing plan,
Unlimited number of items for sale,
24/ email support, live-chat and extensive reference documentation.
Watch our video tutorial to see how easy it is to automatically migrate from Squarespace to Shopify with the help of the Cart2Cart migration tool:
At the same time, Squarespace has lots of disadvantages, especially if you're planning on expanding your business and turning it into an enterprise-level model that will sell items worldwide:
Limited payment gateways,
Slow loading time,
Restricted template customization,
A small number of extensions,
Poor integration with third-party apps,
Reduced selling options,
Weak SEO features.
Shopify, on the other hand, is an out-of-the-box solution with built-in tools that will suit the growing business needs. It includes high-quality features for eCommerce and online trade. Moreover, Shopify integrates with a broad range of third-party apps. It's other benefits include:
It's an ideal platform with advanced features for building an eCommerce store,
A myriad of free and paid themes, extensions and add-ons,
Pricing plans that will suit both small to enterprise size stores,
High-class 24/7 client service via phone, email and live chat,
Support of multi-channel selling,
Great variety of payment integrations and payment processing options,
Progressive SEO features and apps,
Advanced reporting and analytics, etc.
If we look at the Google trends statistics, there's no denying that Shopify is far more popular than Squarespace:
To sum up, if you're planning business growth, Shopify with its advanced sales tools and marketing capabilities will be your ideal choice. It is a user-friendly platform that includes an unlimited number of visual tips for editing your store. Squarespace, on the contrary, demands far more creative thought due to its robust design tools.
How to Migrate from Squarespace to Shopify in an Automated Way
Store replatforming is never easy and takes lots of time and effort. But with the proper instruments at hand, it can be turned into a pleasurable experience.
Shopify stores can easily be integrated with Squarespace sites and domains.
By doing so, you can promote your Shopify store from your Squarespace site and sell your products on multiple platforms.
Your domain can be integrated into your Shopify store and Squarespace website in several ways:
Your Squarespace domain can be pointed or forwarded to your Shopify store if you bought it from Squarespace.
You should transfer your Shopify domain to Squarespace if you would like to host it.
Shopify domains can be connected to Squarespace sites so that users are redirected to your Squarespace site when they enter your domain in their browser.
Now, let's explore the fastest and most trouble-free way of Squarespace to Shopify migration with the help of Cart2Cart automated migration service. You just have to follow these simple steps, and your store will be transferred to a new platform in the blink of an eye.
You can easily automate the process of Squarespace to Shopify migration by making use of the Cart2Cart Store Migration App.
Prep Your Squarespace Store
Go through your current store, check all the data, delete the irrelevant info and duplicates.
Set up a Shopify Account
Register a new account and choose the appropriate Shopify pricing plan. In case you're not ready to make the final decision, it is possible to sign up for a free 90-day trial.
It is advisable not to change or customize the default Shopify theme before the migration is over, since it may have a negative impact on the transition process.
Configure the Source and Target Carts
Select Squarespace from the popup list as your Source Cart. Provide its URL, Admin email, and password.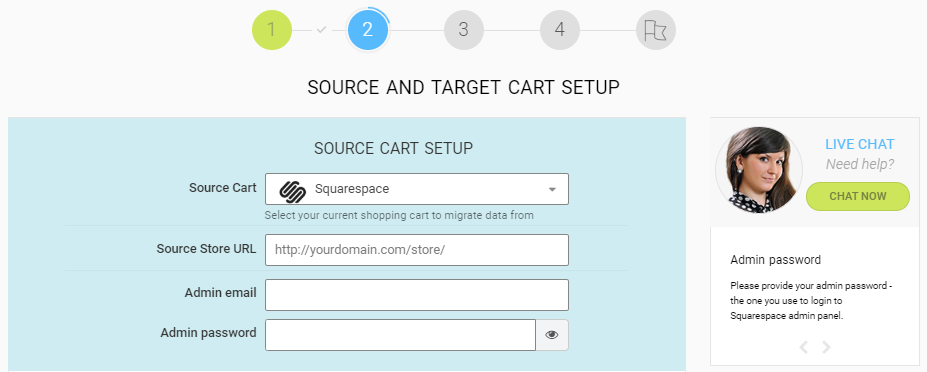 Next, choose Shopify as your Target cart. Click the Install Plugin button to enable the connection with the Shopify store.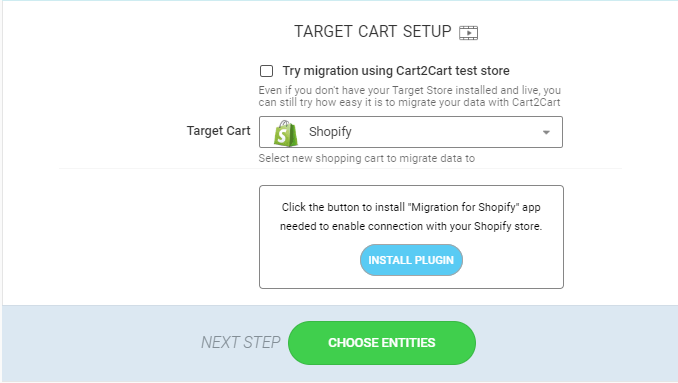 Once the connection between your stores is established, proceed to the next step of the Migration Wizard by clicking the Choose Entities button.
Specify Store Data that Will be Transferred to Shopify
Cart2Cart provides you with the possibility to transfer the following data entities to the Shopify store:
Products
Categories
Customers
Orders
Blogs
Posts
Coupons
CMS pages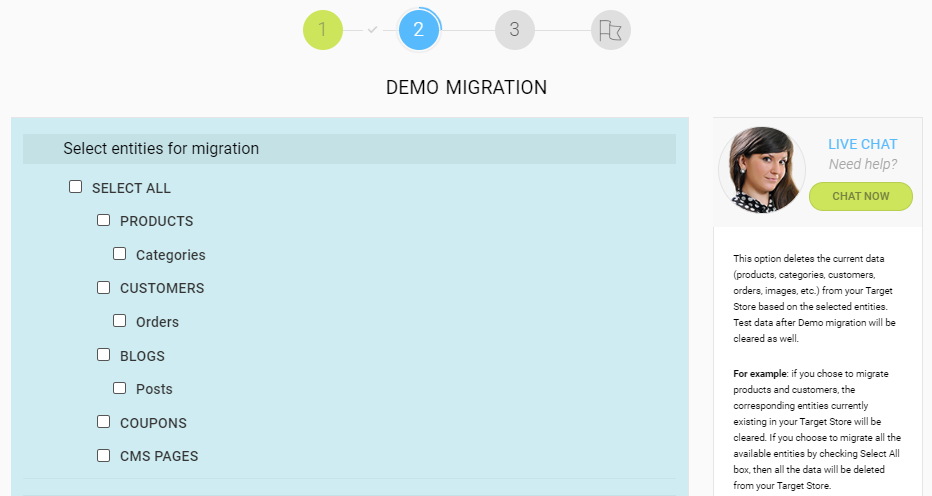 You can either select all the data types by ticking the box "Select all" or indicate those that need to be migrated.
Please note that it is possible to configure Shopify's shipping settings and specify which countries you'll be distributing goods to. In case your Squarespace store orders include countries different from those selected on Shopify, they will be skipped during the migration. To prevent that, we advise you to check all the source store countries and add them in Shopify's settings before the data transfer.
Go Through the Additional Options
If you wish to make the switching process run even more smoothly, consider choosing some of the following additional migration options:
Since Shopify has a specific URL structure, it is recommended to select the "Create 301 redirects on your target store after migration" option that will help your Squarespace products and category URLs working on Shopify.
If you wish to save order IDs on the Shopify store after the replatforming, choose the "Preserve order IDs on Target Store" option.
"Migrate Source Store categories into Shopify Automated Collections" option will help you simplify further store management processes and let you define a single product to several different collections.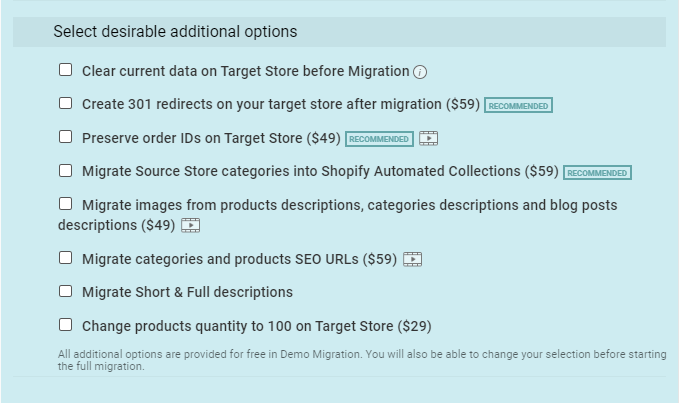 Also, you should keep in mind the following facts:
Shopify has a unique way of URL creation. Therefore, its Categories are called collections and subcategories - product tags.
Moreover, Shopify comprises two collection types: custom and automated. They differ in the way of product grouping. The custom collections may be altered due to the specific needs of the store owner. Automatic ones, on the other hand, attain the matching products in an automated way.
Shopify changes categories into collections (myshopify.com/collections/), adds the word "product" to each product page (myshopify.com/products/telephone), and replaces dots with dashes at the end of links (/products/telephone-html).
In case the customer email on the Squarespace cart is incorrect, our service will automatically generate new default "unknown" email address during the migration of Customers to Shopify. The same will happen during the migration of Orders that are not connected to the specific customer.
Perform Store Mapping
Now you will need to match Squarespace order statuses to the ones on your future Shopify store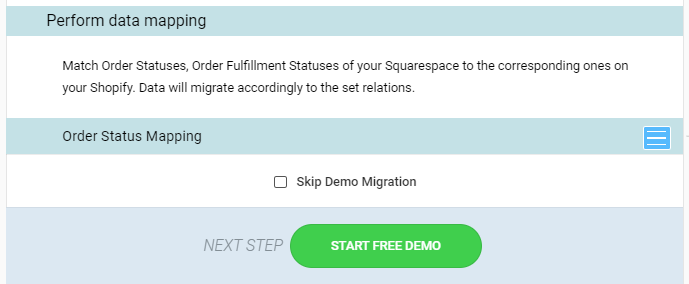 Start Demo Migration
It is possible to skip this step, but we highly recommend you to run the free Demo Migration of 10-30 data entities. It takes only 30 minutes and will help you see the transfer in action.
Please, do not close your browser window till the transfer is over.
Launch the Full Migration
If you're satisfied with the results of the Free Demo, it's about time to start the Full Migration of your Squarespace store to Shopify by clicking the Start Migration button. Now you can close the browser window and safely return to your trading activities.
Check out our infographic to get a better understanding of the migration process via Cart2Cart:
Post-Migration Configurations
After you've received an email notification that the Full migration of your store is complete, we recommend you to proceed as follows:
Check the frontend, go through all the links, make a few test purchases, register new users.
Offer your customers to renew their accounts at Shopify. As an alternative, you may use the "Bulk Account Invite Sender" to send the direct invitations.
Enhance the overall look of your store by installing a Shopify theme and other necessary extensions.
If you wish to transfer all the new data (orders, clients, etc.) that might have appeared on your store during or after the migration, we recommend you to use the Recent Data Migration service.
Another essential thing to keep in mind - the cart perceives every transferred order as the new one. Consequently, you will receive numerous email notifications. If you wish to stop receiving them sign in to Shopify, go to settings->notifications, and click "Disable" at the bottom of the page (right corner).
The comprehensive Shopify migration guide can be found here.
Squarespace to Shopify Migration. FAQs
Is it easy to move from Squarespace to Shopify?
With Cart2Cart, there is no tech background or coding skills required to switch from Squarespace to Shopify. You only need to provide your source and target stores' details, choose the data you want to move to the new store and extra options, and that's it - the service will do the rest.
Can you move from Squarespace to Shopify?
Sure. Cart2Cart has been intentionally designed to ease the store owners' life and make the Squarespace to Shopify migration as trouble-free as possible. The 4-step migration setup takes no more than a few min.
Can I transfer my domain from Squarespace to Shopify?
There are a few simple steps you need to take to transfer your domain to Shopify:
Go to Shopify admin, click on Online Store, and then Domains. On the domains page, click Transfer domain. Clicking the transfer button will take you to a page where you can enter the domain you want to transfer to Shopify.
Click Next, and then Verify domain.
Now you're all set to perform a Squarespace to Shopify migration all by yourself. Remember, you're just a few steps away from pursuing your dream and building a feature-rich eCommerce store.