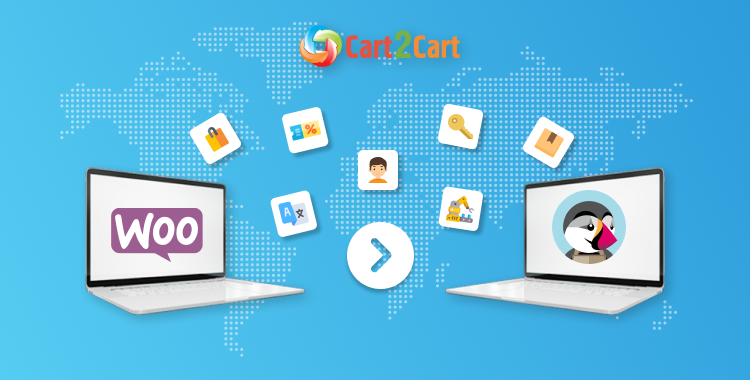 The eCommerce industry is dynamically evolving, and so are e-commerce platforms, which is why online merchants tend to switch their shopping cart software for a more suitable one if needed. Similar to cars, a new platform may provide a better feature set or be more cost-effective or ...well, the reasons may be quite a few, but let's get closer to our topic at hand.
So, in this post, we'll focus on migration from WooCommerce to PrestaShop - namely, its most frequent reasons, some stats, and most importantly - on the time-and effort saver way to move your database to Presta.
Which is Better, WooCommerce or PrestaShop?
This is one of the frequently asked questions that doesn't have a direct answer. Only your requirements can show which is better, but only for a specific case. In all other instances, we can only rely on the following hard data.
Watch our video tutorial to see how easy it is to automatically migrate from WooCommerce to PrestaShop with the help of the Cart2Cart migration tool:
Which is more popular, WooCommerce or PrestaShop?
According to Datanyze.com, WooCommerce wins hands down in terms of a bigger market share (29% vs 1,6%) and the number of current websites (494,908 Woo vs. 27,614 running on Presta) - but that's worldwide.

Worldwide market share of WooCommerce vs. PrestaShop
Nevertheless, according to Google Trends, interest for PrestaShop is much higher in France, Tunisia, Spain, etc (taken into account Presta originates from France, it is totally understandable)
What are the benefits of PrestaShop over WooCommerce?
PrestaShop was "born" as an ecommerce platform
It is a standalone ecommerce software, while WooCommerce is a plugin that should be installed on WordPress.
PrestaShop provides multilingual functionality out of the box
While Presta can "speak" 40 languages by default, WooCommerce requires a plugin for translation.
PrestaShop has multistore capabilities
Prestashop enables you to handle a group of stores in the same admin area; you can set up stores for different countries you sell to and have a custom domain or subdomain for each shop.
PrestaShop allows handling more products
PrestaShop is designed for more complex eCommerce projects and can cope with hundreds of thousands of items without a hiccup, while for WooCommerce this might mean a serious load for a server.
All in all, while WooCommerce looks like a more lightweight and widely spread eCommerce solution suitable for newbies, PrestaShop caters to more complex requirements and provides more sophisticated eCommerce functionality (which, though, may need professional services to maintain).
Check out our in-depth post on WooCommerce vs. PrestaShop.
Read on for info on how to move your data to PrestaShop in literally a few steps.
What is Ecommerce Data Migration and Why Does it Matter?
If you are involved in online business, you know how much work it takes to set up a store and fill it with information (products and all related data, for example).
Without a doubt, you wouldn't like to copy-paste all of this data or worse - have to start from scratch. Think about other data, like customers, orders, user reviews, etc. - certainly, you wouldn't like to leave it behind as well.
This is where an eCommerce data migration service can help. It moves the data to a new platform, placing it where it should be - automatically and really fast. This way, the most time and effort-consuming part of the store migration can be handled in a matter of a few hours.
How Do I Migrate from WooCommerce to PrestaShop
Get PrestaShop store ready
First off, to migrate your data, you need a "destination" for it - a fresh instance of PrestaShop. Here is a PrestaShop installation tutorial for your reference.
Note. Both of your stores should be available online for the migration to be possible.
But don't rush to set up a PrestaShop store yet unless you're absolutely positive this is a perfect platform for your new shop.
Get rid of all the migration hassles and inconveniences downloading the Cart2Cart: PrestaShop Migration Module.
Alternatively, you can use a free Migration Preview service from Cart2Cart - basically, it allows migrating a part of the data from your current WooCommerce store to a test one on PrestaShop (provided by Cart2Cart), which will be live for 3 days, and get admin access to it to check out both back and front end of the store.
Connect your stores
Now that both stores are ready, enable data exchange between them:
Click Start Free Demo
Provide both stores URLs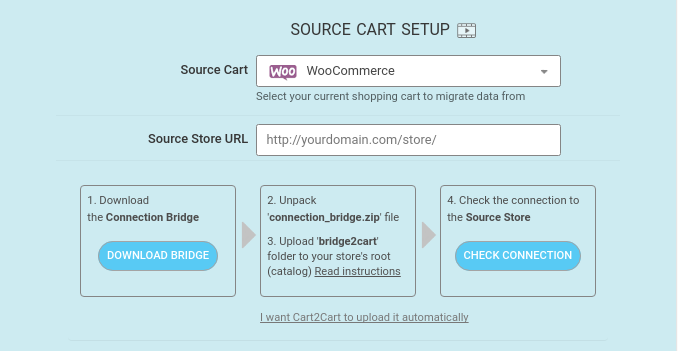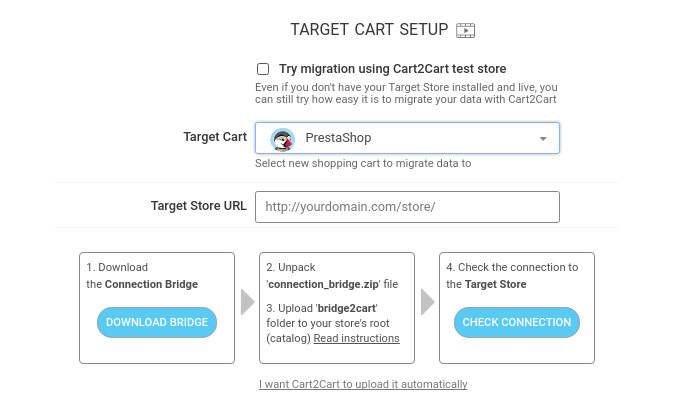 Download a connection bridge file from Cart2Cart Wizard
Unzip and upload to both stores' root folders
Note. In case you're using Migration Preview service, you only need the bridge for your WooCommerce store.
Choose the data and additional options for the migration
Simply tick the data types you need to move to your new store and choose extra options (like 301 redirects to keep your SEO) if needed. Check out a list of supported data entities for migration from WooCommerce to PrestaShop.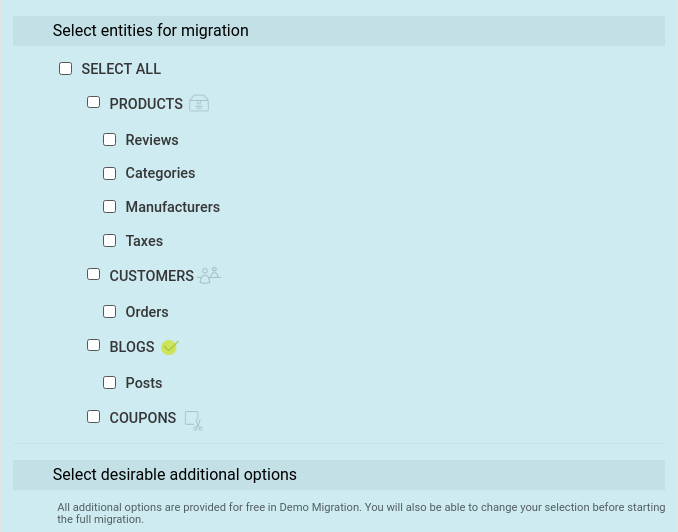 Launch your migration
If you're using the Preview Service, remember to tweak the settings before running the Full Migration (you don't want to move all of your data to a test site, do you?)
# Tips and Reminders for WooCommerce to PrestaShop Migration
#When you check demo results, be ready to look in the backend since the migrated data can be not visible in the frontend with the default settings
#Go with the default theme for your PrestaShop before the move, and change it once the data has been migrated.
Check out our infographic to get a better understanding of the migration process via Cart2Cart: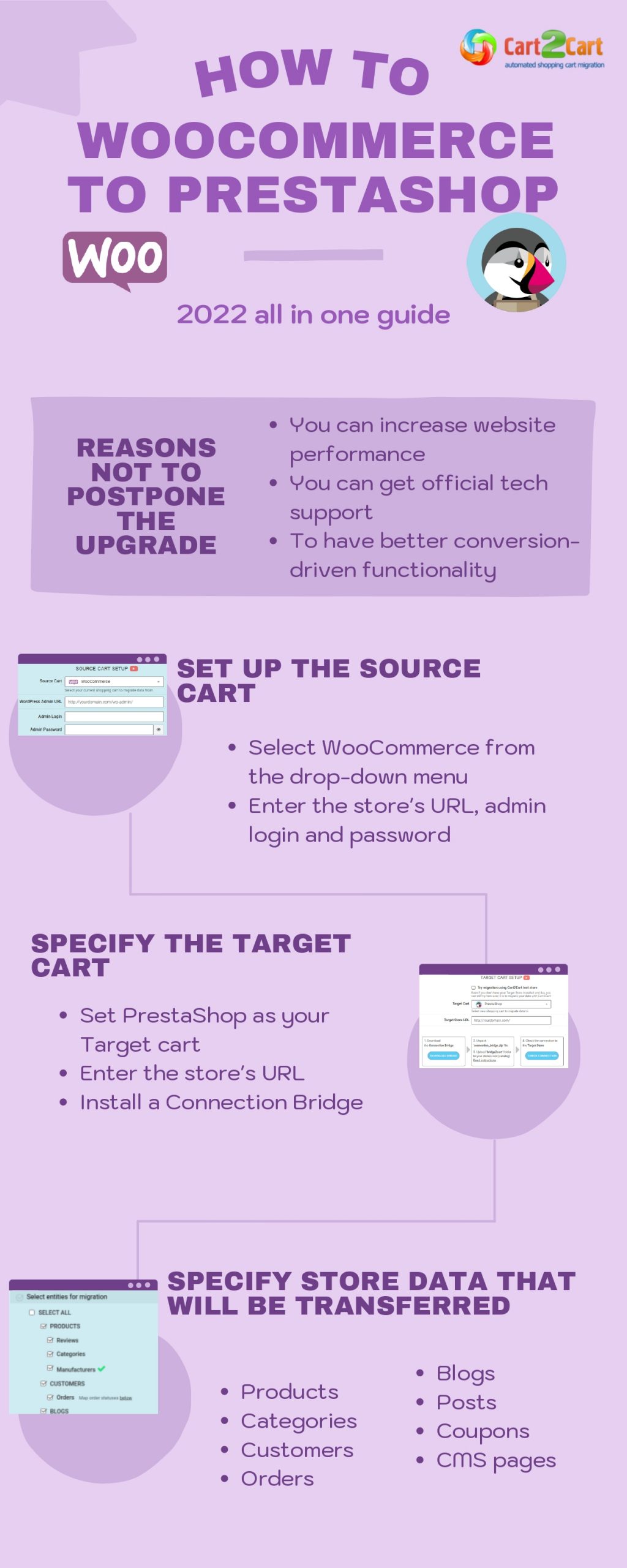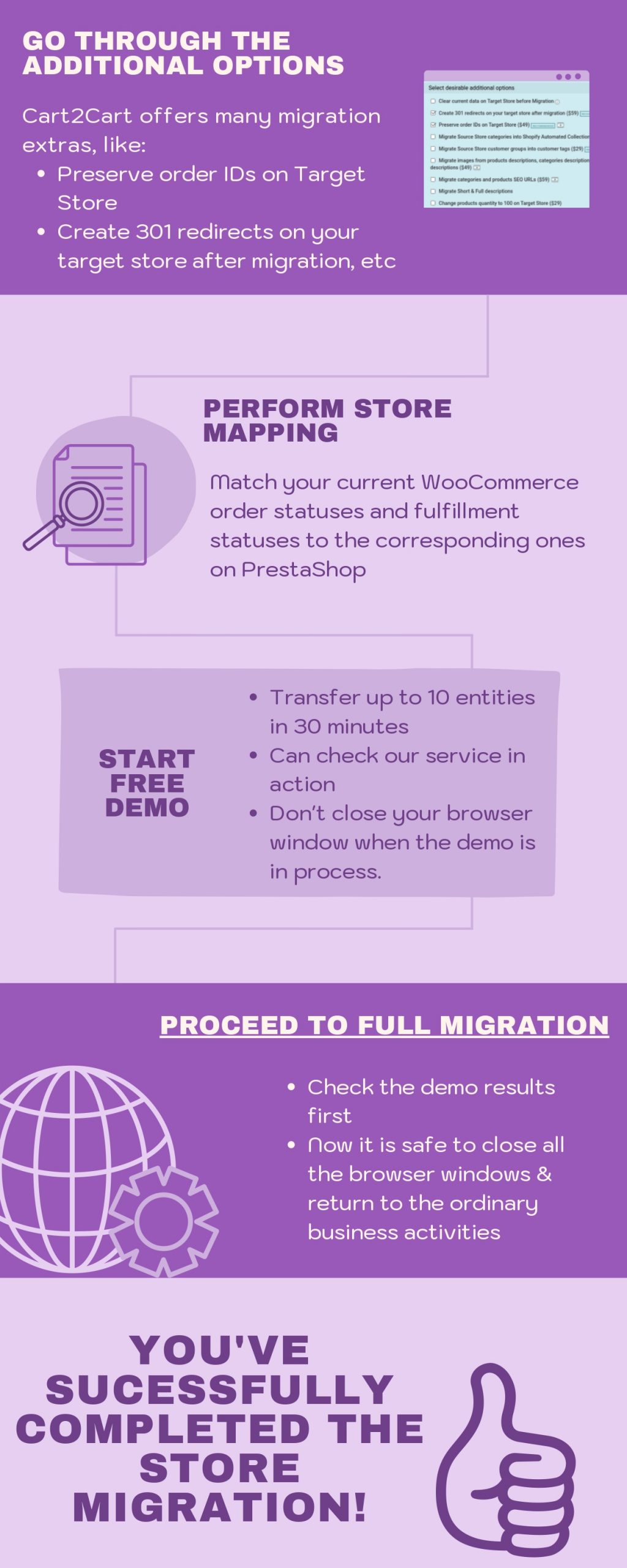 Closing remarks
Congrats on having gone through so many steps of your journey towards a new shopping cart. Once the data is migrated, you're up for an exciting process of making the store look and feel as you have imagined.
So, are you ready to start your migration? Cart2Cart support is available 24/7 to answer all of your questions and clear up any issues, so go ahead and start your demo migration now!