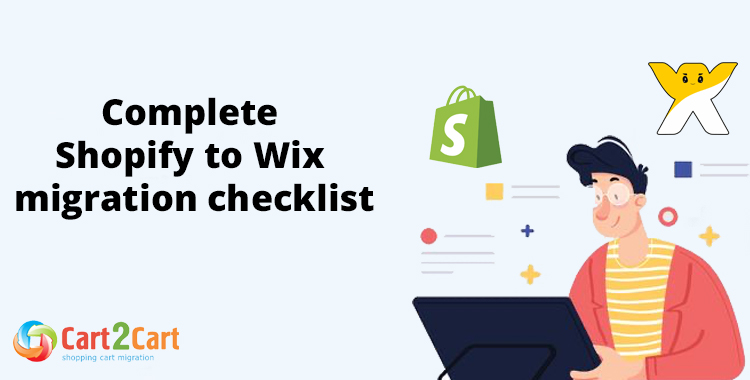 Shopify is widely regarded as a top eCommerce platform. The platform is known for its remarkable app store that offers thousands of apps for optimal customizations and functionality. This feature is also a drawback for the company, with many users complaining that without these apps, their stores can't function properly. Still, they end up being very costly, for instance, those needed for inventory management and generating multiple discount codes.
On the other hand, Wix is a free eCommerce solution that has become tremendously popular in a short span of time. The platform was started in 2006, and by 2014 it had 50 million users. Today, it has more than 160 million users, 22 million on mobile.
Shopify to Wix migration
In short, store migration is the process of transferring data, design, and functionality from the existing store to a new store. The process allows merchants to export the database (products, customers, orders, etc.) to the new store and configure the store's look and feel. Moreover, it allows to install the necessary apps to add functionality.
What is Shopify to WIX Migration?
The eCommerce migration is the transfer of data like products, customers, orders and more from your current Shopify store to the new WIX one. It consists of a few simple steps if done in automated manner, takes only a couple of hours and requires no tech skills.
With Cart2Cart, it's an accurate and fast procedure to move a Shopify store to Wix. The migration process is completely safe and will preserve your order IDs and SEO during the migration process.
Pre-Migration Tips
Prepare your Shopify store
Get your Shopify store ready for the move by analyzing all your Shopify store data and deciding which data you want to keep and move to your new store and which data you can edit or delete.
Prepare your Wix store
Set up an online Wix store. First, register an account by providing your email and password and typing in the username and password. Then, add the eCommerce functionality to your Wix site.
Set up the theme for your new store
This must be done with great care as once chosen, you can't change it.
Shopify to Wix Migration
Set up Shopify to Wix data transfer by first configuring the Source cart and then specifying the Target cart.
Set up the Source cart
Choose Shopify from the drop-down menu and input your existing store's URL. Provide the Client ID, API Path and API Token from the admin account (find a detailed guide on how to do that in our FAQ).
Specify the Target cart
Choose Wix from the drop-down menu and click the "Install Plugin" button and provide your store's URL.
Select data for migration
You can migrate 100% of your products, customers, orders and data to your new Wix store.
Specify migration extras
Choose from the many migration extras that Cart2Cart offers, like 301 redirects, preservation of the product, customer and order IDs on the Target Store and more.
Map customer groups & order statuses
Match your Shopify order statuses and fulfillment statuses to the corresponding ones on Wix.
Launch a free Demo migration
Export a limited amount of items from your Shopify store and import them to your live Wix store. This will take up to 15 minutes and help you to see how the new store will look and operate.
Watch our video tutorial to see how easy it is to automatically migrate from Shopify to Wix with the help of the Cart2Cart migration tool:
Start Full migration
Click the Start Full Migration button to start the Full Shopify database transfer to your new Wix store. When it's completed, check the migration results and test your new platform.
Post-Migration Recommendations
Check that the website migration went well and that your new store is fully functional. Create a test product and place an order. Select shipping and payment options and check that everything works perfectly. Also, double-check all internal links, menu items, and media files to make sure everything functions correctly.
Install a new theme for your Wix store and take your time with it.
Notify your customers that your store can now be found at Wix.com and invite them to activate their accounts.
Shopify to Wix migration - FAQs
How to import products from Shopify to Wix?
Just check the corresponding box (Products) in the Migration Wizard while setting up your Shopify to Wix migration. If done, you'll get all your current Shopify store products transferred to Wix automatedly.
Will the migration to Shopify platform affect my existing Wix store?
Absolutely not. The migration process won't affect your current shopping cart in any way. It will be up and running successfully during the whole migration process.
How to transfer Shopify to Wix?
With the Cart2Cart migration solution, you can automatically transfer the data from the old Shopify store to the new Wix platform by following the steps below:
Configure your Source and Target carts.
Pick the data you want to migrate to Wix and refine your migration by selecting the additional options.
Map your Shopify languages/currencies/order statuses to the corresponding ones on Wix.
Run free Demo migration.
Launch Full database migration.
Not all product images were transferred to the new Wix store during the data migration. What's the problem?
Due to the Wix shopping cart peculiarities, importing max 19 product images to the Wix store is possible. In case, there are more than 19 images related to the product - Wix will randomly choose 19 and import them to the new store.
Congratulations! You have successfully transferred your store to Wix. Enjoy the new experience!