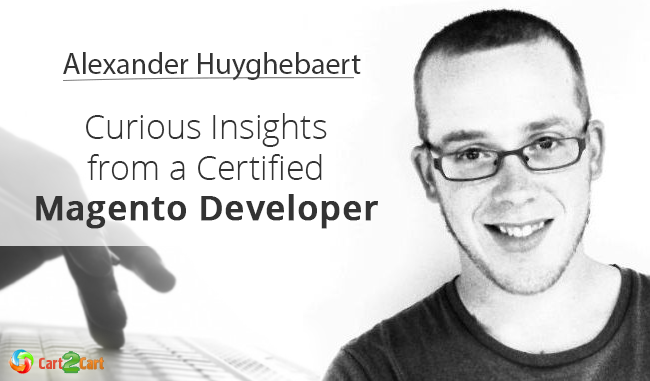 Despite being fairly young, this gentleman has achieved quite a lot in his professional life. He is a certified Magento developer, an overall e-Commerce platforms expert and an incredibly cheerful and outgoing person. Thus, check this fascinating interview and with the explicit answers from the truly unique - Alexander Huyghebaert.
Alexander, to start off our interview - can you please tell our audience a little bit about yourself? What hobbies and passions do you have besides Magento development?
Besides working at Indie Group as Magento developer, I also have my own company where I do Magento development and some regular web development.
Besides working there, I'm also a president of the association that doesn't have lucrative purposes. In this association we organize events for youth in the neighborhood. Besides that I'm also working as a restorer of an old Mini Cooper ☺.
What would you say is the best thing about working at Indie Group, how many positions did you switch prior to joining this company and what factors have finally made you settle on this particular job?
I like working at Indie Group, but running my own company, is also plenty of fun. I can work on multiple Magento projects, that are all unique. Every project is a new start and has its own difficulties. I've started to work at Indie Group about 5-6 years ago, and it was my first job. Besides that, I have been administering my own company for about 4 years now.
You are a talented Magento developer who has dedicated a substantial part of professional life to this shopping platform. In your qualified opinion, which features help this solution dominate the current e-Commerce market?
Magento has almost everything thats needed to set-up an e-Commerce store out of the box. There are also a lot of extensions that can be added to your store to add extra functionality. If you're helped by a professional, you can have a customized, unique shop. There's also a great community behind Magento where you can be helped in case of need.
Additionally, Magento is also made to set up multiple stores/websites within 1 Magento codebase. You can manage multiple sites from one backoffice.
There is also no problem with adding a large amount of products, but then it is best to be helped by a professional.
Despite the staggering popularity of Magento shopping cart, every platform is destined to face some amount of dissatisfied users. In your experience, what are the most common Magento cons, that newbie e-merchants usually complain about?
One of the greatest cons a new merchant can experience is that Magento Community is slow. But when you configure it good and use a good hosting, Magento can be fast. Also if you tweak Magento and add some extra caching functionality, it can be lightning fast.
Some other cons that one can experience is that it isn't that easy to configure. That's true, if you don't know Magento that good, it isn't that easy. That's why it's best to be supported by professional. But that applies to all e-commerce platforms. It's best to be helped by a professional, so you can get the most out of your e-commerce platform.
Being an expert on the subject of e-Commerce solutions, have you ever came across data transfers from one shopping cart to another? If so, do you think that automated migration services are best suitable for such purpose, or would you rather use some other method?
I have been transferring data from one shopping cart to another. Mostly that have been products and customers. If you have access to both carts and database, you can export them and import them in the other cart. Normally I do this by custom code or import/export.
Some export/import can definitely be automated, it can help transferring data. But whether you're doing it by yourself or use an automated service, you still need to check everything after the update and make sure everything is transferred correctly without data losses, or data misplacing. So fully automated it won't ever be, but some manual actions can definitely be managed by automated systems.
As e-Commerce market is rapidly expanding throughout the world, we'd like to know what are the current conditions of digital market in your home country Belgium? Does Magento take a leader position as well, or maybe Belgian e-merchants prefer some other shopping platform?
Magento is definitely taking the leader position in Belgium. Especially when you want some custom features on your store, it's best to use Magento.
Some SaaS platforms are also starting to rise in Belgium, and that's good if you're just starting in e-commerce, but when you want to extend or grow it's definitely better to use Magento.
The entire e-Commerce community is craving for the official release of Magento 2.0. Thus, how do you think - which of its functionality differences will provide the most drastic changes in store management for those using current Magento versions?
I'm also waiting for the official release of Magento 2.0. But I already have a little experience with the beta version, and I think I can say, that drastic changes for store management for e-commerce owners won't happen. The backoffice has changed its look, but most features are the same. The most changes appear in the code of Magento, and I think that its definitely for good.The greatest challenge will be to upgrade your store from a Magento 1.x version to a Magento 2.x version. But normally Magento is providing an upgrade path, so that should help a lot.
We're thankful to Alexander for spending the time and providing us such interesting answers. Stay tuned to our blog, as plenty more of useful articles and exclusive e-Commerce expert's interviews are still ahead.