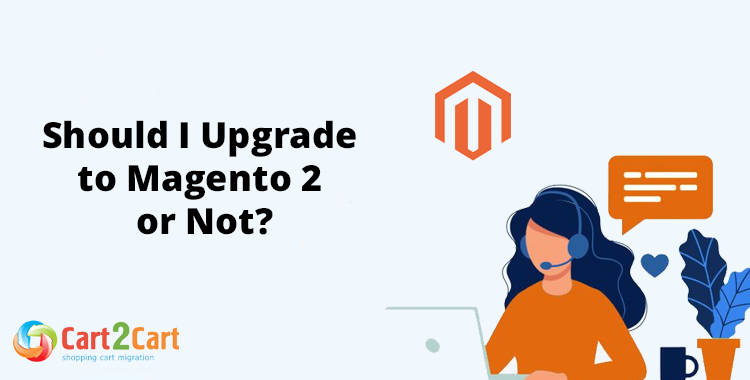 If you've been following the news of e-Commerce lately, you couldn't miss the fuss about the release of Magento 2. Most certainly, you do already know what are the differences between Magento 1.x and Magento 2. You also should have heard about the benefits of the platform's second generation. Nonetheless, having all the info at your disposal, the idea of upgrade Magento 1 to Magento 2 may still seem to be not reasonable enough.
And that's OK. A few months ago, nobody would have enough courage to say that Magento 1.x is terrible. Now, we hear Magento being slandered because of its flaws (rightfully or not) here and there.
Obviously, Magento 2 got enhanced. For about five years, a talented team of programmers was working hard to endow the shopping cart with the most exceptional e-Commerce functionality out there. And even though they undoubtedly succeeded, it doesn't make Magento 1.x worse itself, does it?
To know whether you should consider upgrading Magento 1.x to 2.x as your priority task or not, there're a few questions to answer first.
What will I get when upgrade Magento 1.x to Magento 2.x?
To begin with, let's face the fact that there's no way back for Magento. Soon, the community will get focused solely on version 2.x up until the time Magento 3.x appears on the shelves. Ultimately, this means you'll stop receiving any security or functionality updates for your plugins, themes and the platform itself.
However, instead of talking about vague benefits, you may get in the future (or not). Here're three key advantages for store owners you'll receive right after the upgrade:
Full Page Caching - one of the essential improvements that allow for lightening server loads and accelerating page load speed by up to 50%! Eventually, it will cause a positive impact on SEO of the website, as well as on the shopping experience of your customers.
Streamlined Checkout Process - brings significant changes to checkout page called to reduce the rate of shopping cart abandonment, but increase conversions rate instead.
Redesigned Admin Panel - eases the learning curve, as well as decrease the time needed for day-to-day operations considerably. It makes everything look a bit fancier too 🙂
We're pretty sure that the best Magento 2 features are yet to be offered. Just give some time to the developer community to get comfortable with a brand new modular architecture, enhanced file structure and improved the testing framework.
When should I upgrade Magento 1 to Magento 2?
Since most of the popular extensions are compatible with Magento 2 already, the answer to the question "When?" is "Now, or a bit later".
If your store is performing well, and the platform version isn't lower than 1.8 - you could keep your current Magento store for a while.
However, if you're experiencing serious performance troubles or still using obsolete Magento 1.7 version or lower - it's certainly time to go. In this case, Magento upgrade to its latest version is an excellent chance to get rid of technical issues, reconsider the necessity of plugins installed, and get an advantage over competitors. Killing three birds with one stone! Follow the step-by-step tutorial if you want to find out How to Upgrade Magento effortlessly.
Will Magento 1.x to Magento 2.x update be painful?
Quick fact about an upgrade to Magento 2 from Magento 1- it's not an upgrade actually. Since an internal structure of Magento 1 and Magento 2 differ so much, a switch to a second platform version requires a database migration. So the answer is "No, but it may cause some inconveniences and require extra investments".
The saddest part is that design, code customization, and 3rd party extensions are impossible to transfer. Another thing you should know is that unless you manage to take care of 301 redirects swiftly and accurately, your SEO may suffer too.
The good news is that there are several options to perform an upgrade: you either could utilize official Magento scripts or an automated migration service, such as Cart2Cart. Both solutions are equally reliable but work quite differently. While migration scripts require some sufficient programming skills and manual setup, Magento upgrade using Cart2Cart is fully automated. Also, the service allows preserving your Google rankings at most by moving 301 redirects, as well as to migrate customer passwords for the convenience of your existing clients.
Bottom Line
So, should you revamp your online retailer? Yes, definitely. Sooner or later, the competitive market will leave you no choice but to pack up and upgrade Magento to its latest version. But you know what they say, "The early bird catches the worm" 😉
To get a strategic advantage, start with a free Demo migration now and check out how your store will look like on Magento 2 within a half an hour!