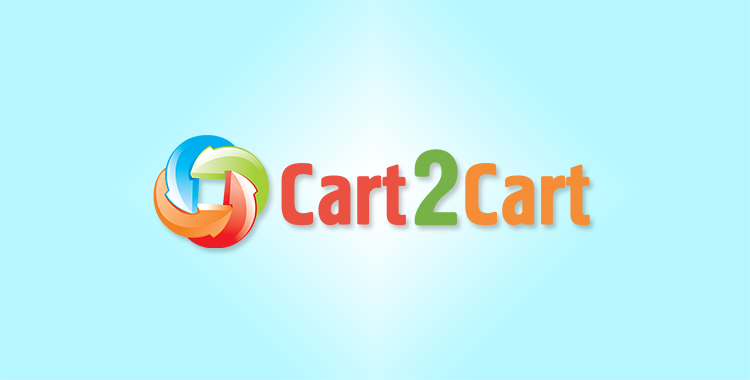 There are plenty of reasons to choose PrestaShop. It is free and open-source. It is also popular and has a large community. PrestaShop is flexible, feature-rich and easy to use. It supports multiple languages, currencies and payment options, which gives you an opportunity to expand internationally. The multi-store management function makes it possible to run several different stores via single admin panel.
Cart2Cart will make your migration from OpenCart to PrestaShop easy, safe and painless. All you need to do is create an account and follow simple instructions. For better convenience we recommend to watch video tutorial on how to migrate from OpenCart to PrestaShop.
Registering a Cart2Cart account will take a few minutes. As an option, you can use your Facebook or Google profile to sign in. Before you start the migration, make sure that both your stores are available online. Don't forget to calculate the cost of your migration with Migration Estimator.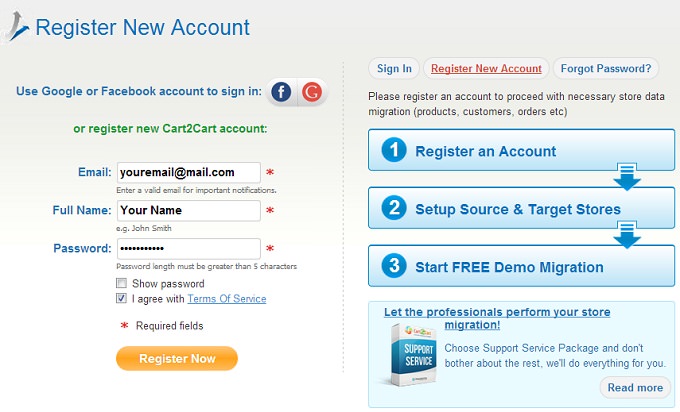 Now you are ready to start the process of transferring your data from OpenCart to PrestaShop. Cart2Cart migration consists of several steps.
1. Source Cart Setup
Select OpenCart from the drop-down menu and fill in your OpenCart store URL. Then you will need to download Connection Bridge and upload it to the root directory of your store. For more detailed information about Connection Bridge, read the FAQ.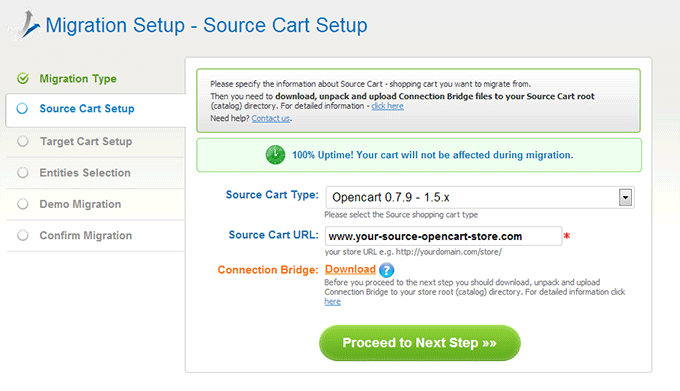 2. Target Cart Setup
Select the version of your PrestaShop cart, fill in your PrestaShop store URL and download a Connection Bridge.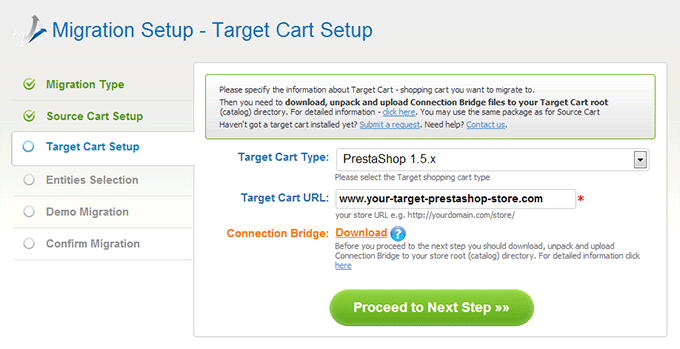 3. Entities Selection
Select the entities you want to migrate from OpenCart to PrestaShop. Choose Check All if you would like to migrate them all. There are also additional options, some of which require an extra charge.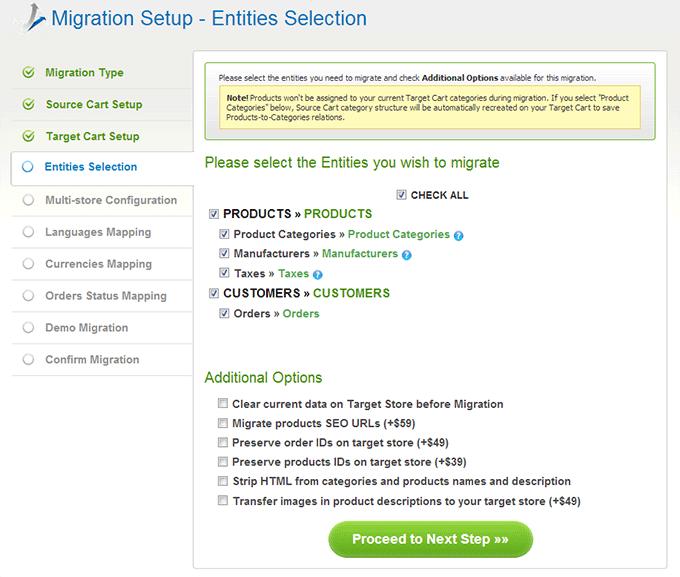 4. Languages Mapping
Assign the languages on your OpenCart store to appropriate languages on your PrestaShop store.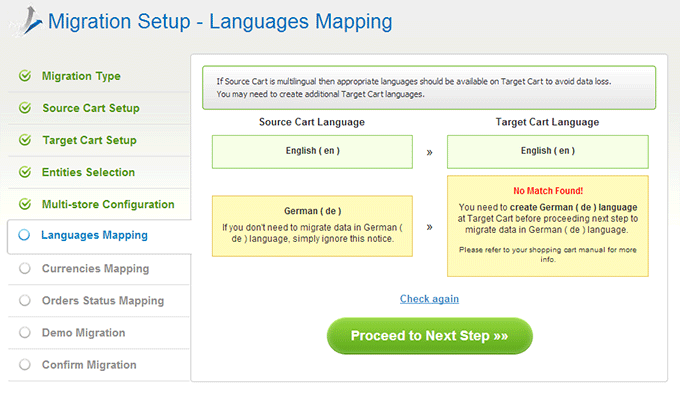 5. Currencies Mapping
The currencies on your PrestaShop store can be changed or stay the same as they are on your OpenCart store.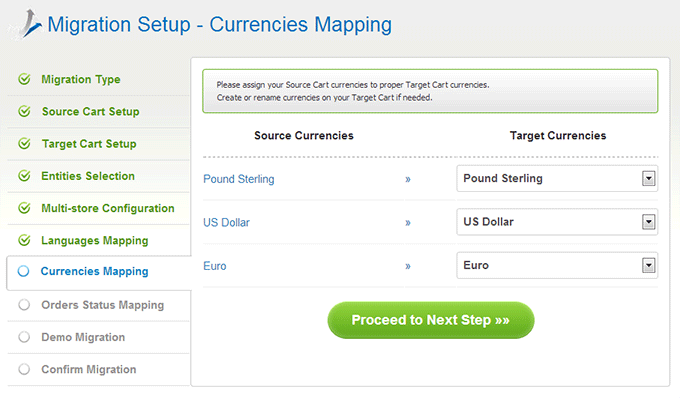 6. Orders Status Mapping
Assign your OpenCart order statuses to your PrestaShop order statuses.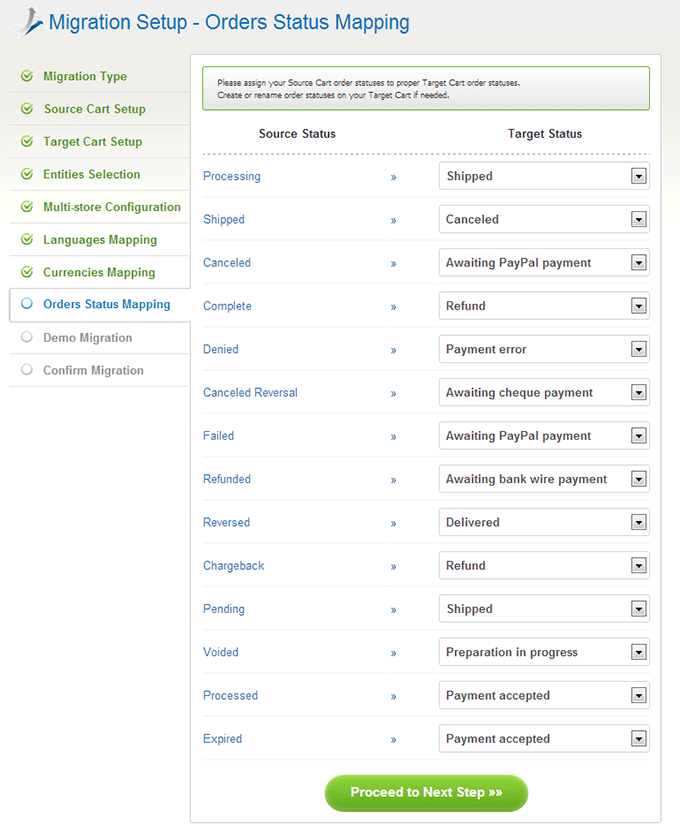 7. Demo Migration
At this stage, the service will move a part of your information from OpenCart to PrestaShop to show you how safely and carefully it works. Demo Migration is free and it usually lasts no more than a few minutes, so it is recommended no to skip this step.
Do not close your browser while Demo Migration is in progress. When Demo Migration is finished, click the link to check its results on your PrestaShop store.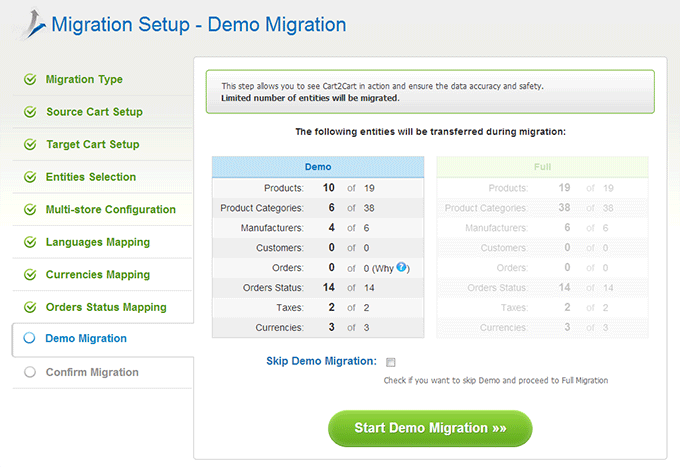 8. Full Migration.
Make sure you have provided the right information and click Start Full Migration. Then you can close your browser window.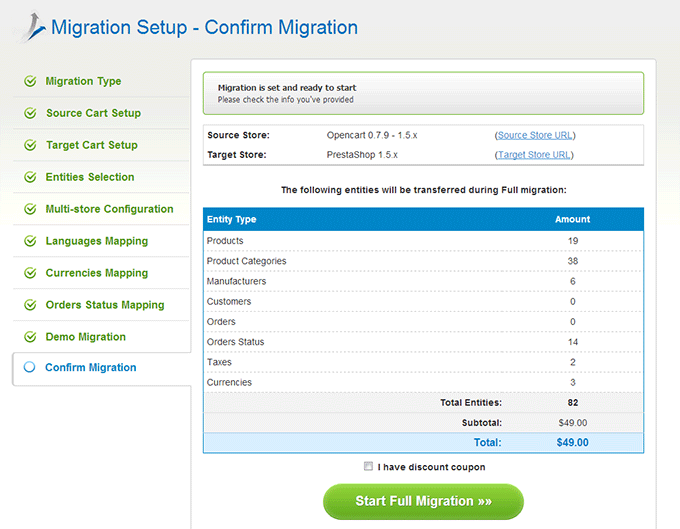 When Full Migration is completed, you will receive an email notification. Check the migration results on your PrestaShop store.