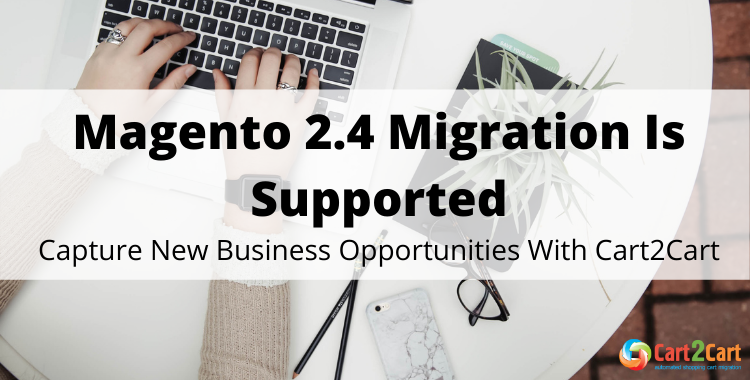 Despite the ongoing coronavirus pandemic, Cart2Cart continues to evolve, bringing breathtaking news all over again. Today we're happy to announce that migration to the recently-launched Magento 2.4 version is available. From now on you can benefit from one of the most stable and talked-about eCommerce solutions by migrating to it totally automatedly with Cart2Cart.
Released on 28 July 2020, the new Magento 2.4 comes packed with an impressive number of changes, bug fixes and security enhancements that both Magento partners and merchants have expected. The most noteworthy features revealed in the official release notes include:
100+ fixes to core code;
30 security enhancements;
98 new features;
12 extensions;
7 test cycles.
Now let's focus on those improvements of Magento 2.4 that can directly benefit your online business.
Key Magento 2.4 Improvements for Merchants
Security Improvements (one of the most important is two-factor authentication (2FA) from all devices),
Order Approval Workflows (allow B2B buying companies to customize their approval processes via a simple form),
Seller-Assisted Shopping (enables online store admins to log in as customers from the Magento Admin panel and guide their customers with the new Seller-assisted Shopping functionality),
In-Store Pickup (empowers customers to choose which physical inventory locations should be displayed as customer pickup points),
New Media Gallery Redesign (integration with Adobe Stock allows for a 30 times faster image search and filtering),
PWA Development (it introduces new Venia storefront experiences and accelerates development processes).
Overall, Magento 2.4 version has all the necessary functionality not only to improve the performance of your current store, but also to take it a step forward towards success.
Supported Data
With Cart2Cart you can transfer the following data types from your current store to Magento 2.4 with no delays:
Products, product images, related products, product tags, product variants, downloadable products,
Manufacturers, manufacturer images,
Customers, customer billing & shipping addresses,
Orders, taxes, coupons, reviews,
Multistore, multiple languages, CMS pages, etc.
Furthermore, Cart2Cart allows broadening the migration possibilities by offering additional options like the following:
Create 301 redirects on your target store after migration,
Preserve order IDs on Target Store,
Migrate customers' passwords,
Migrate categories and products SEO URLs,
Migrate images from products descriptions, categories descriptions and blog posts descriptions, etc.
Left with a strong desire to become a part of Magento 2.4 glory? Cart2Cart is always ready to give you a hand of help. Just try free Demo and see how easy it is to set up your migration with Cart2Cart, and have your current store migrated to the 2.4 version of Magento as seamlessly and trouble-free as possible.
P.S. You're still running the old Magento 1 store, but want to upgrade it to Magento 2, you can turn to Cart2Cart and have your current Magento 1 store data moved to the latest version totally automatedly.