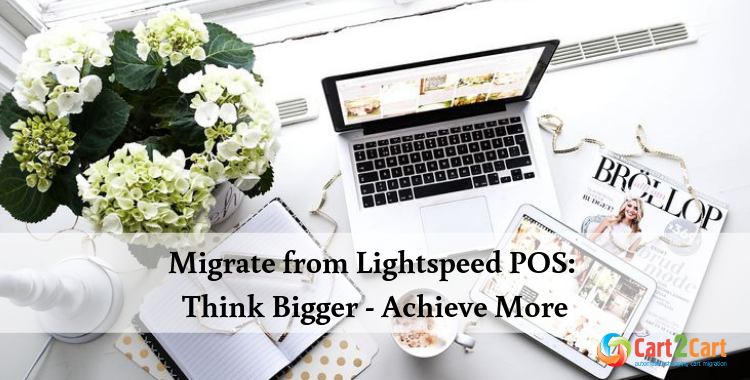 Running the Lightspeed POS store but it seems like this platform doesn't move things forward? Tired of seeing how the sales panel of your choice stacks up against the big-name eCommerce players and fails? We can't wait to introduce you Lightspeed POS export by Cart2Cart. Put the challenging times behind, that's your new starting point!
We've examined Lightspeed POS for the strengths and weaknesses, and evaluated it on a scale of 0 to 10. eCommerce platforms take drastically different paths catering entrepreneurs, so this blog post will carefully guide you from considering to replatforming as hassle-free as possible. Everything here was created to be helpful, stay tuned!
Lightspeed is the all-in-one cloud-based point of sales (POS). This comprehensive retail platform is suitable for numerous eCommerce industries, including apparel, bike, jewelry, footwear, pet, sporting goods, and home decor. It provides users with solid functionality to create a truly unique presence, including Inventory, Employee and Customer Management, Built-in Sales and Employee Reporting, Multi-Store Inventory Transfers (Online + Brick & Mortar) and Centralized Purchasing, Free On-boarding, 24/7 Support, Lightspeed Accounting, Analytics, Loyalty, eCommerce, and Payments. But benefits are never the full story and you should know that there is a significant drawback. When compared to other top-brand eCommerce platforms, Lightspeed POS is a little bit overpriced. The onboarding has a steep learning curve, although at first glance it seems very user-friendly. The system contains significant bugs, but it wouldn't be such a disaster if customers had nothing but words of honor to say about friendliness, helpfulness and fun side of communicating with the technical team. Bearing in mind all these weak points, the automated migration service requiring no programming or profound technical expertise is exactly what you need. With Cart2Cart you can transfer the following entities to your brand new eStore:
Brands;

Categories;

Customers;

Discounts;

Products;

Taxes.
To remain one step ahead and get the best of shopping cart features without having to spend an arm and a leg, the largest list of premium additional options is at your service:
Clear current data on Target Store before Migration;

Preserve order IDs on Target Store (+$49);

Migrate Source Store categories into Shopify Automated Collections (+$59);

Preserve product IDs on Target Store (+$39);

Create product variants based on the combinations of options (+$35);

Preserve customer IDs on Target Store (+$49);

Preserve product image URLs;

Migrate images from products descriptions, categories descriptions and blog posts descriptions (+$49);

Strip HTML from categories, product names, and descriptions;

Change products quantity to 100 on Target Store (+$29).
Entrepreneurs who are standing on the verge of new eCommerce venture all have the same challenge to get over: Which eCommerce platform should I choose to rest assured I'm in a good company? Feel free to talk to Sales and get the ultimate consultation based on your business needs or requirements, and pick the most beneficial platform, that will work with your store. When in doubt, be clear and start Free Demo!