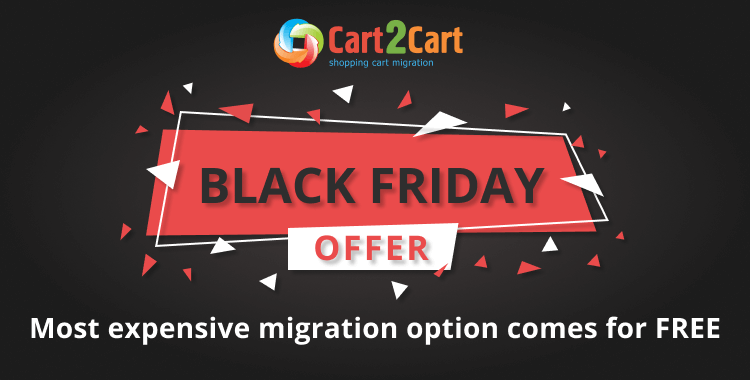 While shoppers are obsessed with tracking down and grabbing the best bargains during the Black Friday shopping spree, we thought, online merchants deserve a Black Friday too. We know you have been incredibly busy preparing the most beneficial offers for your customers. So, why don't we offer you a chance to improve your store and finally perform the long-awaited yet continuously postponed migration?
Cart2Cart Black Friday Special-Savings up to $59 for Merchants
What is the offer?

Get the most expensive additional migration option of your choice for FREE for each migration performed through December 1, 2019.

How do you get it?

start setting up your migration in the migration Wizard;
choose which additional migration options you need (the most popular ones include automated 301 redirects, customer passwords migration, SEO URLs transfer etc.).
get the most expensive one of them on the house!
Worried about your current store, since it's the hottest sales period of the year?
Well, there's nothing to worry about, since migration via Cart2Cart doesn't affect your existing store at all. Simply put, our service copies the data to a new platform (which you can install in a subfolder or, if it's a hosted cart, like Shopify or BigCommerce, register an account).
It's important to make sure your new (Target) store is in the maintenance mode and blocked from search engine crawlers. This way, you'll be able to migrate your data and work on the new store till it's ready to shine. Meanwhile, your customers will purchase from your existing store as they always do.
Why wait till the last day?
Migration setup usually takes about 15 minutes, so hurry up to grab your special offer and before it's gone! Don't miss this opportunity to enter the new year with the brand new online store that you've been dreaming about!