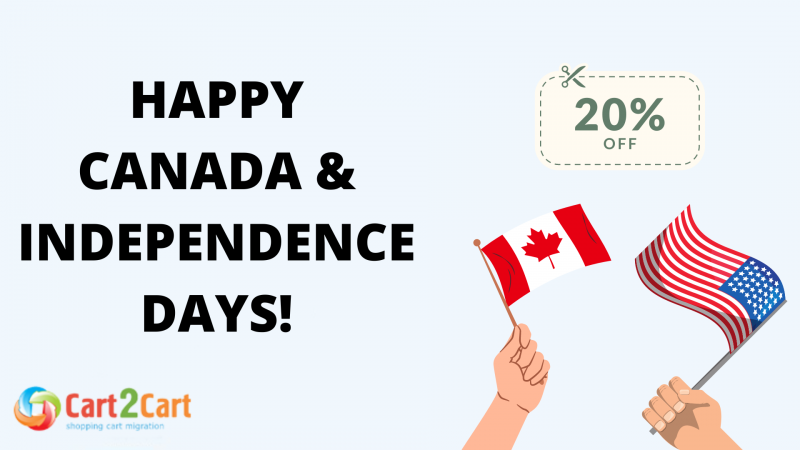 Attention! The month starts with Canada Day, on July 1, featuring parades, fireworks, picnics, and barbecues. Just a few days later, the US celebrates Independence Day on July 4, with even more parades, fireworks, picnics, and barbecues! So, celebrate the official birth of American & Canadian nations by treating yourself to a budget-maximizing shopping spree from Cart2Cart.
July is the month of the two most significant summer holidays for both Canada and the United States. Some people take to the streets for patriotic parades in cities, towns, and even villages. Others honor the day with fireworks displays, family picnics, music festivals, or sporting events. And, good news for shoppers - online retailers have now jumped on board to offer incredible discounts, and Cart2Cart is no exception.
So, what's the deal from Cart2Cart?
Migrate your web presence to the new eCommerce solution with Cart2Cart and get 20% off the total price!
How to get the deal?
Launch your migration in the Migration Wizard;
Paste the Cart2Cart promo code c2c-20%off
Get 20% off the final migration price.
Note: It's a single-use code, meaning it can only be used for a single migration by one person.
How long does the offer last?
The offer is valid between 1-31 July 2023. Don't miss this opportunity to upgrade your e-business with Cart2Cart. 
Why wait till the last day?
Migration setup usually takes about 15 minutes, so hurry up to grab your special offer before it's gone! Don't miss this opportunity to level up your e-business with a new eCommerce platform by migrating to it with Cart2Cart.