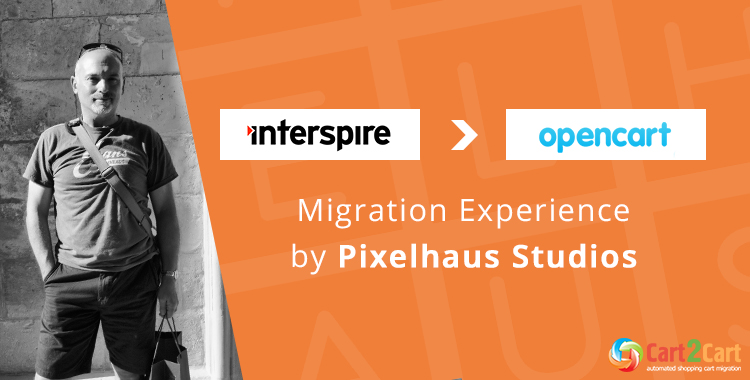 Every new interview with our dear clients and partners is always a special event. For us, the Cart2Cart Team, it's a chance to get to know more about our users and their migration experience, and for them — to get into the limelight for a little bit 🙂 This time, we're here with Richard Gosler from the UK web design company — Pixelhaus, who expressed his will to share his experience of using Cart2Cart to migrate from Interspire to OpenCart.
---
— Richard, tell us a few words about your Pixelhaus web agency, please. What do you guys do and what do you have to offer to store owners?
Pixelhaus is a full service web design agency but we specialise in ecommerce. I come from a catalogue production background so when ecommerce appeared in the 90s it was a logical move to get involved. As an agency now, we have local, national and international clients for whom we design sites as well as photo, video and written content creation.
— What would your most essential design recommendations for store owners would be? Are there any common mistakes merchants do that lead to negative customer experience and decline in conversions?
Don't allow your personal preferences cloud your judgement. You have to consider, first and foremost what your customers will respond to.
— You recently performed Interspire to OpenCart migration by using Cart2Cart. What caused you to choose an automatic tool and Cart2Cart in particular? Were you using other migration solutions for your clients before?
In this case, it was a site we had built for the previous owners several years ago. Interspire ceased supporting their own product a couple of years later. Fortunately it was stable and worked well but when Google started penalising stores for not being mobile responsive it was time to upgrade. Cart2Cart's offering made the process painless and the client was very happy with the outcome. We have not used any other tools previously because we had not found anything suitable.

— What's your experience of using our service? How did it helped you?
Your service works well and it was easy to estimate the cost so we can quote to our clients.
— It might sound pretentious, but we love being criticized... equitably, of course. Because that's how you get better, right? So, was there anything you wish us to improve?
More a suggestion than a criticism, but being able to offer a bespoke service for some of the more obscure carts would be useful. One we commonly work with is Sellerdeck (previously Actinic Desktop) which is well established in the UK. Also Click Cart Pro.
Editor's note: Cart2Cart offers migration from "non-supported" shopping carts as a part of our Data Migration Packages Service.