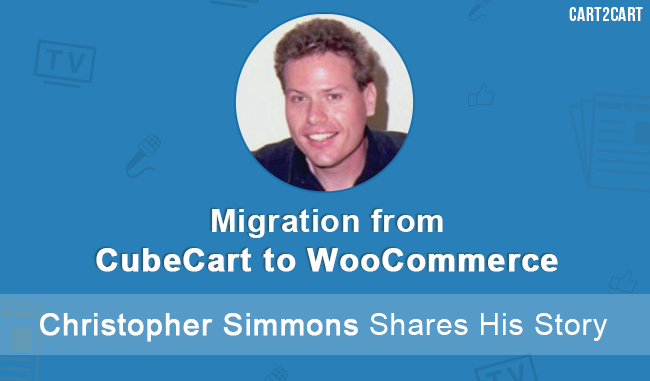 Now, that it's freezing outside - lots of people stay indoors, looking for ways to keep warm and entertain themselves. If you're one them, here is a suggestion - check out a new edition of Cart2Cart interview series. This time we've talked to Christopher Simmons, experienced entrepreneur, talented marketer and all around e-Commerce specialist, who has once worked for Oprah:)
Without further ado, here are Christopher's fascinating answers:
So, Christopher, acquaint us with your entrepreneurial story. As I understand, you run several online businesses. Tell us a bit about that, and how did your e-Commerce path begin?
I've been a creative and marketing guy and entrepreneur since my teens when I had a mail order business selling movie memorabilia, and graphic design business. This led to adding PR services with my dad, and web design starting March 1995. I built my first e-com solution in 1996, and started both a hosting company (1996-2005) and ecommerce hosting for folks, including Oprah Winfrey/Civitas for her "Begin with Love" video series – orders for the video fulfillment company for the sales for that ran on my server. So, it's been a long strange trip, as the song says.
Until recently, you've been running your store on CubeCart, why did you decide to switch to WooCommerce?
Well, CubeCart (CC) was great for five years, but I wanted to add some different features and things not supported by CC, and while they were transitioning to an open source model, much like WooCommerce (WC), they were not quite there yet. Since I've somewhat standardized on WordPress now, it made sense to revamp our Send2Press services order system to WC for 2016.
To clarify, I would likely still recommend CubeCart for those larger sites with a vast number of products, and perhaps higher traffic, over WooCommerce. The issue with WC is so many gears running between WordPress, plug-ins, WC, WC extensions, etc., it's not as easy as many make out. And frankly we had maybe 6 updates for CC in 6 years, with more than 100 updates for WP, WC and related pieces due to XSS vulnerabilities, etc. Managing WC is really a full-time job, most folks are not truly prepared for.
You used Cart2Cart to transfer data to a new platform. How did you came across our service? And how did the migration go, are you happy with the results?
I started out like most folks, trying to do a traditional brute force export/import thing using Excel/CSV and/or plain text tab delimited files. However CC has particularly complicated data structure for the account records, and then the order records. After couple of tries and somewhat frustrated, chose to do Google search, and found Cart2Cart. I tried the quick demo, and went "Wow, that worked!" so decided to order the full service. We needed a little personal massage by C2C, but everything was done right. Super happy with the final result.
Where Cart2Cart really saved the day was migrating the CubeCart data structure; since there was a user export only for name plus e-mail, and then the complete order list, where there was no updated schema for things like a client who had updated their e-mail or billing; and so if imported directly via CSV we would have had duplicate accounts or have to do some massive de-dupes by hand where some clients had placed 50 orders, there would be 50 records. So, now in WooCommerce. Cart2Cart gave us a migrated user dbase, and order history, and it all works perfectly. Cannot recommend it more highly.

The store before migration

The store after migration.
As our recent client, is there anything you'd like to see improved in the migration process? Give us your remarks.
The only thing that was a little funky, was the automated migration worked for demo, but then didn't for the full move. Likely due to some bad data in there (e.g., wrong fields in wrong place like State in Country, etc.). Luckily C2C folk stepped in to get it working and it completed with no other issues when manually run by C2C support.
Christopher, we've been talking to a lot of store owners lately and it appears that they all have one thing in common - a constant lack of free time. What about you, have you got a secret of counterbalancing your personal and professional life? If so, what is it?
I bought a treadmill to have at home; so no longer an excuse not to get to the gym end of day. Major multi-tasking and time management. Trick is choosing to do the hard stuff first, rather than just all the easy stuff, then not having time for the hard stuff which then never gets done.
Now, that you've got a new, advanced e-Commerce gear how will you put to work? Are you planning some interesting holiday campaigns?
We have some more work to do on the main site, but now with the new ecom setup we're now better equipped to connect to an email remarketing platform to stay in touch with our clients with specials and updates, which our old platform had some issues with. We'll be sending out a promotion to clients thanking them for helping the Send2Press.com site reach a 16th year anniversary in 2016, so that's pretty amazing for a small business on the web.
We're thankful to Christopher for providing such interesting answers. Good luck to him and all our followers. Stay tuned as much more fascinating e-Commerce articles and interviews are yet to follow.