Please make sure, you know the meaning of the following expressions, before reading the manual:
Source store is your current web shop that you migrate data FROM
Target store is the desirable web shop that you migrate information TO
Shopping cart is the basement that allows to create an online store. It gives an opportunity to establish one or several different shops.
PrestaShop platform gives an opportunity to create several separated stores and(or) websites on one shopping cart installation. In the admin panel this function is called Multistore.

Cart2Cart makes it possible to migrate multiple PrestaShop stores.
You can use Multi-store Configuration on Migration Wizard in three situations:
Your Source cart support multi-store function
Your Target cart support multi-store option
Both platforms support multi-store.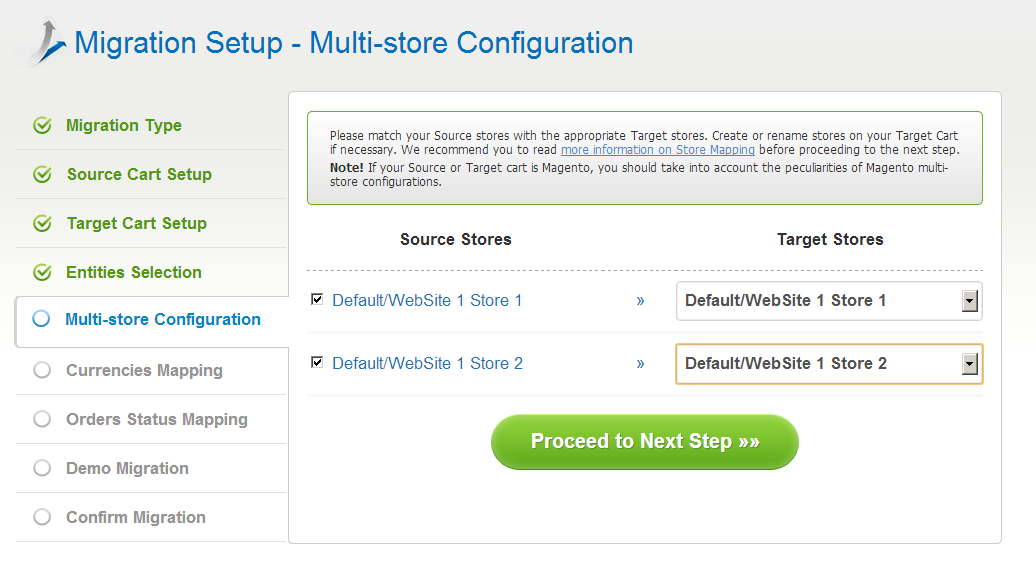 Migration Peculiarities
To perform migration you have to map at least one Source store with one Target store. Cart2Cart will transfer data from the chosen Source store. The cost of migration depends on the quantity of entities that you are going to move. You can calculate the price of data transfer with help of Migration Estimator:
Specify your Source and Target shopping carts
Enter the number of entities you would like to move
Press a Get Estimates button to see the result.
The outcome of multi-store migration may differ from the ordinary data transfer results. It depends on Additional Options those could be chosen on the step Entities Selection.
To prevent any possible troubles wait until one migration is completed and then proceed to the next one. In case you are moving from Magento to PrestaShop or from one PrestaShop version to another you can perform a single migration for all store views by simply mapping them at appropriate Migration Wizard Step.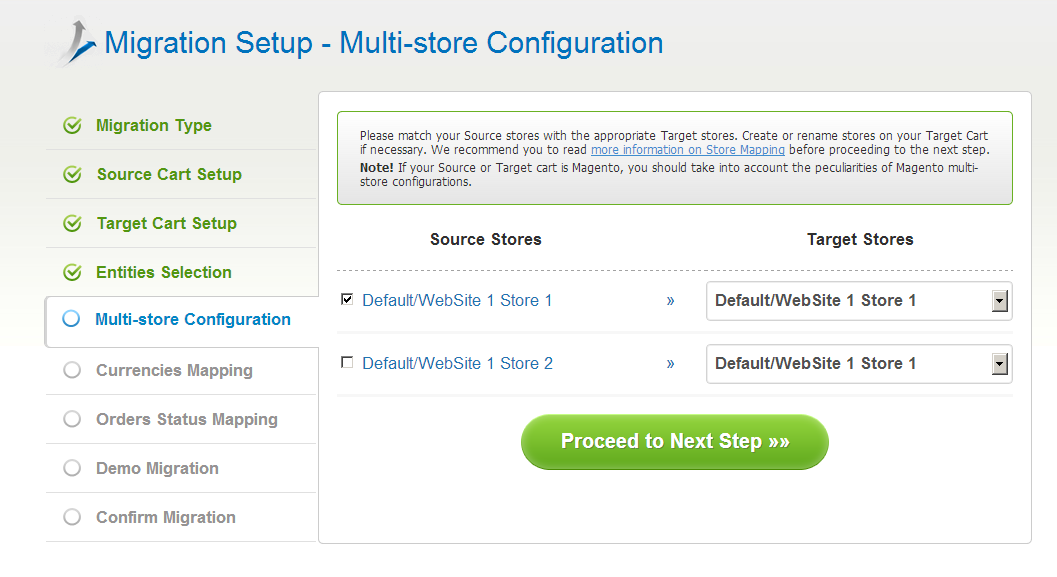 Using option Clear Current Data On Target Store Before Migration:
If your Source shopping cart has a single store that you mapped with one specific shop at your PrestaShop multi-store, the data will be cleared only at specific Target store, that was selected. In case if your Source and Target platforms have several separate stores, those were mapped, Cart2Cart will clear all the information from all stores on Target shopping cart.
The option Preserve order IDs on target store has a limitation. If this option is selected you won't be able to map two or more Source stores with one Target store.
PrestaShop Special Configurations
In case if your PrestaShop has more than one website or store you have to bear in mind several important aspects. Cart2Cart recognizes every PrestaShop store as a separate one. Due to this fact it's not enough to map default Store of the Source shopping cart with the default on Target Store to migrate all the entities. In case your Source cart is PrestaShop, which includes several stores and your Target cart is any other platform without multi-store feature, you have to map all stores of the Source cart with Default one on the Target store.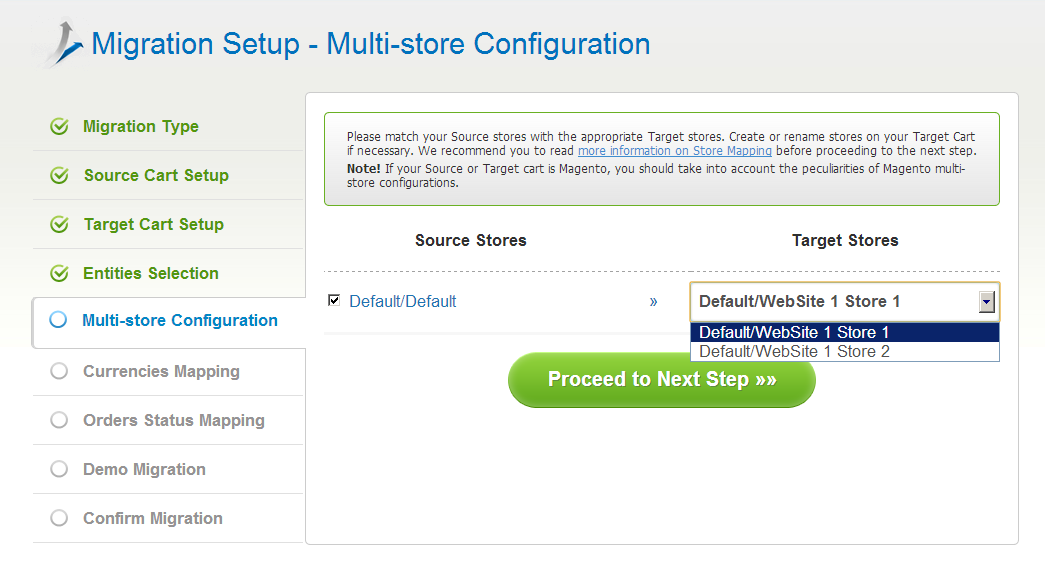 Note! The option Preserve order IDs on target store won't be accessible.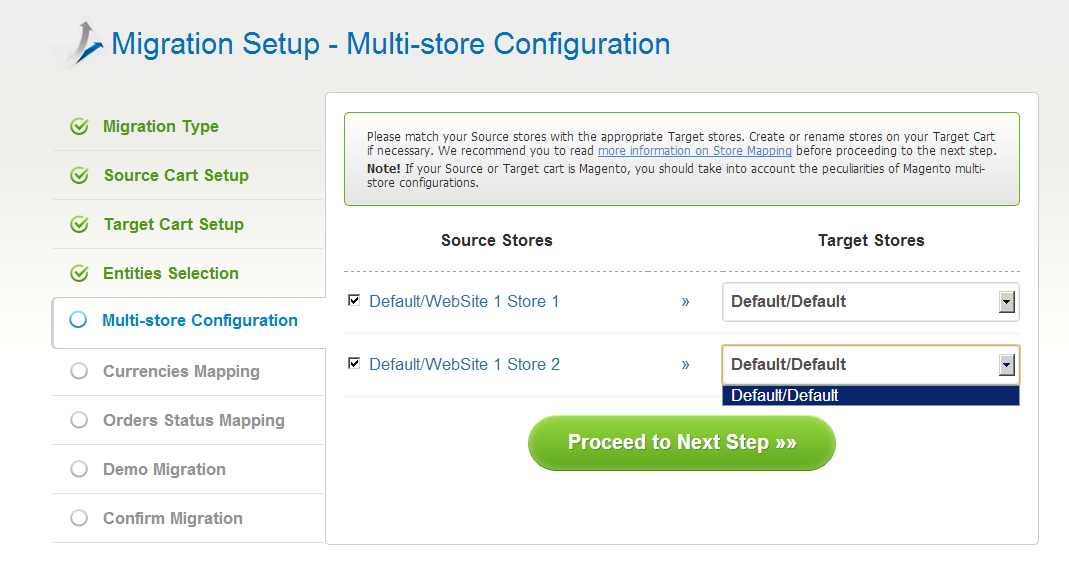 Categories Migration
Categories migration has its peculiarities, so please pay more attention to this step.
In PrestaShop there is a root category, that contains all the store categories. When you create several sites on one installation, each website would have its own root category. To find more info check Managing multiple shops page.
Cart2Cart doesn't support root categories migration. However, it transfers those which are assigned to them and were mapped.
For instance, Source cart includes two websites with root category for each. Target store has the similar structure of Store Groups and categories.
All the source stores are mapped with analogous target stores on the Multi-Store Configuration step. All categories will keep the similar look on the source and target platforms.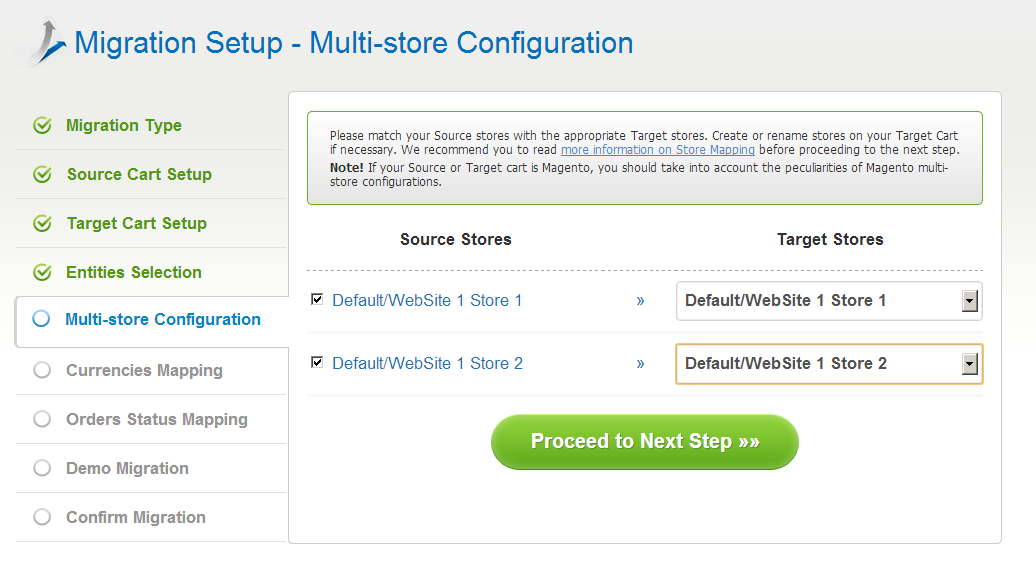 Note! If you migrate from several installations of different platforms to one shopping cart with multi-store function enabled, products in the catalog are not checked for availability. Generally speaking, in case you have two stores on Zen Cart with product SKU "T-Shirt". When you move this product in the similar or different stores on PrestaShop, it will be cloned. As long as same products can have various information on different shopping cart installations (products description, cost, etc) Cart2Cart cannot choose, which of them is proper. Customer should do it by himself.