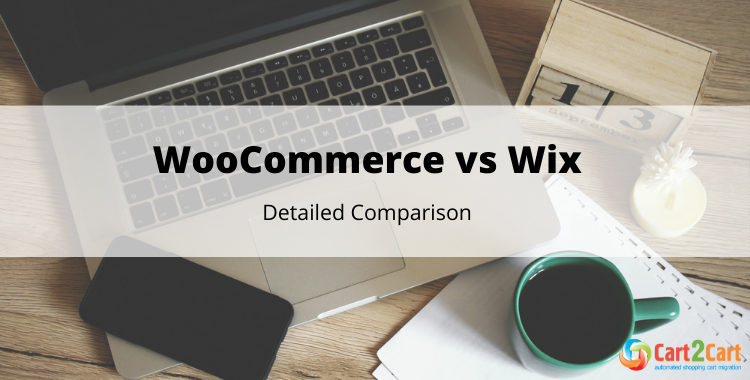 Are you having a hard time choosing between WooCommerce vs Wix? It's not surprising, since both of them evolve in a heartbeat, providing users with award-winning features and tools. And the price of ignoring their benefits is too high - the ever-changing eCommerce market often puts stagnant wantrepreneurs behind. Besides, that's not your case, if you've decided to get ahead of the enterprise commerce curve.
By the end of this showdown, we'll answer a fundamental question: can the popular WordPress still stack up against the newcomer Wix? Or maybe WooCommerce, with its robustness, will be blown away by the agile drag & drop functionality of Wix? If you want to take full control of your eCommerce growth and respond faster to the changing customers' behavior - proceed further to the insight-filled discussion.
What is WooCommerce vs Wix?
Wix is an all-in-one website builder that perfectly suits creating amazing do-it-yourself estores, whereas WooCommerce is ideal for building complex online shops. In other words, WooCommerce has all the functionality required to build an e-store from scratch, while with Wix everything comes built-in and ready for you to start building.
WooCommerce vs Wix: Short Intro
In this ultimate comparison, we're going to take a few of the more popular options and analyze them to help you make an informed, outcome-oriented decision. We'll face off Wix, an online website building service, against WordPress, using the popular WooCommerce add-on. If you want to leave legacy systems and cookie-cutter platforms behind and control your eCommerce destiny - stay tuned not to miss out on the proper vendor evaluation.
Looking for a way to try out the new platform for free? Run the demo migration with Cart2Cart today!
What is Wix?

Wix is a drag & drop, cloud-based web development platform. It allows users to create effective HTML5 websites, stores, and mobile sites through the use of online tools. Being around since 2006, Wix has dramatically soared in popularity and become widely well-known over recent years.
Further read: eCommerce website features you can't ignore.
Now, Wix has over 100 million people onboard across 190 different countries and hosts a whopping 160 million websites. In today's world, it's the most see-through website builder that allows creating an online store from scratch literally in a few hours.
It's well-known for the massive advertising campaign that involves A-list movie stars, pyrotechnics, and million-dollar budgets. All of this tells nothing about Wix's quality, time- and cost-effectiveness or usability, but it demonstrates their ambitious plans to conquer the market.
Here's a detailed WooCommerce vs Wix comparison provided by the ThemeIsle:
How much does Wix cost?
Unlike WooCommerce, Wix offers clear pricing that may be paid monthly, annually, or bi-yearly. The two cheapest plans are more than enough for non-eCommerce projects as they are ad-free and allow to use a custom domain name:
Connect Domain: $4,50/month
Combo plan: $10,25/month
Unlimited plan: $14,87/month
VIP plan: $28,72/month
Business Basic plan: $20/month
Business Unlimited plan: $29,75/month
Business VIP plan: $41,03/month
You can also save a lot of money (from 14% to 25% per year) by signing up for a 12-month subscription plan. Consider this option once you have tried out Wix, but don't be afraid to waste money on a platform that doesn't work with your business effectively. Wix provides newcomers with a 14-day money-back guarantee. So if you start with Wix and something goes wrong, so that you're not 100% satisfied, you'll receive a complete refund.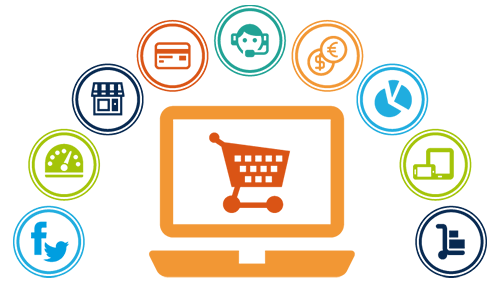 The key takeaway
Generally, Wix is cheaper and easier to budget for than WordPress' pricing, taking into account the expenses needed for hiring a developer to deal with a rough WordPress functionality.
Further read: Best eCommerce Sites for Small Business
What is Woocommerce?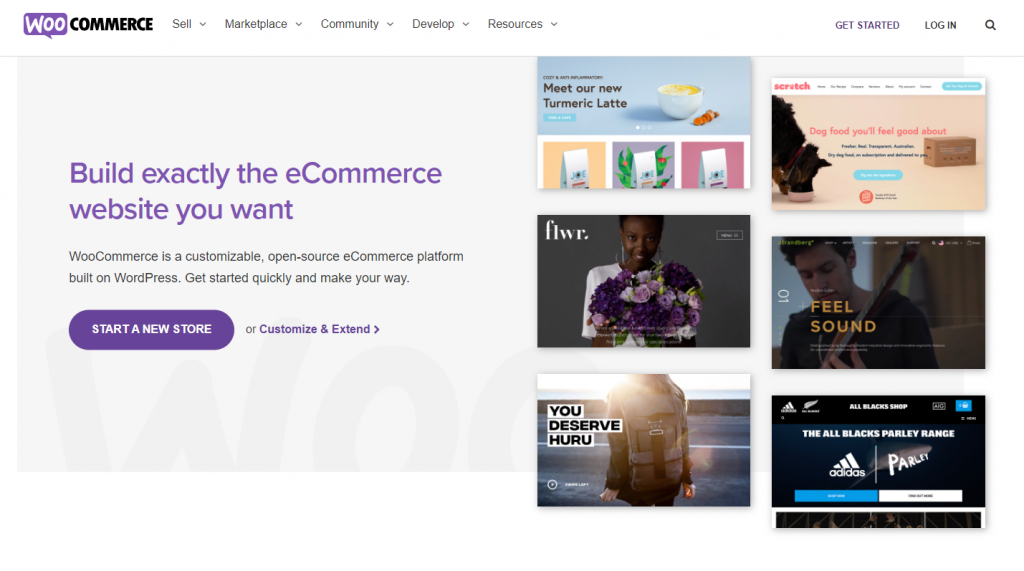 WooCommerce is a WordPress eCommerce plugin available to download, install, and use for free, whereas WordPress is a self-hosted open-source content management system. It's much more potent than Wix but requires stronger technical expertise.
If Wix Stores is a semi-ready system targeted at eCommerce newbies or entrepreneurs who don't want to deal with coding, WordPress is a perfect fit to take your business up a level after using a simplified shopping platform.
With WooCommerce, you can define and drive your eCommerce roadmap, create sophisticated web stores, and get full store customization flexibility. However, mind that you will also need to manage updates, maintenance, and take care of hosting, while Wix offers built-in security, in-house features, and pre-designed templates to its users. The choice is totally up to you, but the more responsibility, the more opportunities.
Further read: Magento vs WooCommerce vs Shopify vs OpenCart vs PrestaShop Comparison
How much does WooCommerce cost?
Officially, WooCommerce positions itself as a free plugin, but benefits are never the full story. First, once you download and install the plugin, you face the need to host your website. Keep calm. There are a lot of companies providing hosting packages, including GoDaddy (price ranges between $99-950 per month), Blue Host (pricing starts from $2,95-5,45 monthly), CloudWays (around $10-80 monthly), and Sitegroud (price ranges between $3,95 and 11,95 per month). The exact fee you'll have to pay, depends on the chosen hosting plan (Basic, Standard, Premium).
Which eCommerce platform suits you best?
Secondly, if you want the enhanced looks for your store, it's highly recommended to get a paid WooCommerce theme (price differs between $10 and $150). The most popular websites to discover elegant, beautiful themes are Themeforest.com, Themify, or get a free WooCommerce storefront theme. Moreover, you may need some premium plugins to increase your WooCommerce website's performance and make it more user-friendly.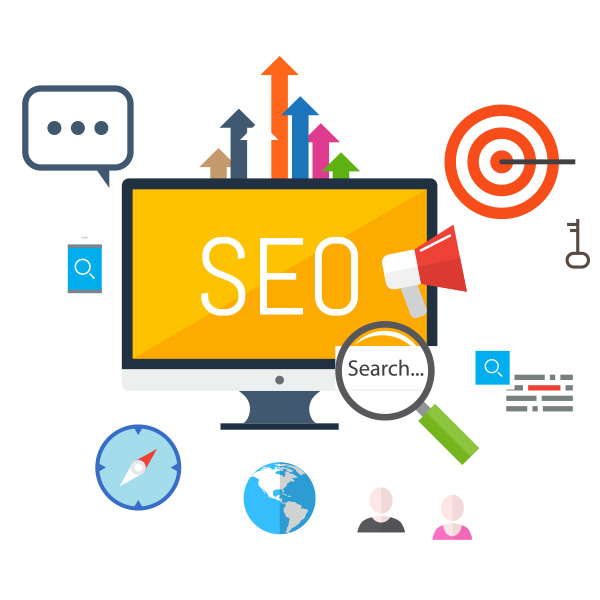 WooCommerce Pros and Cons
What are the key advantages of WooCommerce?
Strengths of using WooCommerce are presented right below:
Tightly-knit community. There's no official support service. However, eCommerce newbies can count on getting help from the experienced WordPress users through dedicated forums. Being one of the most popular platforms, WooCommerce boasts the largest community of members, contributors, and developers. In the WordPress Community, you can find abundant documentation, articles, and informative guides and tutorials created by experts.

Focus on blogging. In the modern world, everyone knows that a professional-looking blog, equipped with a commenting section and replete with meaningful content, is the best tool for communication with the audience. WordPress started as a blogging platform. Although this website builder has gone far beyond aside solely blogging, it still lies at the core of the platform.

Excellent SEO opportunities. From a marketing perspective, WordPress has been initially developed for simplicity and SEO purposes. If you have any concerns regarding the configuration of meta tags and descriptions, WooCommerce will show you how to use them for attracting shoppers to your store. It's also an excellent coach when it comes to SEO optimization (if you use high-rated SEO plugins).

Stylish themes and uncountable design opportunities. You can discover a lot of WooCommerce themes from various theme developers, like Templatemonster.com, Themify, etc. At the same time, there are dozens of customization plugins; for example, WooCommerce App Builder allows users to customize themes for their WooCommerce stores.

Further read: Wix eCommerce Review
What are the disadvantages of WooCommerce?
The plugin requires you to find a third-party company for hosting that comes with extra payments. Besides, WooCommerce can't be used without WordPress. So if you want to use WooCommerce, you need to rebuild the site using the plugin.

WordPress has a particular learning curve. Let's face it: initially, open-source solutions were build-up for developers. WooCommerce stands out as an incredibly user-friendly platform compared to other open-source tools. However, its flexibility and a pool of unique features come at a price of tech complexity for a complete newbie.

No technical assistance is available. If something goes wrong and your website doesn't perform smoothly, WooCommerce isn't responsible for your downtime and the cost of damage. It feels like sitting on a powder keg.

Hidden charges. If there's no fixed monthly fee, you've to sketch out a perspective budget beforehand. Remember that themes, website design, technical support, ongoing maintenance, domain name, and hosting service costs will rest on your shoulders. Undoubtedly, the decision on how much to invest has to be made on your behalf. But WordPress's budget can vary drastically. For a better understanding of the WordPress pricing policy, check out our recent post on WooCommerce pricing.
Further read: Wix Ecommerce Review
Wix Pros and Cons
What are the pros of using Wix Stores?
WIX provides you with effective tools to build attractive and stylish looking websites with over 500 templates. Also, retailers can design their own templates to bring their eCommerce visions to life. WIX's template collection is a game-changer for those who don't want the hassle of creating a website from scratch.

Interactive drag & drop user interface. WIX uses intuitive technology for building websites. All you have to do is pick what you need (image, slideshow, text) and position it wherever you want, without restrictions. By the way, WIX has an extremely gentle learning curve, and it's exceptionally user-friendly.

Wix is a free website builder, so if you're not sure how this platform works with your business, there's an opportunity to try it out and get acquainted with its workflow. The free plan offers you enough tools to launch a functional and power-packed website. In case you need advanced functionality, upgrade to one of the premium plans.

Future-ready marketing tools. Built-in SEO management functionality, social-media poster, email-marketing tools, and many other features are available for store owners to market their websites. Search Engine Optimization techniques are necessary if you want to be found anywhere on Google (or other search engines).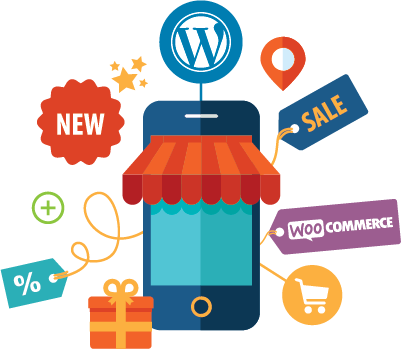 What are the disadvantages of Wix?
Wix drawbacks include the following:
Most of the templates are Flash-based. Unfortunately, they aren't completely optimized for SEO and mobile devices. Moreover, not all browsers support Flash (like Safari for iOS). However, WIX does have an HTML builder, so this will significantly improve your store SEO results if you use HTML-based templates.

WIX branding when using a free plan. Some say that nothing in life is free. That's how it works with eCommerce. There is a catch for those of you who choose WIX and decide to stay on its free plan. Free sites hosted on Wix are forced to carry Wix branding in the top right corner.

Premium plans are single-site only. Don't kid yourself with a delusion that WIX will empower all your existing websites if you pay for one pricing plan. The advanced feature set isn't transferable or extendable. Otherwise, if you're running only one site, it's not a reason for frustration.

Wix templates are not interchangeable. Do you tend to change your mind often? If so, there's something about Wix you will undoubtedly dislike. Please don't take it as nit-picking, but Wix doesn't allow transferring content from one template to another. So you won't be able to compare how it looks on a few different backgrounds. Just as a heads-up - choose your store template carefully. If you rethink later, you'll have to manually shift over all the content you've created on your original template.
If all the above-mentioned ideas are too crucial for you, perform automated WiX migration with CMS2CMS, and see how your website might look on a new CMS platform. Just a few steps and all your WiX content is safely transferred to a more powerful CMS solution.
Check out our infographic to get a better understanding of the migration process via Cart2Cart: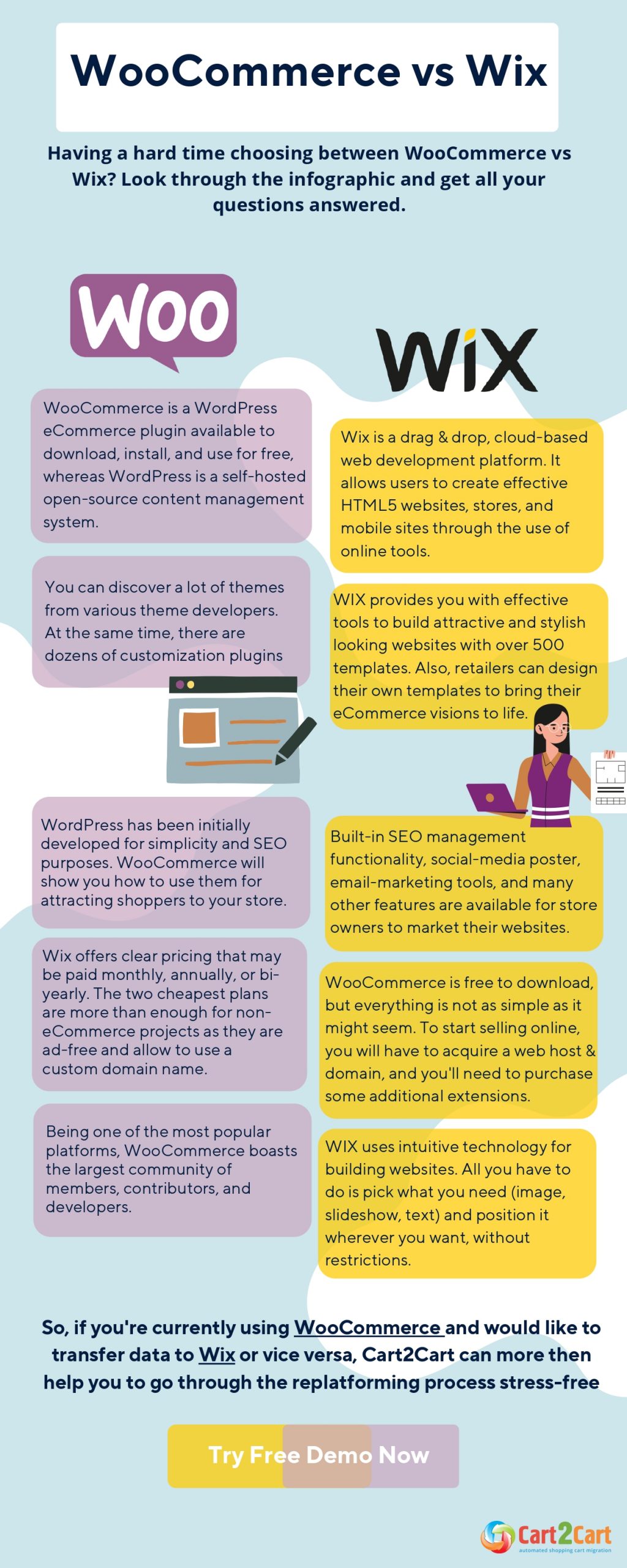 WooCommerce vs Wix FAQs
Which is better Wix or WooCommerce?
WooCommerce is more advanced than Wix and expects some level of coding skills to work with it – knowing how to code can more than help if you want full flexibility. In contrast, Wix makes everything as easy as possible, providing pre-designed templates, built-in security, and in-house features.
Can you use WooCommerce on Wix?
WooCommerce is a free WordPress plugin designed for eCommerce purposes. Wix, on the other hand is an eCommerce platform. Both solutions can be used for selling, but you can not combine them. If you want to migrate Wix to WooCommerce, choose an automated migration tool to move the data hassle-free.
How do I migrate from WooCommerce to Wix?
To migrate Wix to WooCommerce:
Provide the needed Wix and WooCommerce credentials.
Choose the data entities you want to move to Wix.
Start moving your store's database from Wix to WooCommerce.
Take your e-business a step forward towards success!
Migrate to any of the described platforms with Cart2Cart just in a few mouse clicks.
Migrate now
Wix vs WooCommerce: Wrapping Up
Although if you don't have a clue about how to build an online store, let alone writing half a line of code - even if your life depends on it, you might want to opt for Wix (especially if it's your first store). Its dynamic pages, intuitive, neatly organized interface, and elegant themes will help you manifest yourself with an identical business image.
Going with WooCommerce, you won't be thrilled with a limited feature set or a weak, cumbersome system. Thanks to the tech-first mentality, this WordPress plugin is more customizable, adaptable, and extendable than any other open-source A-listers.
Rephrasing the famous saying, it's better to try once than to read a hundred overviews and comparisons. So, if you're having a hard time deciding which platform, Wix, or WooCommerce to stick with, try them both out (with Wix, it's as easy as signing up, but with WooCommerce, you'll need a website to start with).
P.S. Whatever you choose, remember the opportunity of migration with Cart2Cart in case you decide to move your store to another shopping cart. So, if you're currently using WooCommerce and would like to transfer data to Wix, start your free Demo migration right away!