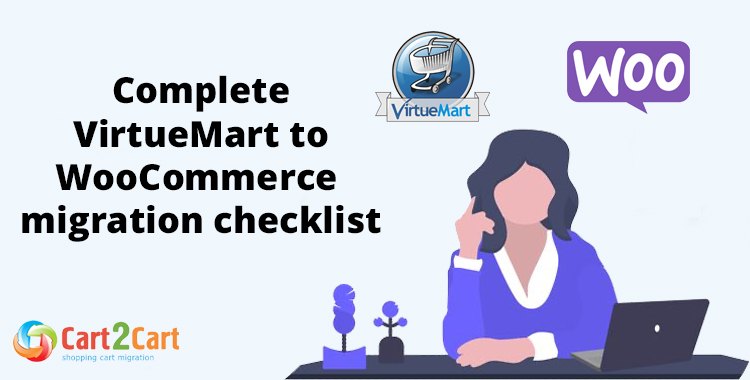 VirtueMart is an open-source eCommerce solution for the content management system (CMS), Joomla! It is free to download, but you need a Joomla account. VirtueMart is a plugin for Joomla, and WooCommerce is a plugin for WordPress
VirtueMart tends to fall short in terms of high-quality third-party extensions and up-to-date themes. But the biggest drawback is its SEO limitations.
On the other hand, WooCommerce is a more comprehensive eCommerce solution that offers a lot of flexibility and customization options. Being an extremely popular eCommerce platform, WooCommerce has a large user community that offers great support to WooCommerce users, which creates an attractive safety net for store owners.
VirtueMart to WooCommerce migration
In short, store migration is the process of transferring data, design, and functionality from the existing store to a new store. The process allows merchants to export the database (products, customers, orders, etc.) to the new store and configure the store's look and feel. Moreover, it allows to install the necessary apps to add functionality.
What is VirtueMart to WooCommerce Migration?
The eCommerce migration is the transfer of data like products, customers, orders and more from your current VirtueMart store to the new WooCommerce one. It consists of a few simple steps if done in automated manner, takes only a couple of hours and requires no tech skills.
With Cart2Cart, it's a quick and hassle-free process to migrate VirtueMart to WooCommerce. Cart2Cart automates the process while safeguarding your order IDs and SEO during the migration.
Pre-Migration Tips
Prepare your VirtueMart store
Get your VirtueMart store ready for the move by auditing all your VirtueMart store data. Audit all your current VirtueMart records, remove all the outdated data and decide what data to move to the new store.

Cart2Cart doesn't delete any data during the migration process. Still, it is better to back up your store at this point.
Prepare your WooCommerce store
Get your WooCommerce store ready. To do this, install the WooCommerce plugin for your WordPress website. If you don't have a WordPress website, install one first.
VirtueMart to WooCommerce Migration
Setup VirtueMart to WooCommerce data transfer by first configuring the Source cart and then specifying the Target cart.
Set up the Source cart
Choose VirtueMart as your Source Cart from the drop-down menu in the Migration Wizard. Copy the Store's URL to the corresponding field and install the Connection Bridge (download it, unpack files to the store's root folder). Wait for a notification that the Connection Bridge has been successfully installed, before proceeding to the next step.
Specify the Target cart
Select WooCommerce as your Target Cart from the drop-down list. Provide all the necessary credentials (WordPress Admin URL, login, and password) and click the "Choose entities" button.
Select data for migration
You can choose to transfer all data entities from VirtueMart to WooCommerce by ticking the "Select all" option, or you may select to relocate only some of the data, such as products (including product categories, reviews, manufacturers, taxes, orders, and coupons.
Specify migration extras
Consider some optional extras that might ease your migration process, such as creating 301 redirects on your target store after migration, preserving order IDs on the Target Store, migrating customers' passwords with the help of Cart2Cart WooCommerce Passwords Migration Plugin, and others.
Map customer groups & order statuses
Match your VirtueMart order statuses and fulfillment statuses to the corresponding ones on WooCommerce.
Launch a free Demo migration
Make use of the free Demo Migration to transfer a restricted number of entities (up to 10) to the WooCommerce store within 10-30 minutes. This is an important step as it shows the service in action. Note: do not close your browser window while the Demo Migration is in progress.
Start Full migration
If you are satisfied with the demo result, launch the Full database migration to WooCommerce. Click the Start Full Migration button to start the Full VirtueMart database transfer to your new WooCommerce store.
Post-Migration Recommendations
Check whether the website migration went well and that all store data has been imported to the new platform correctly. Test the shopping process by creating a test product and placing an order. Select shipping and payment options and check that the process works seamlessly. Check the store for common mistakes, e.g., categories, products, internal links and catalogs.
Install all the necessary modules and themes from the WooCommerce marketplace to customize your store and run your business successfully.
Notify your customers that your store operates from a new platform and invite them to activate their accounts.
Congratulations! You have successfully transferred your store to WooCommerce. Enjoy the new experience!