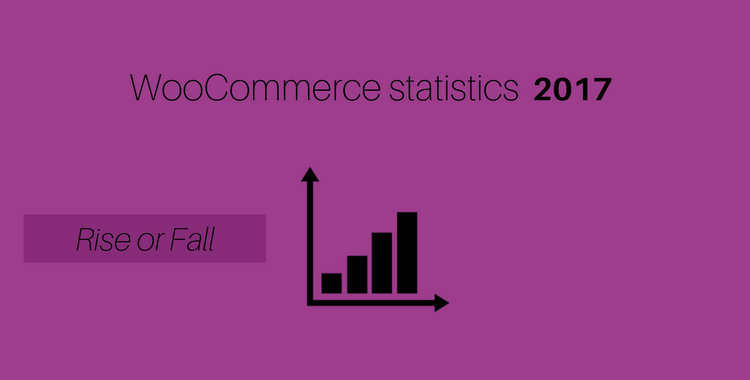 Even the title of our article implies that today`s discussion is going to be gripping and memorable. Why so? We're going to uncover the outstanding accomplishments of one of the world`s leading eCommerce shopping cart that gathers over 3+ million active e-stores. We collected the most "juicy" WooCommerce statistics including latest news & innovations along with Cart2Cart`s numbers. The amazing stats of this eCommerce engine is soon to be relieved. Are you with us? Awesome, let's get started!
WooCommerce strength in numbers
This eCommerce provider developed and released by WooThemes company in 2011 gathers over 30% of all online shops ( WooCommerce stats).
Taking into account BuiltWith numbers, the picture becomes even more impressive. Based on 2017 market share, WooCommerce powers 22% of top million e-stores in the world and becomes the most popular shopping cart.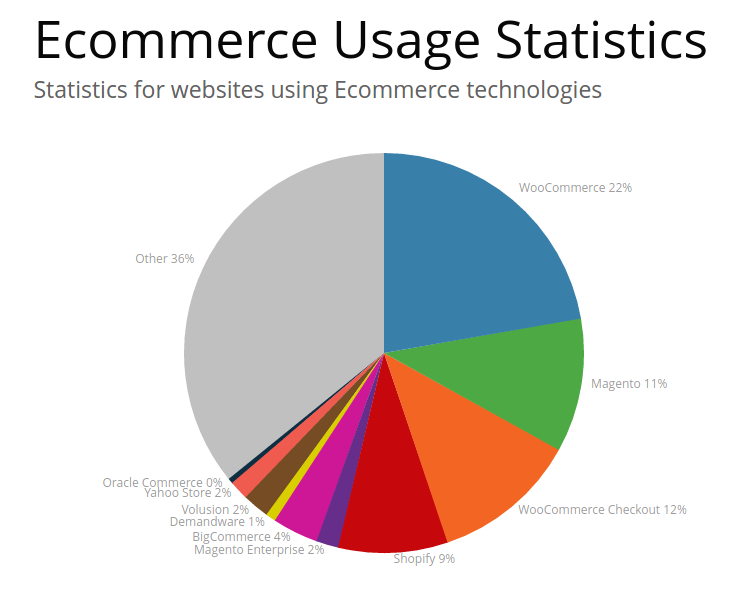 To be more specific, if turning to stats of August 14th 2017, WooCommerce takes the place of honor in the top eCommerce platforms tool.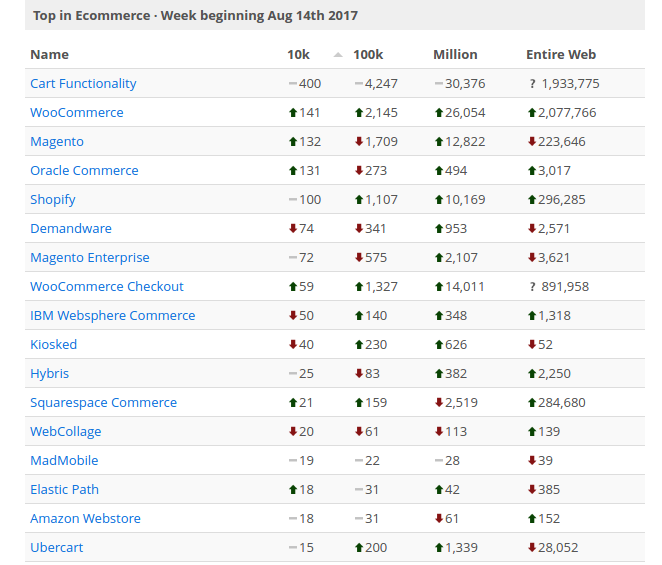 That`s not all! According to Cart2Cart`s migration statistics 2016, WooCommerce is a favorite shopping cart online store owners are migrating to. More precisely, more than every 4th switch via the service was performed to WooCommerce.
After such news the following questions may appear:
Where does all this growth come from?
Is the sales volume of WooCommerce also as impressive as other shopping carts?
How does WooCommerce perform in Enterprise market?
And finally, who are the closest WooCommerce competitors?
WooCommerce statistics: growth by countries
According to hollerwp.com, WooCommerce usage has grown 13.6 % at the beginning of 2017 year.
Here is the list of eCommerce shopping carts WooCommerce is gaining customers from.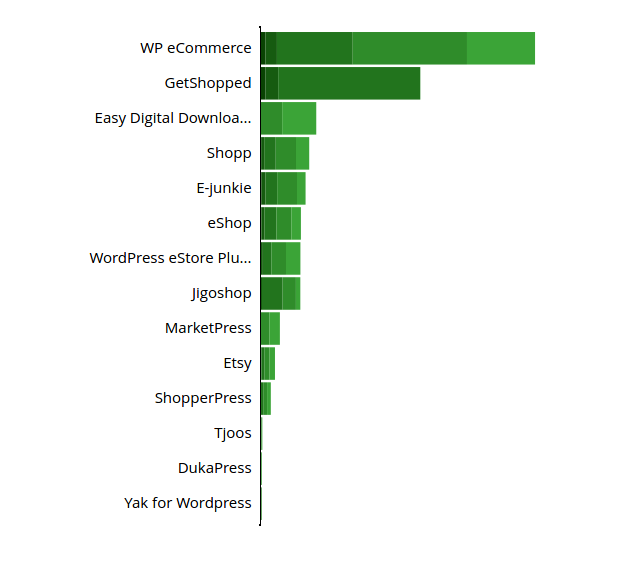 Relying on recent market share research, we can see that the highest number of stores are located in the United States, Great Britain, Germany and Australia.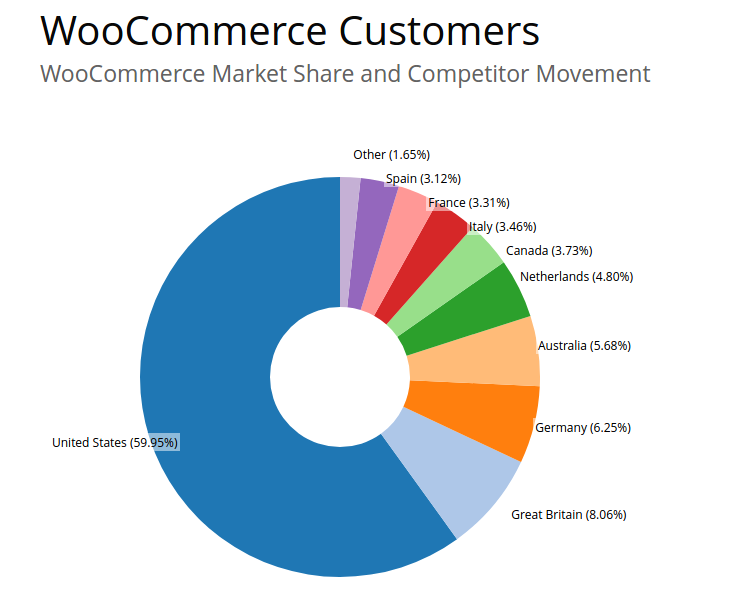 WooCommerce Sales Volume
Regardless of the fact that WooCommerce powers 22 % in top million sites , it takes only 24% of sales volume. The reason for such discordance with market share is quite clear: WooCommerce is mainly used by small or mid-size sites, not large ones.
If compared to Magento, it takes over 4% of market share but manages 6% of sales volume.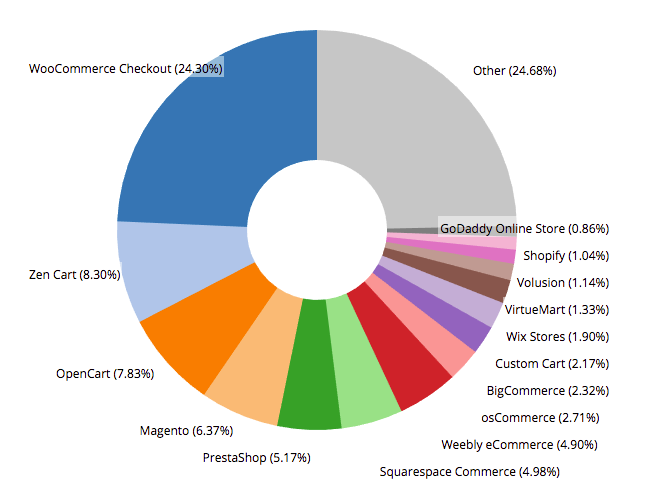 WooCommerce for Enterprise
Accordingly, taking into consideration that WooCommerce is a dominant in small or middle size stores, its number among Enterprise solutions is impressive but still comparatively smaller than Magento or Shopify ones.
If taking a look at the market share of e-commerce platforms across the whole internet with 100K websites, we'll see that WooCommerce usage drops to 17%.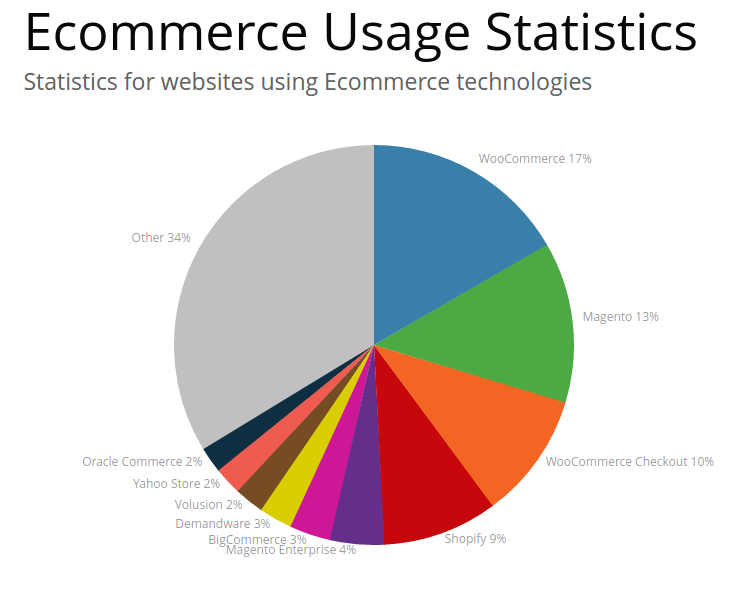 Here we observe that Magneto 17%( + Magento Enterprise) slightly cathes WooCommerce 17%.
WooCommerce competitors
Based on market share results, Shopify is the one of the striking WooCommerce competitor that shows dramatic growth in the first half of 2017 year. All that is thanks to its awesome peculiarity to delight its clients with constant updates and innovations.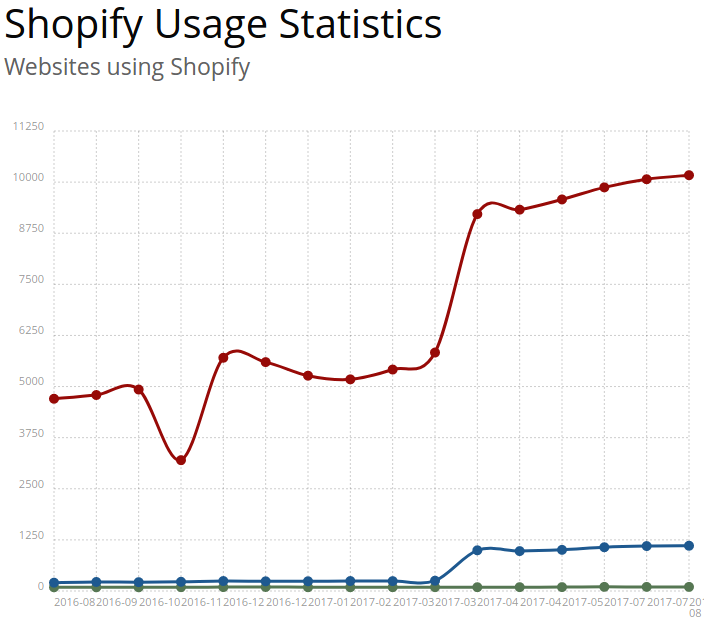 Meanwhile new WooCommerce 3.0 version brought many novelties, lots of store owners say that they expected much more from it. If taking a look at WooCommerce statistics of growth, we may observe that the results of 2017 year seem to be stable without noticeable changes.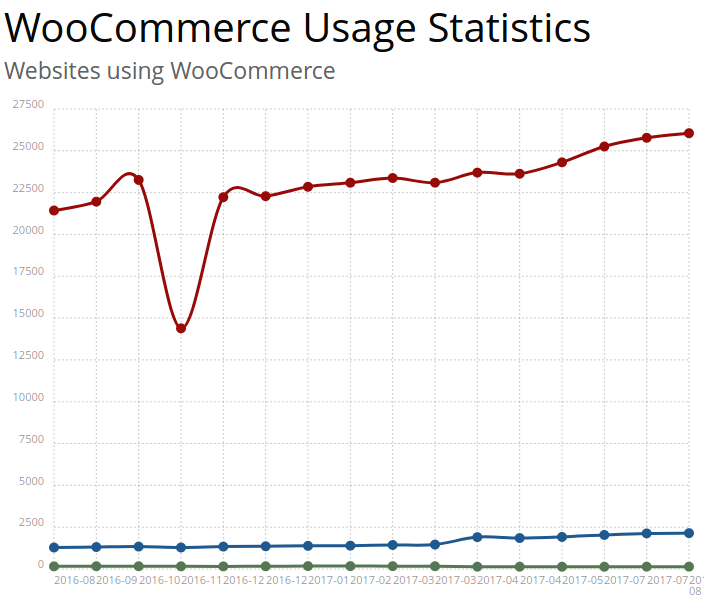 What`s more, at the first time of Cart2Cart`s 9-year migration history, the number of migrations to Shopify exceeded the amount of switches to WooCommerce up to 4%. Such shift was noticed in the third quarter of 2016 year.
The next WooCommerce competitor is Magento with 4% of market share. However, in comparison to WooCommerce and Shopify, the Magento usage is facing a slight decrease in popularity at the moment. According to BuiltWith research, the number of Magento users dropped down to 7% of at the beginning of 2017 year.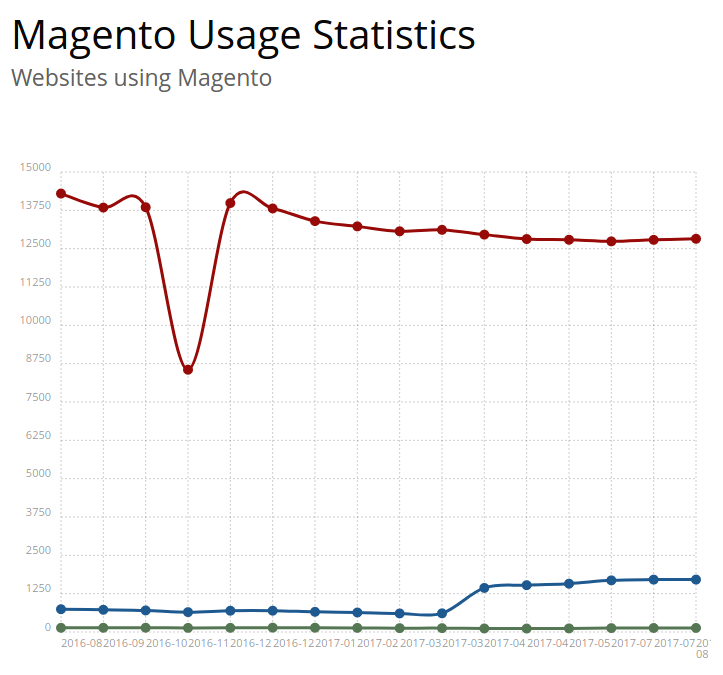 We won't be mistaken saying that WooCommerce demonstrates a strong hold on eCommerce industry, showing a lot of potential and has room for advancement. There is no limit of perfection.
WooCommerce news
Recently, on April 4, 2017 a great news happened: WooCommerce released 3.0 version. While lots of merchants used the chance and took advantage of marvelous updates, there are many thoughts that the latest version needs improvements.
WooCommerce proudly names the major enhancements:
State-of-art product gallery view: touch gestures, new zoom, mobile features
New Command Line Interface powered by REST API
Progressive speed and service performance by using taxonomies to display products
But not all news are pleasant ones. In the twenties of June 2017, WooCommerce clients were deprived of 50% renewal discount on subscriptions. In hectic discussions of this unfortunate novelty, many users expressed the thought that WooCommerce had no legal rights removing the 50% discount for existing subscribers since it goes contrary to terms and conditions they accepted when buying the extensions.
However, we`re strongly convinced that WooCommerce team will find a compromise with its clients very soon.
Closing thoughts
As you see, WooCommerce stats shows that this e-platform is an absolute champion in most of aspects and market share in particular. It`s up to you to decide whether this solution will meet your needs but WooCommerce statistics says: it`s worth to be paid attention to while choosing an eCommerce platform.
If you see that your current engine is far behind the WooCommerce statistics and somehow does not entirely fulfill your potential, don't be afraid to make a great leap toward changes with WooCommerce.
If you already run your beautiful store with this provider and wish to benefit from WooCommerce 3.0 upgrade features, take a chance to boost your business with Cart2Cart.
Cart2Cart is #1 automated migration service with more than 45 000 successful migrations in its record. It is an ultimate way to transfer your eCommerce data from one platform to another smoothly without technical skills needed.
With the help of Cart2Cart you can easily migrate your current store to WooCommerce and take advantage of its superiority.
Feel free to contact Cart2Cart 24/7 support team if any migration-related arise.
Start a Free Demo migration and apply all its merits in action!