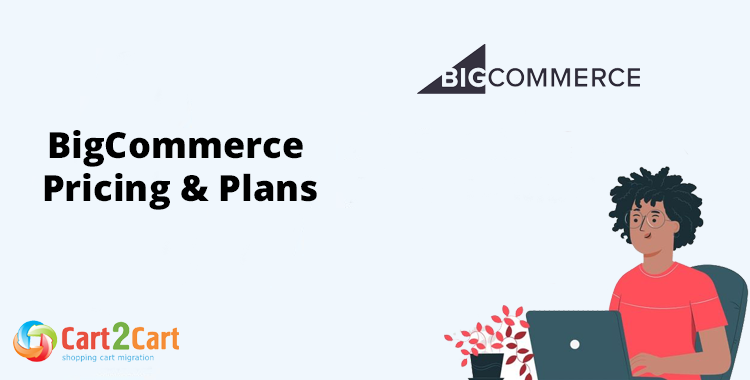 BigCommerce is a top-of-range e-commerce platform specifically for companies that want an online store to sell products and services. With BigCommerce, you can build an e-commerce website that will support your business and help it to grow. Currently, there are 51,157 live websites using the platform.
That's great, but you want to know how much BigCommerce costs. This post will explain the four BigCommerce pricing plans.
How much does it cost to make a website with BigCommerce? Pricing plans overview.
In short, BigCommerce offers three pricing plans and a 15-day free trial. A fourth plan, the Enterprise plan, does not come with a set pricing structure.
The price starts at $29.95 per month for the Standard plan. The Plus plan is $79.95 per month, and the Pro will cost you $249.95 per month. BigCommerce also has an Enterprise plan for large concerns. The pricing for this plan is not generally available. Store owners contact BigCommerce directly to negotiate the monthly payments.
Note to merchants:
BigCommerce puts a cap on the sales revenue you can make on each plan, and the moment you exceed that cap, you are automatically upgraded to the next plan, which many people are unhappy about if you go by comments online.
BigCommerce pricing plans
| | | | |
| --- | --- | --- | --- |
| BigCommerce Plans | Standard Plan | Plus Plan | Pro Plan |
| Monthly price | $29.95 | $79.95 | 3$299.95 |
| Annual Revenue Limit | $0-$50k | $50k-$180k | $180-$400k |
| Products | Unlimited | Unlimited | Unlimited |
Each pricing model includes:
A responsive, SEO-optimized website that works equally well on desktop and mobile.
Unlimited products. BigCommerce has no limits on file storage and bandwidth.
A single-page checkout optimized to ensure a seamless paying experience for customers is a crucial aspect for all e-commerce stores.
Real-time shipping quotes, including access to the lowest possible shipping prices.
No transaction fees – you keep all the money you make on the platform
24/7 priority support. BigCommerce stands out from other platforms in this respect. Priority support is available even on the Standard Plan.
So, how do these plans differ, and which one should you choose? Let's look at each plan in more detail to help you choose.
Standard Plan: $29.95 per month
The Standard Plan is suitable for beginners and serves businesses earning up to $50k.
BigCommerce's Standard Plan is unique as far as this level of e-commerce plans goes. It offers much more than other standard plans, comparable to what other platforms offer with their higher-level plans.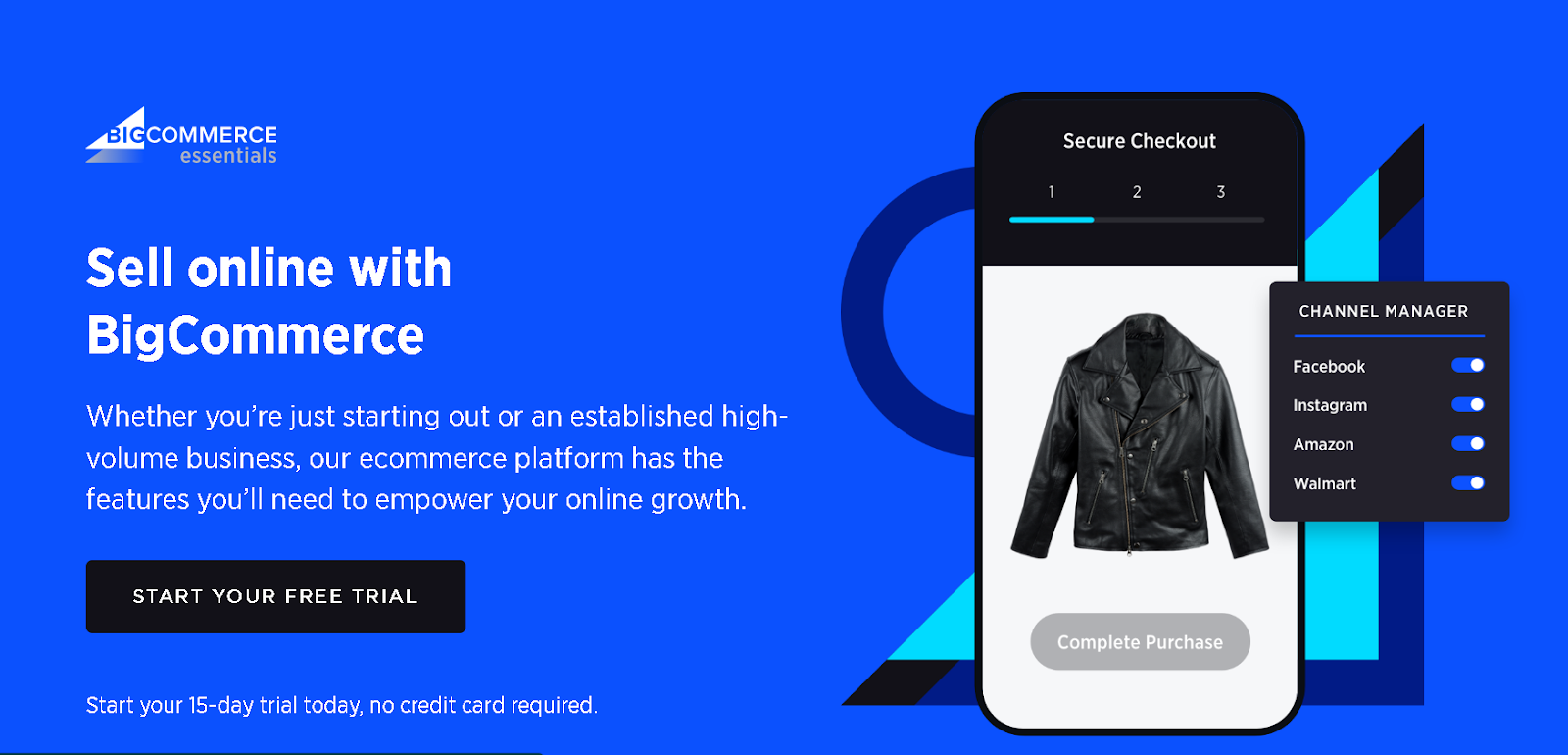 This plan gives you everything you need to get started with an e-commerce store. Even with this basic plan, you can sell as many products as you like, and you have no storage, bandwidth, or staff account limitations.
This plan also includes a channel manager that allows merchants to sell on other channels like eBay, Amazon, Facebook, Instagram, and Pinterest.
This plan allows you to offer discount codes and gift vouchers to your customers as well as real-time shipping quotes to your customers, which means your customers are not hit with unexpected costs.
While you can accept credit cards or payments from PayPal, you'll be responsible for a 1.5% transaction fee as well as credit card processing fees, which can add up, so be aware of this.
However, this plan comes with a maximum annual sales limit of $50k. If you exceed this limit, you have to upgrade to the next plan, which incurs additional fees. This is an unusual aspect of BigCommerce, as other competing e-commerce platforms don't have such limits.
The Standard Plan is ideal for businesses that don't have a big budget but want a fully functioning online store.
Plus Plan: $79.95 per month
The Plus plan includes everything from the Standard plan, plus additional features and tools to help businesses increase sales and grow. These include:
Customer groups – customer groups allow merchants to reward frequent shoppers through loyalty programs. The segmentation tool lets you organize your customers into different categories, so you can target different groups with different promotions, etc.
Abandoned cart saver – this feature use automatically sends emails to customers who abandoned their carts at checkout.
Persistent cart – this feature saves customers' shopping carts to their account so that they return them if they get interrupted or switch devices.
Stored credit cards – this feature allows you to store customers' credit card details to speed up the checkout.
This plan comes with a maximum annual sales limit of 180k annually.
Pro Plan: $299.95 per month
This plan, which is for big businesses with big budgets that handle a high volume of sales, has everything from the Standard and Plus plans plus a host of advanced features to help businesses expand and grow.
These include:
Google customer reviews– a tool that lets you collect customer feedback and view product ratings. By letting your visitors see what other users think of your products and services, you create trust in your brand.
Advanced product filtering – this feature helps customers refine their product searches on your store via search terms related to the brand, price, color, and size, vastly improving the shopping experience.
All BigCommerce plans provide a secure browser protocol (SSL) that encrypts the link between a web server and a browser. On the Pro plan, merchants can install an SSL certificate from a third-party SSL supplier.
Enhanced analytics - the Pro plan gives BigCommerce merchants access to advanced analytics through integration with Google BigQuery and Google Data Studio.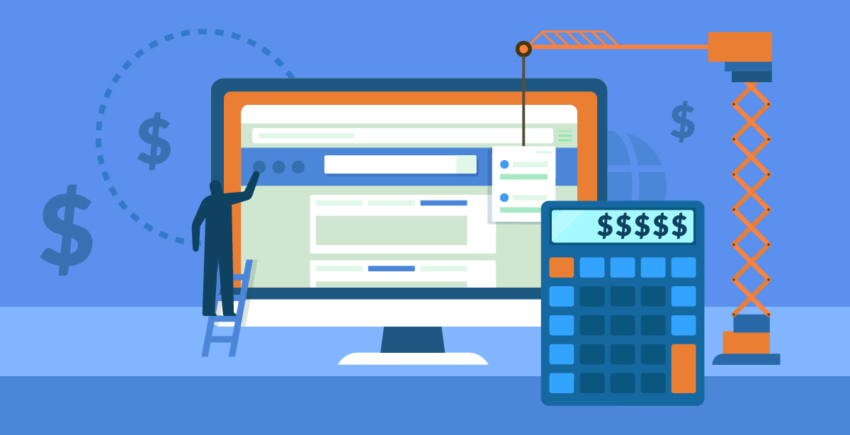 This plan allows for sales of up to $400,000 over 12 months. Stores that exceed this amount, must pay an additional fee of $150 per month for every $200k in sales.
Enterprise Plan: Pricing is negotiable
BigCommerce doesn't typically publish pricing information for this plan; merchants negotiate pricing and requirements with BigCommerce. There is no limit on annual sales with this plan.
The Enterprise plan has several powerful advanced features, including:
Multi-storefront feature – this amazing feature lets you manage multiple online stores — each with its own domain, template, content, currency, and more — all from a single control panel.
Custom price lists – this feature allows merchants to provide tailored pricing for different customer groups.
Unlimited API calls - An API (Application Programming Interface) enables apps to work on your store. An API call is made every time an activity takes place in your store. BigCommerce limits the number of these calls on cheaper plans.
Priority customer support – faster access to live chat and phone support.
The Enterprise plan is custom-made for large enterprises with large sales volumes generating more than $400k per year.
What's the best BigCommerce pricing plan?
The best pricing plan depends on your needs. The Standard plan is best for people new to selling online.
The Plus plan is highly recommended because it comes with abandoned cart recovery and persistent cart, as well as the ability to store card information.

The Pro plan is a great choice for large, established stores that need advanced features to scale further, while the Enterprise plan is reserved for large businesses with very high volumes of online sales.
Extra costs
In addition to the price you pay for the plan you choose, there are other costs to bear in mind. These include your main name, themes, apps, web app development cost, and credit card rates.
If you are unsure about the best BigCommerce plan for your purposes, consider availing yourself of BigCommerce's 15-day free trial. Experiment with the different plans to help you make your choice.
Your credit card details are not required to use the BigCommerce free trial. If you choose not to go with a BigCommerce plan, your trial store will just cease to exist.
Does BigCommerce charge transaction fees?
No, this is one of the advantages of choosing this e-commerce platform for your online business. BigCommerce doesn't charge any transaction fees.
Conclusion
If you're on a limited budget and have a small product range, BigCommerce may not be the platform for you.
However, if you are serious about having a successful business selling online, any of the BigCommerce plans will support you in growing your business.
The name of the platform says it all: BigCommerce. It is really meant for large businesses that do high sales volumes or merchants who plan to get there eventually.
Are you planning to migrate your store? If you are planning a migration, consider the Cart2Cart Shopping Cart Migration tool for this purpose. Cart2Cart is an advanced automated migration tool that transfers all your data to another platform quickly, and securely.