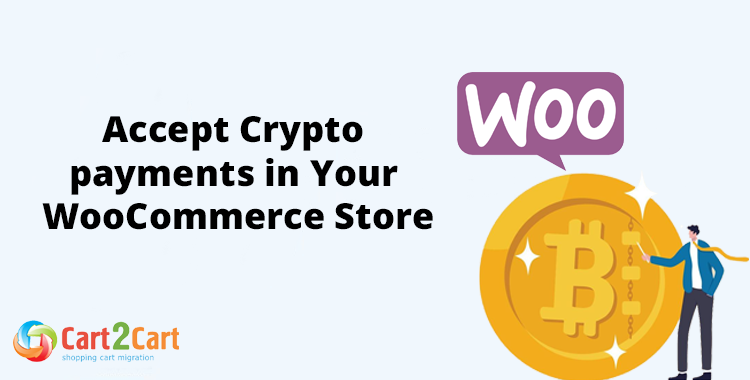 As the internet and e-commerce landscape continues to evolve, more payment options are becoming available on e-commerce sites.
We have moved from credit card payments to digital wallets and now crypto. Many e-commerce sites like Shopify, BigCommerce, and WooCommerce accept crypto payments through digital wallets like Coinbase, OpenNode, and Hayvn.
What is crypto?
Crypto, short for cryptocurrency, is defined by the Oxford dictionary as "A digital currency in which transactions are verified and records maintained by a decentralised system using cryptography, rather than by a centralised authority."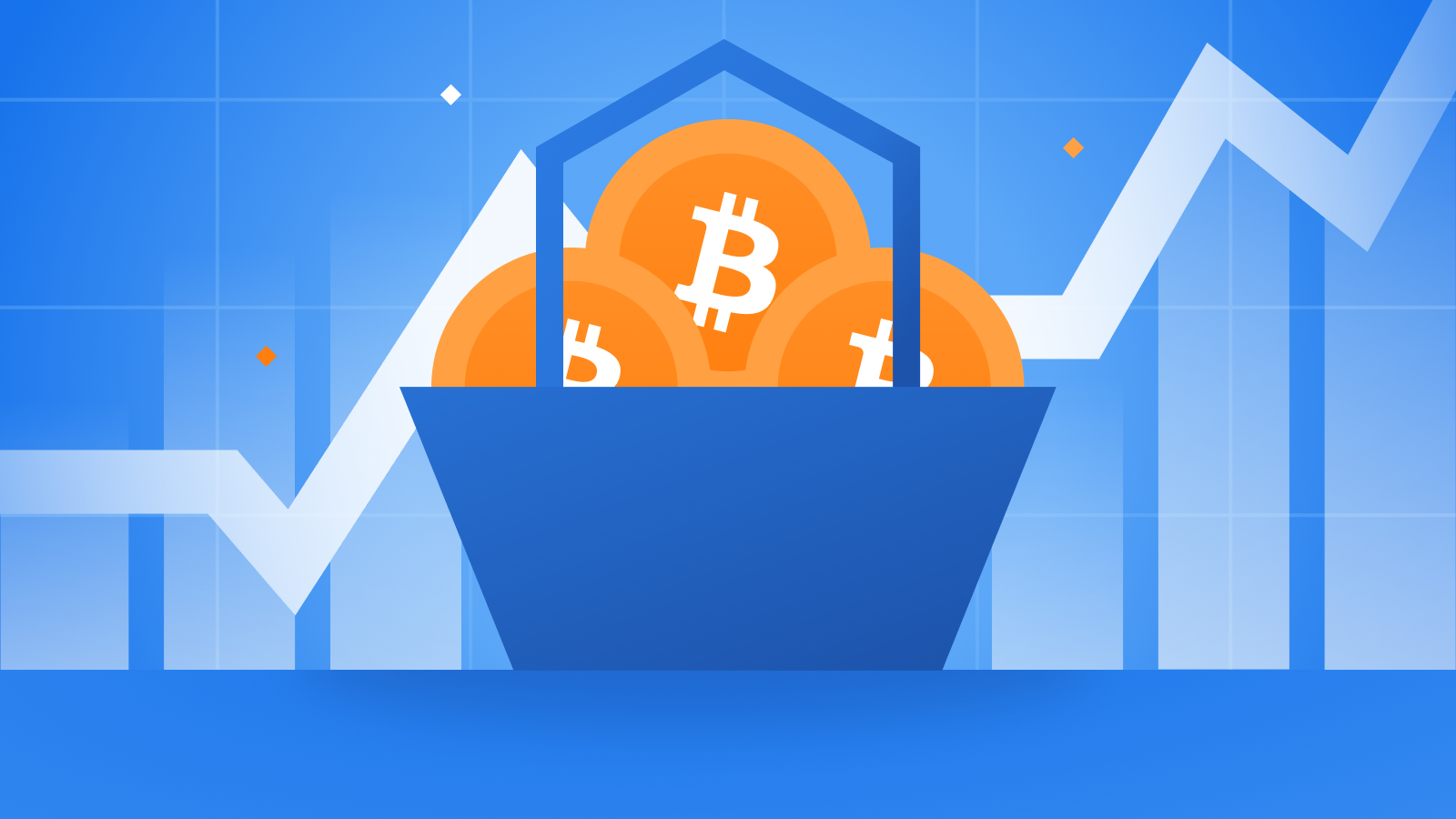 Because a central authority does not issue cryptocurrencies, they are theoretically not subject to government interference.
What are the benefits of accepting crypto as payment?
Offering your customers the option to pay with digital currencies holds many benefits for you as a merchant.
It broadens your prospective customer base because you can accept payments from anyone, anywhere, anytime.
It eliminates your concerns about which currencies to offer or the need to deal with foreign currency exchange rates.
Allowing crypto payments gives you access to consumers who prefer merchants that accept crypto – research shows millennials are keen to switch to a merchant that accepts crypto.
Puts you in charge of your funds – payment providers can't suspend or cancel your crypto funds.
Eliminates automatic refunds, putting you in charge of when and how you do refunds.
Your store may generate higher revenues since consumers who pay with crypto tend to spend more.
You no longer have to wait days to receive payments. Payments to your bank or crypto wallet happen almost instantly.
You will benefit from lower transaction fees. Credit card companies and payment apps charge between 3 and 5% on each transaction. Cryptocurrency transactions involve fees that are generally minimal, if not zero.
Crypto transactions make use of encrypted wallet addresses, which means your customers don't need to provide personal information, and you, as the merchant, don't need to concern yourself with privacy regulations.
Paying with crypto reduces fraud and chargebacks due to blockchain technology. With this technology, money is exchanged instantly – there is barely a window for fraudulent chargebacks or returns.
Can I accept crypto as payment on my WooCommerce website?
WooCommerce itself doesn't provide crypto services, but the service provider has agreements with payment processing services that accept crypto. You can form an exclusive and direct relationship with a cryptocurrency gateway to accept cryptocurrency as payment.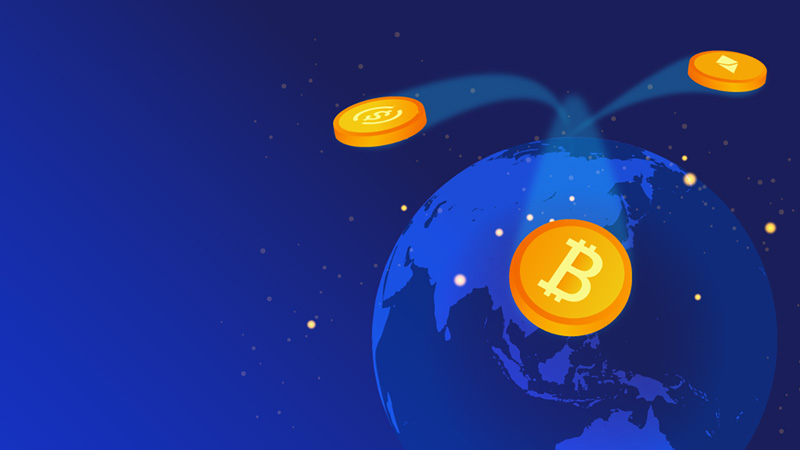 As a WooCommerce merchant, this agreement is between you and the crypto gateway; WooCommerce doesn't facilitate these transactions or participate in them.
Keep in mind, you are not limited to receiving digital currency payments through a crypto payment gateway; you can use your personal wallet to accept cryptocurrencies.
Does WooCommerce accept cryptocurrency?
WooCommerce accepts cryptocurrency as payment. The e-commerce service provider recently signed agreements with several payment processing services, according to which, merchants will be able to accept crypto in addition to the usual payment options.
WooCommerce merchants have access to many integrations with established cryptocurrency exchanges that offer unique features for e-commerce merchants.
Currently, transactions worth $10 billion are completed every day in transactions originating from around one million active addresses on Bitcoin and Ethereum networks.
How do I add crypto to WooCommerce?
You must integrate a payment gateway on your e-commerce website to be able to accept cryptocurrency payments. To do this:
Download and install a payment gateway that allows crypto payments.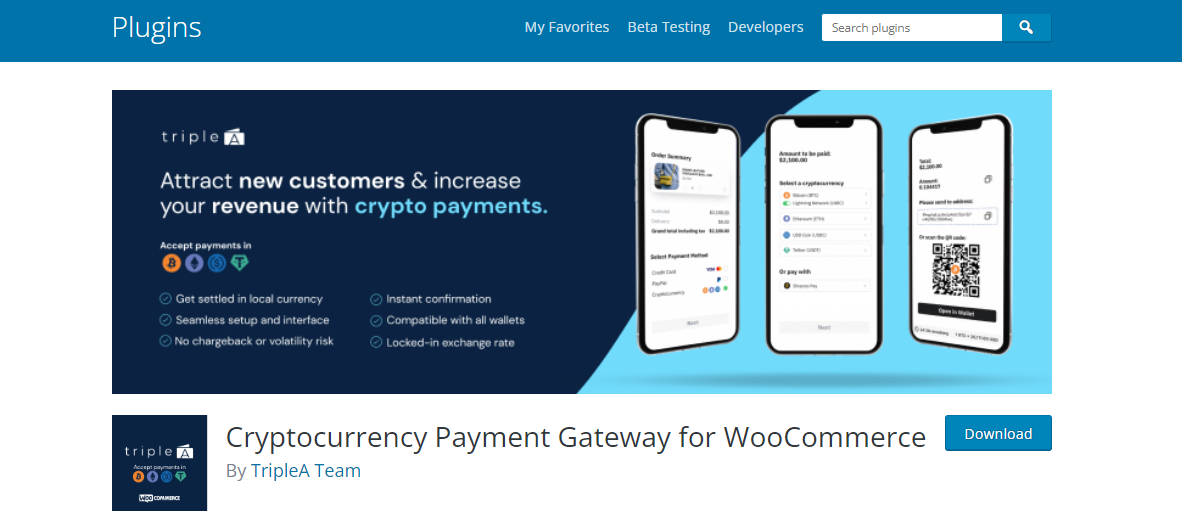 Go to your WordPress dashboard, and click on WooCommerce. Under Plugins, click 'Add New', then click the 'Upload Plugin' button.

Select the file you downloaded, or drag and drop the file into the middle of the screen.

When you have done that, click the 'Install now' button. When the installation is done, click 'Activate plugin'.

Can I accept Bitcoin on my WooCommerce site?
To be paid with Bitcoin on your WooCommerce site, you need to integrate a Bitcoin payment processor into your store.
Many Bitcoin cryptocurrency exchanges allow merchants to accept transactions in bitcoin. The most well-known of these is Coinbase.
Different Bitcoin payment gateways offer different features, so you need to scrutinise them closely before settling on one. Weigh up the following factors:
Supported cryptocurrencies
Cryptocurrency transaction fees
Client support
Supported regions and countries
a two-factor authentication system
Am I allowed to use the WooCommerce plugin and accept bitcoin payments in my country?
Most countries allow Bitcoin payments. Some countries in Africa have banned or restricted the use of Bitcoin and other cryptocurrencies.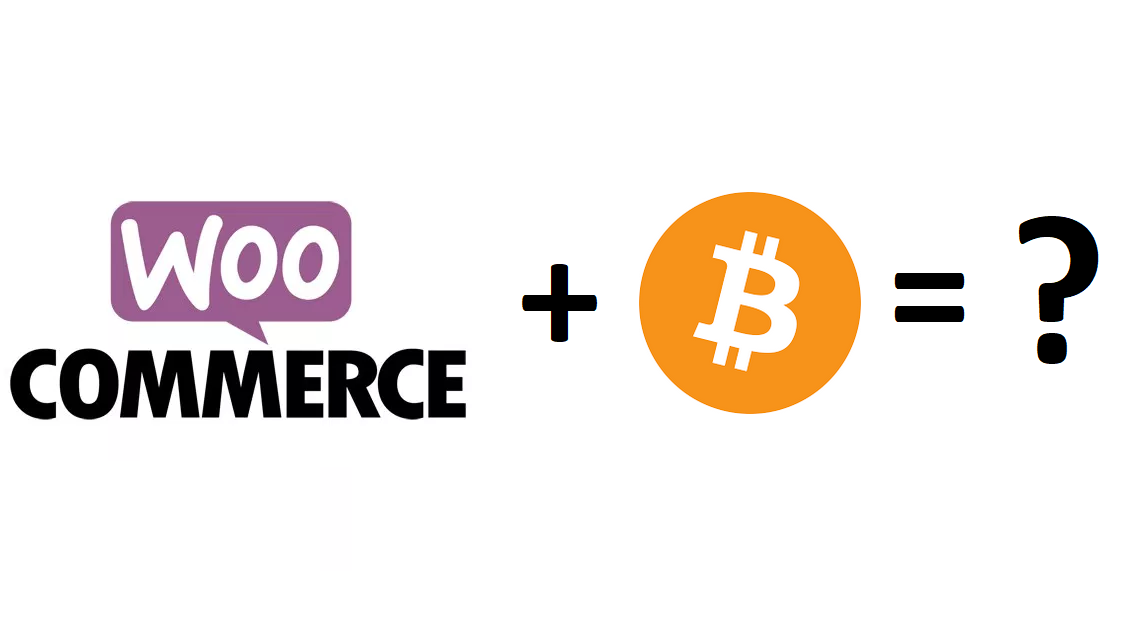 The reasons given include:
The extreme volatility of cryptocurrencies.
Its use for illegal activities.
The excessive use of electricity to mine crypto.
What is the best crypto plugin for WooCommerce?
There is a number of options that make it possible to accept crypto payments on your store. They all have different features, so it's not easy to say which one is the best. Instead, we are highlighting some of the more popular ones for you here.
MyCryptoCheckout is a cryptocurrency payment gateway built for WooCommerce. The WooCommerce crypto payment gateway allows you to set up WooCommerce cryptocurrency payments to receive more than 95 digital coins directly to your digital wallet.
The plugin is not complicated to set up and is crammed with built-in functionality and features.
You can try it out for free, but that will only cover three transactions. After that, you have to pay a monthly fee. The one-time fee covers unlimited transactions with no transaction fees.
GoUrl Bitcoin Payment Gateway is an open-source Bitcoin and Altcoin payment gateway. This payment gateway enables you to accept cryptocurrencies such as Bitcoin, Bitcoin Cash, Litecoin, Dash, Speedoin, Vertcoin, and Reddcoin.
The plugin can automatically transfer your crypto revenue to an altcoin or Bitcoin wallet and convert it to a fiat currency, like the US dollar or euro.
Also, the plugin doesn't require personal identification or a bank account.
GoUrl is completely free – there are no monthly fees and no transaction fees.
Coinbase Commerce facilitates cryptocurrency transactions between e-commerce merchants and their customers. It is operated by Coinbase, one of the top cryptocurrency exchanges globally.
With this WooCommerce crypto payment gateway, businesses across the globe can accept payments from anywhere in the world in any cryptocurrency they choose.
Coinbase Commerce integrates with a website's checkout workflow or can function as a payment option on the shopping portal. When a customer makes a payment in crypto, it goes to your Coinbase Commerce account, and you can then transfer it from there to your preferred wallet.
Coinbase Commerce supports payments from all crypto wallets and allows merchants to send invoices to get paid in crypto.
OpenNode is a WooCommerce crypto payment gateway available on the WooCommerce extension store. It integrates with WooCommerce in a simple way that doesn't require any programming skills. The plugin allows businesses to accept Bitcoin payments. WooCommerce merchants can easily make Bitcoin payments to their website checkout.
Transaction processing is lightning-fast with this cryptocurrency processor.
Are you planning to migrate your store? Consider the Cart2Cart Shopping Cart Migration tool for this purpose. Cart2Cart is an advanced automated migration tool that transfers all your data to another platform quickly, and securely.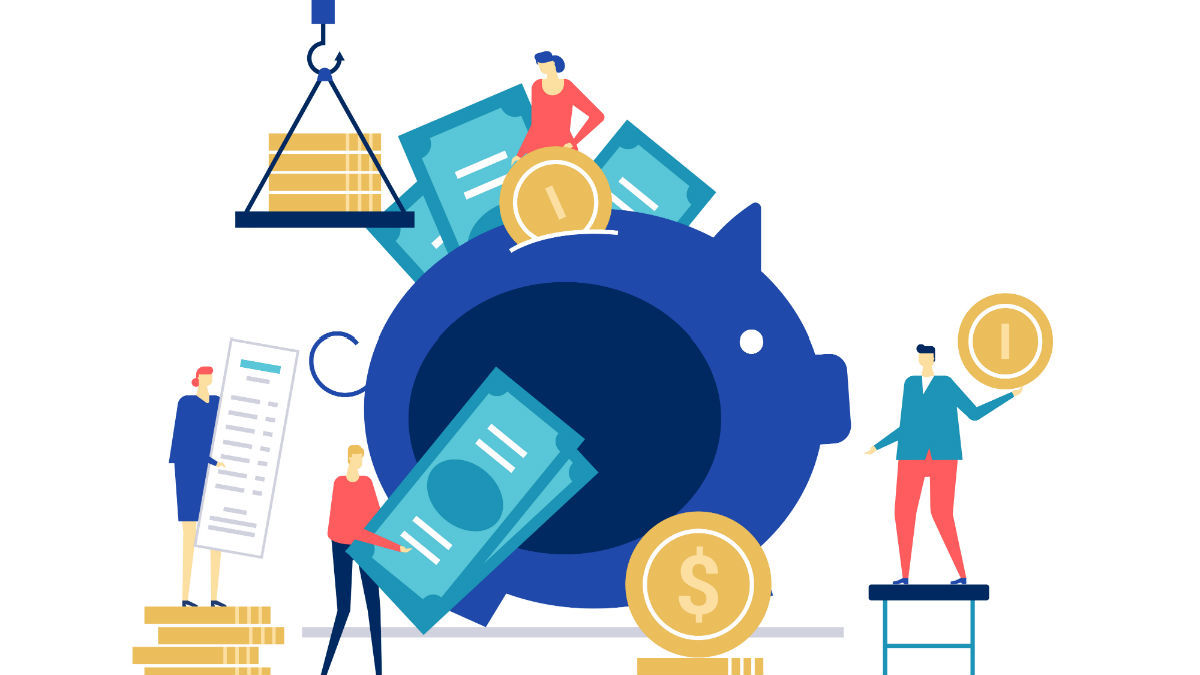 FAQs
Does WooCommerce accept cryptocurrency?
WooCommerce enables merchants to accept cryptocurrency by allowing agreements with payment processing services like Coinbase.
Does WooCommerce support crypto?
WooCommerce allows store owners to add different payment gateways, including those that process crypto transactions.
How do I add crypto to WooCommerce?
To add crypto payments to WooCommerce, you need to download and install a payment gateway that allows crypto payments, such as Coinbase, OpenNode, and DePay.
What is the best crypto plugin for WooCommerce?
There are many crypto plugins for WooCommerce. WooCommerce crypto payments, including NOWPayments, Coinbase, OpenNode, GoUrl, and MyCryptoCheckout, are all good choices, but to really know what will work best for your site, you'll need to do in-depth research, consult customer reviews, ratings, and official documentation regarding the different crypto plugins.
Which payment gateway is best for cryptocurrency?
There isn't one product that is better than all the others; they all do a good job. You may find some payment gateways for a particular currency perform very well. You may also find one that handles all currencies excellently.
What is the fee for accepting crypto with the WooCommerce plugin?
Cryptocurrency transactions typically involve no fees or fees of only 1%. For example, CoinGate charges a flat fee of 1% for processed payments.
Am I allowed to use the WooCommerce plugin and accept bitcoin payments in my country?
With the exception of China, Saudi Arabia, Qatar, and some African countries, accepting Bitcoin payments are allowed everywhere in the world.