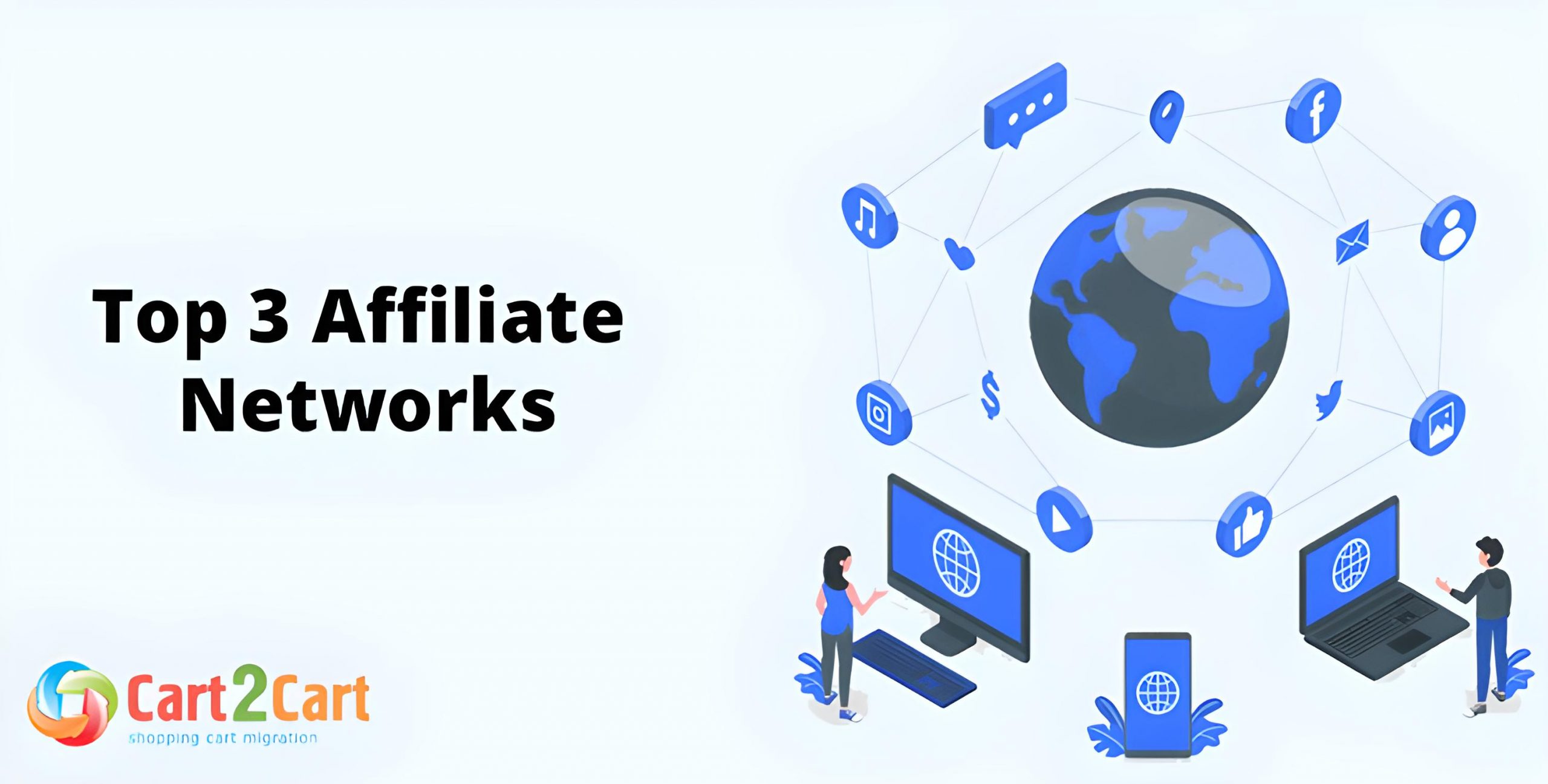 A quick Google search of the term "affiliate networks," and you're immediately confronted with what appears to be a sea of platforms to choose from. Some of them are legit, while others are elaborate scams.
How do you pick the right one? Before you sign up for the first one you come across, here are a few things you need to consider.
Audience: What is your core demographic, and what products are they interested in reading about?
Commission rates: How much will you earn from every sale you refer to the merchant, and is it feasible in the long run?
Product selection: Will the affiliate network you join link you with brands your core audience base would be interested in?
Approval requirements: Does the network require you to have an already established website with a specific amount of monthly traffic?
Cookie duration: How long does the network track and give you credit for a prospective buyer once they purchase the product?
Fees: Does the affiliate network charge a fee for setup or training?
These criteria are an excellent way of vetting affiliate programs to help you identify the right one for you. With that in mind, below are a couple of affiliate marketing networks worth exploring if you're looking for ways to monetize your website.
ShareASale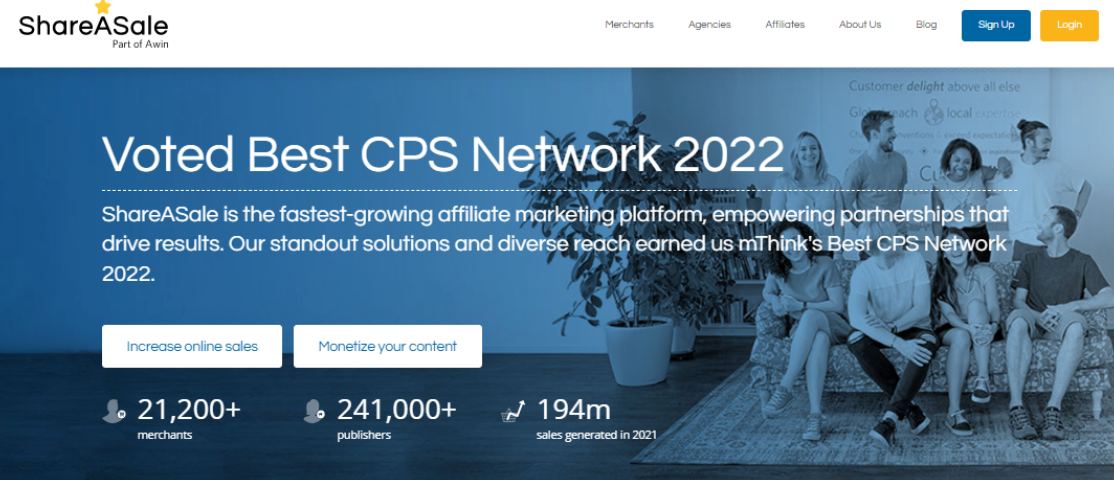 ShareASale is a Chicago-based affiliate network that has been around for more than two decades. It has more than 15,000 programs and features many well-known brands, including Etsy, Reebok, MasterClass, Grammarly, and Minted.
One great thing about ShareASale is the lucrative commissions they offer. They are highly competitive, which explains why it's one of the biggest players in the affiliate marketing world.
The only downside is that the user interface has a steep learning curve. It's a little tough to use and can take a little getting used to. The good news is — there's the training they offer to help new users learn how to navigate and get the most out of the platform.
Suitable for: New and established affiliate marketers looking to promote physical merchandise.
Product categories available: Automotive, art, computers, clothing, accessories, online dating services, and a wide range of goods and services.
Commission rate: Varies between 5% and 20% on average, depending on the merchant.
ClickBank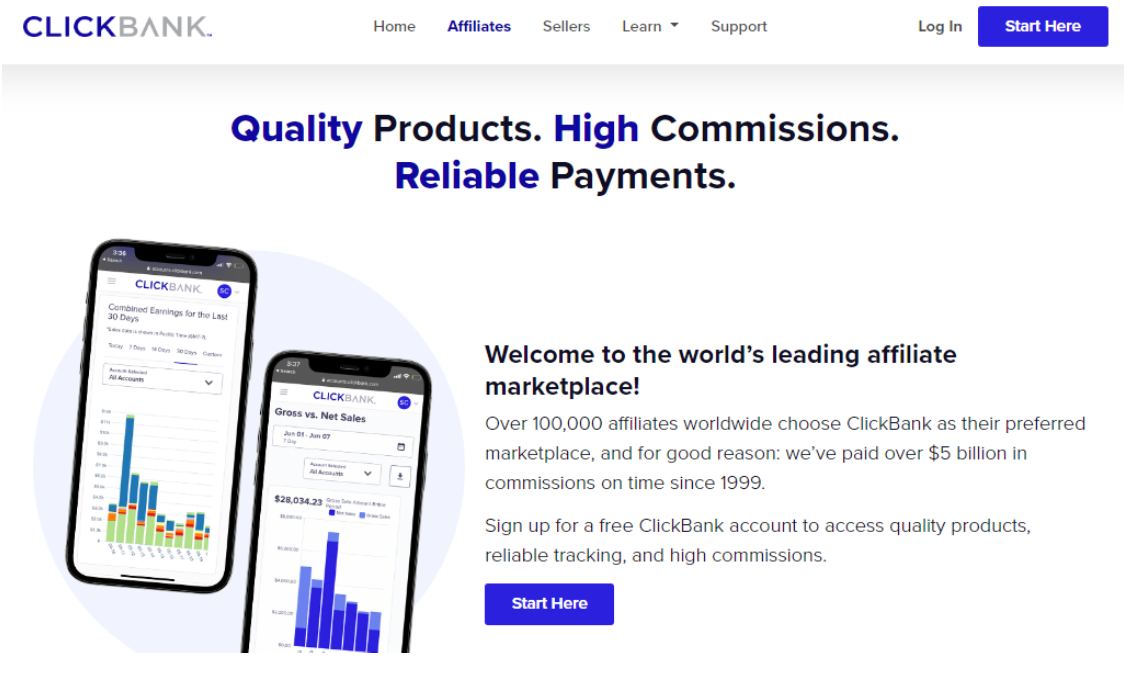 Established in 1999, ClickBank is a global affiliate marketing network that features a wide range of products for promotion, including digital and physical merchandise. It is easy to join and beginner-friendly, making it the go-to choice for individuals looking to monetize their sites for the first time.
It is worth noting that a bit of due diligence will be required before promoting products. We've come across our fair share of products that weren't the best quality. To get started, ClickBank offers a free course designed to get you up and running in the shortest time possible.
Suitable for: New and established affiliate marketers looking to promote mainly physical products.
Product categories available: Business, arts, entertainment, health, fitness, parenting, games, marketing, self-help, and languages.
Commission rate: Varies widely depending on the merchant; some are as high as 90%.
CJ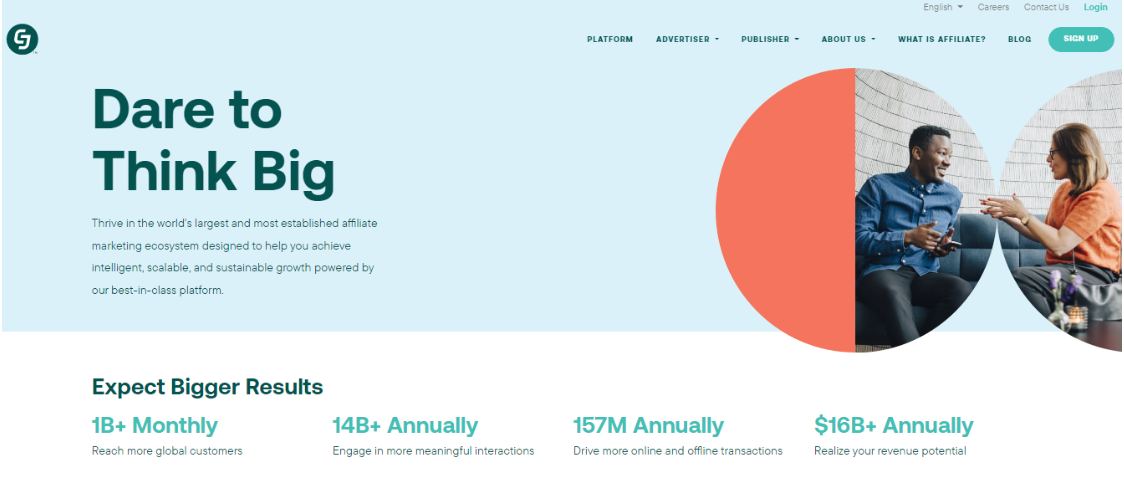 CJ (formerly Commission Junction) is one of the world's largest and oldest affiliate marketing networks. With annual publisher revenues of $1.8 billion+, it's easy to see why they're a big deal in the affiliate marketing world.
CJ works with several big brands like Barnes & Noble, IHG Hotels & Resorts, Blue Apron, Overstock, and others. They have a fast approval process and new affiliates joining the network don't have to pay application fees. The products are ranked based on their earnings-per-click (EPC).
As great a platform as it is, the downside is that you'll need to get approved by each merchant you want to work with before you can start promoting their products, so there's always a chance that they might turn you down.
Additionally, CJ will deactivate your account if you don't generate any sales within six months. This may not make it ideal for beginners looking to join the affiliate marketing world.
Suitable for: Mid-level to established affiliate marketers.
Product categories available: Finance, travel, software, and retail.
Commission rate: Varies widely depending on the merchant.
1-2-3 Tier Affiliate Programs
Here's what we know about the structure of affiliate programs so far. Affiliates earn commissions for each sale they refer to a merchant. This setup is referred to as a one-tier affiliate structure.
In a two-tier structure, affiliate marketers can earn commissions on sales from other individuals they refer to the program.
For instance, if you are an affiliate marketing professional who introduces another affiliate marketer into the program, you would earn commissions on the sales you refer and commissions on the sales your affiliate referral generates.
Commissions in two-tier affiliate programs are often expressed in the format tier 1/tier 2. For instance, 20%/10%.
In a three-tier (or multi-tier) affiliate structure, you would not only earn from the affiliates you introduce to the program but also from the affiliates they introduce. The commission structure would look something like this: 20%/10%/5%.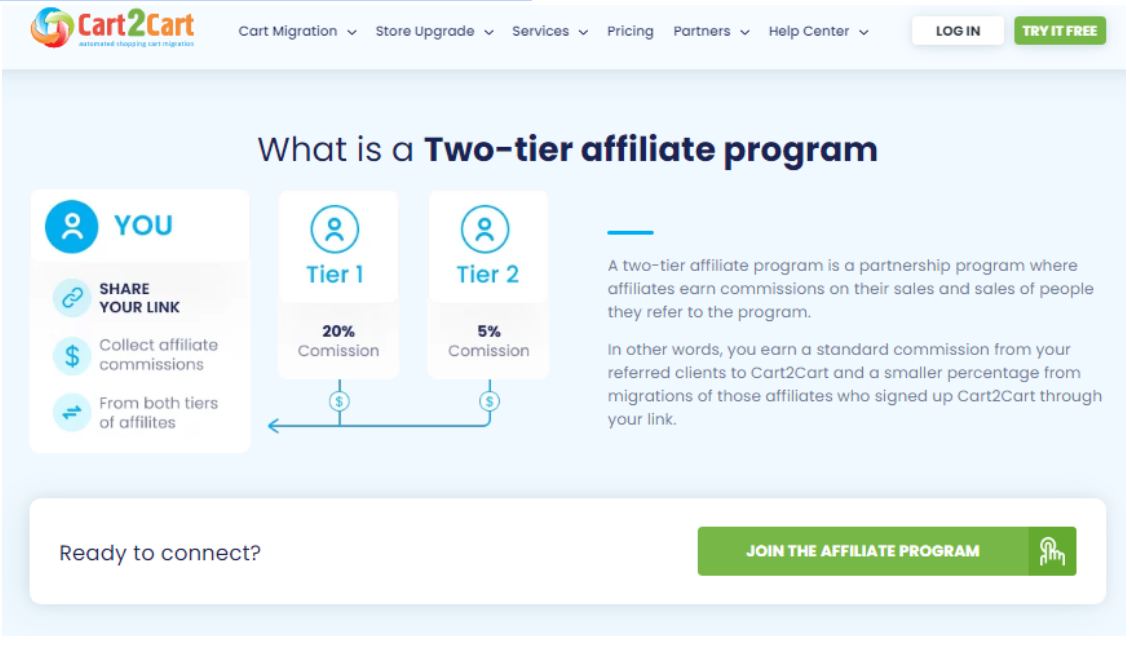 The Cart2Cart affiliate program is a popular two-tier structure that pays commissions of 20%/5% for tier-1 and tier-2 affiliates, respectively.
Take the First Step Toward Financial Freedom
There you have it – affiliate marketing for beginners. Now that you know how to monetize your website, below are a few things to keep in mind if you want to grow your affiliate business and have it survive for the long haul.
First, ensure you create high-quality content from which your readers can derive actual value. Gone are the days when keyword-loaded content was all you needed to rank on Google. The algorithms have become more sophisticated and will quickly chew up and spit out your site if they sense that it lacks substance.
Next, steer clear of the "hard sell" approach. You want to subtly nudge your audience into purchasing products by building a solid relationship with them. This approach wins their trust because once they do, they'll view you as an authority on your subject matter and be more willing to spend money buying things you recommend.
Additionally, before you endorse any product on your website, ensure you can vouch for its legitimacy. Due diligence is a crucial piece of the puzzle.
Products in the health category are notorious for being a little sketchy and lure unsuspecting affiliates by paying out high commissions. One of the best ways to check and confirm that a product does what it claims is to read the reviews online to find out what previous users had to say about it.
Finally, whatever you do, don't mislead buyers. The lure of big, fat commissions is great, but don't let it blind you to misrepresenting a particular product's benefits. Making bold assertions that you can't back up with your personal experience is unethical and could land you in legal hot water.
Your success as an affiliate marketer relies mainly on your reputation. If you lose your audience's trust, you might as well kiss your passive income goodbye. Protect your reputation at all costs by putting your audience first. The rest will follow.
Ready to turn your website into a passive income-generating beast? Sign up for the Cart2Cart affiliate program and start earning now.
Ready to take your e-business a step forward towards success?
Join our Affiliate Program, promote Cart2Cart and get a generous commission for every Full migration through your affiliate link.
Start Earning now