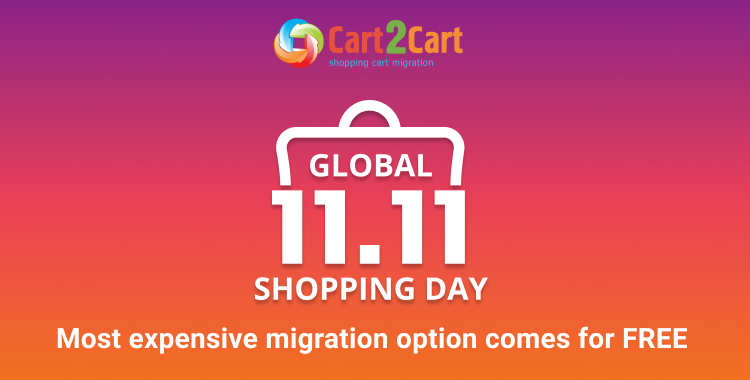 November, 11 is just around the corner! Do you know what's so special about this day? If only Singles' Day comes to your mind, think again. No ideas? … The world's largest shopping festival is coming!
What is the Global Shopping Day About?
The holiday started in the 1990s as a celebration day for singles (if written numerically, the date 11/11 looks like "bare sticks," representing those individuals who are not in a relationship). In 2009 Chinese e-commerce giant Alibaba rebranded Singles' Day into the "11.11 Global Shopping Festival" and it has evolved into the biggest shopping day in the world, selling more than $28bn in 2018 only.
So, What's the Deal?
In honor of the world's largest ecommerce shopping event, Cart2Cart has prepared a special offer for our customers:
Get the most expensive additional migration option of your choice for FREE (you save up to $59) for each migration performed on November 8 through 13.
This is what you need to do:
start your migration setup with Cart2Cart;
specify the additional migration options you need (like automated SEO redirects, preserved order IDs, customer passwords migration, etc.).
...and that's it! The option with the highest price comes at no cost for you!
Don't Wait Till 11.11!
It seems tempting enough to become a part of the World Shopping Day, isn't it? No more excuses for delays! Hurry up to replatform your online store on November, 9-13 and get your benefits with Cart2Cart!