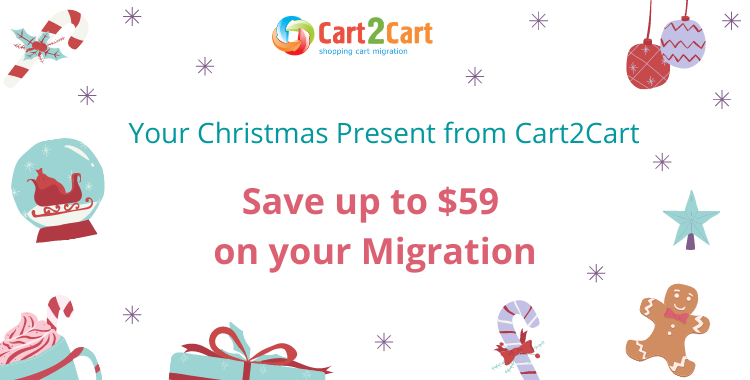 Christmas is on the threshold and it's the time of the year when bells, snowflakes, and Santa take center stage. It has been a year full of unexpected events, hard work, and achievements. Thanks to each and every one of our customers and users for inspiring us to go further, encouraging us to implement new ideas, and providing feedback that helps our service grow and improve.
At the time when shoppers are receiving tons of offers from all possible online stores, we at Cart2Cart decided that the people behind those offers deserve a gift as well. So we send you the warmest greetings on the upcoming Holidays and are excited to present a great gift to each of our customers.
Unwrap your Cart2Cart Christmas present (and save up to $59 on migration)
The most expensive additional migration option comes for FREE

(valid for each migration performed through January 2)

What are additional migration options?

They serve to refine the transfer and improve the migration of specific store data. The most popular options include:

The available options for a specific migration depend on the Source and Target platforms. You can check the available migration options for your case on the migration page or during your migration setup.

How to receive your present?

Start setting up your migration with Cart2Cart;
Pick the additional migration options you need;
Get the most expensive one of them for totally FREE!
Why wait till the last day?
Migration setup usually takes about 15 minutes, so hurry up to grab your gift before it's gone! Don't miss this opportunity to enter a new year with the brand new online store that you've been dreaming about!
P.S. Worried about making changes to your current store during the hot sales period?
There's nothing to worry about - Cart2Cart copies the data to a new platform, and doesn't affect the Source store at all. So, your customers will be able to purchase from you as usual.