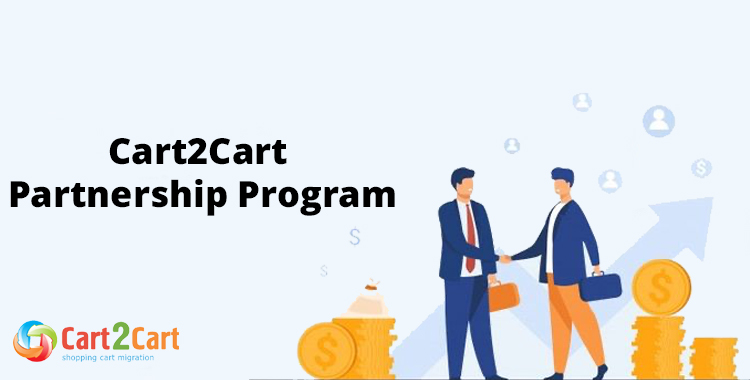 Are you in the eCommerce migration space? Perhaps you're a web developer who needs to migrate your client's online store to a different platform. Whatever the case, the Cart2Cart partnership program presents a unique value proposition focused on your business's long-term growth. By partnering with us, you save up to 40% of the total migration cost and a ton of time while you're at it. Here's how it works.
Why Partner With Cart2Cart
| | | |
| --- | --- | --- |
| Time-Tested Experience | Technology-Driven Solutions | Growth-Focused Support |
| Established in 2009, Cart2Cart is the pioneer platform migration service, boasting 250,000+ migrations to date. | Cart2Cart focuses on continuous improvement by integrating new features and add-ons to provide clients with a top-tier migration experience. | Cart2Cart offers unrelenting assistance to its partners to help maximize conversions and unlock new revenue channels. |
Who Can Become a Cart2Cart Partner
We're a powerful business backed by powerful partnerships. We don't just strive to give our clients the best-possible eCommerce migration experience; we work extra hard to make it convenient for them. The Cart2Cart Partner Program is perfect for
1. Software and Web Development Agencies
Do you work for a software or web development agency? If you do, partnering with us means you'll save loads of time handling requests from customers who want to migrate to different eCommerce providers.
2. Marketing Agencies
If you're a marketing agency looking to extend the scope of your services, incorporating data migration is guaranteed to unlock new revenue streams you never thought possible. Not only will partnering with us allow you to tap into a new customer base, but it will also give you a competitive edge over your peers.
3. Individual Developers and Freelancers
When you offer more, you earn more. By joining the Cart2Cart Partner Program and adding data migration to your bouquet of services, you can carve out a new niche for yourself and accelerate your business growth.
4. Anyone in the eCommerce Industry
As long as you're in the eCommerce space and are involved in platform migration, becoming a Cart2Cart partner lets you profit from a mutually beneficial business relationship.
What You Get as Cart2Cart Partner
Unlike other software partners programs in the market, Cart2Cart brings something a little different to the table. Here are some of the perks of joining our Partner Program:
| | | |
| --- | --- | --- |
| Partner Discounts | Custom Migrations | Priority Support |
| Get up to 40% off on all your migrations using Cart2Cart. | Receive expert support from our tech gurus when performing complex migrations. | Get top-tier assistance across several different channels throughout the migration journey. |
| | | |
| --- | --- | --- |
| High Visibility | Referral Commissions | Hands-Off Approach |
| Leverage co-branded marketing opportunities for increased visibility and outreach. | Earn a 20% referral bonus on every migration when you refer Cart2Cart to others. | Delegate your migrations to our gurus and get it done without getting involved. |
Levels of Partnership
Our Partner Program offers four levels of partnership, each dependent on the number of successful migrations you close. The level you're on reflects your success path within the program. It gives you a unique opportunity to raise your business profile, putting you miles ahead of the competition.
Every level offers unique benefits, each designed to boost your bottom line. Here's what to expect.
| | | | | |
| --- | --- | --- | --- | --- |
| | Bronze | Silver | Gold | Platinum |
| Number of migrations | 2-9 | 10 | 20 | 30+ |
| Service discount | 15% | 20% | 30% | 40% |
| Dedicated account manager | + | + | + | + |
| Top priority support | - | + | + | + |
| Marketing support | - | - | + | + |
| Earnings from referrals | + | + | + | + |
Why Choose Cart2Cart
Cart2Cart is an innovative migration tool built using next-generation technology. Since its initial launch in 2009, the service has become the #1 migration tool, making it a top choice for online business owners.
The perks you get when you partner with us are hard to beat. Cart2Cart boasts the largest market share and reports the highest daily traffic among the various migration tools in the eCommerce space. Our SaaS Partner Program ranks highly, beating out all other software Partner Programs in the industry.
Cart2Cart Partner Program – FAQs
How Do I Register for the Partner Program?
To join the Cart2Cart Partner Program, fill out the partnership registration form. Once you submit it, our partner account manager will be in touch with you shortly after to iron out all the details.
What Is the Minimum Number of Migrations Required to Become a Partner?
Before joining the Cart2Cart Partner Program, you'll need to complete at least one Full Migration. Only then can you enjoy the perks that come with the Partners network.
What Advantages Will I Get as Your Partner?
The benefits you're entitled to get come down to the partnership level you're on. Here's what to expect:
A 15-40% partner discount on Cart2Cart migrations
Priority support from your dedicated account manager
Expert assistance when implementing highly-customized migrations
Co-branded marketing opportunities, including link building, guest posting, joint webinars, etc.
Unlimited affiliate earnings
Get featured on the Cart2Cart Partners page
These perks give us a competitive advantage over other Partner Programs in the industry.
Can I Dissolve My Partnership With You?
You can terminate your Cart2Cart partnership at any time. Simply get in touch with your dedicated partner account manager and notify them of your decision.
How Often Should I Use the Service to Maintain the Partnership?
There's no restriction on the frequency you can use the program. Remember, though, that the overall number of migrations you conduct will determine your partnership level and, as such, the associated benefits that come with it.
Unlock New Horizons
Take your business to new heights. Join our Partner Program today and leverage the Cart2Cart tool to deliver high-quality migration services to your customer base.