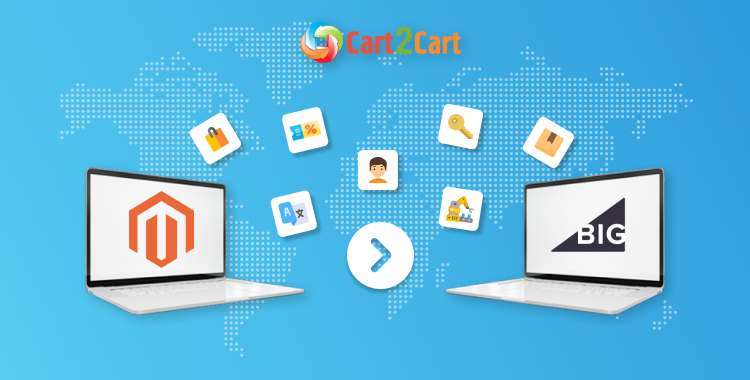 Magento has long ago become a synonym of power and extreme customizability. It is often referred to as one of the best platforms for the enterprise. It has been around for quite a while and has grown one of the biggest communities of fans and developers around the world.
All of this is true today, yet the era of Magento being the only option for ecommerce giants is over. Most surprisingly, its closest counterparts in this sphere aren't even open-source platforms. Yes, we're talking about BigCommerce Enterprise and Shopify Plus, which are both hosted solutions that have less experience on the market, but definitely great perspectives.
In this post, we'll be focusing on the matter of transitioning from Magento to BigCommerce. And in particular - handling one of the biggest bottlenecks of all ecommerce replatforming processes - data migration.
Watch our video tutorial to see how easy it is to automatically migrate from Magento to BigCommerce with the help of the Cart2Cart migration tool:
Magento vs. BigCommerce - Stats
According to Google Trends, the interest for Magento has been steadily declining since 2016, while BigCommerce remains within the same interest range, so they are getting closer in terms of popularity. Similartech stats show that Magento significantly outranks BigCommerce in terms of the number of websites, but recently, BigCommerce has grown and obviously the tendency remains in place. It is proven by Datanyze data, showing that Magento has lost more websites in December 2019 than gained, while the net gain for BigCommerce is 14 websites in the same month.

Reasons to trade Magento for BigCommerce?
No hosting/maintenance fees
Surely, no one switches to a new platform just because it's popular. Hosting fee, or rather, the absence of it is a far more obvious reason why many merchants choose BigCommerce - it's a hosted platform, which means, no more hosting and maintenance expenses or troubles.
Faster launch
The hosted nature of BigCommerce shortens the go-to-market time for BigCommerce compared to Magento. With lots of ready themes, apps and more out of the box functionality, BigCommerce merchants can get their new stores ready much faster.
Lower cost
On the one hand, Magento is open-source and its community version is free to download and use. On the other hand, it is often called one of the most budget-consuming platforms due to its complexity and high development costs, plus often bug fixes and maintenance costs tend to be quite high as well.
BigCommerce pricing plans start at $29,95/month and are quite affordable even for small businesses just starting out.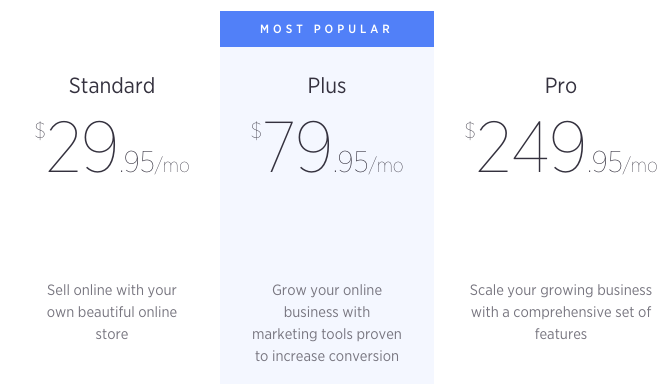 Paired with a smaller learning curve, BigCommerce looks like a more cost-efficient option. Those merchants searching for quick launch and more out of the box functionality on a smaller budget and with a limited in-house IT help possible will find BigCommerce a good way to go. So, if that's the case and you are looking to replatform from Magento to BigCommerce, read on.
| | | | |
| --- | --- | --- | --- |
| Category | BigCommerce | Magento | Winner |
| Ease of Use | Simple, but can be quite confusing with its terminology at first! | Super difficult without coding knowledge, and requires host integration. | BigCommerce |
| Pricing | Three main pricing plans, costing from $29.95 to 299.95 per month. | Free to get started, but costs for hosting and third-party apps quickly add up. | BigCommerce |
| Design Flexibility | Offers 12 free templates – and many more paid ones – which look great, and are easy to customize. | Unlimited customization gives you complete creative freedom – but you'll need to know how to code, or at least have the budget to hire someone to help. | BigCommerce |
| Ecommerce Tools and Features | Offers the most built-in features of any ecommerce platform around. | Its built-in features are restrictive, but it does allow access to over 3,000 apps. | BigCommerce |
| Performance and Security | Automatically applies security patches for you, and offers a free SSL certificate – plus a range of paid options – across all its plans. | You'll have to install security updates yourself, and an SSL certificate isn't included as standard. | BigCommerce |
| Payment Options and Fees | Supports a range of payment processors, at no charge to you. | Hundreds of payment integrations to choose from, most of which will cost you time and money. | BigCommerce |
| Marketing Tools and Features | Allows you to customize meta descriptions, URLs, and more, as well as sell across multiple channels. | Comes with some good SEO functions as standard, with app integrations available for multi-channel selling. | Magento |
| Help and Support | 24/7 phone and live chat support is available, though its knowledge base could be improved. | Boasts a vast help center, along with a user-generated forum. However, there's no 24/7 support. | Magento |
Why Does Database Migration Matter So Much in the Process of Store Migration?
Needless to say that ecommerce replatforming is a big project, especially if it concerns huge stores with millions of products, customers, orders, etc. Moving an extensive store from Magento to BigCommerce isn't likely to happen overnight or be handled by one (even if it's a very skillful one) individual. You need a strong team and effective tools.
Cart2Cart is the tool that can facilitate the process of ecommerce migration and save tons of time (and costs) for bringing the Magento database over to BigCommerce.
Let us walk you through the process which can be handled even by a non-technical team member (we're talking only about data migration here).
How to Move the Magento Database to BigCommerce Completely Automatedly?
Get your BigCommerce store ready
It's clear that your Magento data needs a destination to end up in the BigCommerce database, so you need a fresh BigCommerce store. So take time to sign up for a trial account.
At this point you can download the Store Migration by Cart2Cart App to fasten the process of replatforming even more.
Enable data exchange between your Magento and BigCommerce stores
Once both stores are available online, you can start your migration setup: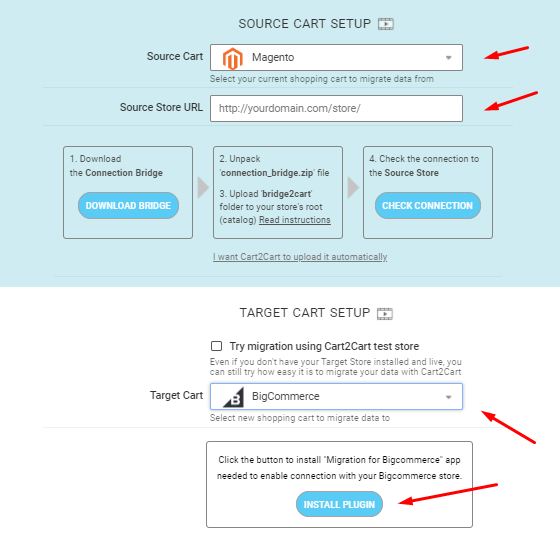 Provide the URLs of both stores
Set up a connection bridge for Magento
Download the bridge file
Unzip it
Upload to your Magento root directory
For BigCommerce, you will only need to provide the API credentials (API token and path). If you're using Migration Preview, your test BigCommerce store is already connected.
Select the data you need to move
You simply tick the data types to transfer:
Products,
product categories,
manufacturers,
customers,
orders,
coupons,
reviews, etc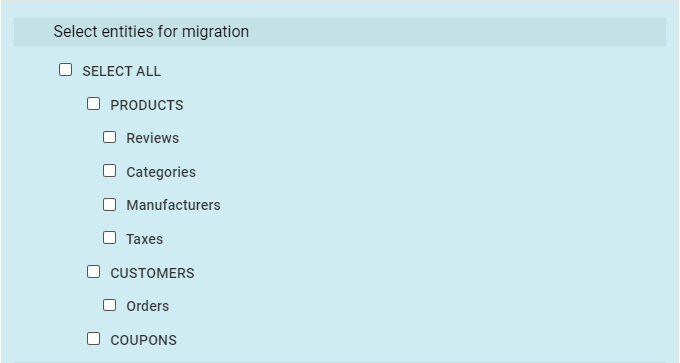 And can also make use of the available migration options (like 301 redirects) - the complete list is available here.
Run your migration
We recommend that you try the free Demo first, which moves a limited number of your products and related data to a new store. Take your time to check both store front-and backend for the migrated data, and if everything's fine, you can launch the Full migration to have all of the data transitioned.
Check out our infographic to get a better understanding of the migration process via Cart2Cart: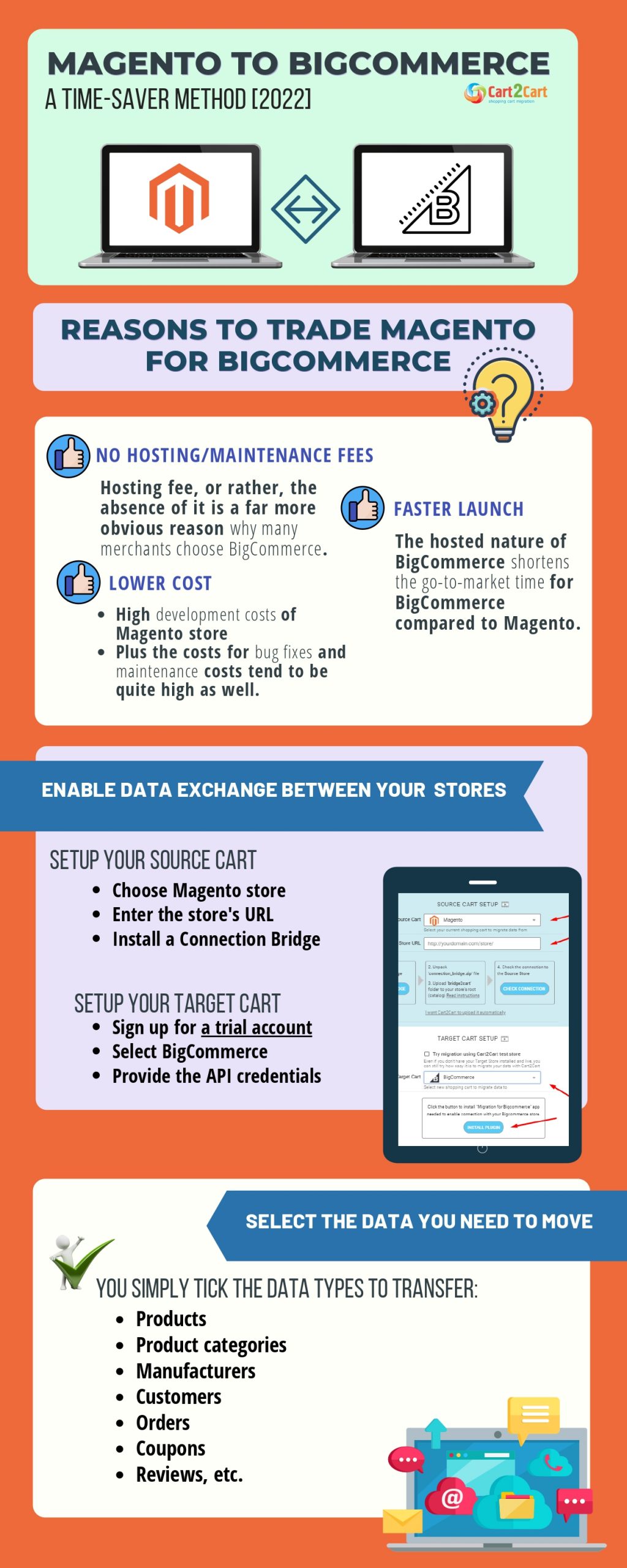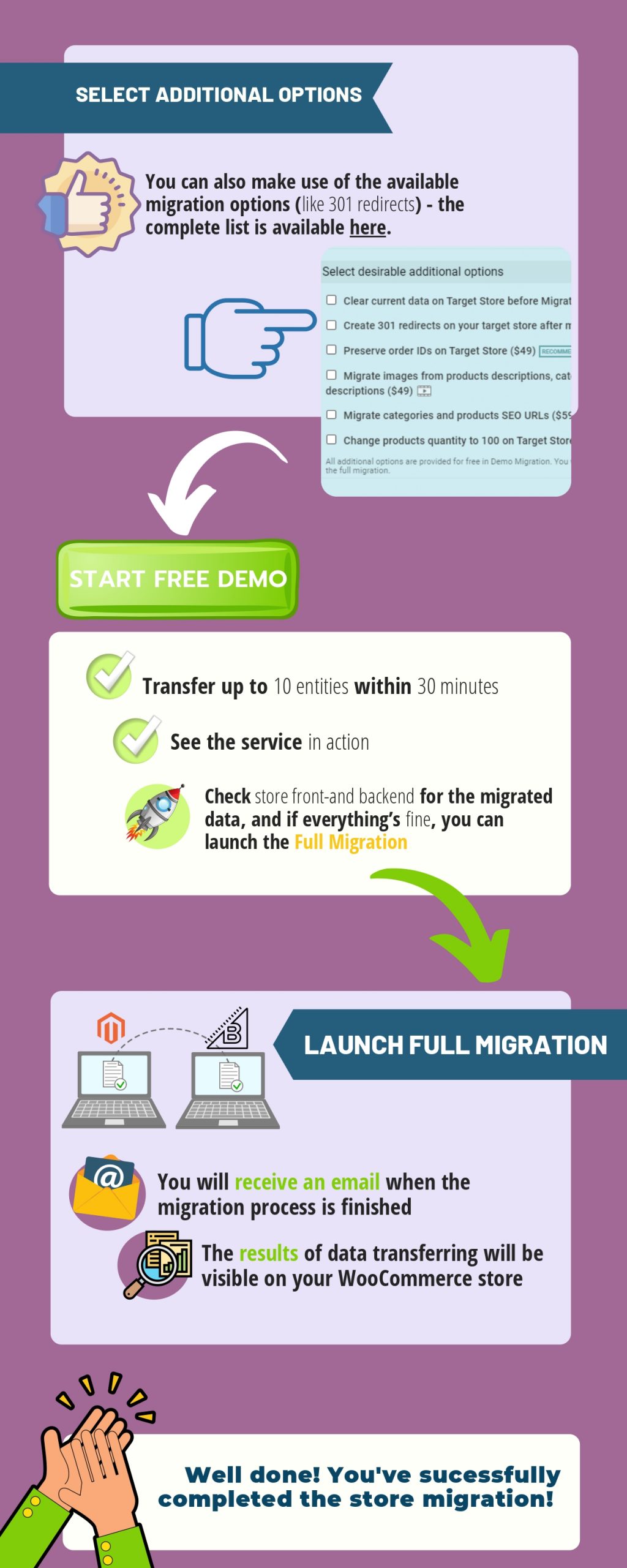 Migrate Store Database from Magento to BigCommerce - FAQs
Is it possible to export customers to BigCommerce?
To move your current store customers to BigCommerce, simply select the Customers checkbox in the Migration Wizard while configuring the switch.
Is it possible to try the Cart2Cart migration tool for free for Magento to BigCommerce migration?
Absolutely. Cart2Cart offers a free Demo Migration feature (test transfer) that allows importing a limited number of data entities (up to 10 products, customers, orders, and other information related to them) from Magento (Adobe Commerce) to your new BigCommerce eCommerce platform. As soon as you are satisfied with the Demo result, you can proceed with the Full (paid) migration.
Does Cart2Cart migration process impact my Magento (Adobe Commerce) store performance?
The database migration does not affect your current store's speed or performance. Data from your Magento (Adobe Commerce) eCommerce website is exported and pasted into the new BigCommerce website through the Cart2Cart migration service. There is no impact on the existing website, so it can continue to operate normally.
It's not the end...
Of course, this is far from being the final stage of your replatforming, and there's a lot to take care of before your BigCommerce store will be ready to welcome visitors. Nevertheless, imagine how much time and team efforts you save by employing a helpful tool like Cart2Cart.
But it's better to try and see for yourself, so go ahead and start your zero risk-free Demo migration now (we don't even ask for your credit card number)!