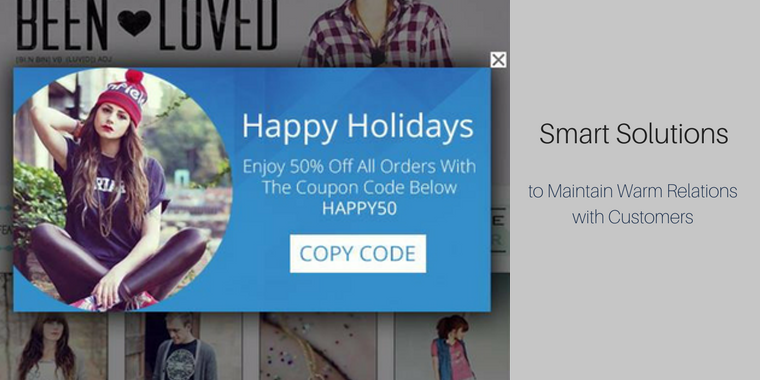 Making a friend may not be so difficult as to maintain that friendship. There is one proverb that says: "Maintaining a friendship is like making fire – you must throw a stick into it to keep it burning". I can find some correlation between maintaining friends and maintaining loyal customers. You may have many customers, but being able to keep up communication is far more challenging. You should take into account that you are not the only one in the market and your competitors will make every effort to steal your audience away. I have no doubts you don't want to allow it, that's why let's see what you can do to prevent such "accidents".
Must-know tips
#Keeping up communication via mail
Marketing is impossible without communication. You may have many customers, but in order to keep them engaged you should use every possible platform, starting from the prominent email marketing, and expanding them to sending handwritten letters.
The latter is a brilliant idea. Imagine receiving a note of gratitude for being such a loyal customer with the help of the traditional post office. If I got a coupon code or a discount card along with the handwritten letter of gratitude, you could possibly find me walking on air.
Concerning the emails, focus your attention on catching up your readers' attention with the help of a smartly chosen subject line and contents. Email open-rate depends on the subject you have placed. What should a perfect subject line contain?
The recipient's name
Some reference to his or her previous activity on your website
Interrogatives
Here is the subject line of a sweet email I got into my inbox a few days ago:

Նարինե, why did you abandon me?
By the way, my name is written in Armenian - my native language. I received the message because a few days ago I entered their website and signed up. They have written my name in my mother tongue, which is very, very pleasant.
What`s more, people love it when somebody makes them smile or laugh. Concerning the contents of the email, it is very friendly and written up with humor. It kept me laughing for a few minutes. No, no, I am not going to laugh alone, I am going to share the screenshot of the message with you so we laugh together 🙂 Here it is: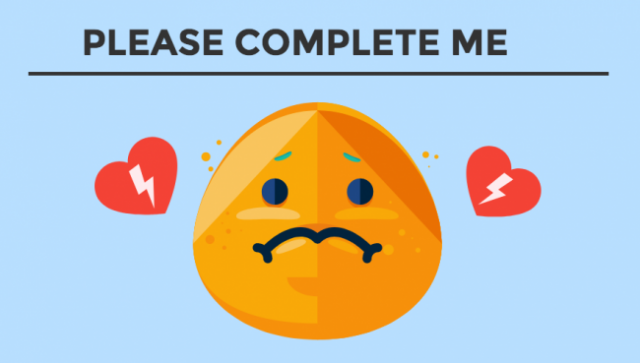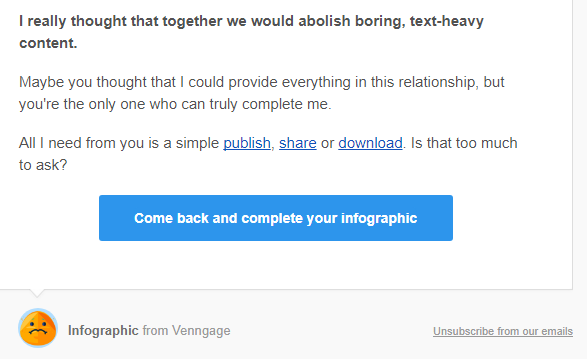 It is both friendly, polite, attracting attention and written with humor. It makes you recall your previous activity on their website.
#Rewarding loyal customers
Who doesn't love being rewarded for doing something good? Extra attention won't hurt. You can start by sending a message and congratulating customers on their birthdays and on other holidays. What`s more, don't forget about the present - include a coupon code or a gift card within your message. But wait, you don't know the birthdays of customers and subscribers? How can you possibly find out? That's the question!!
For this purpose, I'd recommend creating a subscription form with Ninja Forms WordPress plugin. I refer to this form because except commonly used name and email, it contains a number of other fields eg. a custom date field through which you can add a birthday section. Once the subscription form is ready, copy its shortcode and make a shortcode popup ( open the link to find out how to do that). Next, insert the popup into a page for your visitors to write up their birthdays when subscribing to your mailing list. If everything gets done correctly, you will see the shortcode popup that has the following appearance and contains the fields you have set.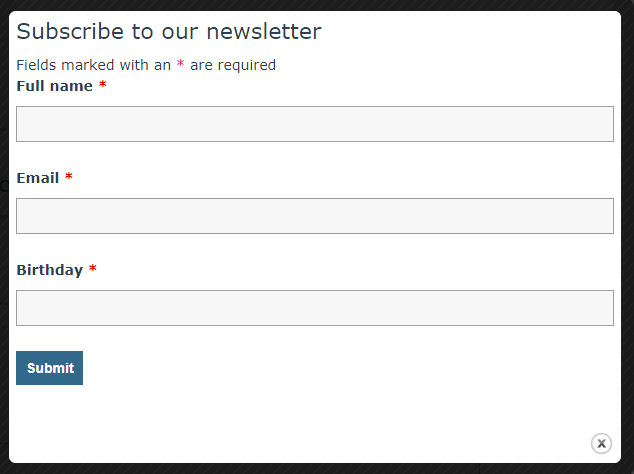 Through the method described above you will gather the birthdays of your subscribers, however, you may have loyal customers that haven't subscribed to your mailing list but they have purchased from you many times. You can send them emails asking to submit their birth date to receive special offers.
#Organizing events for your devoted customers
Another method to surprise customers by rewarding can be organizing events. It's important to do it in a beautiful way. You can compile a record of loyal customers, send them invitations through their emails placing a link within your message guiding them to the page where you make posts on your events.
You can make a video popup to appear automatically a few seconds after the page opens. The video will show one of your agents inviting loyal customers to a special event amiably and with a pleasant smile. Don't forget to be thankful for being with you, and announce the special surprise gifts that will be granted on the special day of the event. I am convinced this will make customers even more devoted giving them a sense of being appreciated.
Final Word
To recap, if the business owners care about maintaining customers, they should do their best to keep them engaged. There are numerous tricks to achieve this. Look something up in the Internet, notice eye-catching things in a supermarket, on your Facebook and other social pages, in books, journals, on banners, do surveys by the phone or in the web, ask your friends and acquaintances, research the strategies applied by other businesses and comply them in relation to your business, make something up on your own. And finally, just try to keep the fire burning constantly impressing your devoted customers.
Author biography:
My name is Narine. I am fond of listening to music, reading, sports and my pretty daughter 🙂 I am also a fan of blogging on different subjects. At present, I work as a content manager for Popup Builder website. We are a web development company and we make WordPress plugins. We do our best for our customers' satisfaction. I am a dedicated blogger as I have been blogging for already 3 years providing quality content in the field of Internet marketing, particularly - SMM, SEM and SEO. It's a great pleasure for me to share my knowledge and be helpful to newbies.