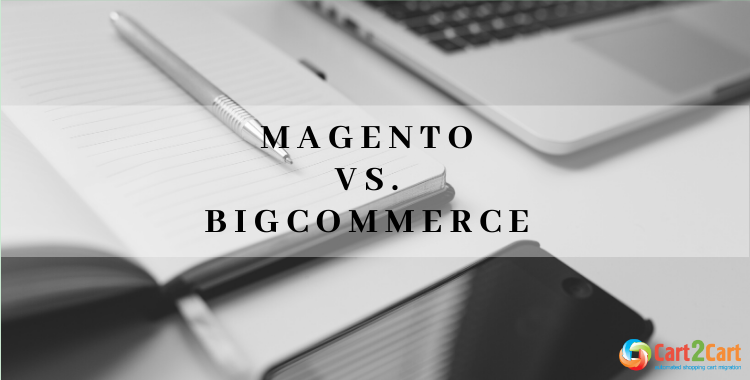 Running a business can seem like a pool of tasks. With the considerable growth rate of the ever-changing eCommerce industry, challenges of reaching the target audiences to attract new potential customers, keep them coming back, delight the repeat clients, and meet their ever-increasing expectations have also seen a steep rise.
Among various eCommerce platforms available today, both Magento and BigCommerce can be considered the most beneficial solutions for proactive entrepreneurs. Your ecommerce platform is your tool helping to deliver a spectacular experience to your customers.
Bear in mind, however, that selling online is diverse. Something that works great for experienced retailers may drive a newcomer to madness.
Don't want to be the next to makes such a critical mistake in choosing the cart that will be right for you? Explore this Magento vs BigCommerce comparison for a better understanding of which of the two platforms caters for your eCommerce needs.
Magento vs BigCommerce: SaaS or Open Source?
Here's how Magento vs BigCommerce is displayed on Google Trends:
It is clear that the popularity of Magento has decreased over the last five years, whereas BigCommerce stays on the same average level of user-acceptance. According to BuiltWith stats, Magento currently has 168,804 live websites, while BigCommerce only 43,018.
What is the key difference between Magento and BigCommerce?
The main difference between BigCommerce vs. Magento is the type of hosting. BigCommerce is a hosted package deal with a wide range of built-in features, thus its management doesn't require deep tech skills. Whereas Magento is a self-hosted platform that will best suit tech-savvy business owners who are ready to handle store hosting.
Magento is an incredibly powerful software that has both a free open source edition and an even more robust Enterprise plan that you can either self-host or use a cloud-based version. Being a PHP-based framework, Magento is a developers' dream for launching eCommerce websites, as it provides rich functionality that covers 99% of clients' website needs straight out of the box.
Unlike Magento, with BigCommerce, you don't need to be a dev to customize your store– all the tools you need can be accessed right from the dashboard. The platform has significantly soared in popularity recently thanks to its flexible feature set.
What are the Advantages of BigCommerce?
BigCommerce enables users to optimize their stores with basic and pivotal SEO features. It provides all sorts of modifications, including the full editing of URLs. This platform is not restricted to any categorization of product lists. It lets you bend the URL on YOUR terms, any way you want, that a lot of eCommerce vendors lack.
Along with flexible and dynamic SEO tools, BigCommerce offers dozens of mobile-responsive templates to gain target traffic organically. Are you wondering how to extend your clientele? Put your eStore into a customer's pocket and follow him everywhere.
With a user-friendly inventory management interface, it becomes a lot easier to manage the product returns. This functionality allows merchants to leave all the disruptions which affect the shipping process behind.
It offers many valuable features like social media integration, abandoned cart recovery, single-page checkout, which can enhance the conversion and profitability of your online store insanely.
BigCommerce offers one of the best-abandoned cart savers around, which allows you to create a series of automated emails to draw back customers' attention and engage those who haven't completed their purchase. Does it sound like a potential to improve your sales? Definitely.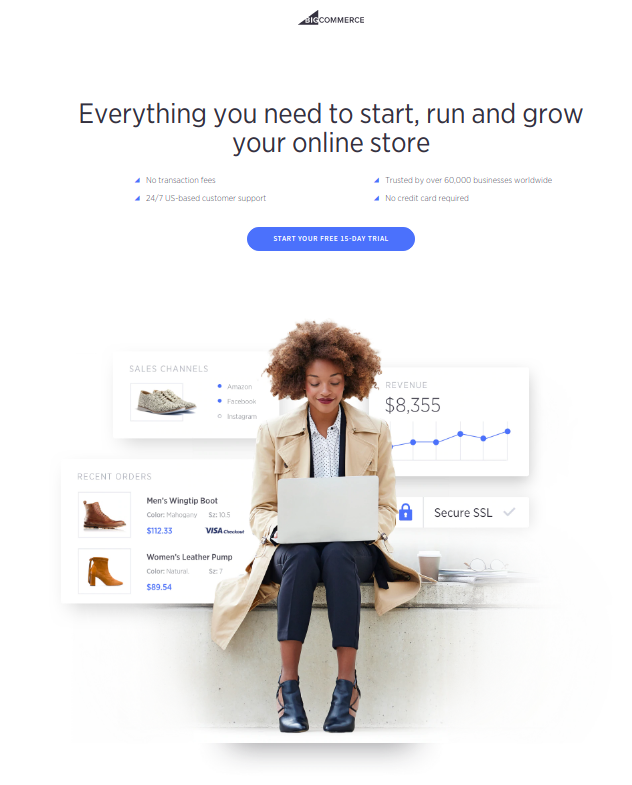 What are the Drawbacks of Using BigCommerce?
Limited B2B functionality. If you need a multi-tier pricing, upselling, and product bundling, you have to purchase extra extensions (if available) to get this functionality.
The final cost can be higher than expected. Fixed price is a tricky term when it comes to ecommerce. So, this website builder may require extra payments in addition to the monthly fee, like transaction fees, credit card fees, and add-on fees. Here's what BigCommerce's pricing plans have to offer:
BigCommerce doesn't offer a lot of extensions. Other hosted carts can boast of marketplaces where you can find nearly anything you want. Open source platforms like WordPress or Magento feature a huge community of developers and access to core functionality so you can find an addon for anything you think of and can further customize the code for your unique requirements.
What are the Benefits of Magento?
Magento is a self-hosted platform. It means you can control the performance of your site, as well as choose your hardware and hosting plan. However, this engine requires specific skills and knowledge of the Magento peculiarities, which tends to be quite complicated, especially for non-techies. All system updates and fixing performance bugs rely on your shoulders.
Huge global supportive community. Magento is a market leader in 190 countries all over the world. Its worldwide community consists of 60,000 developers and over 300 solution partners. Although there's no dedicated team of experts that focus on guiding you through the rough points, eCommerce beginners can always rely on supportive community members. Just ask your question, and there will be dozens of specialists willing to help.
Being highly optimizable, Magento is a perfect fit for those who need full control over the platform to get more options, more freedom, and - drumroll, please - more effort. If you find programming exciting or consider hiring a developer with profound expertise to modify and customize your online store - you should give Magento a try.
It is tried and tested. Up to date, Magento has powered around 250,000 online stores on the market, and that is 29,1% of the total number of eCommerce admins. The platform has been proven to work successfully within over 225 business sectors. It has insanely soared in popularity, primarily thanks to its robustness and flexibility.
A-one-size-fits-all kind of website builder. It sounds like a monkey business to recount and outline all the built-in features that Magento covers. Multi-lingual capabilities, 4,000 extensions in the Magento Marketplace, ability to create designs or templates from scratch, numerous payment gateways, multi-currency support, etc.
Multi-store functionality is one of the Magento's key benefits, allowing users to manage multiple brands across multiple sites using a single login.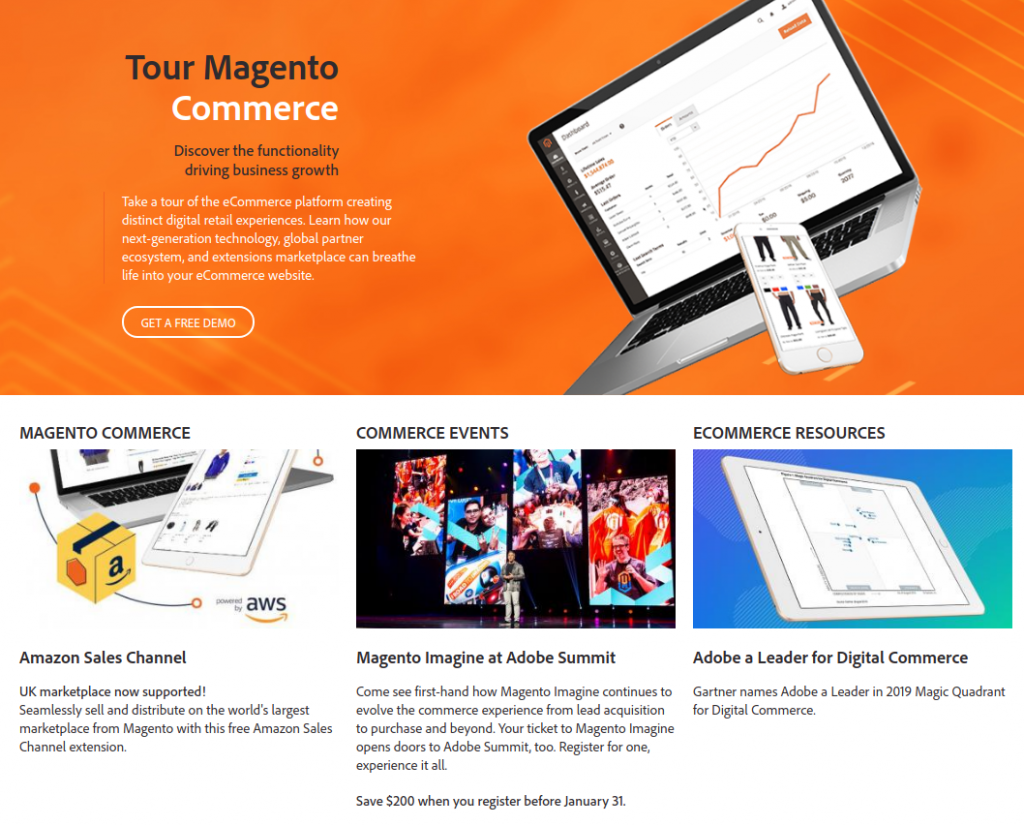 What are the Key Weaknesses of Magento?
Unlike Bigcommerce, Magento's customers have to care about hosting by themselves. The problem is that many of the customers are not familiar with domains, hostings, etc. This requires certain skills that have to be learned beforehand, which is a big obstacle for some of its users.
Magento can be modified to 100%, although the customization can come at a price of low loading speed. This tends to be an issue, especially when compared to BigCommerce.
This platform has a free plan (Magento Community Edition), aimed at small and midsize businesses as well as startups. However, the support and using extensions require payment. Moreover, Magento becomes much more expensive for enterprise-class businesses (the price starts from $3,500/month).
A shopping cart platform of your choice needs to be tailored to your business requirements, your niche market, and your financial opportunities. For this reason, we have identified certain characteristics and created the profiles of ideal Magento and BigCommerce users:
So, Magento or BigCommerce?
Let's compare Magento to BigCommerce based to find out which one caters to your specific needs better and how to identify ideal Bigcommerce and Magento merchant persona.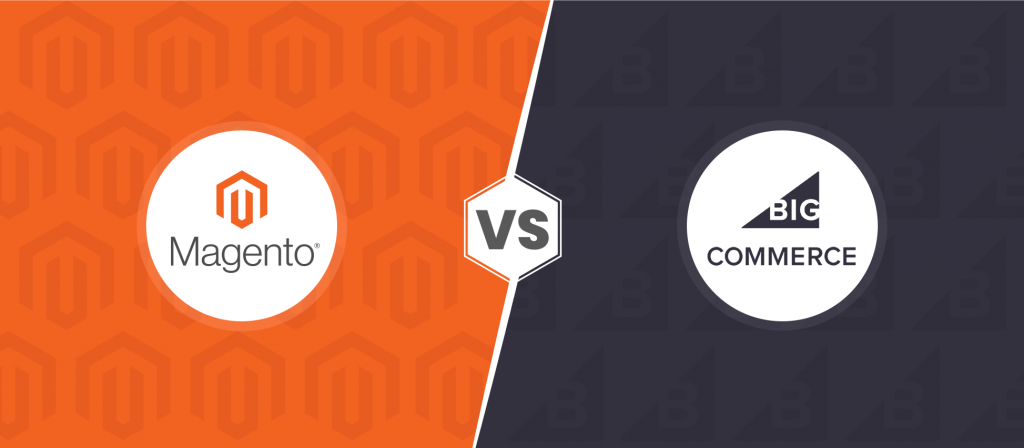 When You Should Better Choose Magento?
Magento is Your Perfect Fit if You:
Are an established and technical retailer, with significant knowledge of code and previous experience with easier platforms.
Want to hire a Magento developer or dedicated team to maintain a website (what's can be quite pricey).
Have an in-house development team for managing, fixing bugs, and administrating your online store.
Fancy web development or need advanced customization of design, front- and backend and are ready to pay for this and ongoing maintenance.
When You Should Better Choose BigCommerce?
BigCommerce might be a more viable choice if you are:
Non-techie and don't want to dive into tech tasks.
Limited by budget and looking for a short go-live time for your store.
Want to focus on selling, increasing your store effectiveness and engaging new customers.
Magento vs BigCommerce: Closing Remarks
Selling online is competitive. So when setting up your estore, you have to get an insanely, power-packed platform to go with.
Whether you're just starting out or looking to switch website builders, it's tough to decide between Magento and BigCommerce. With customers' voice in mind, we strived to compare the two without overloading your attention with redundant information.
Basically, it all comes down to your unique business needs, budget, target audience, and plans for growth as a business. Either platform will get you there if you validate them on YOUR terms and don't bend to hype slogans.
But let the practice speak for itself. Here at Cart2Cart, we have designed a dedicated option, initially aimed at trying out a prospective platform before migration. Our Migration Preview Service is a game-changing tool for those who are not sure about the shopping cart they want to migrate to and want to check how products, customers, orders, and other information from the current shop are going to look on another platform without installing a Target Store.
Moreover, you can run a Free Demo Migration to derisk the data transfer results, make sure everything fits your expectations beforehand, and proceed further smoothly.
P.S. You're already running an online store and would like to switch Magento to BigCommerce or vice versa? With Cart2Cart your data will be in the new destination in hours. In fact, if you're still considering what platform to choose, you can also check other Magento alternatives.