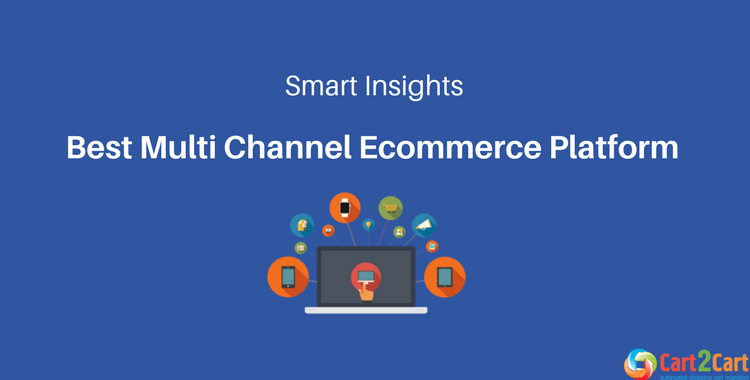 There is one common hurdle that concerns most of merchants. They put all the efforts, budget and entire resources into building "dream e-store" and consequently are struggling hard in getting it in front of people`s eyes. Ridiculous? But such is the truth. The easiest way to make your online store recognizable among hundreds of thousands ones is to initially build it with the best multi channel eCommerce platform. It will allow you not only gain an ever-lasting customers` flow but boost sales too.
Unfortunately, not all of available eCommerce solutions can offer you this prominent functionality. Our task is to evaluate the best multi channel shopping cart for your prosperous business. Stay tuned because we're starting the hunt!
But first, take a deep breath and let`s delve into the definition multi-channel retail and its main peculiarities.
What is multi-channel retail?
To put it simply, a multi channel retail is an approach when retailers offer consumers various options for how and where to make purchases. To put it simply, they satisfy consumers` needs and receive more traffic and profit in return. It looks like a mutually beneficial deal, doesn't it? 😉
Ecommerce industry is versatile offering hundreds of options to improve the retail, however, the right of choice is up to you. Taking into account that the list of all existing channels could fill a book, we decided to determine the 3 most significant retail channels that are vital for your shopping cart:
Marketplaces
Amazon and eBay are considered to be the 2 most recognizable marketplaces that represent best opportunities for merchants to expand their business. According to Marketing Land stats, Amazon is a starting point for 44 % customers that counts over 300 millions users meanwhile Ebay has 167 million of consumers in its record. It`s beyond doubts that having your products listed on these world's giant marketplaces is a key to gain more customers to your store. From now on, these marketplaces aren't competitors, they're a source of revenue.
Here is a chart of more powerful marketplaces: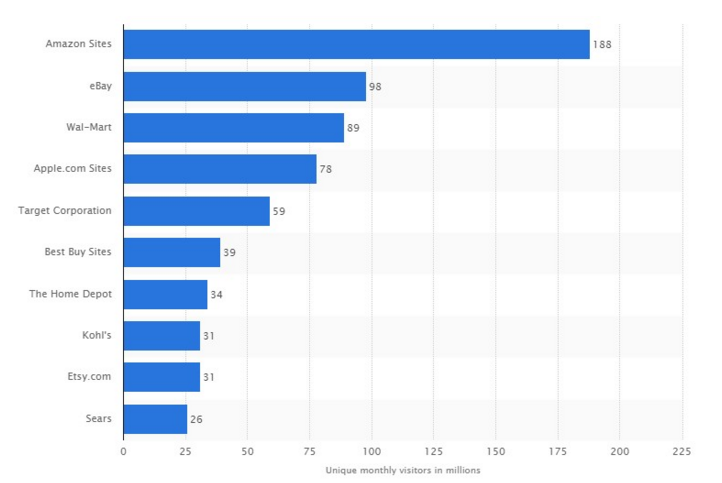 Social Media
It`s not a secret that social media opens a new horizons for business growth. Based on Ambassador stats, 31% of clients prefer to reach a company via social media than by telephone. What's more, nearly 71% of customers who received a pleasant and professional service experience are likely to recommend the brand to others.
According to Statista global research 2017, there are top kings of social networks: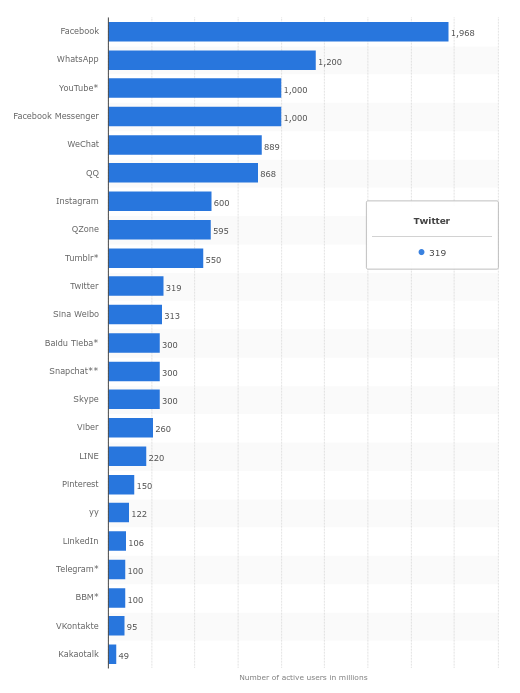 Comparison Shopping Engines (CSEs)
Comparison Shopping Engine is a type of Internet search engine that gathers the product information of multiple retailers and suggests the most related links to users. Ecommerce industry counts of hundreds of comparison shopping engines with a big variety of different business models that drive traffic to your site. If you have a limited budget, you may start with a free CSE like Google Product Search, the TheFind.com or paid ones: Google Shopping, Nextag, Shopzilla, etc.
Even if your eCommerce provider contains one of mentioned functionality, our congrats on being ahead of the curve!
If not, we`re moving further. Based on above-mentioned criteria, we`re going to find the most outstanding multi channel ecommerce software for your business.
In search of best multi channel eCommerce platform
As previously stated, running your store with already feature-rich multi channel shopping cart is probably the most reliable way to enlarge customers` audience and boost sales. We did a profound research and are pleased to announce the top 3 winners on this issue. They are: Shopify, Magento and PrestaShop.
#Shopify


Shopify is an absolute champion in offering wide-ranging multi channel capabilities. One of the biggest strengths as a company is that it continually grows its sales hub strategy enabling the merchants to sell on as many channels as possible. According to Shopify, more than 60 % of online store owners on its platform sell in no less than two different channels.
It`s one of eCommerce engine that seamlessly integrates with the largest online marketplace - Amazon. All you need is to add it as a Sales Channel in your store, make up Amazon listings from existing products and accept orders directly within Shopify admin panel. That`s it, Shopify will sync your available inventory within all sales channels. Is there something more effortless?
In terms of social media, Shopify is a role model for many eCommerce shopping carts. Thanks to "Buy Button", you can easily embed your products on any WordPress site. With Shopify`s endless possibilities, you're the only one who`re in control of your e-business.
Another worthy merit is POS, Shopify`s application that allows you to securely process transactions specially created for Apple and Android devices. Apart from the fact it accepts any format of payments, you can additionally apply discounts, customize the text, email the receipts to customers and process refunds without any hassle or inconvenience. Control it all from your iPad or mobile device. The Shopify POS cost is included in three pricing plans with the credit card rates are varying from 2.7% + 0¢ (Basic Plan), 2.5% + 0¢ (Shopify Plan) and 2.4% + 0¢ (Advanced Shopify).
We cannot but praise Shopify`s Google Shopping app that offers to you an automatic store sync with Google merchant center. It`s is free for downloading and use, allowing you to update your Google Product listings directly via Shopify Admin Panel.
What's more, Shopify took care of tiresome data collections and enables you to see how all your channels are performing directly from your Home page. It provides you with real and actionable information that will help you to concentrate on the sale channel where you have the largest income.
Another good news concerns a long-awaited eBay integration that is going to go live this fall representing 167 million of potential customers.
I`m sure, Shopify won your heart;) but our hunt for ideal eCommerce platform for multi channel continues...
Move your online store data to Shopify - one of the best multi channel eCommerce platform!
# Magento

Magento is another powerful feature-packed solution satisfying needs and targets of midsize and big enterprise businesses. This solution possesses an incomparable set of powerful eCommerce features with boundless multichannel capabilities. If you require a sufficient level of tech expertise and ready to sacrifice pretty big budget into business growth, this solution can be easily considered to be one of the best multi channel platform.
Like Shopify, Magento successfully integrates with Amazon and eBay. You may apply the M2E extension offering the integration with eBay, Amazon and Rakuten. The price for this extension is flexible depending on your total monthly sales revenue.There are 3 available pricing plans: Starter, Business, Enterprise.
This extension allows you to get a high level of customization and task automation, easily managing your orders, maintaining various pricing strategies and keeping inventory across multiple channels. Additionally, M2E solution provides support, giving you access to solid documentation and largest worldwide community forum, FAQs, etc.
Tech assistance is also available, however, you`ll need to pay some extra costs.
Another worthy option for Magento multi channel retail is Sellbrite that in comparison to M2E is not specifically Magento-focused product. It`s a multi-channel cloud retail platform that includes a Magento integration within other integrations: Amazon, eBay, Walmart, Sears, Newegg, Rakuten and Etsy. This is the leading multichannel inventory control solution that allows you to create and manage listings across all channels, inventory syncing, and order fulfillment.
The same as Shopify, Magento offers a beneficial integration with Google Shopping CSE that will allow you to export your entire catalog of products from your Magento store to Google merchant account.
However, in contrast to Shopify, Magento Google Shopping extension is not free and will cost you 50$.
Like Shopify, Magento allows you to monitor sales from different sales channels within one Dashboard. However, comparitively to Shopify, Magento requires an additional Multi Channel Magento Odoo Bridge installation for 199$.
Migrate to Magento swiftly and securely - see all its merits in action!
#PrestaShop

PrestaShop is another powerful solution that is proudly listed in best multi channel eCommerce platform list. Being a free open source eСommerce solution, it combines easiness of operation with vast functionality and customization opportunities.
Alike Shopify and Magento, PrestaShop offers to its clients an advanced integration with Amazon. However, this merit is not for free, you'll need to install a special Amazon Integration for PrestaShop plugin for 119$ that includes a free support via phone, email and chat.
Before starting working with this addon you`ll have to register on Amazon and use Amazon professional selling plan. With the help of this integration, all your products will be assigned to the giant marketplace automatically and can be painlessly customized to your taste: editing prices, quantities, images, etc.
The same goes with eBay. After you install eBay Integration for PrestaShop plugin, you`re ready to expand revenue streams and attract more customers to your beautiful store.
Regarding CSEs integration, PrestaShop offers to its clients Google Shopping module allowing you to put your amazing store in front of thousands highly qualified visitors` eyes.
Switch data to PrestaShop - discover new horizons with one of the best multi channel eCommerce platform!
Congrats, we did it! After we demonstrated our digest of brilliant multi channel softwares and (hopefully!) chose the ideal solution, how can you to perform the migration?
No worries here, that`s what Cart2Cart takes care of! A minute please, what is Cart2Cart?
How Cart2Cart can help you?
Cart2Cart is #1 shopping cart migration tool that lets you perform the most comprehensive eCommerce migration in a few hours only.
Thanks to a seamless 3-step migration procedure, it`ll moves your data with a widest range of transferable entities within 80 supported shopping carts.
It takes care about your 100% current store uptime, allowing you to sell while rapidly switching to another eCommerce provider.
If any tech issues occur, you can always feel free to get in touch with 24/7 support staff that provides the solutions to any tech-related issues.
Multi channel retail is an ultimate way to success and the best option to feel its endless capabilities to the fullest is to choose the best multi channel eCommerce platform.
Don't waste your time, start a Free Demo migration and take your eCommerce business to the peak of success!