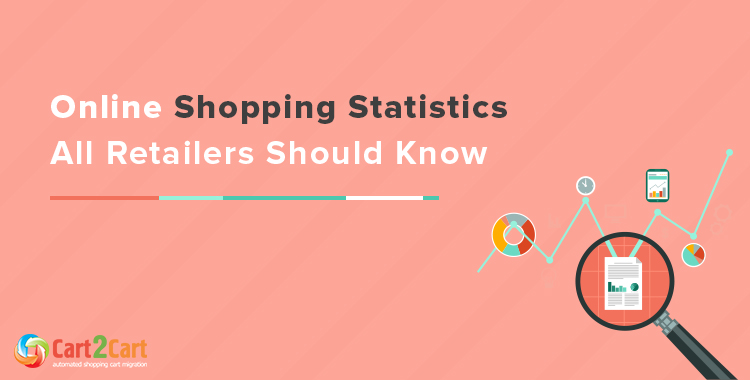 Online shopping and e-Commerce have become a paramount multi-billion-dollar bottom line. It is not surprising that lots of people want to be a part of this growing industry. As the matter of fact, e-Commerce varies and develops nonstop and that is why it would be useful for you to have some online shopping statistics at your fingerprints in order to benchmark your key performance indicators (KPIs) and to gain a broader understanding of how you can increase your conversion.
Traffic and Revenue Generating Sources
To begin with, let's find out which sources generate most traffic and revenue to your e-store, according to the current online shopping statistics.
Google Rules the Web
Digital marketing agency Wolfgang Digital has launched its E-Commerce Benchmarks 2016 Report which indicates that Google makes the world wide web go round. According to it, Google delivers over two-thirds of website traffic which is 69% and 67% of revenue. As you can see, if you win on Google, you win online.
SEO is Absolutely not Dead
Contrary to popular belief, SEO is not dead. As the matter of fact, the methods of search engine optimization are constantly changing. And every time there is a considerable modification in its practice, plenty of webmasters and marketers decide to leave SEO behind. The truth is, however, that there will be the need to optimize websites as long as there are search engines.
Moreover, online shopping statistics indicate that nearly the half - 43% of traffic and 42% of revenue comes from Google Organic. This fact proves the importance of search engine optimization.
AdWords - King of Conversion
One of the most effortless and trustworthy ways to scale an online business is paid channel. AdWords comprises 26% of traffic and 25% of revenue on average. The recent study shows that a large percentage of Google organic traffic corresponds to a high average order value (AOV), while a great percentage of Google paid traffic is the strongest equating factor with big conversion rate. While SEO will do the job for websites with high AOV, PPC is the best bet for sites with lower AOV, which are trying to rocket conversion rates.
Facebook - Dominant Social Source of Traffic
When it comes to e-Commerce, being social really matters. Facebook is the only social media platform which accounts for 5% of traffic. Despite this striking number, you should pay a constant attention to your social media stats in order to understand which content is appealing to your customers and engages more people into your media channel. If you do the job right, you'll be able to create an endless stream of traffic to your e-store.
It also should be mentioned that, although Facebook leads as the source of traffic and sales, the majority of websites don't realise this enormous advantage yet.
Email Still Matters
The benefits of email marketing are evident. It is an effective way to keep customers informed, it is cheap, it is easier to reach mobile consumers via email, it is simpler to encourage visitors to subscribe by offering them e-coupons, etc. Moreover, this source generates 6% of traffic and revenue. So, don't ignore email as the best non-direct channel for income.
Site Speed Makes a Difference

Needless to say that page loading time is a significant part of customer experience. According to a recent study, almost half of web users expect a website to load in 2 seconds or even less. Moreover, online shopping statistics indicate that 79% of shoppers who have some issues with web performance say they won't return to the site. In other words, because of a few seconds, you might lose potential sales.
Besides, when it comes to search engine rankings, site speed is becoming an extremely relevant and critical factor, especially considering the latest Google algorithm update. So, by optimizing the page loading time, you will enhance your conversion rate and this Google tool will provide you with a head start on it.
The World Has Officially Gone Mobile
It is an undeniable fact that the world has gone mobile. According to the up-to-date reports, 60% of global consumers use their mobile devices as their primary or exclusive internet source. The smartphones are used almost for everything now and it means that your online branding efforts are being viewed via mobile channels. So, it is not sufficient any longer to only run a desktop optimized website.
As indicated by online shopping statistics, mobile accounts generate 42% of traffic and only 21% of revenue. From this research, we can conclude those purchase decisions are made on mobile devices, typically, and they are being fulfilled on desktop. Thus, it is important to provide an omnichannel user experience, as the main purchase path to conversion.
Shopping Cart Choice Matters

According to many sources, eight out of ten new businesses fail within the first 18 to 24 months. Due to this fact, choosing the right shopping cart software is the most important technical decision to be made.
There are plenty of reasons and factors which have to be considered before making a final decision. For instance, lots of business owners may not be even aware that their e-Commerce platform might not be supplied with the features necessary to make their e-store SEO friendly. Another problem which should be thought over is what goods you are selling: digital or physical. It makes a big difference when thinking about shipping, costs, etc. Other factors which should influence on your choice are stock size, payment methods, hosted or self-hosted, customer support, pricing, etc.
In case you have some issues with the shopping cart you're using now or want to get more opportunities which are provided by other platforms, there is an effective and workable solution for you. With Cart2Cart automated service you are able to migrate your shopping cart to 70+ supported platforms effortlessly and incredibly fast.
Wrapping Up
Now, being provided with the useful online shopping statistics above, you have a deeper insight into the effective ways to boost your conversion.
What methods have you used to increase the conversion rates of your e-business? What approach do you consider to be the best? Share your thoughts and experience in the comments below.