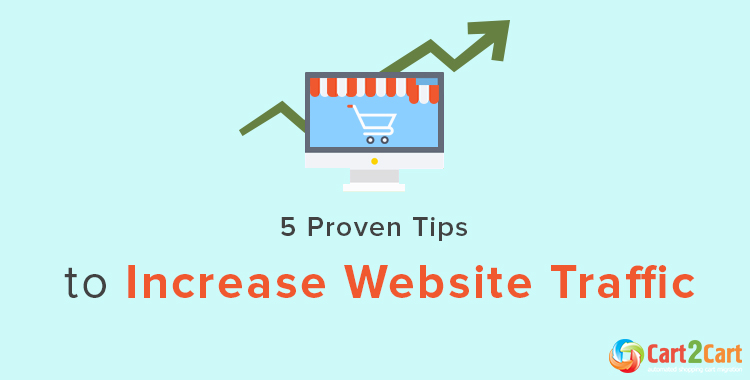 It's corny to explain how important traffic is, so let's just say this - if there was a Maslow's pyramid for online stores, it would be at the very base of it. None other goals, like recognition, profitability or strong market influence are reachable if your store doesn't get regular visits.
---
Therefore, every traffic increase tip you stumble upon, you should collect and cherish. The effort to improve in this direction mustn't stop - you are in an intense track race, neck-to-neck with competitors and with Google algorithm changes as track obstacles - you can't stop running or even drop speed or you will lose immediately.
So, here's another dose of much needed help for you, a fresh compilation of working advice on how to increase website traffic in e-Commerce business.
#1 Optimize for Better UX
Driving traffic is the heart of e-Commerce and SEO is the heart of driving traffic. And, yes, we did all hear rumors of how "SEO is becoming obsolete due to the changes Google implements". We're wary of the threat, but, at this point, SEO efficiency is still indisputable - 30.5% of traffic comes from organic search engine results.
Therefore, go ahead and adjust your site according to SEO standards: implement fast infrastructure and easy navigation - two things Google is crazy about. Then, after Google bots check your store out, it'll get labeled "mobile-friendly", which guarantees a positive shift in your search engine rankings.
Website's simplicity and performance speed isn't just to get noticed by Google, it's important for providing users with great shopping experience, encouraging them to come back, and, thus, driving traffic - our initial purpose. We suggest using a Content Delivery System to make your store run faster and reduce bandwidth consumption.
#2 Focus on Content

It isn't news that you can't use "filler" content with a few keywords in it to get a ranking boost anymore. Not only will such practice not elevate a site in search engines' lists - it will actually backfire and get your store buried in the mass-grave of websites Google sees as "non meaningful".
So, take your content strategy seriously - what would you want to see in an online store as a shopper? Long, non-cliche product descriptions probably, lots of photos of each item from different angles, a video guide on how to use it, or an unbiased video-review. Also, feedback from fellow shoppers, who have no reason to lie, would be reassuring too, right?
To remember all these elements and maybe find new ones when organizing store's pages use a trick - enter a successful retailer (Amazon etc.) and copy the basics from it. Blog articles, news, relevant interviews with experts in your field - all of these are reliable investments in making your store a Google star, crowded with traffic that converts.
#3 Find Your Theme
When I go to Italian restaurants, I want to see Italian cooks in the kitchen, screaming and gesturing every word as if in the game of charades, and exclusively Italian cuisine in the menu. Thus, I'll know I'm at an authentic place, where people are good at what they do.
Buffets, on the other hand, where there are Sushi tables, Burritos, Lasagnas, Kung Pao chickens and so on mashed together in the same room, indicate a poor quality of each of those dishes. It's a general perception among people that one can't be a high-class professional in a few things at once - we're programed to trust specialists with a single activity way more.
Same principle flies in e-Commerce - find a niche and focus all your powers to occupy it, do not get distracted by subjects not relevant for your target audience, no matter how interesting they might seem. That way, you'll earn visitors' respect and establish your expertise.
#4 Establish Relationships

Customer acquisition takes certain skills and effort while retention requires different measures - a good service and loyalty rewards.
As a store owner you can't be dismissive - address every issue your clients bring up, and communicate with a high level of professionalism and fairness constantly. To make clients base management simpler and more standardized many shop owners use CRM platforms - we'd recommend that for you also.
The main tool, however, to make clients come back is generosity - every once in awhile reward loyal shoppers for being that way. Use email marketing platforms (and integrate them with your CRM), such as MailChimp, to reach the specific parts of your client's base and offer beneficial special offers. Distributing your powers evenly between getting new leads and nurturing the old ones - that's the ultimate recipe for a celebrated online retailer.
#5 Butter Up
No one can be a prosperous lone wolf (at first) in this business, affiliations are necessary for success. Therefore, work on your internet people skills - reach out to influential bloggers (vloggers) and ask them for a mention or a positive (but fair) review in exchange for free products or just money. There's no shorter way to get a diversified client base than using someone else's one. So, find blogs with big following by simply using Google search, and vlogs by looking in Youtube. It isn't a must to contact the biggest sites out there - they are likely to ignore someone unknown, so shoot for the middle - the influencers who are not yet annoyed with a constant flow of co-branding requests. They'll help you increase website traffic fast.
Summary
It is our strong belief that small stores shouldn't experiment much with new ways of getting traffic - it takes lots of time time and might not work, while in the e-Commerce competition you can't lose a minute. So, leave groundbreaking methodology innovations to the established guys and only use proven ways to make your store famous - the five mentioned above should be a great start.
Good luck with your business!
Got any more increase website traffic tips? We'll gladly read them in the comment section.