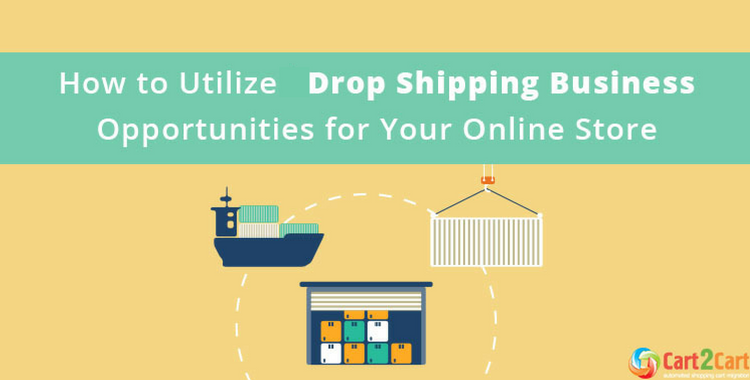 If you are looking for an effortless and manageable way to create an online e-commerce business or to expand the existing one, then there is an excellent solution for you which is called drop shipping. This is a fulfillment method that is becoming more and more popular in the e-commerce world. Thousands of people manage profit-making online marketplaces that use it.
---
It doesn't matter if you are a newbie to e-Commerce or an already established retailer who want to add new items to your catalog, drop shipping may bring new opportunities for everyone.
So, let's examine what drop shipping is and how to succeed in it.
Drop Shipping: From A to Z
Drop shipping is a model of product fulfillment which allows a store owner to process orders through 3rd-party wholesale suppliers, who ship the items directly to a customer. In this way, there is no need to keep products in a warehouse. This makes dropshipping a great business model where you don't have to spend money before the customer actually pays you. Thus, plenty of risks are reduced.
Drop shipping is especially effective for those who want to set up a new online marketplace. New store owners can start to sell products right away without the necessity to stock the items in the warehouse.
However dropshipping model can be used not only by the beginners but also by already established retailers, who are able to test out new products. It is possible to add a new product category and if it proves to be productive, the store owners can keep those items in their warehouses as they usually do.
Pros and Cons of Drop Shipping Business Model
As it usually happens, dropshipping has its advantages and drawbacks. Let's take a closer look to its pros and cons before actually engaging into this business model.
Benefits of Drop Shipping
The major benefit of drop shipping method is the opportunity to launch an e-store without having to invest lots of money in inventory up front. This business model enables store owners to purchase the item after they got paid for it by the customer. Thus, it is quite possible to set up a profitable dropshipping business with small starting capital.
Low Overhead and Location Independence
Because of the fact that there is no need to deal with purchasing inventory or managing warehouses, the overhead expenses are rather low. Actually, you can easily run a dropshipping business from a home office and all you will need is a laptop and an internet connection.
The dropshipping business model enables the store owners to offer a huge amount of products to the customers, considering the unnecessity of pre-purchasing the items.
In case store owners want to expand their offerings, drop shipping is an effective technique to test out new items. This method will provide you with an opportunity to find out if the products are a market fit without spending large amount of money in advance.
Disadvantages of Drop Shipping
The largest drawback of running drop shipping business is small margins. Because of the low barrier to entry and the minimal overhead costs, it is harder to stand out as a new business.
The shipping complexities are inevitable as the result of business expanding. The logistics for drop shipping can be hard to manage, in case the supplier relies on numerous warehouses. The inefficient logistics management can cause an unpleasant customer experience, due to incorrect tracking numbers, wrong addresses and shipping delays.
Returns can be troublesome. It often happens that customers want to return the products for some reasons. They send back the item to the store owners and then the resellers have to assume responsibility of return process themselves. Seems like not a big problem at all, although it should be mentioned that keeping the client satisfied during that time might be tough.
Ready to get started?
Fortunately, utilizing drop shipping business model is not a difficult task, but it can be time-consuming and requires concentration in order to do it right. Here are the next steps towards successful dropshipping business engagement.
1. Choosing the product
Before jumping into drop shipping, it is highly critical to find out what you are going to sell. Doing some careful and detailed study in advance will provide you with a possibility to prevent many difficulties of online selling. Research distinctive types of the items you want to market. It should be mentioned that the products have to be in demand but not widely available online.
There are a few methods of finding suitable items for your e-store. For instance:
You can examine distinctive commerce companies such as Alibaba, eBay, Amazon, etc. in order to find something that might arouse your curiosity. This is an efficient method to detect items you may never even have heard of before.
Listening to Your Friends and Family
Another way to discover products for your e-store is to find out the difficulties which your friends and family face. In this case all you have to do is to browse the net to come across the problem-solving items. There is no doubt that people are ready and increasingly willing to pay for something that will fulfill their needs.
Gathering Requests and Feedbacks
One more method to choose the product for sale is just to ask your current customers. If you have been running your e-store for some time already, it is possible that you've gotten a couple of requests from your customers. A customer-recommended item can become a valuable source of income for you. Chances are, if one consumer is curious about the specific product, then there are other people who would like to purchase this item as well. Find out what they think about the product before actually launching it.
Once you discover the products for your e-store, it would be useful to check if the items are in big or increasing demand. You can use the following tools for this purpose:
Google Keyword Planner will provide you with an opportunity to determine how many people are searching for the product you want to sell.
Google Trends is an effective tool to find out the detailed and accurate information regarding search trends, such as search volume, the most popular search terms, people's location, etc. This tool will supply you with a general idea of how promising your product selling can be.
2. Finding Suppliers
The efficient way to the successful dropshipping business is to find solid suppliers who are supportive, responsible and reliable. It is quite possible you can find local vendors who would like to dropship to your consumers. All you have to do is to contact them and offer a good deal.
There are also lots of widely known drop shipping companies which can be found on the web. Lots of them have special programs just for the resellers. However you should be aware that suppliers who require ongoing fees only for the opportunity to work with them might be a fraudulent business scheme.
Once you have found a drop shipping company which will satisfy all your needs, get in touch with them directly and establish a working partnership.
3. Test Driving New Items
After having chosen new products, it is time to test them out. It is important to mention that you should analyze all sales-affecting elements, not just sold units. For instance, the factor of seasonality, the influence of advertising, the product turnovers, the potential capability for progress, etc.
The level of sales will provide you with some understanding of how efficient new items are. However, it is not a stopping-point. The next thing you should do is to poll your customers in order to get the whole picture of the test driving results.
Let's Summarize
Now you are aware of all the necessary information concerning drop shipping business. And you actually see that this fulfillment method can be used not only as the way of running your business but also as a powerful technique to hit upon a bright idea. Try it and grow your business quickly and successfully.
Have you ever unitized drop shipping? If no, what were the odds? Share your thoughts and experience in the comments section below.