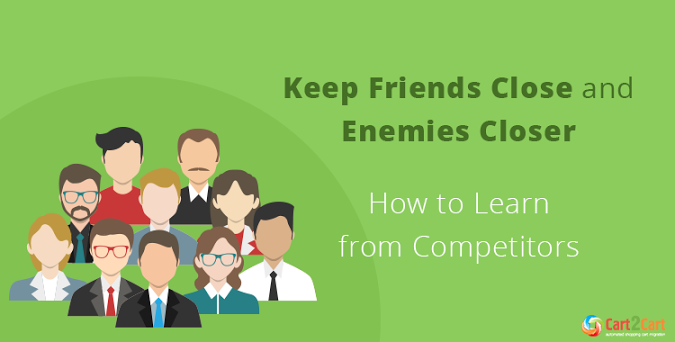 Does it ever happen that you're telling an incredibly entertaining story to people, enjoying the glory, and bathing in their admiration, when one of them goes: "Oh, you liar! That was me who that happened to!"? Well, sorry buddy, but that's how the world works. Led Zeppelin copied old blues artists (allegedly) throughout their carrier, and Microsoft copied early Apple (again, allegedly, I don't want to get sued). The best ideas don't come to you while sitting under the tree - you borrow them from the most successful people.
In online business that's especially relevant - no matter which e-Commerce niche you choose, there will be numerous prominent sellers already in it. So, why not "learn" from them? Not only is studying rivalries great for marketing and analysis purposes - it gives you real, working business tips and shows mistakes to avoid.
Today, we'll talk about it - how to categorise competitors properly, and learn from each type of them. Let's go!
#1 Techy Sellers

People who really appreciate Pokemon Go, and despise human communication. They usually run open source platforms, and provide best design/user experience.
What to borrow
tons of features
incredible performance speed
great user interface, stylish design
What to avoid
Not building a strong brand's persona - putting little effort into reaching people on social media, and encouraging feedback
Their poor marketing strategies - neglecting loyalty programs, regular special offers, etc.
All in all, pay close attention to general design and functionality trends of such competitors, and think how to adapt these principles to your online retailer.
#2 Business Veterans Trying to Catch Up

I'm talking about old-fashioned, brick and mortar businesses, that want to adjust to the Internet era. As opposed to techies, they're usually not advanced website development-wise, and still consider their physical store to be the main profit source.
What to borrow
сustomer service (polished by rich human to human experience)
the friendly, pleasant way of handling customers' complaints
loyalty programs, particularly for local buyers
What to avoid
lack of sophisticated marketing campaigns
websites with shoddy design, that aren't regularly updated
#3 The Giants

Corporations with with multiple physical stores and a strong online presence. Small retailers won't be able to copy most of what they do, due to the lack of resources, but still:
What to borrow
reinforcement of brand's image
robust supply chains
selling across multiple channels
What to avoid
Waste of resources - large retailers aren't usually that careful, when it comes to spending money and effort of employees
Not paying attention to minor details
#4 Kings of e-Commerce

Amazon, eBay, Apple and so on - competitors that only exist in online selling world and dominate it. Competing is meaningless here, but making such enterprise retailers your mentors, unbeknownst to them - is the best you can do.
What to borrow
worldwide selling strategy
international customer service
strong logistics
product offers (cross sales, up-sales strategies) and annual sales
What to avoid
Being very general, not niche oriented
Setting prices too high
Google each aspect of these stores'/marketplaces' activity and draw conclusions. Such education will come handy when you put your business to a larger scale.
#5 Business/Marketing Nerds

Former marketing consultants, who used to work in consulting agencies, seen thousands of small businesses, built promotion campaigns for them, to acquaint or return customers, bring traffic and increase conversions. These are dangerous.
They collect useful information religiously, before taking any, even insignificant action. They're probably gonna read this article, and a hundred of articles like this, so your only weapon is precision. Do the research more thoroughly, and feel no shame for copying their effective moves.
What to borrow
email marketing campaigns
landing pages where each word and icon is put deliberately, in conversion purposes
Call To Actions throughout the website
their SEO practices, which social media (Facebook, Twitter etc,) they use and the way they react to the feedback on it
What to avoid
Lack of technological experience
Focus on social media strategies exclusively, while neglecting top-notch website development
That's it. Stealing isn't noble (unless you do similarly to "Ocean's Eleven" and "Gone in 60 Seconds" guys), but learning from your enemies, with respect, is. So, take a notepad and go ahead - copy all the best business practices you find - even the most original e-seller took other's ideas at some point.
Cart2Cart wishes you good luck.