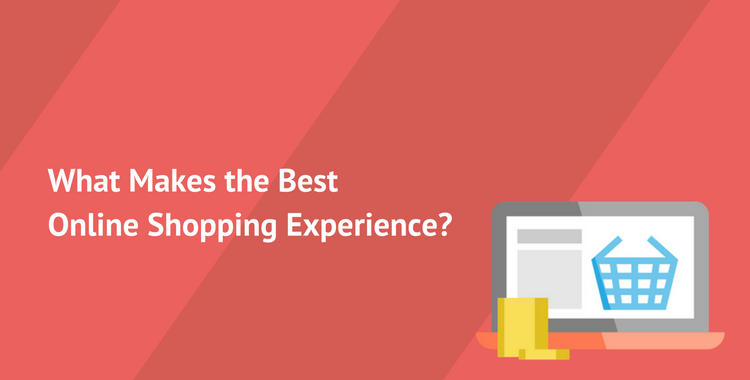 Today consumers have overwhelming opportunities to shop online, they tend to become picky. They can immediately push the back button being slightly dissatisfied. Thus, it's critical to provide good shopping experience to transform your website visitors into your loyal customers. The following tips will help to optimize your store and ensure the best online shopping experience possible.
---
1. Increase Store's Loading Speed
Nowadays, securing quick loading time of your website is vital. User's attention spans get shorter and shorter. They can easily get frustrated with delays and to cut your website's loading time it's fundamental to choose fast hosting solution. It's worth using caching plugins and content delivery network or CDN, which hosts your files across network of servers worldwide and facilitates access to them. It's high advisable to optimize images and compress your website with gzip. Browsers can faster load smaller amount of data than large-sized files.
2. Refine Design
Make sure your store look modern and up to date - it is an easy task to do, taking into account a wide range of templates, free and paid versions. There are some design tips how to provide top-notch visual appeal for your website, because an outdated look may drive away lots of visitors from your site. Another key target is to make it convenient for users to shop. Regardless of used device: desktop, tablet, smartphone, you must feel comfortable. Employing responsive themes will ensure proper content display on various devices and ensure seamless omni-channel user experience.
3. Balance Content Display
Remember that great imagery is exactly what you need. Let customers explore tangible products with high quality, high-definition pictures to make a well-informed purchasing decision. Don't overload them with excessive visual and text information. It clutters the screen and distracts site visitors from "Add to Cart" button. It is crucial to keep balance because the line between information overload and the lack of necessary data is pretty vague and subjective. It is important to harmonize your website. A/B testing is a perfect method to achieve that.
4. Facilitate Navigation and Search
To provide the best customer shopping experience, it's better to focus on making information about products, services easily accessible. It is advisable to use drop-down navigation boxes and breadcrumbs trail for comprehensive product listings, if you manage large product stock.
One more thing to remember: don't undermine a search part of user's journey. It happens that users are not willing to waste their time on exploring a broad range of products offered on website, they might be looking for specific product or product line. To present the most relevant results in quickest and most efficient way, you can opt various plugins to enhance search functionality of your website.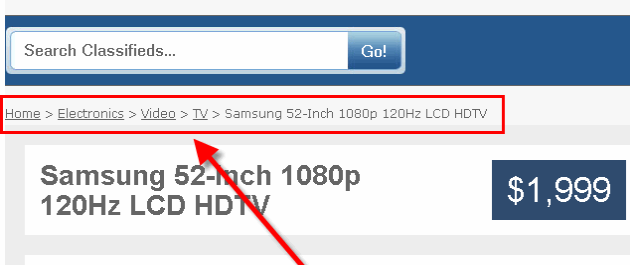 Breadcrumbs Trail Example
5. Reduce Checkout Steps
It is better not to distract users from completing transaction and giving their money away. Remove unwelcomed obstacles and reduce payment procedure to a few clicks; the less checkout steps, the more chances users will finish the buying procedure. Intrusive pop-ups and cross-selling advertising during checkout won't enhance shopping experience, they will increase shopping cart abandon rate.
Make possible purchasing products without prior registration with guest checkout. The majority of visitors will find it much more beneficial, understanding they don't have to spend their time on signing in and account confirmation. Customers find it more convenient to place their order firstly and, after that, submit all information during the checkout step.
6. Add User-Generated Content
What your customers say about your products is actually more important than information you provide about them. Encourage users to leave feedback on their purchases and generate social proof composed of their reviews, ratings and testimonials. To go even further, you may add user-generated photos. All these things help visitors to fight their doubts and make purchasing decision much faster and their shopping experience better.
7. Encourage Communication
Don't make users hunting this contact information. It should be easily accessible. If visitors want to get a quote or sign up for email, give them a possibility to do it quickly and effortlessly.
Offering live chats, call-backs would help improve customer experience too. Unlike traditional support via email, these communication methods allow to answer clients questions and manage their problems quicker. Provide users with a possibility to solve their issues on their own by introducing a FAQ section.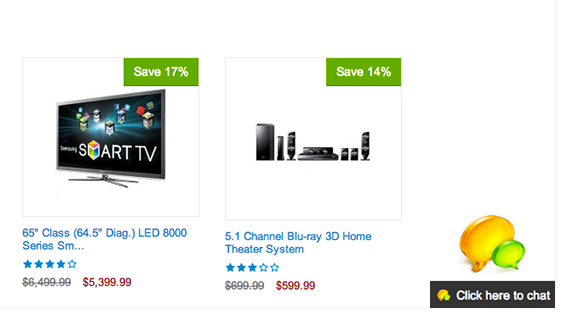 Online Store Live Chat Example
8. Make Tax and Shipping Info Visible
Last, but not the least. Give full and precise information about taxes, shipping cost and all additional payments. Unexpected spendings can make shopping experience frustrating and drive away customers from your store just in a step to completing a purchase. To avoid such scenario, you can create a separate page or indicate all the necessary info on product pages.
So, if you are aimed at creating the customer's best online shopping experience, primarily make sure you have removed all the barriers for it e.g. outdated design, incomprehensible navigation, inconvenient checkouts and so on. Keep in mind that users are expecting to browse a fast, easy-to-navigate and stylish site, not a sluggish and poor-looking one. You also have to be aimed at building trust with clients and providing them with an effective feedback.
What's your experience of improving customers' shopping experience? Have you worked on an implementation of any of these practices before? Feel free to start discussion, share your thoughts in comment section below!