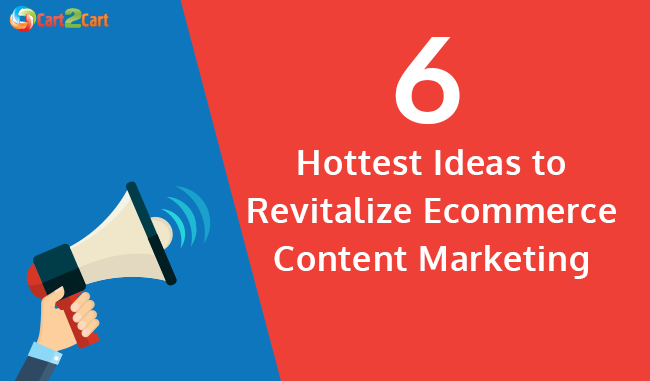 The debates about whether content is king or not, have been going on for years already. Whatever is the final verdict, it actually depends on what goal the content is created for and how good it is in pursuing it.
In the e-Commerce world, you have virtually no other means of impacting your audience except for the website and the content you fill it with. This is why content marketing is getting so much attention nowadays. It means gaining new clients by means of creating engaging content that does practically all the job.
One of the greatest advantages of creating awesome content is its "durability". A blog post or a video that is truly outstanding, creates a chain reaction. It is shared continuously and bringing you traffic, new prospects and back-links for a long time, without any extra efforts on your side.
So, what are the most promising content types to place your bets on? Let's find out!
1. Product review videos
As the saying goes, "It's better to see once, than to hear 100 times". It is totally proved by the tendency of videos getting more and more popular not only for entertainment, but also for getting exhaustive information on the item. Videos are capable of igniting interest and desire that are virtually unattainable for written descriptions.
Certainly, creating videos is more time consuming, but they are worth the effort. First of all, they are much more likely to go viral. Secondly, you get the chance to reach potential customers through video publishing websites like YouTube.
As a bonus idea, you can engage your customers into creating their own product review/unpacking videos and publishing them on your store channel.
2. Creative videos
If you want to really stand out of the crowd, think of other possible types of videos that can provide value to your customers. Just to name a few:
how to videos, showing various ways of using your products
informative videos, tips and tricks related to the items you're selling (beauty tips for cosmetic store, kids video stories for toy store etc)
videos answering most popular FAQ
video greeting cards for customers featuring company employees etc.

3. Interviews with industry experts
According to Michael Stelzner, interviews is the type of "rocket fuel" that give your business a powerful push forward. They don't need to be published frequently, but should be very well prepared.
It might sound scary, but actually interviewing "celebrities" in your niche isn't nearly as hard as you might think. They often are happy to share their expertise and get exposed to the new audience. On the other hand, your e-store gets similar opportunity, as most interviewees would share the post with their followers, who are usually very numerous. This way, everyone's happy.
4. Guest blogging
A few years ago, publishing guest blogs on all types of resources was a popular way of getting backlinks. Today, however, the situation's different. Google isn't fond of such a strategy, especially if the resource is low quality and has no specific topic.
Still, publishing your super-informative and in-depth post on relevant websites with your target audience is an excellent way of generating new leads, who might later on convert into customers.
Essentially, what you need to do is compile a list of resources that you'd like to write a guest post for and negotiate it. Accept for the top quality post, some of the resources may charge a fee for publishing it, but the return of investment is definitely worth it.
5. Newsjacking
Newsjacking is a relatively new tendency, but it's quickly gaining popularity. Basically, it means following social media and creating content that is both relevant to your audience and reflects the current trends.
The key here is the ability to connect your topic with the trending one in the fun way, and make sure they are related. It requires quick reaction and creativity, but such content is very likely to get a surge of shares and bring you new prospects.

6. Contests
Contests are loved by your audience and they often cost you very little in terms of preparation and prizes. Yet, they are very helpful to gain new followers for your social media channels or learn your audience better.
You can use both your website and your social media accounts to host contests, along with polls, quizzes etc to entertain your prospects and give them the chance to win something, which always serves as a good incentive to participate or share your content.
Closing remarks
Well, it seems like you've got a lot of work in front of you and must be anxious to get down to it. Surely, there are a lot more ways to use great content to extend your reach. What are your favourite types of content that bring good results? You're welcome to join the discussion below and share your ideas.