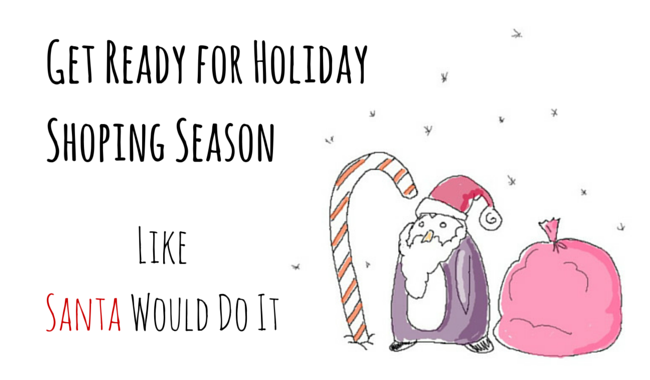 The holiday season is inevitably approaching at the speed of Santa's sleigh. Every day makes us one step closer to the magical feeling of Winter's fairytale, the taste of gingerbread cookies, and 30% of our annual revenue. What? We're all business people, after all.
That's right - the holiday shopping season may bring to store owners up to 30% of their annual revenue. Considering the fact that every year people tend to spend increasingly bigger sums of money during the holiday season -- online in particular -- the numbers may get even more staggering. So clearly, it's crucial for anyone to meet the upcoming (or already approached?) months of bitter cold and sweet sales with all systems go.
While the internet community hashes over holiday preparation here and there, we have to suggest you some pieces of advice arranged by -- who would you guess? -- Santa's helpers themselves! Broadcasting straight from Lapland, Christmas elves have shared some knowledge on getting ready for the e-Commerce holiday season in the way Santa would do.
Holiday Shopping Season General Store Configurations Check Up

Consider holidays as the time of your big performance. Everything needs to be perfect, right? Here're a few very obvious, yet very easy things to miss you need to check before opening the doors of your store wide.
Is your live chat enabled? While hectically sweeping the shelves clean, at least few of your customers will encounter with the need of receiving feedback. Not to lose a number of deals, make it easy for them to reach you. Online chat is a perfect tool for that, as it's not only faster than writing an email but more personal too.


Are your out of stock products hidden? Whenever a customer finds a product and sees it being out of stock, it's like a mocking sign for them saying "Ha-ha, it was here, but not anymore. Too late, sweetheart!". Since people often get over-sensitive in the sight of upcoming holidays, such disappointments may cost you several customers. Hide your out of stock products and suggest them related items instead - who knows, maybe they'll find something better.


Are your social buttons there? If for any reason social buttons on your product pages were disabled, for the mercy of Rudolf's red nose, turn them on. While some would just look for a good gift idea and share findings on social media, others may hint their friends and relatives at which kind of presents they want for themselves. In either way, social sharing, as a word of mouth marketing tool, is one of the pillars of drawing new customers to your website.


Is your counter of remaining items displayed? Creating the sense of urgency during the holiday season makes wonders. That's not the power of Christmas magic though - that's human psychology. How to make people hesitate less and purchase more? Simply display the quantity of items short in stock (in big red letters, of course), and they'll rush to grab that-very-product-they-need-so-much before no one else did.


Is express shipping offered? Holidays, presents and smiles of the dearest ones - all these are as serious as a muzzle of a Tommy Gun placed at the temple. When ordering, your customers need to be sure their gifts will arrive on time, and not on the very eve. Though costing extra, express shipping option on your store is a must have during the restless and bustling holiday season.


Is guest checkout allowed? Santa doesn't ask you for permission to slip inside your house through a chimney, does he? That's because he knows you're a busy person and values your time. Appreciate the time of your customers too - don't make them fill in the registration forms. When shopping presents for their friends and family, buyers are rarely interested in getting back to your store ever again. Guest checkout would be a very preferable option during a holiday season that shortens the distance between a shopper and a purchase considerably.
Holiday Design Tips for e-Commerce Websites

Holiday shopping at traditional retail stores is great... to think about. In reality, the impression of a festive atmosphere, lights, and beautiful decorations is often to be spoiled by absurdly long lines, crush, lack of parking lots and wrapping paper.
In a search of an alternative, many turn to shopping online. Hence, your task is to design an exclusively delightful shopping experience tailored to make customers' holiday purchases convenient and fruitful. Here're a few tips divided into two categories: functional and decorative.
Functional Design Tips
Dedicated landing pages. Want to become Santa's helper yourself? It's easy - help the shoppers in their search for appealing gifts by prompting them on landing pages dedicated to certain audience segments. "Gifts every cat lover wants to get", "Gifts for a man who has everything", "Top romantic gifts to get you out of a friend zone" - aren't these great ideas?


Gifts categorized by price. Customers with a limited budget (Santa's not a billionaire!) will sure love gift options grouped by price. Nothing extraordinary - just suggest several items within a certain price limit (under $25 / $50 / $100) for those who are into making sincere, though prudent presents.
Decorative Design Tips
Store's festive shine. Show them some holiday spirit! Touch up your website by adding sparkles, lights, candy-stripe banners and Santa hats. That's fun yet quite essential for a successful holiday season retail. When everyone is merrily decorating houses, streets and shops - it's better for you to look the part.


Topical & fun descriptions. Now, to get a Santa certified website, take care of the textual part of your store as well. Write some clever descriptions for your holiday offers, fill them up with appropriate keywords, gift recommendations and thematic humor.
A Little Bit of Holiday SEO

According to Christmas Elves Research Institution, more than 80% of new buyers to make a holiday shopping on your website will come from Google and other search engines. Thus, a decent SEO during this period of the year is more important than ever. A few tips to keep in mind:
Analyze & Apply
Identify popular product pages. What product pages do attract the most traffic? Identify those and use them as perfect platforms to run some holiday specials.


Analyze your top landing pages. What's their secret recipe? What makes them popular? Apply those to your new pages with holiday offers.


Define the top keywords. What are the keywords that bring you most of your traffic? Use them in a holiday context to grab some extra seasonal shoppers.
Run Google AdWords Campaign
Reconsider your target audience for AdWords. Forget about your current target audience when setting up an AdWords campaign for a holiday season. Since most of the products are bought for gifts and not for themselves, you need to reconsider those whom you usually address. Thus, if you're selling women's apparel - target men. Winter holidays sure is a magical time - when else would your target audience alter so greatly?


Evaluate and conclude. Create new ads as the season goes on. Alter their text and message based on what you see engage customers the most to achieve the best results. Santa is quite a perfectionist, you know.
Summing Up
To our regret, the non-disclosure agreement signed by the Christmas elves puts its limitations. But though the secret of a lightspeed shipping via "Rudolph the Red-Nosed Reindeer Express" will stay unrevealed, we guess the tips and strategies above will be useful enough. Now, when you know a little bit more about the holiday shopping season, go and take an advantage of it!