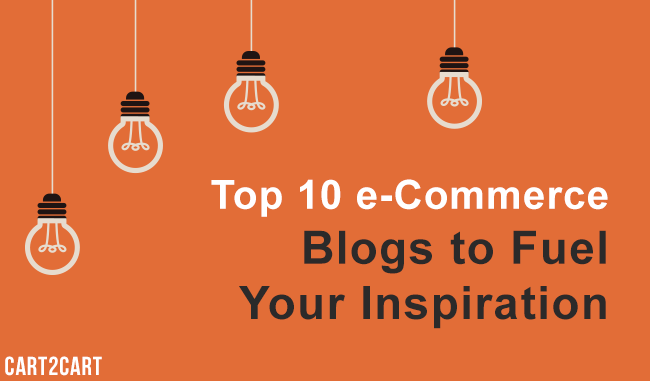 We all experience emotional ups and downs from time to time. However, dealing with the stressful matter of online business, e-merchants can't afford to despond for too long. They need to feel motivated to reach new e-Commerce heights. So, where to look for inspiration and reassuring advice when you need it?
Today, we'll give you several choices. Meet the Top 10 e-Commerce Blogs and keep yourself inspired and educated.
Practical Ecommerce

Can one blog cover every e-Commerce related topic there is? Practical Ecommerce says "Yes". Its tastefully written posts are filled with valuable info on such subjects as: design, SEO, shopping carts, conversion rates, social media and many more. A true mecca of e-Commerce knowledge!
GetElastic

Talking about online e-Commerce encyclopedias, we must mention GetElastic. Just as Practical Ecomemrce, this blog covers a wide range of online business related subjects and regularly gives us examples of how cool and informative infographics should look like. Its only "flaw", in our eyes, is too few posts. So, Linda Bustos, if you see this, please write more! We enjoy your articles immensely.
Kissmetrics

Tracking store efficiency is crucial and a matter harder to deal with than one would think. So, naturally, there are plenty of analytics tools out there, each with unique capabilities and a different interface. But how to master the needed ones, and, thus, get the most out of your store? Kissmetrics will provide with a plethora of tips on the subject. The blog's coverage of marketing and analytics related topics is impressive and we strongly recommend it to any e-merchant willing to get his online retailer to a higher level.
Ecommerce Platforms

Are you an enthusiastic e-Commerce newbie with grand business dreams and a lack of professional knowledge? Ecommerce Platforms is great for you then. The blog will be a reliable tutor if you're just building an e-shop, describing and simplifying every aspect of this tricky procedure. Also, there are lots of comparisons that'll acquaint you with pros and cons of the most popular shopping carts, tips on boosting conversion rate and great SEO recommendations.
In short, read it!
Ecommercefuel
Learning is something both successful and newbie e-merchants do constantly. Or should do, anyway. Harvesting useful information and clear business recommendations on the web is hard and time consuming. Unless you know a special place, like Ecommercefuel. Yeah, whether it's starting tips on how to launch a store or advanced instructions on becoming a better manager - Ecommercefuel has it all. So, despite your current level, by all means, check it out!
Shopify blog

According to Cart2Cart's latest statistics, Shopify is the no.1 hosted platform within our service. And its e-Commerce blog is worth your attention too. Not one of Cart2Cart monthly article digests goes without including at least one post from it, and there's good reason for that - Shopify's blog is awesome. Apart from publishing great store-management tips, it regularly shares real stories of entrepreneurs starting their successful online retailers. Such info is gold for all aspiring e-merchants.
The Buffer Blog

We recommend web shop owners to follow this blog as it's not only useful, but also original and fascinating. Aside from other curious topics, Buffer blog authors focus largely on creativity, explaining how to apply in business. And tell me, who doesn't want to become more innovative?
QuickSprout

QuickSprout is the creation of Neil Patel, a co-founder of KissMetrics, and one our favorite e-Commerce/marketing gurus. Unlike other blogs that Neil is featured in, this one is mainly about content creation. How to turn regular customers into fans of your store? How to bestow valuable tips and make clients trust you? Catchy and useful content can bring it all, so hurry up and learn how to create it!
Bigcommerce blog

A great blog is a diversified one, we think. Bigcommerce, in that regard, has a little something for every taste. Need info about building, promoting and improving your online retailer? Tips on better shipping or store navigation? This blog is for you. Enjoy!
Nexcess blog

Despite it's been last in our list, we assure you Nexcess blog is just as worthy as its predecessors. The tips are great, the style is gripping, however, it's targeted mainly at WordPress and Magento users. So, if you're among them - lucky you! The rest of us are just hoping Nexcuss will extend its inventory someday.
Alright, that's it! We hope each of you have found a new favorite blog today, besides, of course, the one you're reading right now:) More great blogs - more valuable tips to keep you energized. So, read us, and every good blog you could find to climb new e-Commerce peeks every day. Good luck with your online business!