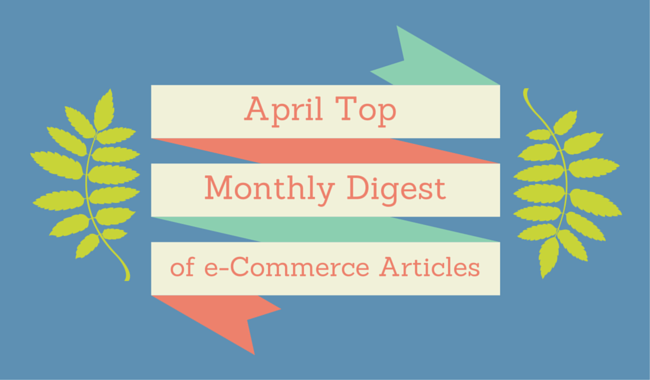 One of our readers once wrote: If a mad scientist had a chance to stop the time and take over the world, the only reason against it would be a Monthly Cart2Cart Digest. Ha-ha, just kidding, but it would be awesome if you thought so! 🙂 And while the time is flying like an arrow, we are happy to present you a fresh list of top 10 April blog articles on e-Commerce. The second month of Spring have left behind a whole treasure chest of good writings, so take a minute (or half an hour!) to learn what were the most discussed topics in the world of digital commerce. Please, enjoy.
1. Can free shipping & returns positively affect your business without killing all the profits first? After considering a whole pack of risks and rewards, Free Shipping & Returns: 8 Resources To Get You Started on Shopify blog gives a clear answer "Yes". Figure out how to benefit from being generous and how not to turn it into a logistic nightmare.
2. By improving a store's usability you help customers to commit a purchase, like a guide helps the tourists not to get lost in the middle of nowhere. Top 7 Navigation Tweaks to Apply for Better Shop Conversions will teach you how to suck the customers into a conversion funnel and keep them tight till the finish of a checkout process.
3. Willing to survive in the dog-eat-dog world of digital commerce? Take up arms and check out Top 7 Challenges Young SMB e-Commerce Stores Face. Besides the description of the problems store owners encounter, you'll also be offered to note some of the possible and effective ways of overcoming them.

4. Even if you've lost a TV remote and promised yourself not to believe advertising any more, no one is safe when it comes to word-of-mouth marketing. The #1 Way To Accelerate Word-of-Mouth Marketing teaches how to use this godlike selling weapon in your favour making customers spread the good word about the store of yours like a zombie infection.
5. People's tone and desire to talk about you depend on the image emerged in their heads when hearing your brand's name. How to make it maximum positive? "Humanize it!" says Danielle Irigoyen in his HubSpot article Humanizing Your Brand: 8 Tips for Making Your Voice Real (and Heard). So that's where Ronald McDonald came from!
6. Building a sales campaign is like building a card house - each unwary movement can result in a failure of an entire structure. Thus, it's highly recommended to get acknowledged with 5 Tips For A Successful Sales Campaign by Kate Robinson. This basic yet truthful article will help you not to forget about the simple steps of making your future sales successful.
7. When a customer is willing to return an item and has no desire to negotiate - hit an alarm button and do everything possible to make it happen. 5 Steps for Optimizing Your Return Process on GetElastic blog will teach you how providing the clients with a best possible return process experience can help keep them loyal.

8. Tweeting, liking and sharing - free yet profitable for any e-business! The potential of social networks is so tremendously big nowadays, that ignoring it means losing a big piece of traffic share. But then a logical question comes up - Which Social Networks Should You Focus On? Here Are 6 Ways to Find Out.
9. Whenever you feel lost about the direction you should move, give an ear to what your customers say - one of a greatest sources of inspiration. Get acquainted with The Beginner's Guide to Customer Feedback and learn what are the right places to go, tools to use and tactics to try to meet your consumers' expectations.
10. Reward programs - how much of them are you involved with? The principle of giving and getting rewards for purchasing has become a part of a natural shopping experience for customers and #1 retention technique for marketers. Reward Points for Customer Loyalty: Tips & Tricks will advise you on how to effectively motivate the consumers to buy once and get later for more.
Well, these are the top 10 most useful and interesting e-Commerce articles of April. Think we've missed something? Feel free to share any fresh and valuable content with us in the comment section below. Cart2Cart Teams wishes you a productive May and a whole bunch of lucky breaks!