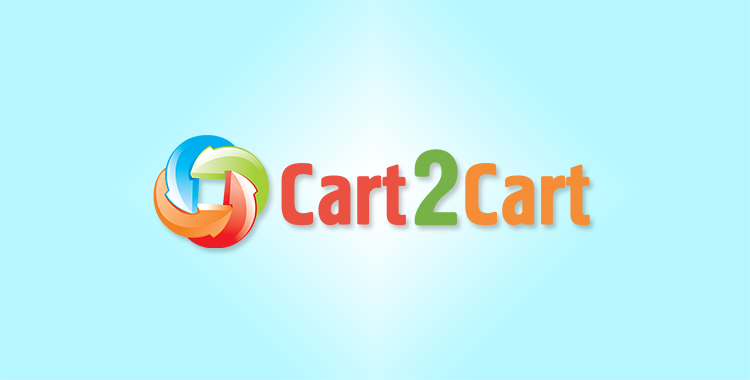 Drupal is well recognised content management system, and Ubercart is its e-Commerce plugin. It would be an appropriate solution for those e-merchants, who want to create a community around a product. Ubercart is easy in installation, user-friendly and flexible shopping cart. However, every platform has its cons and Ubercart is not an exception. It is rather difficult to create products from the first time, weak stock control, errors while shipping and tax calculations. These are the main reasons why store owners decide to migrate from Ubercart to Magento, a leader in e-Commerce world.
Today Magento is a shopping cart with the biggest market share. It gained such a popularity because of rich features, a wide range of payment and shipment options, helpful community and regular updates. That's why more and more and more entrepreneurs make a decision to migrate to Magento.
Cart2Cart will help to perform Ubercart migration in several easy steps. All you have to do is to watch a video tutorial and follow a simple step by step instruction.
Step #1. Sign in
To start right away, you have to create Cart2Cart account. It is also possible to sign in with your existing Facebook or Google profile.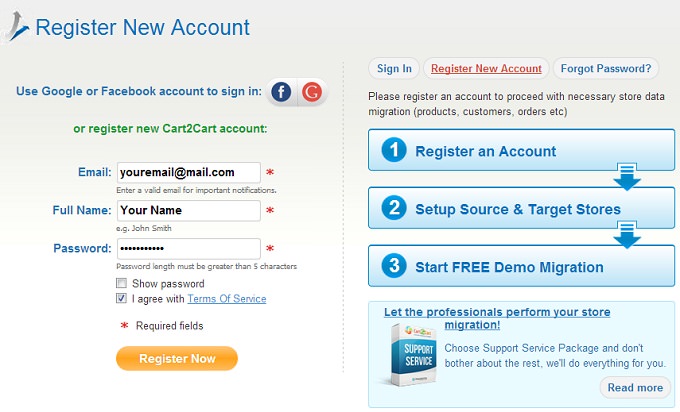 Step #2. Setup Source Cart
Here, you have to choose Ubercart from the menu and provide a link to the store. After that, download, unpack and upload a Connection Bridge. It will give Cart2Cart an access to your Ubercart data. For better convenience, look through a FAQ with video tutorials on how to setup a Connection Bridge.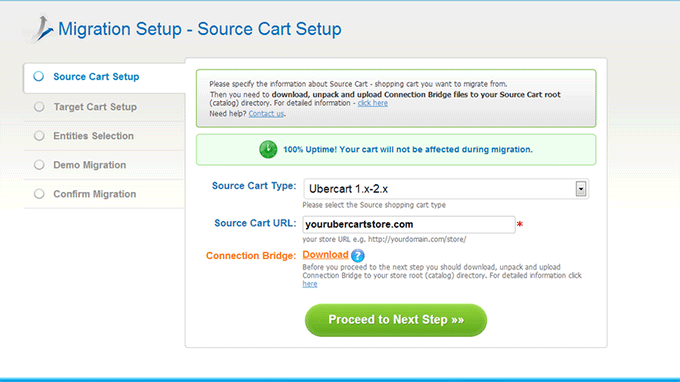 Step #3. Setup Target Cart
According to the same principle, repeat the same procedure with Target Cart.
Select desirable Magento version from a drop-down menu.
Enter an online store's URL.
Setup a Connection Bridge.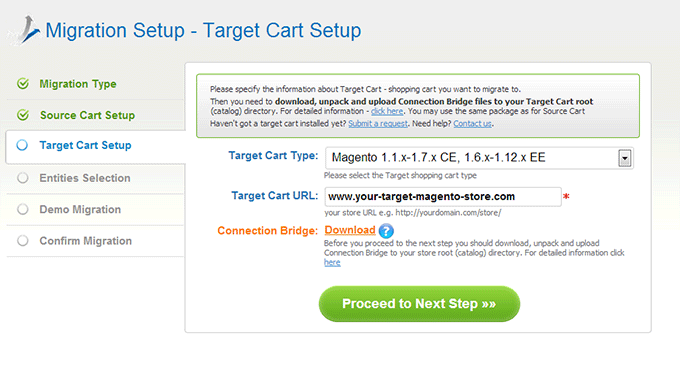 Step #4. Pick Entities
Select store items you would like to transfer to Magento store. Just put ticks near entities or click Check All if you want to move all of them. You will have an opportunity to choose additional options. Take into consideration that these options are for an additional cost. So, make sure you have enough money on an account.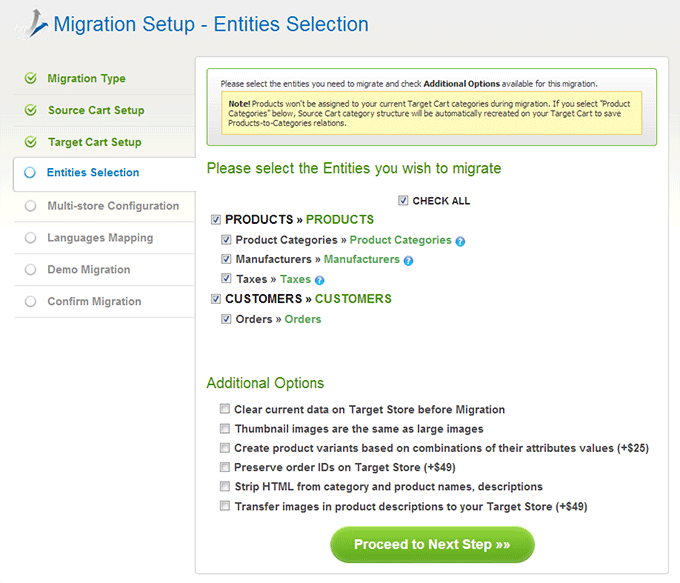 Step #5. Multi-store Configuration
Since Magento supports multiple stores, you will have a possibility to match Source and Target stores.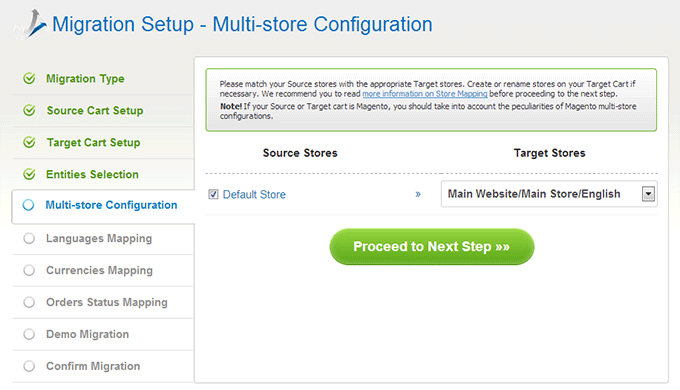 Step #6. Map Languages
Is your store multilingual? Cart2Cart provides a possibility to match languages on Source and Target carts.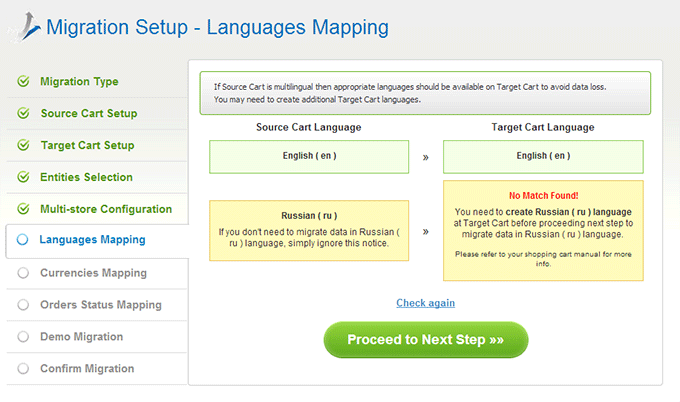 Step #7. Map Currencies
According to the same principle, you are able to match Source store currencies with those that will be displayed on Magento store.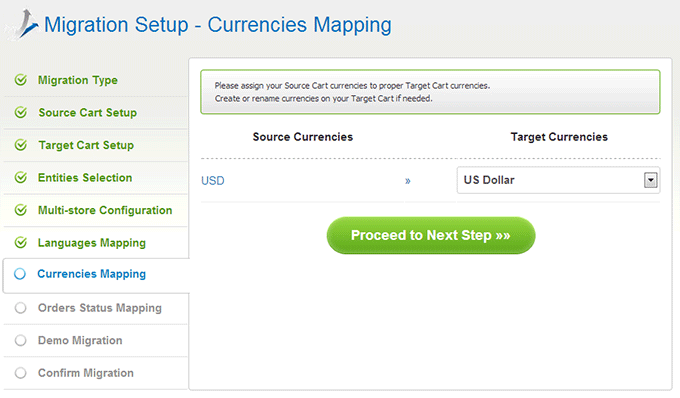 Step #8. Map Order Statuses
Decided to move order history? On this step, Cart2Cart provides a possibility to map order statuses.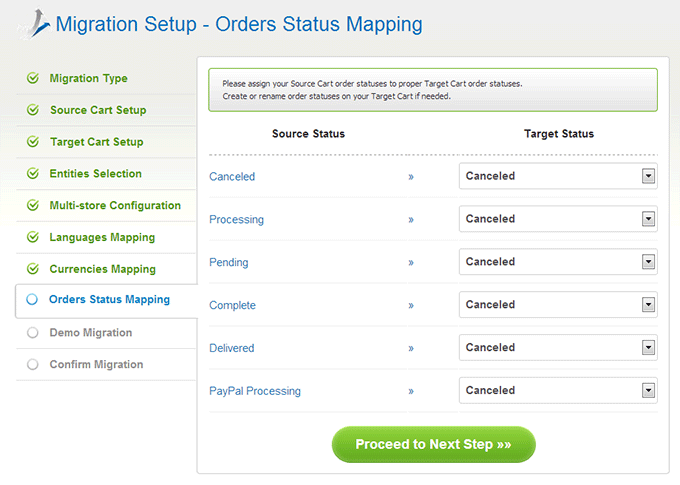 Step #9. Demo Migration
Try how the service works without paying a single cent. Cart2Cart will move up to 10 entities to Magento store for free. After Demo Migration, you will be able to evaluate an outcome. We really need your feedback and will appreciate if you rate results.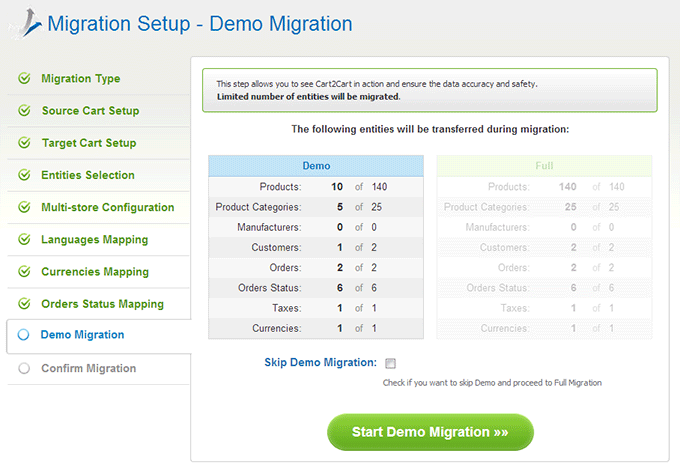 Step #9. Full Migration
To start Full Migration, double-check entities and make sure you have enough money on an account. Now you can press Star Full Migration button. The process will take some time, so you can close a browser window.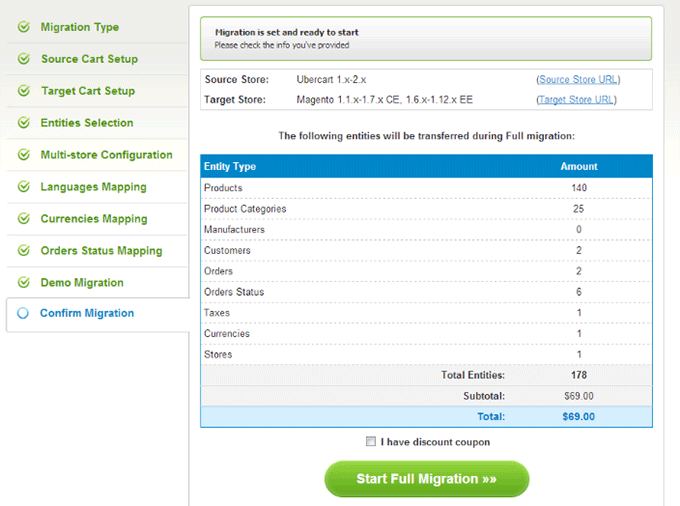 We can congratulate you with just established Magento store. Check if everything works properly and start to sell. If you have some questions regarding Ubercart to Magento migration, don't hesitate to contact Cart2Cart Support Team.