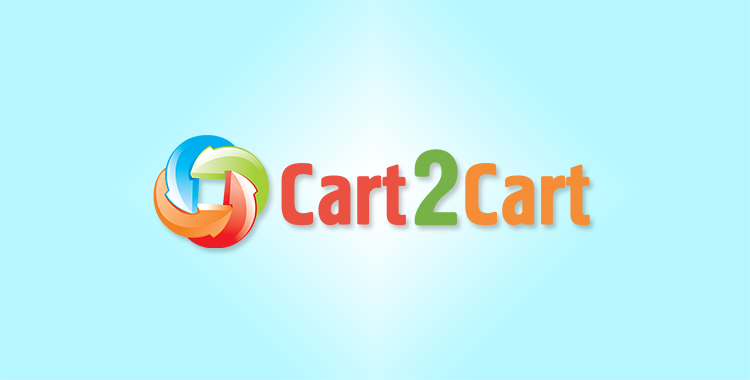 As Interspire is not supported anymore, web store owners who have been working with this platform face the need to choose another solution. With its high functionality and flexibility Magento seems to be a good replacement.
Magento is a powerful and feature-rich ecommerce platform. An unlimited number of products and categories, multiple languages, currencies and payment options, customer accounts, order history, products reviews, one-page checkout, coupons, discounts, SEO-friendly URLs, a number of extensions and design themes – all these and many other features will help you make your store successful, no matter how large it is. Besides, it is possible to run several Magento shops with different products and different designs from one admin panel. Magento is an open-source solution, which gives you an opportunity to tailor your store to your needs.
If you want to migrate your store from Interspire to Magento, you can do it quickly and securely with Cart2Cart, an automated shopping cart migration service. Watch video tutorial and move all your data effortlessly.
Migration with Cart2Cart is quite easy. To move your data from Interspire to Magento all you need to do is follow simple instructions.
First, you will need to register a Cart2Cart account. As an option, it is possible to sign in from your existing Google or Facebook account. Make sure that both your stores are installed and accessible online. Find out how much your migration will cost with Migration Estimator.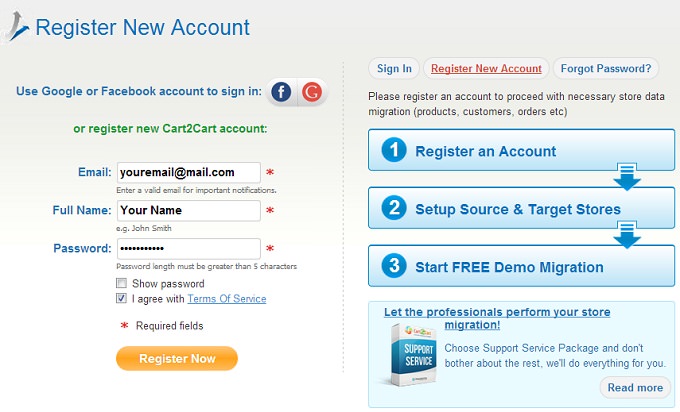 Log in to your account and click Start Migration Now.
1. Source Cart Setup
In the drop-down menu select Interspire. Fill in the URL of your Interspire store. Then download Connection Bridge. You will need to unpack it and upload it to the root directory of your Interspire store. If you are not quite sure how to do it, read the FAQ.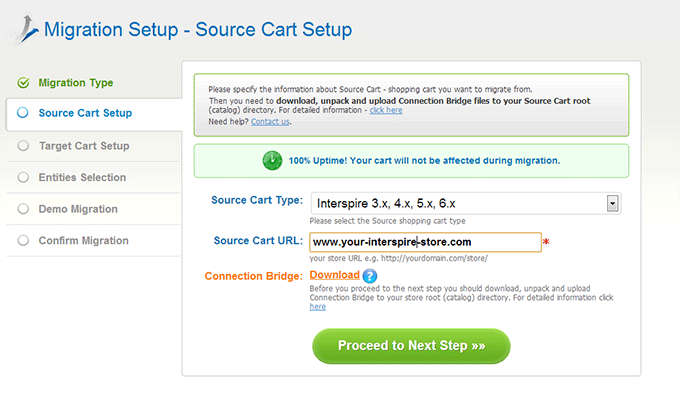 2. Target Cart Setup
The same procedure. Select Magento, provide your Magento store URL and download Connection Bridge.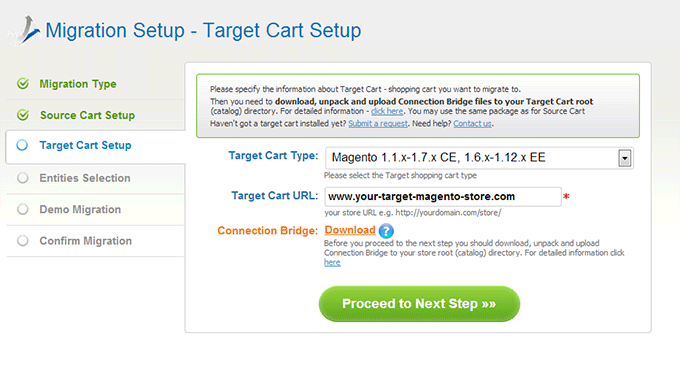 3. Entities Selection
Select the entities you would like to transfer from Interspire to Magento or check them all if you want to move all of them. Select the additional options if needed, but don't forget that you will have to pay extra for some of them.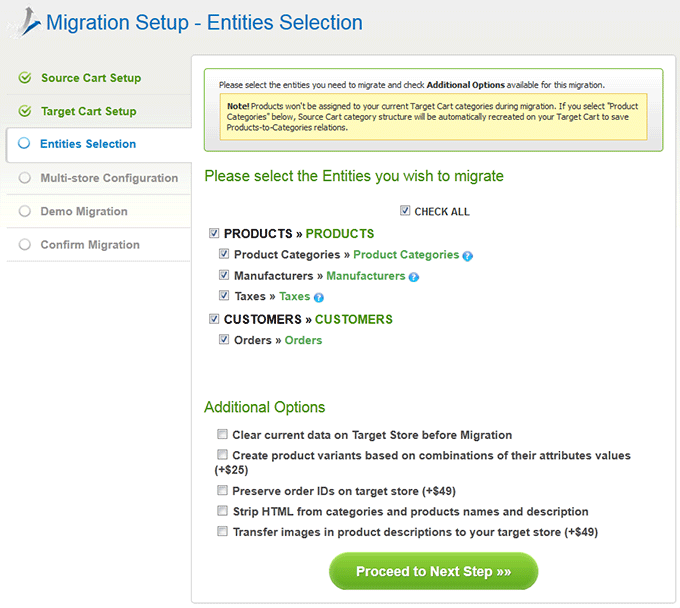 4. Multi-store Configuration
If you run several Interspire stores, make sure that all of them are matched properly with your Magento stores. Click the link on the page for more detailed information on Multi-store migration.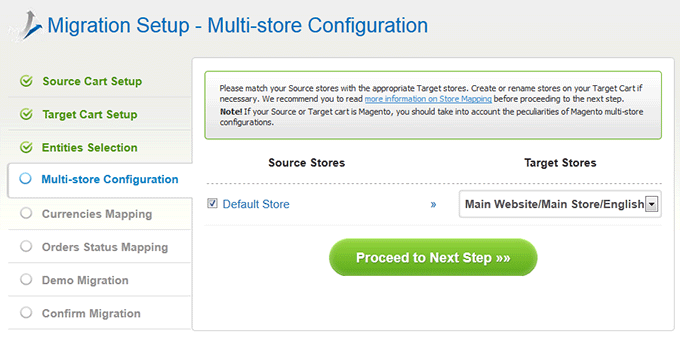 5. Currencies Mapping
Match the currencies on your Interspire store to the currencies on your Magento store.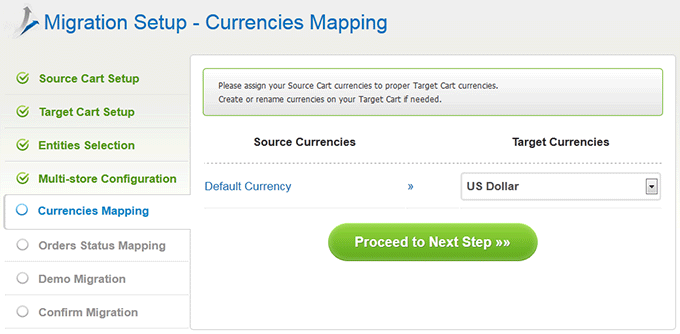 6. Orders Status Mapping
Assign the order statuses on your Interspire shop to the order statuses on your Magento store.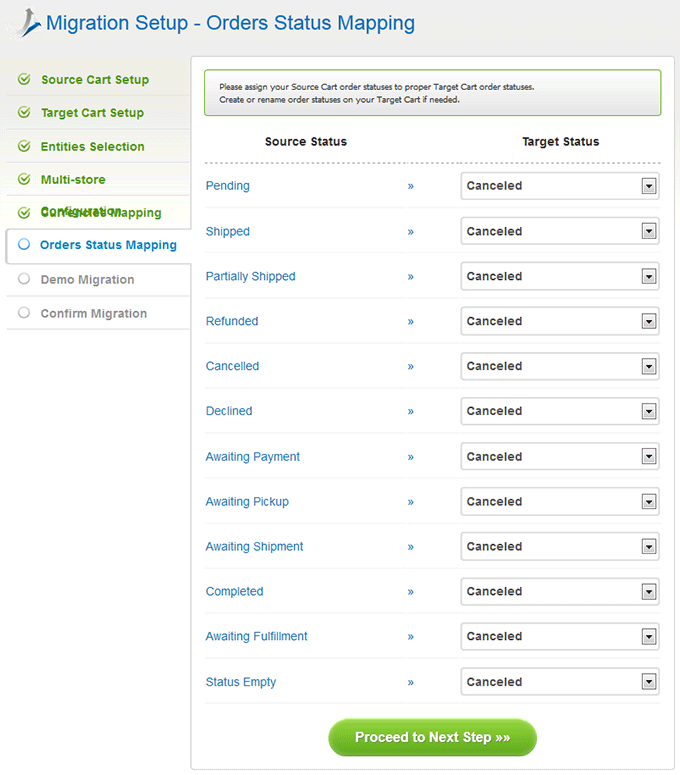 7. Demo Migration
Demo Migration will show you how Cart2Cart works. The service will move a part of your information to assure you that it transfers data carefully and safely. Demo Migration usually takes several minutes and it is strongly recommended not to skip it.
When Demo Migration is completed, you can check the results and make sure there is nothing to worry about.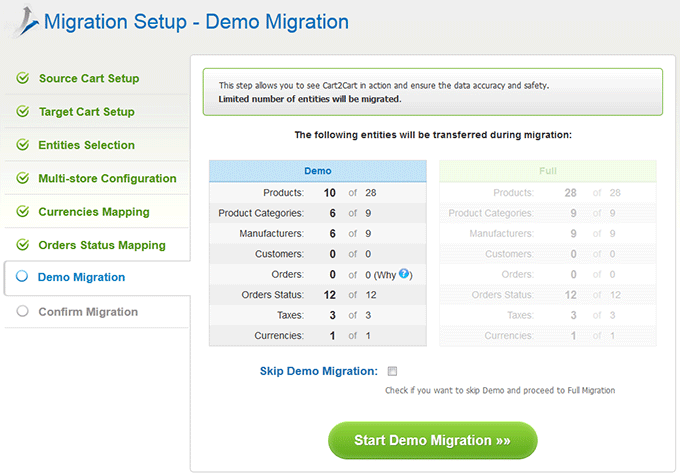 8. Confirm Migration
Double-check the information you have provided and start Full Migration. Then you can close your browser window.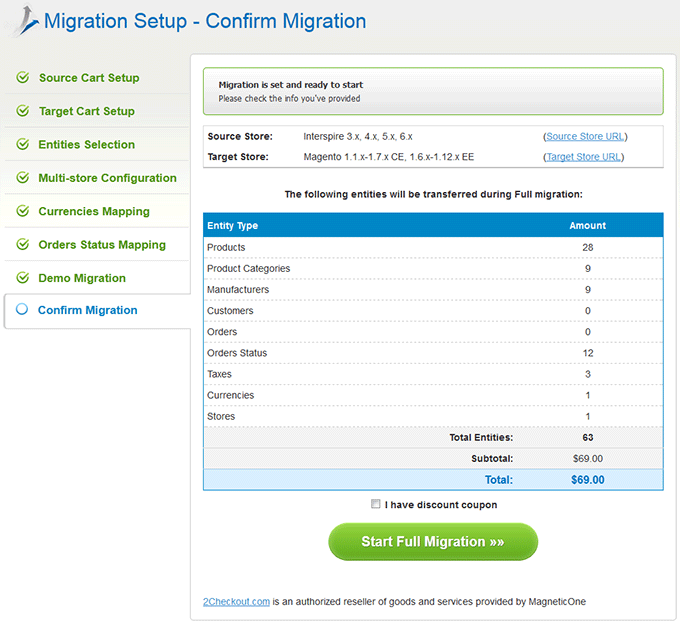 When Full Migration is finished, check its results on your Magento store. Enjoy your information in new surroundings!
If you have any questions, please contact Cart2Cart Support Team.